Volkswagen ID.3 makes UK debut at Tesco charging point
Last year, Volkswagen announced it had partnered with Tesco and Pod Point to install around 2,400 EV charging points. With 100 Tesco stores now offering free charging to shoppers, it seemed the ideal time for the Volkswagen ID.3 to test one out – the first time the model has been in the UK since its debut at the Frankfurt Motor Show in September.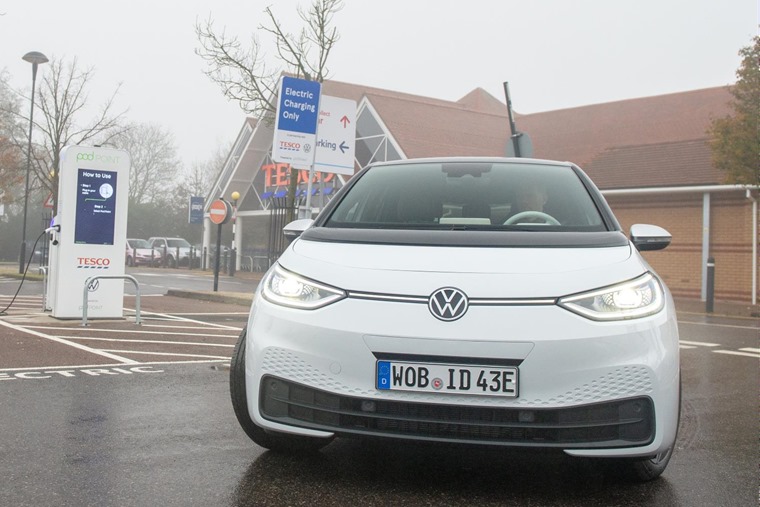 The appearance of the new car – which arrives in the UK this summer – coincided with research by Volkswagen which revealed the average Brit spends 50 minutes per week in a supermarket buying food and drink.
Electric car owners who plug in their vehicles could get around 22.5 miles of free charging from the 7kW points during that 50-minute period – enough time to do the weekly shop.
Over a whole year this works out at 1,170 miles - the equivalent of driving from London to Rome for free.
Jason Tarry, Tesco CEO UK & ROI, added: "We're now well on our way to achieving our ambition of installing more than 2,400 EV charging bays across 600 Tesco stores.
"Providing customers with charging points offers them a sustainable choice and giving them the opportunity to charge their car for free while they shop is another little help to make their lives easier."
Data from Pod Point has revealed the charging points were used more than 12,000 times in November, powering customers' vehicles with almost 60,000 kWh of energy.
"Providing smart, easy-to-use chargepoints at this scale is likely to accelerate the transition to electric cars up and down the country. Being able to top up while you shop at so many locations makes it more convenient to go electric than ever before." said Erik Fairbairn, founder and CEO, Pod Point.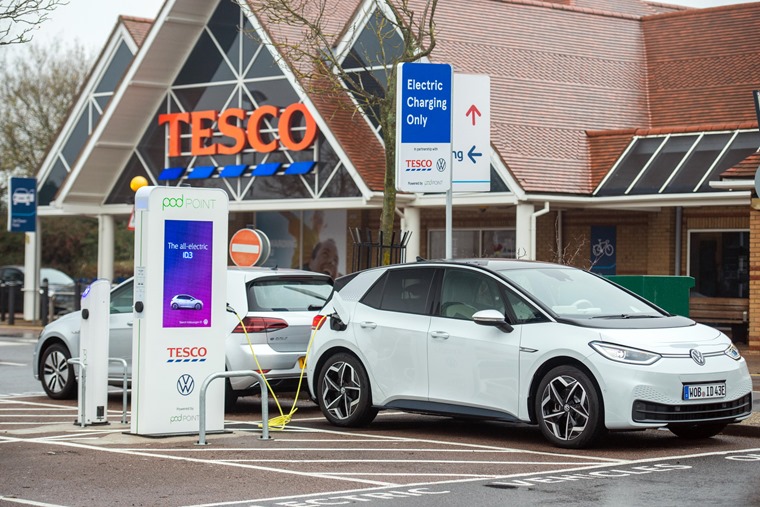 UK sales of pure electric vehicles are up by 125 percent this year, according to the Society of Motor Manufacturers and Traders. Leasing.com data reveals an even more staggering growth, with personal leasing enquiries on EVs up 209% year on year in September 2019.
And the growth is set to continue, with Volkswagen's survey of 2,000 UK motorists revealing 41% are considering leasing or owning an EV as their next vehicle. This figure increases to 61% among the 25-34 age group.