Video review: Volkswagen T-Cross
Wondering how to make a nuisance of himself next, Howard Ritchie crashes the UK launch of the all-new Volkswagen T-Cross.
The VW T-Cross is late to the small crossover party, but while it doesn't have the quirky looks and styling of some rivals its big boot, airy cabin and quality feel are sure to help it stand out in a crowded market place.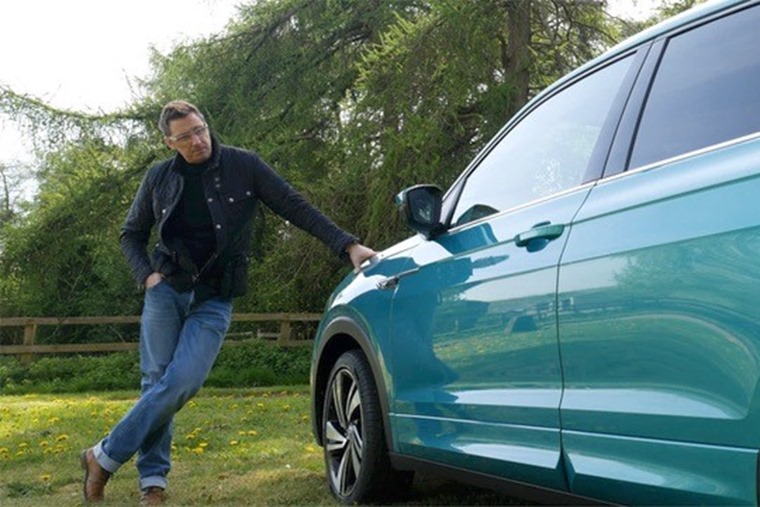 Howard Ritchie has already been for a drive – watch his video review below and read on for the full lowdown.
Styling
Sat next to cars like the Citroen C3 Aircross and Kia Stonic, the T-Cross doesn't exactly stand out, but it still has presence and enough about it to turn a few heads. It feels like Volkswagen wanted to inject a little of the understated, grown up appeal of its larger SUVs into a smaller package, and that's certainly reflected in its appearance.
It's well proportioned – more so than the T-Roc in our opinion. Despite its sensibilities, there's still enough little touches to give it its own flair. Some thought has gone into the detailing, for example, with chrome strips running across the grille and surrounding the front fog lights.
Check out those chunky Jeep-like rear tail lights and full-width reflector across the boot, too. Like most small and slightly quirky crossovers these days, there's a wide-ranging selection of personalisation options to choose from, as well as a spectrum of jazzy colours.
Interior and practicality
The first thing you'll notice in the T-Cross is the elevated driving position. You sit a little higher than you do in something like a Niro. Aside from the raised seats, the interior borrows lots of parts from the Polo – the car the T-Cross is based on.
That said, some of the plastics aren't as premium feeling as they are in the small supermini, with cheaper plastics used on the doors and around the centre console. By and large, however, it offers the solid, premium feel that VW is renowned for.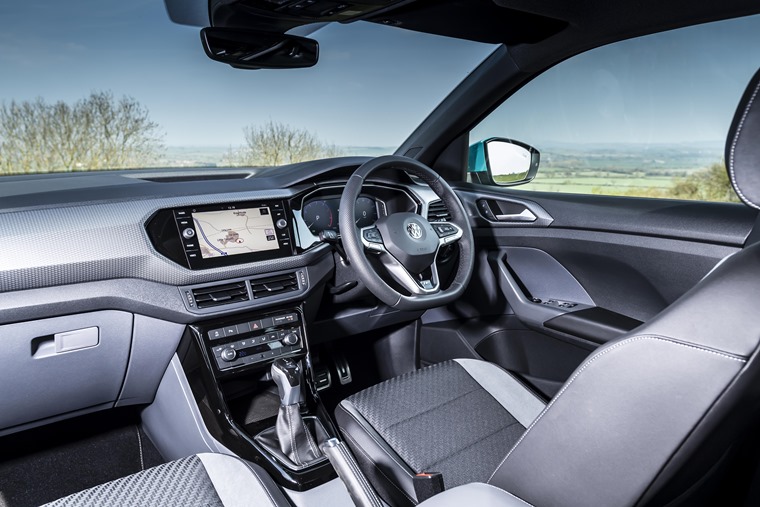 Passenger space is generous, with even the rear quarters giving ample headroom for 6ft+ passengers. It's all thanks to that high roof. If you often carry three people in the back, however, you might want to look at the T-Roc instead. That's not to say there isn't decent elbow room – it's the same case with most of the T-Cross' rivals, too.
Cubby space is good, with large door pockets and a decent sized glovebox. Depending on spec you'll also benefit from an under seat drawer for the driver and an adjustable arm rest with a storage compartment.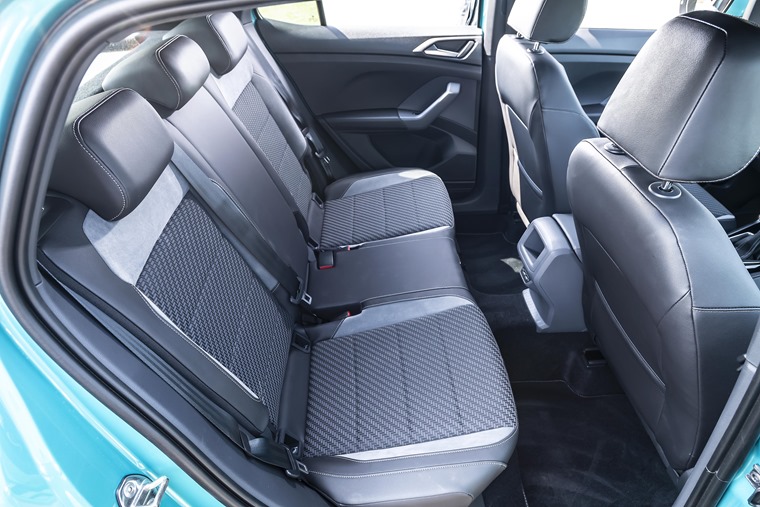 The T-Cross has up to 455 litres of boot space – that's actually more than the T-Roc offers. It's thanks to a clever rear seat that can be adjusted depending on whether you need rear passenger leg room, boot space, or a mixture of the too. Even with the rear seats pushed back to provide maximum leg room, there's still 385 litres of space in the boot to play with.
The rear seats fold flat and can be split 60:40, while an adjustable boot floor is standard on SE trim and above. All in all, the T-Cross is a practical car for its class, and lives up to its 'more than one thing' strap line.
Trim levels and options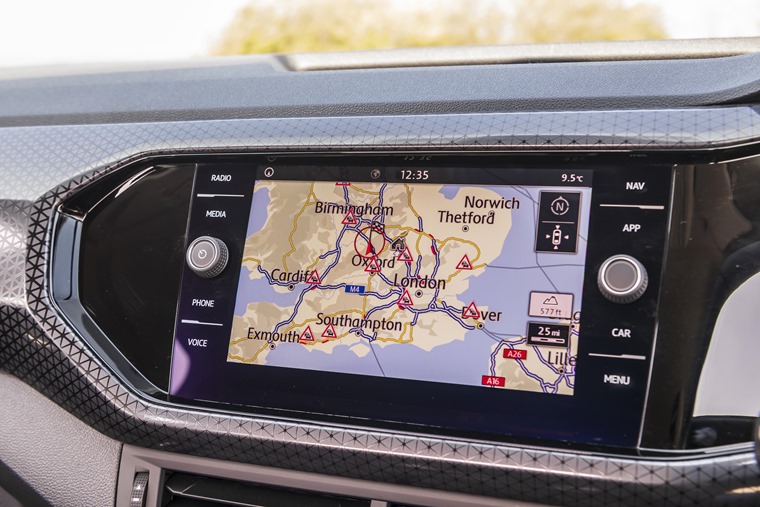 The T-Cross range comes with an 8in touchscreen infotainment system which includes Volkswagen Connect, although if you want Apple CarPlay and Android Auto you'll have to opt for the mid-range SE trim which also adds a reversing camera and front fog lights.
If satnav is a must-have, you'll have to plump for the higher SEL trim, which also comes with parking sensors, a three-year subscription to VW's online services and a set of brighter LED headlights.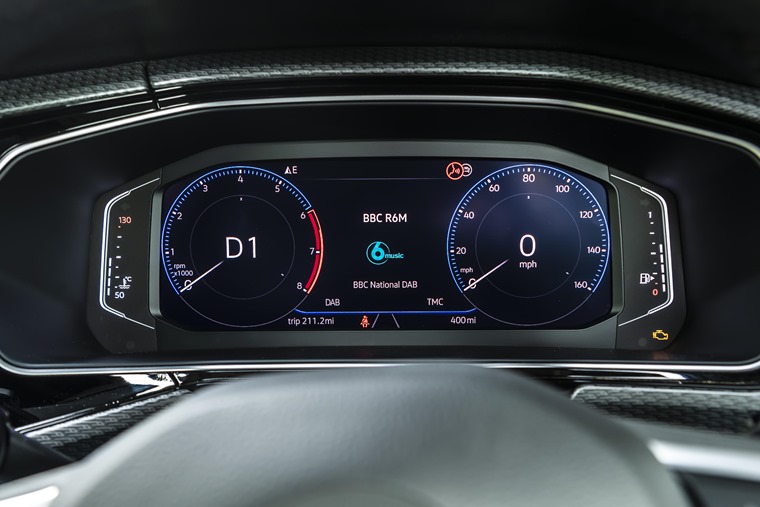 Volkswagen's Active Info Driver Display is standard on range-topping R-Line models and replaces traditional analogue dials with a vivid colour screen. This 10.3in unit is also an option on SE and SEL trims, so you don't need to go for the top-of-the-range model if you just want the screen. It's a great system, although models fitted with satnav will benefit from it the most.
Entry-level S models are extremely affordable and come as standard with air conditioning, 16in alloy wheels and safety features such as automatic emergency braking and lane keep assist. However, we'd go for an SE, as entry-level models are rather spartan.
Driving and engines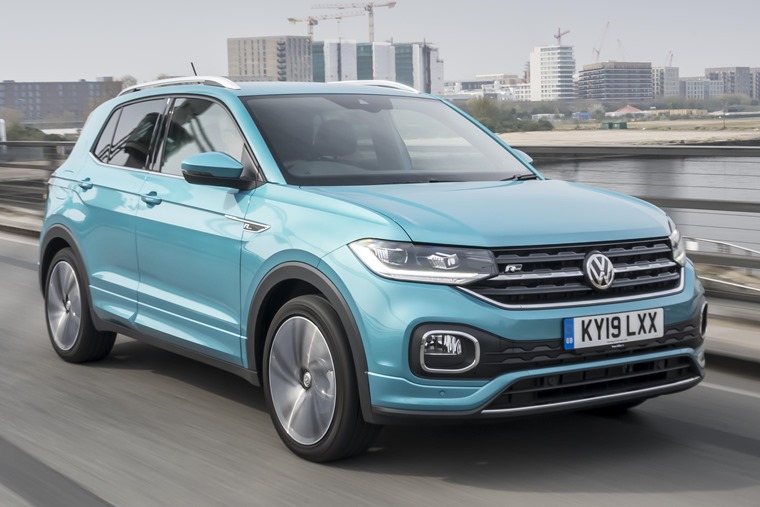 Only two engines are available at the moment – a pair of 1.0-litre petrol units that produce 95hp and 115hp respectively. The lower powered variant is great for work around town and extremely frugal, managing a combined 58mpg. The 115hp version is the one we'd go for though, which lowers the 0-62mph time to 10.2 seconds. It's happier on motorways and is also available with a seven-speed dual-clutch automatic gearbox. It will offer around the same economy, too.
The T-Cross is an extremely easy car to drive thanks to its raised ride height. The steering is light and direct and, while it isn't ever going to offer a sporty drive, handles well on country roads and manages to be exceptionally composed on motorways and around town. It's a relaxing thing to drive too, with the Leasing.com decibel meter confirming it's almost as quiet inside as the much larger, much more expensive Touareg.
Leasing prices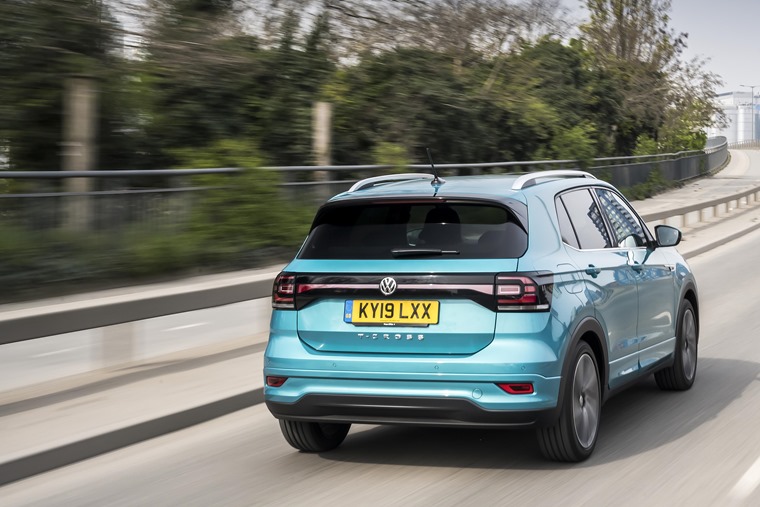 Monthly rates for entry-level S models are priced from less than £190 per month at the moment, although realistically you'd want an SE model if you want a specification that'll compete with its rivals. SE models are priced from around £225 per month – that's comparable to a similarly equipped C3 Aircross, although a Polo in SE guise still costs you less – prices for the supermini start from around £180 per month.
It's also worth bearing in mind that a T-Roc can be had for a very similar monthly rate (even if the boot is smaller). It'll all come down to your individual needs and personal preference in the end but, if you're after a crossover that's refined, spacious and stylish but easier to park than a T-Roc, the T-Cross should be on the top of your list.