2020 Volkswagen Golf: new digital cockpit aims to make life easier
Say hello to the 2020 Volkswagen Golf. The next generation of the iconic hatchback has just been revealed, with VW claiming the Golf has undergone its biggest transformation since it first hit the road more than four decades ago.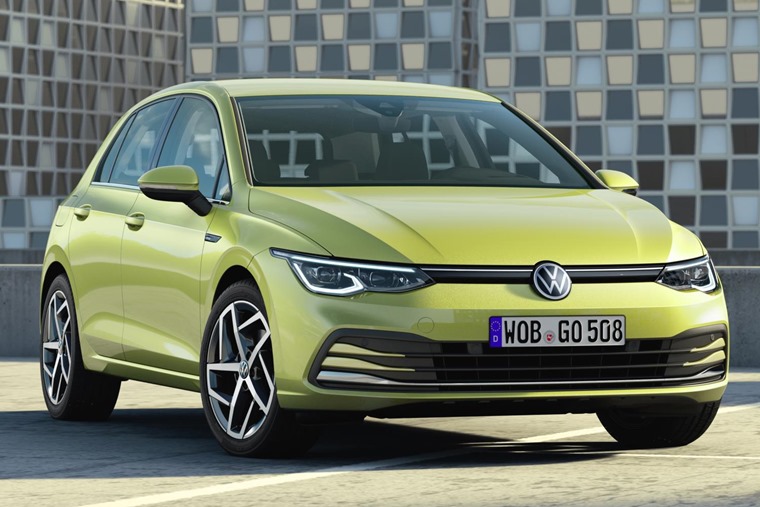 If you want one, it'll be available in the UK from spring 2020 and cost from around £20,000. With the Golf consistently being one of the most popular lease cars.
Externally, it's an evolution – as ever. It looks wider at the front than before courtesy of a thin set of lights that actually stretch across the front of the car. It's longer too, while the bumper has also grown in size.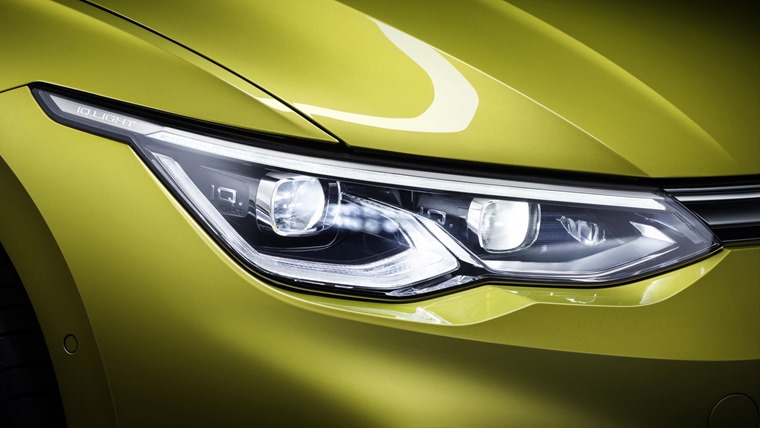 The whole car looks sharper than before, although the iconic silhouette is still very much a key feature – especially from the rear. Both the headlights and tail lights are now LED units too, while VW's IQ lighting system will be available as an option. This adds a camera that detects oncoming vehicles and adjusts the headlight aim accordingly.
Inside, all Golfs now feature a 10in touchscreen infotainment screen, while a 10in digital driver display is optional. This displays all the key info like satnav in front of the driver as well as the dials.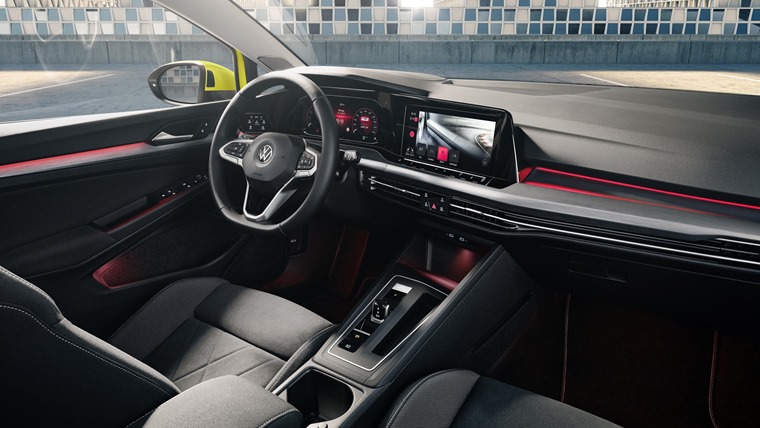 The rest of the interior has been reworked too, with a noticeable change to the dashboard and centre console via an all-new Digital Cockpit.
Clearer, neater, completely digitalised, and connected online, VW aim to make operating the new Golf more intuitive than ever. As standard it includes the instrument cluster, an infotainment system angled towards the driver, and a multifunction steering wheel.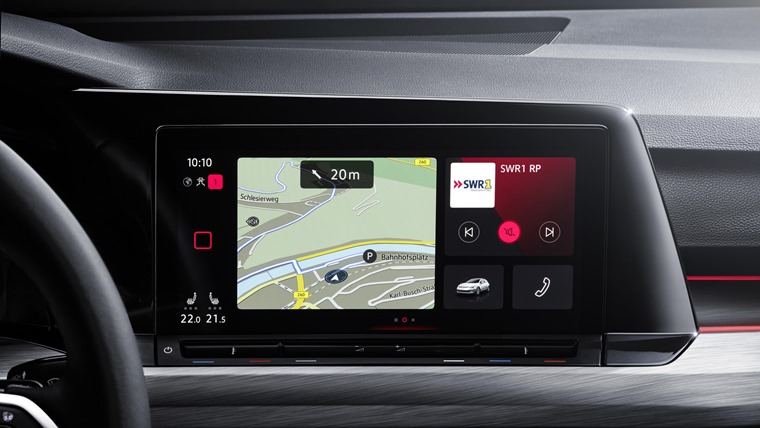 Touch sliders enable quick access to temperature and volume controls, while a touch island under the infotainment system provides direct access to assistance systems as well as driving modes and parking assistants depending on the spec. A second touch island repositions light and vision functions as well as the windscreen and rear window heating. An optional Innovision Cockpit expands on these features and offers a windscreen head-up display which projects information into the driver's field of vision.
Further functionality from the digital cockpit comes via voice control. The system is simply activated by saying "Hello Volkswagen" or pressing the voice button on the steering wheel and reacts to intuitive voice commands such as "Take me home" (navigation) or "I'm cold" (automatic air conditioner).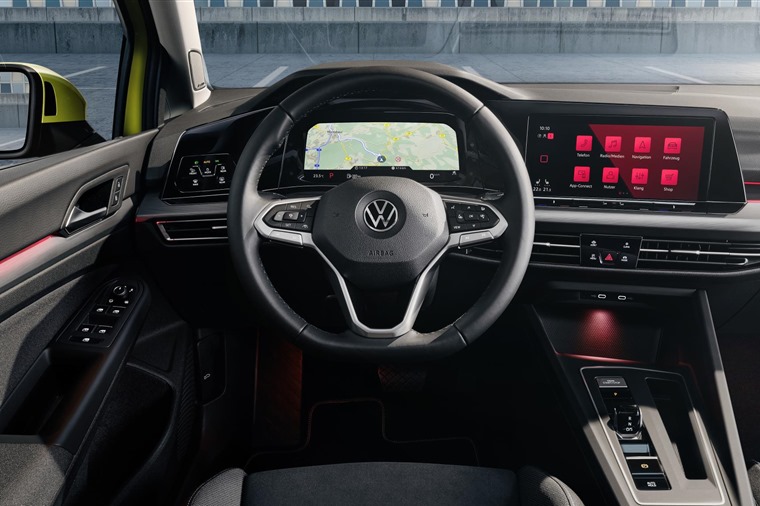 The Golf's in-car tech also benefits from remote updates too, meaning drivers will be able to download system updates as well as optional extras like adaptive cruise control over the air at any time.
A Travel Assist system is also on offer which adds autonomous driving features. It allows the Golf to communicate with other cars that have Travel Assist, and will give the driver warnings of any potential hazards and traffic jams.
When the Golf arrives in the UK, it'll be offered with four petrol and two diesel engine options. The petrols consist of two 1.0-litre units offering 90hm and 110hp respectively, while two 1.5-litre units will offer 130hp and 150hp.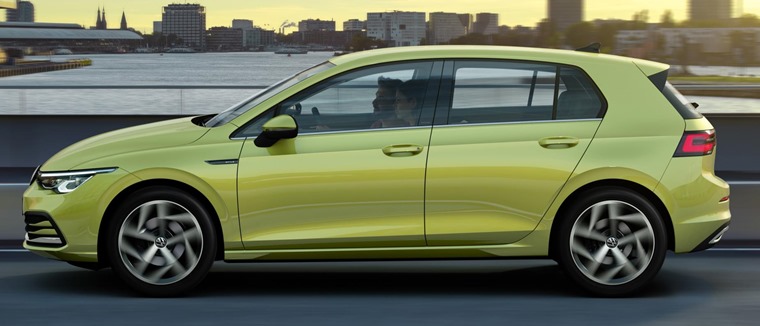 Two 2.0-litre diesels will offer 115hp and 150hp. Six-speed manuals are standard, while a seven-speed automatic will be available for the diesel.
Hybrids are also on the agenda too. The 1.0-litre and 1.5-litre petrols will be available with mild-hybrid tech, equipping the Golf with a clever stop-start system that allows it to coast. The system also improves acceleration from a standing start.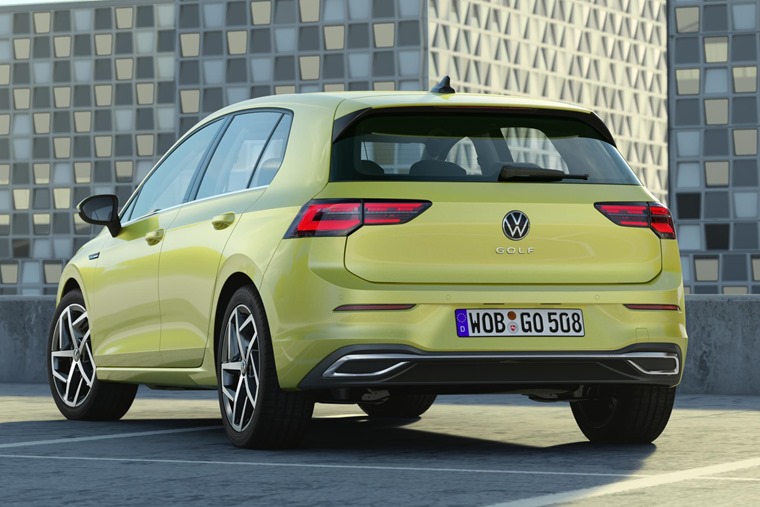 Meanwhile, an all-new Golf GTE is expected to arrive next year. This features a 1.4-litre petrol engine and electric motor combo that produces 245hp. It'll be able to travel around 30 miles on electric power alone.