Top five reasons Father Christmas would drive … an Audi RS6 Avant
Top bloke that Father Christmas. He might be getting on a bit, but come Christmas Eve it'll be business as usual as he dusts off the sleigh delivering presents to kids around the world.

But considering his age, isn't it about time he traded it in the sleigh for something a little more modern, refined, comfortable (and less drafty)? We had a think about what the ideal car for Father Christmas would be, and there could only really be one: the fabulous Audi RS6 Avant.
Here's five reasons why…
1. It's fast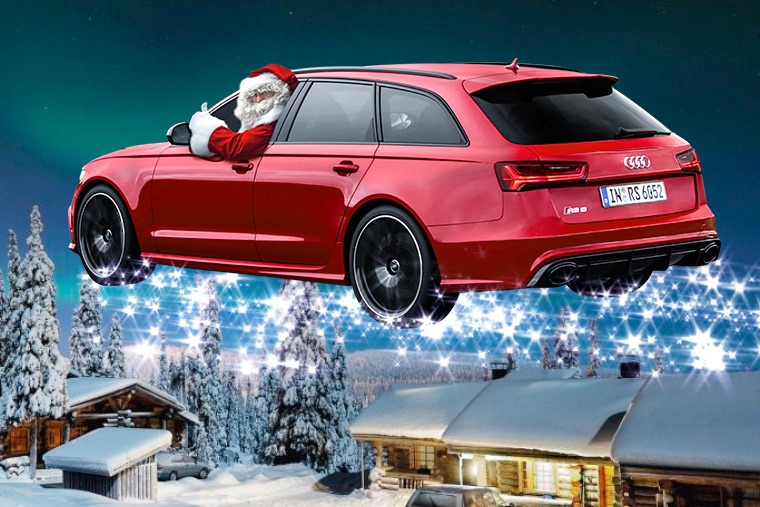 Father Christmas doesn't exactly scream speed demon, does he? With his jolly demeanour and white beard, he's not your stereotypical boy racer. But think about it. With just 24 hours to deliver presents to the children of the world, he's got to get a bit of a shift on, hasn't he?
No problem for the RS6 Avant. In its latest Performance guise, a 4.0-litre twin-turbo V8 produces a very usable 591bhp. This allows a 3.5-second 0-62mph run – handy when you need to launch off short rooftops. Top speed is 155mph, although we reckon St Nick will opt for Audi's performance pack that ups that to 190mph.
Perfect. Well, it certainly provides more poke than eight reindeers, anyway. The standard A6 Avant is no Grinch when it comes to speed either, the 3.0 litre diesel can sprint to 60mph in 5.7 seconds thanks to its 286bhp.
2. It's all-wheel drive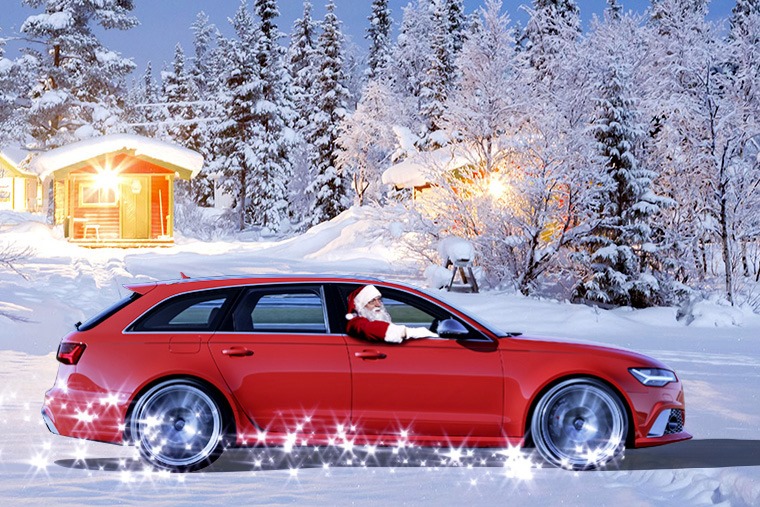 All that power is no good unless you can put it to good use, especially if you happen to live in snowy Lapland. Happily, our RS6 Avant comes kitted out with Audi's famed Quattro all-wheel drive system – just the job to tackle those treacherous roads around the North Pole (or if you occasionally have to take off from a slippery rooftop).
You can read about how this system works and how it compares to other all-wheel-drive offerings here.
3. It's comfortable

After years aboard a glorified sledge, anything would be an upgrade for the round-the-world flight he undertakes every year. But the latest RS6 Avant means he'll truly be travelling in supreme comfort.
Satnav comes as standard, as are electrically adjustable heated seats – surely welcome features on a crisp Christmas Eve. With its Virtual Cockpit offering a birds eye view, the navigation system's widescreen maps make it ideally suited should Santa need a bit of guidance.
4. It's spacious

There are approximately 526,000,000 children worldwide that celebrate Christmas. To think about it another way, Santa needs a LOT of space. So, it could only really be an estate, couldn't it? With 565 litres of space with the seats up, it's one of the most spacious and practical performance cars out there.
It's fair to say he's gonna need a bit more room than that. But fear not – fold the rear seats flat and there's a present-swallowing 1,680 litres of capacity. We're sure St Nick will find the RS6 Avant's standard power tailgate a useful touch, too.
5. It's red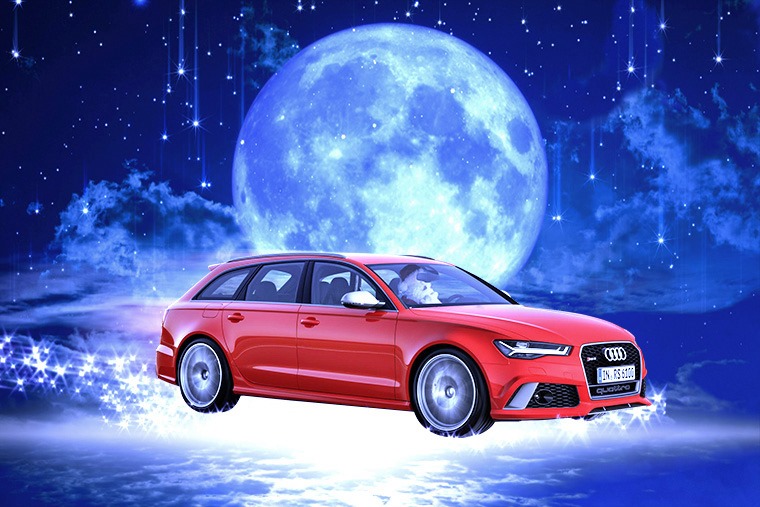 Think of the rich and vibrant colours of Christmas: purple, gold and of course shades of rich red. However stunning the RS6 Avant might look in Audi's Misano Grey, then, we're pretty certain Santa will choose something a little more cheery. Happily, the all-new version is still available in this radiating Misano Red Pearl, as seen in the (not-at-all photoshopped) snaps of Santa's test drive/flight here.
There's an all-new RS6 Avant set to be revealed next year, but if you fancy checking out deals on the all-new A6 Avant, you can find them here. There's also deals available on the standard Audi A6 Avant here.