Why CES is the place to be for automakers in January
If you have even the remotest interest in car technology, the chances are you heard about a show called CES. This is the Consumer Electronics Show (CES) and it's held in Las Vegas every year.
You may wonder what the world of consumer electronics has to do with cars. After all, washing machines and microwaves are not the usual concerns of drivers.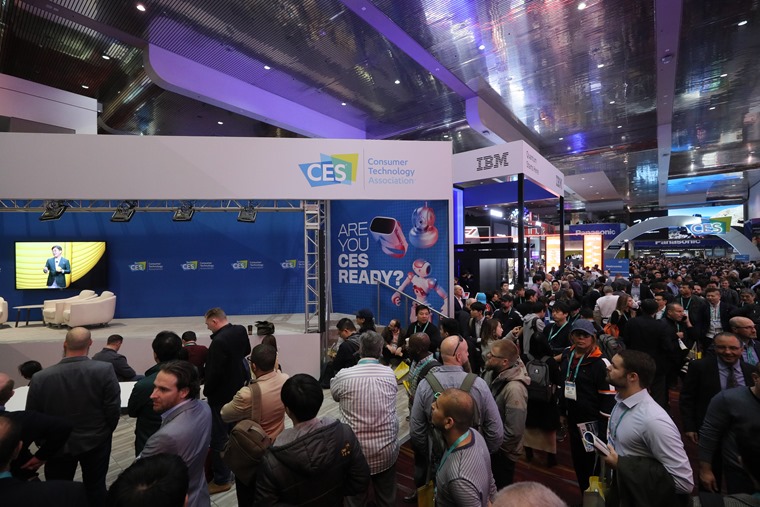 Well, the answer is the CES is not about white goods, unless you're talking retro iPods. The word consumer refers to anyone who uses technology and the automotive world has grabbed on to the CES event as a major date in its diary. Perhaps more than the main car shows such as Detroit, Geneva and Frankfurt, CES is a place where car companies can now geek out to their hearts content, and is a place where we get the opportunity to see tomorrow's tech.
A measure of how important the CES show is to car manufacturers now and how central they are to the show itself is there are two key areas dedicated to the automotive sector. They are Self-Driving Cars and Vehicle Technology. They might be broad bases, but most car makers are not here to show off improved engines – this is very much an electronics show and that means gadgets, gizmos and gewgaws.
Over the past decade or so, the CES show has grown in stature among car firms and now gives a key insight into their thinking. This importance has grown alongside the rapidly developing technologies for autonomous driving, artificial intelligence and safety developments. The two complement each other and this is why Las Vegas is the only place to be for car makers in early January, so much so it has prompted the Detroit show to move from its usual January slot in 2020.
An example of this is the Augmented Driving Concept from Honda. It couldn't be more of a motorshow concept car if it tried thanks to its roofless four-seat cabin and wheels that don't appear to bother touching the ground.
Check out a few of the innovations we debuted today at #CES2020. pic.twitter.com/FUHnn54GRu

— Honda (@Honda) January 8, 2020
While it could be easy to dismiss the Honda as merely a show trinket, a closer look shows it has plenty to interest us that we will be seeing in the very near future on the Honda's we lease. Prime among this is the steering wheel controls for operating a smartphone. Called Smartphone as Brain, Honda allows the driver to use certain functions of their phone without having to take their hands from the steering wheel. It also allows voice controls to do the same, with obvious benefits for limiting driver distraction.
Safety is always a key theme at any show with car manufacturers present and Land Rover was another at CES to demonstrate its latest kit. This was the firm's Advanced Driver Assistance Systems developed with Bosch to offer a 3D surround camera on the new Defender. Also on show for this car was a system to allow software over the air downloads to update the car's and tech with no need to visit a dealer.
This is a theme that has been emerging for several years at CES as car makers work towards their cars being more self-sufficient between stops for routine servicing.
Another big idea that gained more traction at the CES show was the switch to 5G networks. While few spots in the world have this as yet, car companies are keen not to be left behind or caught on the hop. So, it was a big deal when Harman showed off its Vehicle-to-Pedestrian 5g tech. This means cars will know where a pedestrian with 5G tech is and the car can react to their position before any potentially dangerous situation arises. It can also warn the pedestrian of a vehicle's approach, so even those wearing headphones or speaking into their smartphone will be alerted.

One of the more outlandish launches came from Hyundai with its Urban Air Mobility concept. The notion of flying cars has long been a flight of fancy for car makers looking to attract a few headlines and column inches at a motorshow, but at CES you need to have the tech to back up your claims to be taken seriously.
Hyundai did just that and rather than trying to sell us a flying car, it majored on its Personal Air Vehicle (PAV). This is the Korean firm's vision of how many of us will travel around congested cities in the not too distant future. Covering short distances in quick time, the PAV will skip between hubs that connect with a Purpose Built Vehicle (PBV). The PBV will then take you to your final destination in a driverless pod.
This has been a growing theme as car makers recognise they will not be able to offer cars just for one person to use and have at their disposal in cities. The notion of sharing and integrating are now very much part of their long-term thinking and Hyundai's tech at CES is another step on that journey.
Get a glimpse of the future with expansive lineup of technologies and services we showcased at #CES2020, that promise an innovative, future-forward driving experience! #FutureFriday #NissanCES pic.twitter.com/gmPNl7zwNK

— Nissan (@Nissan) January 10, 2020
Anything else? Nissan showed off its Ariya Concept, an EV crossover packed with technology that supports your daily life. What drew the most interest from Nissan though was its smart material called meta-material. This lightweight sound insulation material is claimed to be cheaper to make, lighter and more efficient than other sound-proofing options.
Why show this off at CES? Simple, Nissan says its new material can make electronic components more efficient by better insulating them. As most of the cars shown at CES have electric motors, this is a big deal and also shows the much broader scope of the CES show nowadays.
It also shows how this massive event out in the desert of Nevada has grown from being a conference where techies and programmers gathered to check out one and other's innovations to one where some of the biggest companies in the world are clamouring for exhibition space. When that happens, you can be certain that what's unveiled at the CES show will be appearing a car you drive sooner rather than later.