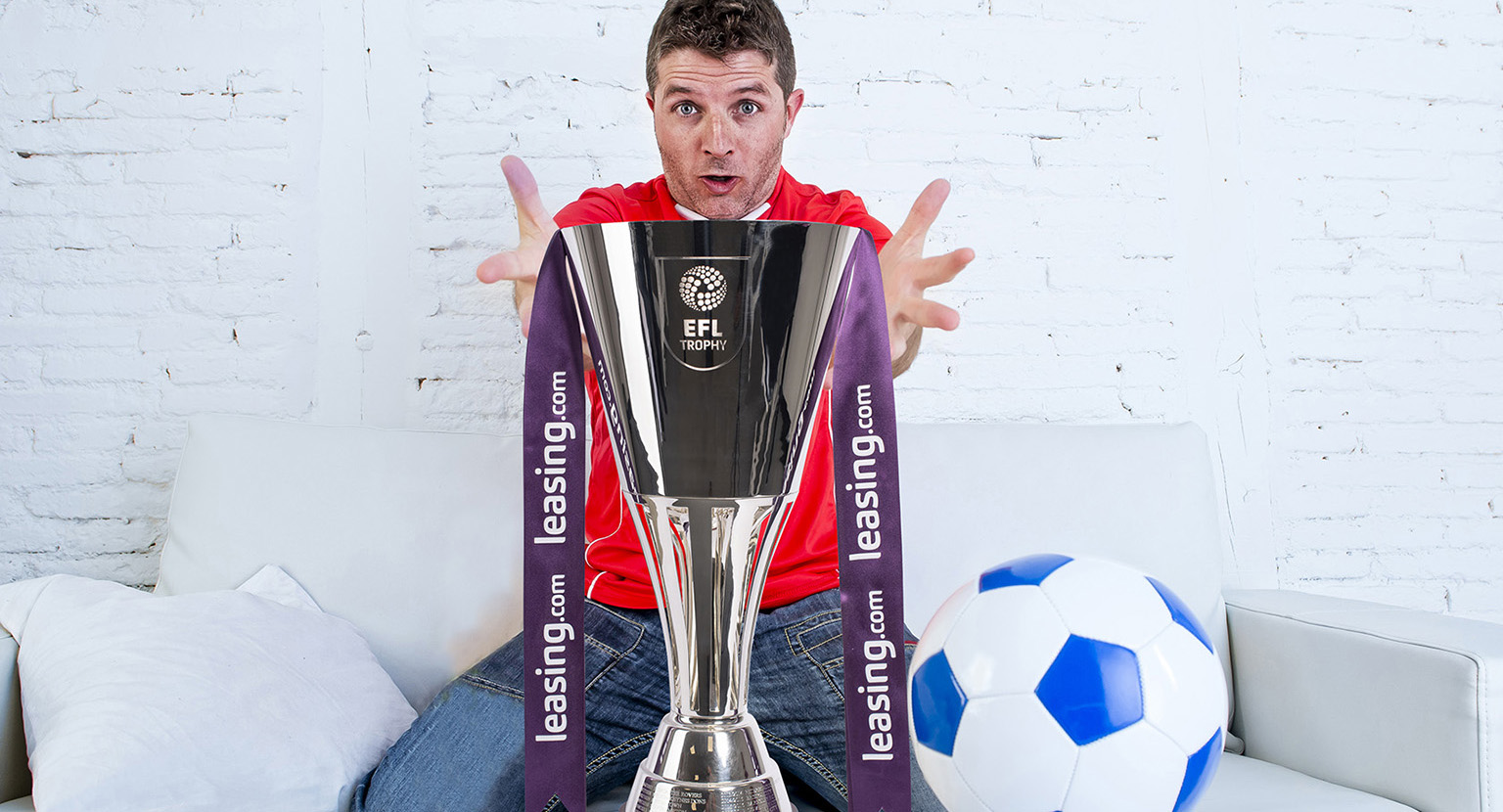 Your chance to win Wembley final tickets,
Club merchandise and much more...
#KickItToWinIt – Win Leasing.Com Trophy Finals Tickets
#kickittowinit
We're offering you the chance to win some incredible prizes as part of our #KickItToWinIt campaign.
One lucky winner will get their hands on:
A pair of VIP tickets to the Leasing.com Trophy Final in April

Merchandise for a chosen SkyBet League One or League Two club

A copy of Football Manager 2020

Plus a once-in-a-lifetime opportunity to lease the Leasing.com Trophy itself!
How to enter
If you fancy showing the trophy off in your home, school, office or local club house, here's how to enter:
Record a video of you and/or your team scoring a goal you're proud of - it could be your local Sunday League team, your school team, work team, or even just a kickabout in the park with your kids

Simply share it with us on Twitter with the hashtag

#KickItToWinIt

Encourage as many of your friends, family and followers to engage with your post as possible!
Example tweet: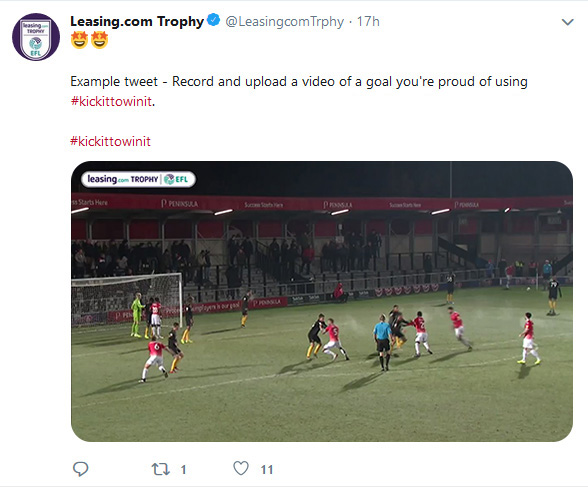 Examples of what we're looking for
As soon as we have some competition entries we will post them here, but for now just enjoy some examples of what we're looking for...
Terms and Conditions - #KickItToWinIt Twitter Competition
The promotion is open to UK residents only aged 18 years and over on the date of entry, excluding employees and their immediate families of Leasing.com Group Ltd and/or The EFL, its agents and anyone professionally connected with the promotion. No third-party entries.
To participate, entrants must upload their own video of them scoring a goal to their personal Twitter profile with the hashtag #KickItToWinIt in the post. Please note your Twitter account must be 'public' and enabled for direct messaging by the promoter. Your tweet must comply with Twitter's terms of service, rules, privacy policy and any other content of your Twitter user agreement, together with these terms and conditions.
Entries are limited to one entry per individual per promotion period (see below). The promoter also reserves the right to disqualify multiple entries from the same or similar Twitter accounts or the same IP address for the same promotion period, or any entry found not to comply with these terms and conditions or those of Twitter.
For the first round of the competition, entries must be made between 12am on 06/01/2020 and 11:59pm 31/01/20. For the second round of the competition entries must be made between 12am 01/02/2020 and 11:59pm 29/02/2020. Entries after this time will not be counted. All times noted are in UK time only.
Winners will be selected at Leasing.com's discretion. There will be one winner per round and 8 runners-up per round.
Participants must own the video content submitted for this competition or have permission from the content owner. Any entries shared without permission or ownership will be discounted from winning the competition. Participants must ensure their entry does not contain any photograph or other material to which they do not own or have rights to submit, nor any material or content which is unlawful, offensive, hateful, defamatory, threatening, obscene, inflammatory, sexually explicit, violent, cause distress, or discriminatory on grounds of race, sex, religion, nationality, disability, sexual orientation, or age, infringes the intellectual property, confidentiality, privacy or other rights of any other person or organisation, or is sent for commercial gain.
Any submissions deemed inappropriate will be not be accepted as an entry.
Prize must be taken as stated. Prizes are:

a. WINNER: 2x VIP Leasing.com Trophy final tickets, merchandise for one chosen SkyBet League One or League Two club, 1x Football Manager game, and 2 hours of 'leasing' the Leasing.com Trophy*
b. RUNNERS-UP: 2x Regular final tickets for the Leasing.com Trophy, merchandise for one chosen SkyBet League One or League Two club and 1x Football Manager game each
*use of the Leasing.com Trophy will be in a managed and supervised environment as notified by the Promoter. All use must be responsible, safe, lawful and not seek to derogate the integrity of the Promoter, the EFL, the Leasing.com Trophy competition or any other competition of the EFL or participating clubs or players.

Winners and runners up in relation to the relevant promotion will be contacted by direct message on their Twitter account used when submitting their video above and they will have 24 hours to complete the form linked in their direct message notification and claim their prize. Failure to do so (or if it is otherwise found at any time that a winner fails to meet the qualifying criteria for entry) may result in forfeiture of their prize and selection of a different winner/runner(s) up. Winners and runners up who respond to their email notification will be provided with their prize within 30 days of responding, or such other later time as the promoter may notify and is reasonable having regard to the nature of the prize (PLEASE NOTE THE PRIZES FOR THESE PROMOTIONS ARE EXPECTED TO TAKE LONGER TO PROVIDE. ESTIMATED DATES OF DELIVERY/FULFILLMENT WILL BE PROVIDED WITH ANY WINNERS/ RUNNERS UP NOTIFICATION WITH UPDATES OF ANY CHANGES AFTER THAT. THE PROMOTER WILL NOT BE LIABLE FOR ANY DELAY IN DELIVERY OF A PRIZE OTHERWISE CAUSED BY FAILURE OR DELAY OF A WINNER / RUNNER UP TO PROVIDE REQUIRED INFORMATION AND/OR THE WINNER PROVIDING INACCURATE OR INCOMPLETE INFORMATION).
Leasing.com reserves the right to vary, alter or terminate this promotion due to unforeseen circumstances beyond its reasonable control.
Neither Leasing.com nor the promotional parties assume any responsibility or liability for any incorrect or inaccurate entry, or for any faulty or failed electronic data transmissions.
Leasing.com accepts no responsibility for, and no compensation will be given for, any cancellations, or changes to dates or venues for any part of this prize. To the fullest extent permitted by law, Leasing.com cannot accept responsibility for loss, injury or damage arising from winners taking a prize or attending a venue, which they do at their own risk.
Leasing.com accepts no responsibility for prizes being lost, damaged or delayed in the post.
Leasing.com accepts no responsibility for prize winners unable to take up their prize in whole or in part and there are no alternatives in cash or kind.
All data will be held in accordance with the Data Protection legislation and Leasing.com will not use your details, or pass them to a third party, without your consent, except for the purposes of this promotion. You acknowledge that the personal information you provide may be shared with the EFL, who will keep such information secure and use it for the purposes set out in its privacy policy, together with other specific uses noted in these terms and conditions.
By entering this promotion all entrants agree unequivocally to be bound by these terms and conditions. Entry via Twitter is deemed as acceptance of these Terms & Conditions.
English law shall govern these terms and conditions. Any dispute shall be subject to the exclusive jurisdiction of the English courts.
Leasing.com's decision regarding promotional matters will be final and no correspondence will be entered into. Promoter: Leasing.com Group, Domain House, 4 Watchgate, Newby Road, Hazel Grove, Stockport, SK7 5DB. The name and county of the prize winner(s) will be available by sending a written request to this address and entrants acknowledge their name and county may be disclosed for this purpose.
By entering, all entrants agree that Leasing.com, the EFL (and its subsidiary EFL Digital), and/or applicable Leasing.com Trophy participating clubs and commercial partners can use the video, description and Twitter handle in social media posts from the EFL, EFL Digital, Leasing.com, Leasing.com Trophy, club(s) and/or commercial partner(s) accounts.
The winner and their guest attending a venue to enjoy their prize must also comply with all policies, rules and reasonable instructions provided by the EFL, venue operators and/or any authority at the venue. The EFL, the relevant venue operators and authorities reserve the right to remove any entrant or winner (and/or their permitted guests) for failing to comply with those policies, rules or instructions or otherwise behaving in an inappropriate manner.
The EFL will be provided with information (including name and address) of the competition winner and their guest for prize administration and databases will be checked against any club banning orders as well as the National Police database for those who may be subject to a court banning order. The EFL will not otherwise use winners' personal details for reasons other than the above, unless lawfully permitted to do so.
Entrance to this competition constitutes full acceptance of these terms and conditions and all terms and conditions of the Football League Limited Conditions of Issue as well as the Wembley National Stadium Ground Regulations. Both of these documents can be found at www.efl.com/ticketconditions. Winners must abide by those terms at all times. The promoter or the EFL accepts no responsibility if the winner and/or the winner's guest are denied entry or asked to leave the match for failure to abide by such terms, any applicable law or regulation or because of their inappropriate behaviour.
The prize is not transferable and cannot be exchanged for cash. Under no circumstances can this prize be transferred to a third party of sold for any financial amount.
Guide to leasing
Why lease?
The future of car leasing - the smart way to drive a new car
1.7+ million drivers already lease their cars and vans in the UK

Simple, affordable, monthly payments

No worries about depreciating car - simply hand back the keys at the end of contract term

Or upgrade to your dream car for less than you think

No hidden extras - service and maintenance packages available
How car leasing works
How to choose your ideal car leasing plan
Are you ready to lease?
Our top five leasing tips