Top five superhero cars you can actually drive
Car product placement has come a long way since the producers of the Italian Job had to beg BMC to give them a token fleet of Minis for the film despite the amount of publicity the cars would get – publicity the brand still trades off to this day.
Now you'll find all sorts of cars popping up in all sorts of films – from the Subaru Impreza of Baby Driver to a futuristic Peugeot in Blade Runner 2049. With superhero films so en vogue at the moment and Avengers Endgame smashing box office records left, right and centre, manufacturers are queuing up to have their vehicles featured.
Here's what some of the biggest and best comic book characters 'chose' to drive when they made the leap from the comic book page to the screen. As part of the terms and conditions of this article, we've been told we must warn you that by crashing a Lamborghini Huracan you won't end up with the powers of Dr Strange.
Audi R8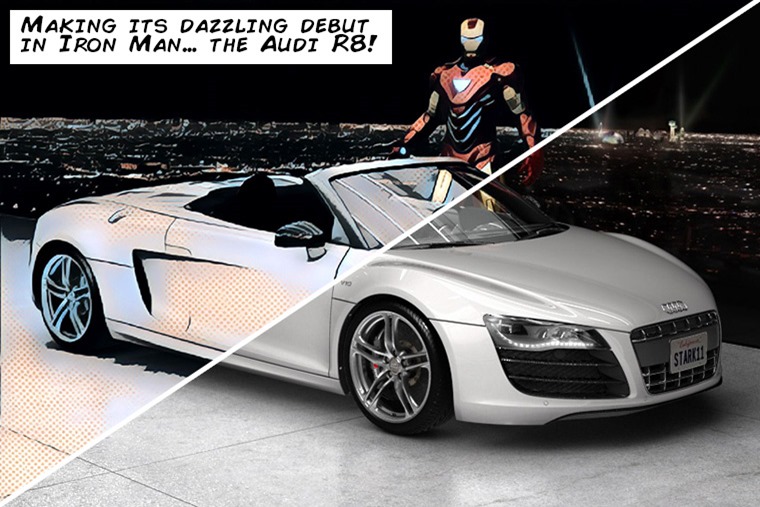 It's safe to say, Audi has the 'product placement in superhero films' market tied up. That all started with the R8 making its initial debut in 2008 in the original Iron Man. It was a triple onslaught in 2015's Avengers Age of Ultron from the brand though, with the movie acting as a large showroom for the R8, TTS and A3.
Why has Audi become synonymous with the man behind the (Iron Man) mask, Tony Stark? Simply put, Giovanni Perosino, head of marketing communication at Audi AG, states: "The character Tony Stark continues to evolve and represents a truly modern renaissance man – an industrialist, engineer and leader in his new world […] it's this type of innovator that carefully selects their cars and is exactly who would be driving the next generation Audi."
Which makes the R8 the ideal car. With a 3.2sec 0-62mph sprint and a 205mph top speed, it rivals virtually anything else on the road. You also don't have to be quite as rich as Tony Stark to get one.
Lexus LC500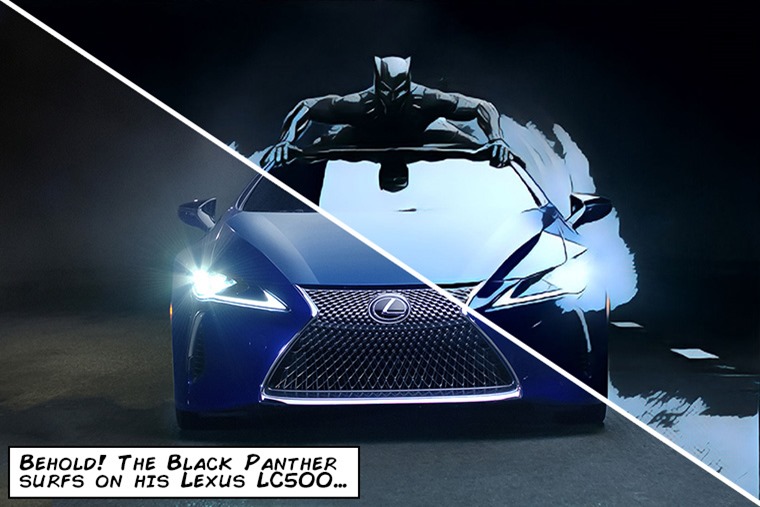 Not so much driven as surfed, the Lexus LC500 makes its appearance in Marvel's Black Panther as T'Challa, the superhero King of Wakanda, clings to the roof of the supercar as his sister pilots it remotely.
And what a cool car to do it on. When we reviewed it we found it to be a luxury item to treasure thanks to its 477bhp at a giddy 7100rpm, segment-leading handling and excellent driving position.
What's more, being associated with one of the big successes of the superhero boom will have massively helped raise Lexus' stock globally.
Audi A8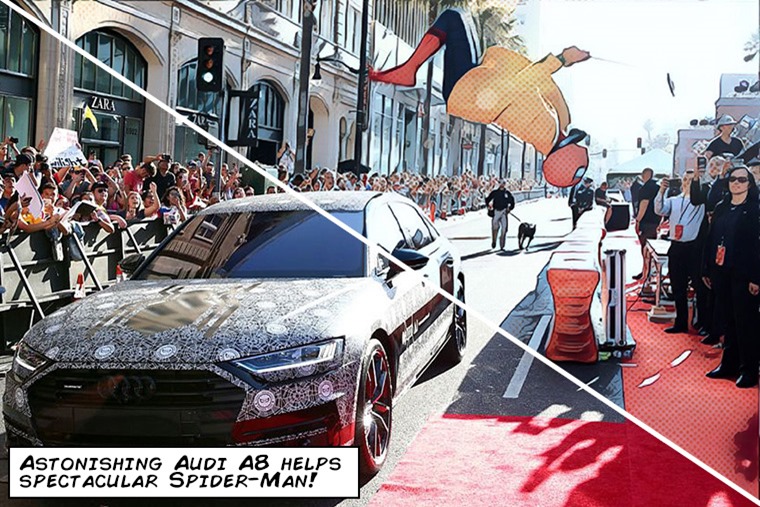 A massive coup for Marvel was the fact that the first glimpse many of us got of the Audi A8 was via Spider-Man: Homecoming. Released one week before the car itself was officially revealed, the film also managed to sneak it into a few bits of tie-in marketing beforehand too.
Needless to say, the car is a bit too good for Peter Parker and it was no real surprise to see the owner of the Audi A8 was the web-slinger's patron, Tony Stark. When we tested the Audi A8, both as driver and chauffeured-passenger, we found it to be luxurious and packed full of tech – so the ideal car for the man behind Iron Man. That didn't stop Peter Parker from using the fact it has the most advanced technology currently found in any car to cheat through his driving test though.
Mercedes-Benz E-Class Cabriolet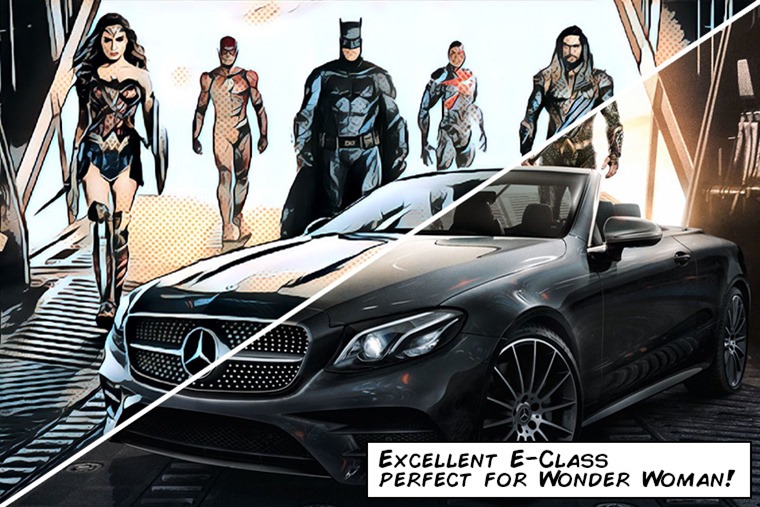 Wonder Woman, aka Diana Prince, likes to keep things subtle. After all she is an antiquities dealer when she's not out flying her invisible airplane and kicking ass in the name of protecting humanity.
As the convertible version of our 2016/17 car of the year, there's a lot to like about the E-Class. From its class and performance to its refinement and comfort, the 'E' in E-Class could stand for elegant but it could also stand for effortless. At any speed and on any route you will be treated to possibly the most relaxing, calm and serene drive you will ever experience. No wonder she's so calm in the face of alien invasions and the like.
(We're too classy to make any jokes about looking great with their tops off too).
Hyundai Kona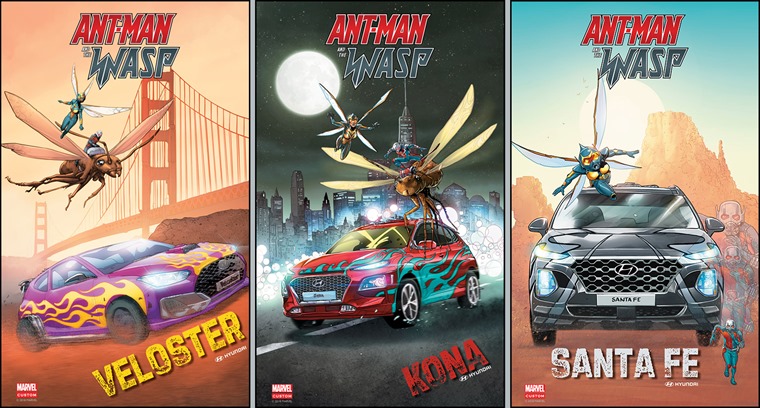 One of the most recent Marvel films prior to Avengers Endgame, Ant Man and the Wasp features Hyundai vehicles throughout. The Hyundai Veloster is arguably the vehicular star of the film with its blazing yellow flame shapes over purple wrapping and side-exhausts but… well, it's unavailable in the UK so we picked out the Kona - a small crossover which is a perfect fit for a small superhero.
When we got behind the wheel of the Kona we found it to do everything a small family car should and its distinctive looks really helped it stand out in the crowded segment. We just wished we could shrink it to get through traffic.