Best lease cars for tech fans
We cover a lot of new car news here at Leasing.com, and not a launch goes by where a new model isn't bringing some new gadget to the market to make a driver's life easier and/or safer and/or ensure they're entertained on the road.

It's no big secret that technology continues to grow and grow in importance, not only to car manufacturers but to drivers themselves. When the fact that whether or not a car comes with Apple CarPlay can be a deciding factor in choosing to lease then you know it's a big deal.
With this in mind, you can add 'keeping up with the latest tech' as a reason why leasing a car makes sense, as chances are when your two or three year contract is up there will be further safety and entertainment innovations to be found in your next lease car. So what cars might currently appeal to tech fans? Here's our top five.
Mercedes-Benz A-Class
With lease deals available from as under £200 per month, we can't think of a more stylish, high-tech and all-round exclusive hatchback that's on offer for the same money.
As our most popular lease in 2019, the A-Class offers drivers an impressive amount of connected and interactive technology on top of class-leading refinement and comfort.
Perhaps its crowning feature is it was also the first model to launch with Mercedes-Benz MBUX infotainment. This is as close as a current car gets to the likes of Amazon's Alexa, with the A-Class offering probably the best voice assistant on the market. It even understands indirect speech so all you have to do is say: "Hey Mercedes, I'm cold," and the air vents will glow red to indicate a rise in temperature.
It also offers one of the most elegantly designed units on the market, with the infotainment and driver display seamlessly joined together. The new system also allows users to touch, swipe and pinch-to-zoom on the screen itself.
Our favourite feature though is the augmented reality navigation, which goes out of its way to make getting to your destination as easy as possible. It uses a front-facing camera to stream a live feed of the road into the driver display, with arrows directing you where you need to go as well as giving street names and numbers.
Tesla Model 3
Electric is in at the moment, and the model standing at the vanguard of tech innovations and capturing the public imagination is the Tesla Model 3. After all, who doesn't want a car that lets you play chess on the touchscreen, or make fart noises when someone sits in a passenger seat?
But away from the daft and entertaining, the Model 3 also happens to be one of the safest cars currently available. The Tesla Model 3 scored a best-ever 94% in Euro NCAP's 2019 Safety Assist tests, thanks to its superb driver assistance systems such as lane support, speed assist and autonomous emergency braking.
With its minimalist interior dominated by a 15in horizontal touchscreen, this unit controls all of the in-car functions with the only physical buttons in the car are those for the windows and on the steering wheel.
Long Range and Performance Model 3 vehicles go a step further by offering a premium interior package. This features heated seats, satellite-view maps with live traffic information and navigation, and a premium audio system with 14 speakers.
Volvo XC40
Volvo, along with Tesla, has the distinction of being one of the few manufacturers to currently offer a portrait-aligned infotainment system. Sensus Connect is certainly one of the most stylish infotainment units available, featuring a user interface with several innovative functions such as 3D map navigation and free map updates, a local search function and an option to remotely send destination instructions to the car.
Having recently partnered with Google, Volvo could soon have the bragging rights of offering the best infotainment system on the market too. The next generation of Volvo vehicles will embed the voice-controlled Google Assistant, Google Play Store, Google Maps and other Google services. Even better, new apps and software updates will be available in real time and be automatically applied.
Away from the entertainment side of things, Volvo has always been famous for the safety of its vehicles and the new XC40 comes with the largest offering of safety tech out of any small SUV available.
As standard, the XC40 gives you access to everything from Oncoming Lane Mitigation and Run-off Road Protection to Driver Alert Control and Full Auto Brake. Not to mention a Whiplash Protection System, Inflatable Airbag Curtains, Side Impact Protection and Stability and Traction Control.
This doesn't even scratch the surface of everything available to mitigate risk while driving either! It's no surprise that it remains one of Euro NCAP's highest rated vehicles.
Audi A8 - The expensive option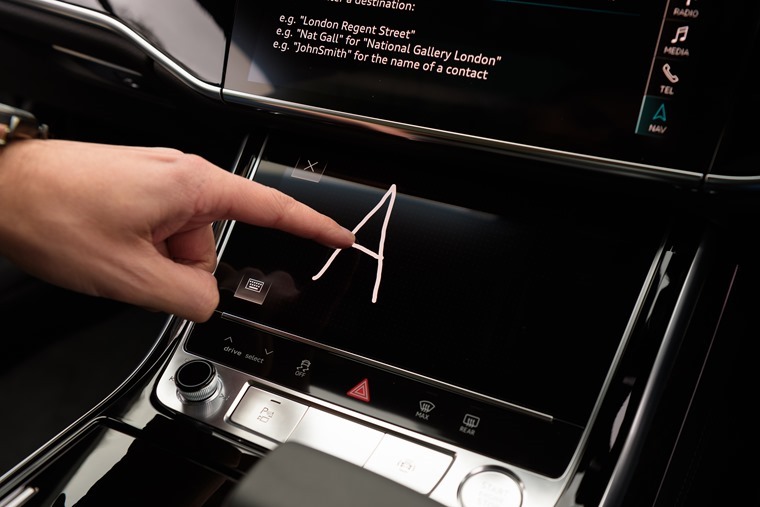 It's safe to say technology is at the heart of the Audi A8 luxury saloon. Launched in 2018, it was the first production car in the world to be developed specifically for automated driving, with piloted functions such as the Audi AI parking pilot, garage pilot and traffic jam pilot all being gradually rolled out over its lifetime.
The model also introduced the next stage of Audi's infotainment offering, replacing the rotary-control based infotainment system of yesterday with an innovative touch-based system. This also included haptic-feedback, a cool feature which ensured a click is heard and felt with each choice made on the touchscreen to acknowledge your input so you're not taking your eyes off the road.
As for the satnav itself, the A8 uses quality pictographic images for the map with the option to use Google Maps satellite images for the background if you have an internet connection. Any directions are transferred either to the Virtual Cockpit or the driver display to make life a little easier.
Okay, the A8 might be a bit niche and a bit on the pricey side, but if it's a sign of things to come as to what tech future Audi's might offer then we're excited.
Kia ProCeed - The budget option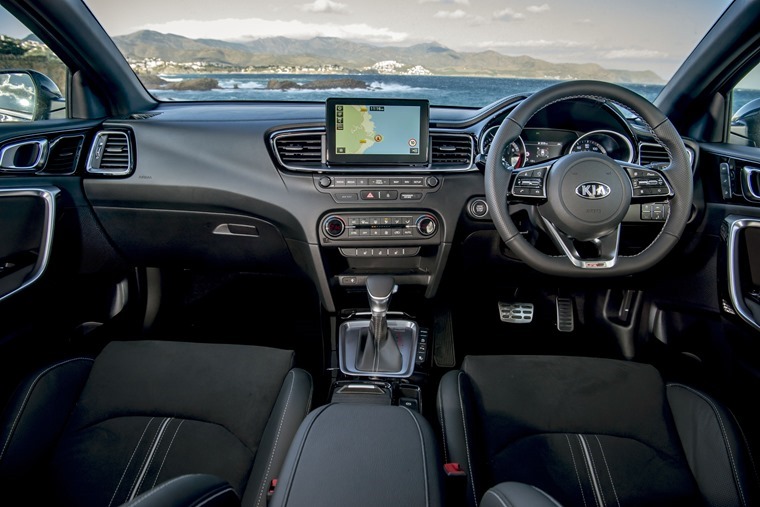 It may stick out like a sore thumb compared to some of the more premium manufacturers on this list, but ignore the Kia ProCeed at your peril: this is one serious piece of kit.
With a dashboard angled slightly towards the driver, it features an 8in touchscreen infotainment system which sits just above the similarly simple heating and ventilation controls.
Navigation, DAB radio, Bluetooth, Apple CarPlay and Android Auto all come as standard across the ProCeed range, while higher spec models also come with wireless mobile phone charging and TFT driver display.
Driver assistance perks such as adaptive cruise control, forward collision warning, lane keeping assist, and reversing camera also feature as standard across the range. Smart park assist for parallel, perpendicular and reverse manoeuvres features on top of the line models.
With lease prices starting from just £171 per month, the Kia ProCeed is definitely the ideal car if you want to keep costs low without compromising on tech.