Mercedes-Benz E-Class: Complete styling overhaul as well as new tech for facelifted model
List prices for the all-new Mercedes-Benz E-Class have been revealed, with the range starting from £39,400. Deliveries are set to commence in September.
With a refreshed exterior, electrified drivetrains and new technology, it's sure to be a popular choice with lease customers and will compete with the latest Audi A6 and BMW 5 Series.
Read on for full details of the revised range.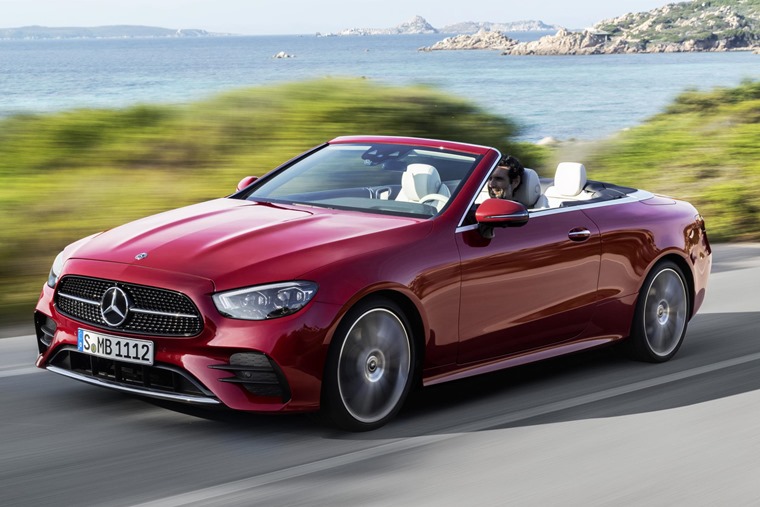 With over 14 million units delivered since 1946, the E-Class has the impressive distinction of being the bestselling model series in the history of Mercedes-Benz.
While the tenth generation model, originally launched in 2016, continues to be one of the most popular cars to lease, the E-Class has now had an extensive facelift for 2020.
Top five things you need to know about the refreshed Mercedes-Benz E-Class
It features a more dynamic design, taking inspiration from the recent A-Class and C-Class.
An All-Terrain variant will bring an SUV element to the range.
Offers a thorough driving assistance and safety system throughout.
Seven plug-in hybrid models available across saloon and estate range.
Capacitive hands-off detection keeps drivers' attention.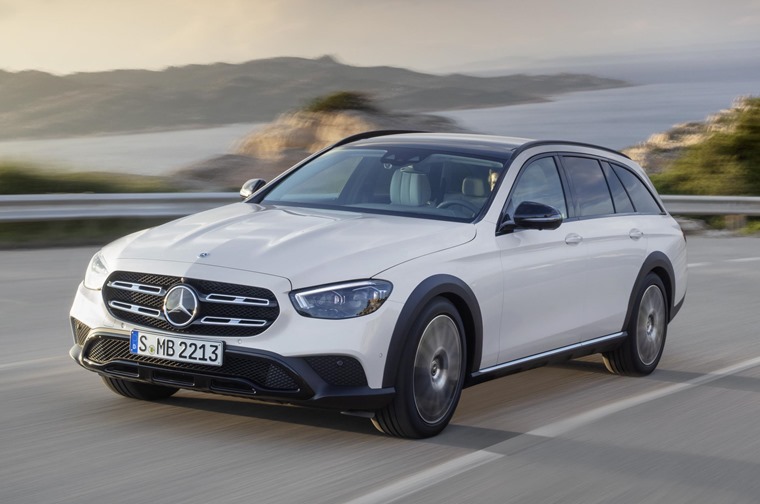 Mercedes-Benz E-Class styling
Undergoing a fundamental restyling over the current model, the E-Class in both estate and saloon forms looks to have taken inspiration from the recent A-Class and C-Class. This gives it a more angular design as well as slim headlights and taillights.
The designers also updated the Saloon's rear end with a new bumper, split tail lamps and a new boot lid.
The All-Terrain variant has even more styling tweaks to make it visually similar to SUV models too. In addition, signature All-Terrain components such as the radiator grille or the stylised skid plate now sport a mirror chrome finish rather than the previous silver shadow hue.
The coupe and cabriolet will also offer subtle changes to enhance their appeal, including a new 'A-shape' front grille and flatter LED headlights and tail-lights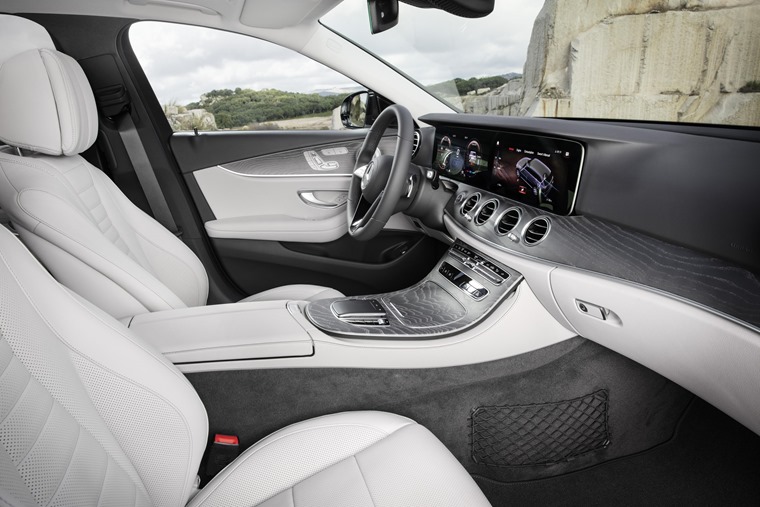 Mercedes-Benz E-Class interior
New appointment colours and materials add an air of class throughout the interior, while the seats retain their suitability for long distance driving.
The design of the front seats also accentuates the sporty aura of the interior, and offers strong lateral support without compromising on comfort.
The adaptive driver's seat adjustment is particularly convenient, allowing drivers to simply enter their height on the media display and the seat will automatically adjust into a usually fitting position.
The E-Class also offers three versions of its steering wheel, an all-leather version, wood-leather combination, and a supersport version. The three spoke design features touch-sensitive controls for the digital driver's display.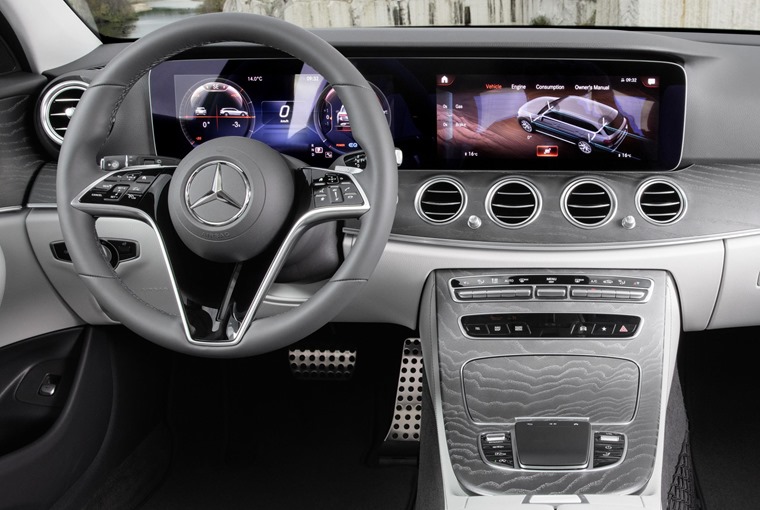 Mercedes-Benz E-Class infotainment
The new E-Class is equipped with the latest generation of Mercedes MBUX multimedia system. As standard, it includes two large 10.25in screens, which for a widescreen look are arranged side by side. Two 12.3 inch screens are optionally available.
The instrument cluster and the media display are controlled by swiping along the Touch Control buttons. Augmented reality is used for the navigation display whereby a video image of the surroundings is enhanced with arrows or house numbers superimposed directly onto the image in the display.
The optional MBUX Interior Assistant also allows intuitive, natural operation of various comfort and MBUX functions by movement recognition.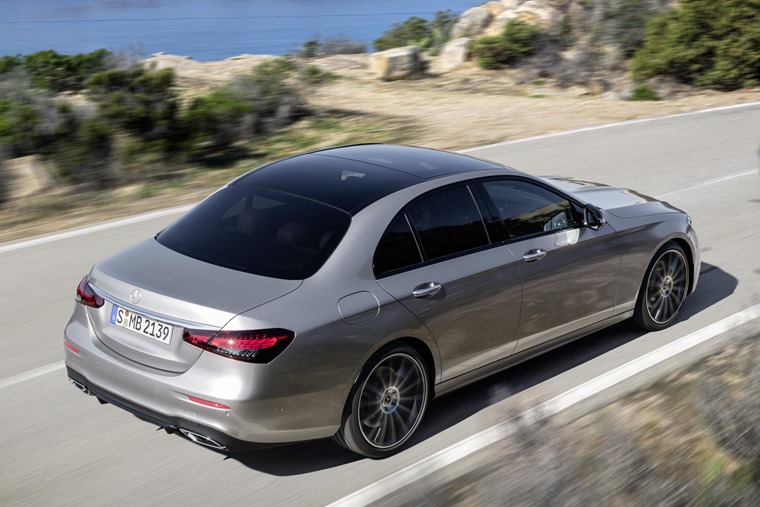 Mercedes-Benz E-Class engines and performance
Electrification across the E-Class range is perhaps the biggest headline, with seven models available as plug-in hybrids (diesel and petrol, Saloon and Estate, rear-wheel drive and all-wheel drive).
The line-up of high-efficiency, low-emission and powerful petrol engines will cover a range from 115 to 270 kW, while the spectrum of diesel vehicles spans from 118 to 243 kW.
A new six-cylinder petrol will be used in the E-Class for the first time, while the six-cylinder diesel engine feature an expanded emission control system.
Full performance specs will be revealed at a later date.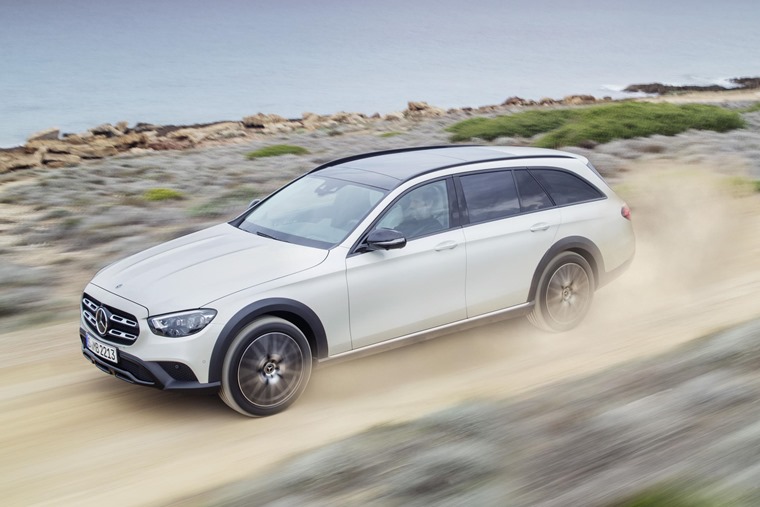 Mercedes-Benz E-Class safety
The new E-Class has the latest generation of Mercedes-Benz driving assistance systems. This not only provides cooperative support to drivers but offers an especially high level of active safety too.
Capacitive hands-off detection keeps drivers attention and allows the car to respond if the driver doesn't. On the previous generation of E-Class, a slight steering movement was required to let the car know you were in control but now it is sufficient to just be gripping the wheel.
As standard, the E-Class comes with Active Brake Assist, while some Intelligent Drive functions can optionally be added to the Driving Assistance Package. These include Active Speed Limit Assist which can adjusts the cruise control settings according to traffic signs, bends, roundabouts and junctions, while Active Distance Assist takes this a step further and allows route-based speed adjustment via LiveTraffic information.
Other assistance features include Active Stop-and-Go Assist which can keep the E-Class in lane and maintains a safety distance to the car in front up to speeds of 37mph.
Mercedes-Benz E-Class lease deals
Deliveries are set to commence in September, and you can find Mercedes-Benz E-Class lease deals right now.