Best saloon cars
Why choose a saloon? You get more space in the boot, more leg room, great fuel economy and practicality.
As the car leasing experts, we have a wide range of saloon deals with around a quarter of a million offers on that body style alone, many of those are in stock deals that can get delivered to your door within a few clicks. Compare all saloon lease deals.
To help you out, here are ten of the best saloon car lease deals. Choose from a range of manufacturers that suits all types of budgets.
Audi A4 saloon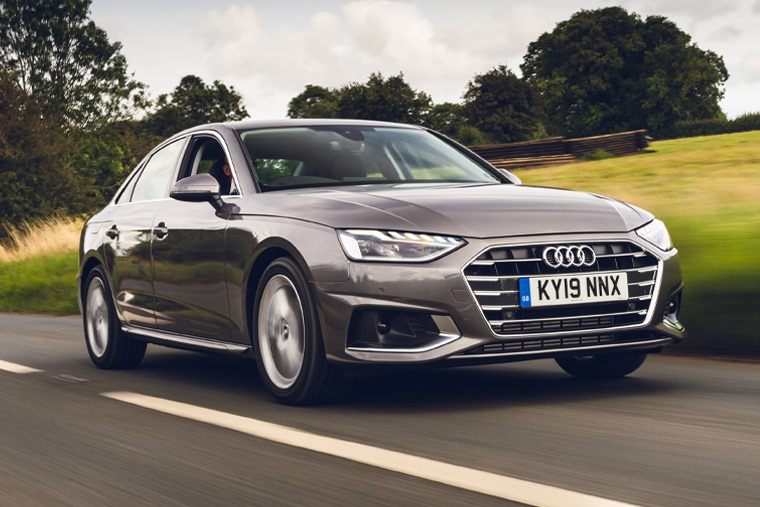 The Audi A4 remains the classic all-rounder with style and comfort as its main selling points despite facing some serious competition. The interior of the A4 takes the number one spot of the compact executive saloons, thanks to what Audi describes as "sophistication in every detail".
Lease an A4 saloon and you're guaranteed a spacious interior, impressive build quality and a smooth ride.
Compare all Audi A4 saloon deals
Volvo S90 saloon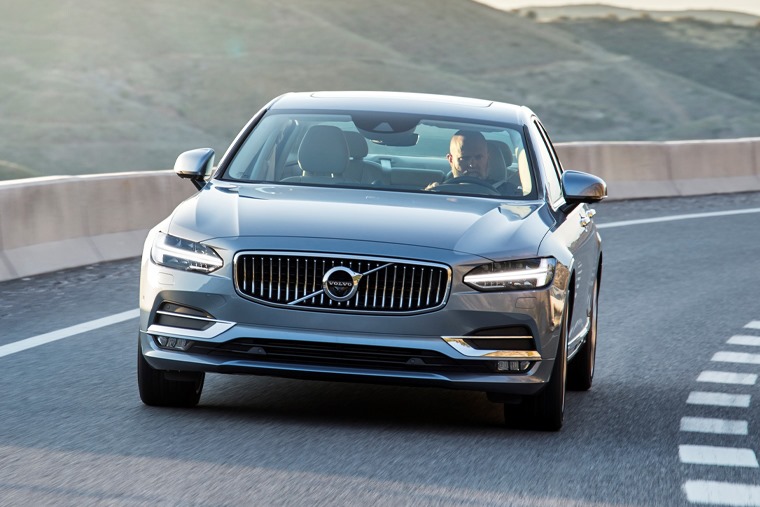 The S90 is essentially a saloon-shaped reinterpretation of the XC90, using the same platform and much of the same tech as the brilliant SUV.
Volvo has also given drivers the option of choosing the Recharge, a plug-in hybrid variant of the saloon. It's a big, classy cruiser.
Compare all Volvo S90 saloon deals
BMW 3 Series saloon
BMW doesn't like to mess with its 3 Series formula because it's pretty much guaranteed to be a success. If you're after something that has the dynamic edge, the BMW 3 Series saloon could be the perfect choice for you.
"Dynamic. Engaging. Definitive driver's saloon" – Leasing.com five-word review. You can read the full review here.
Compare all BMW 3 Series saloon deals
Mercedes-Benz C-Class saloon
The design of the C-Class saloon is more dynamic than ever. It strikes the perfect balance between style and sport with its high-levels of technology, modified front end and choice of models.
Great, now you've decided the Mercedes-Benz C-Class saloon is for you, you now need to choose the colour. Fear not, head over to our C-Class colour guide to hopefully help you make up your mind which hue is for you.
Compare all Mercedes-Benz C-Class saloon deals
Ford Mondeo saloon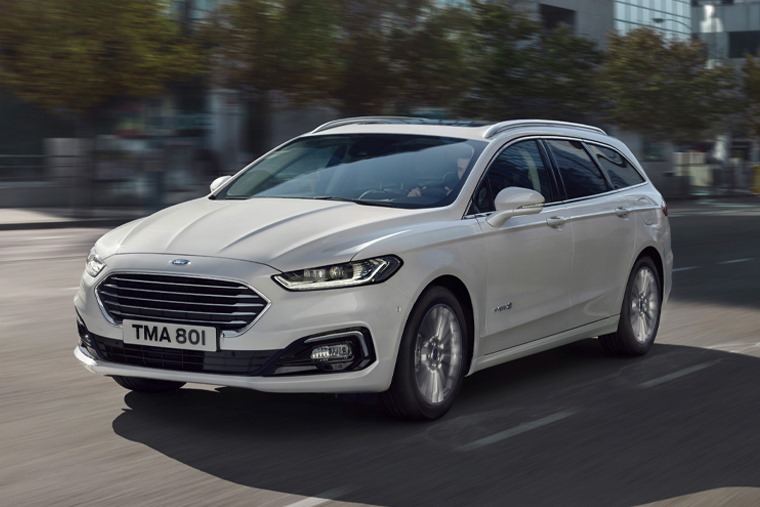 Mondeo Man is no more. Even though it isn't the driver's car it once was, the Mondeo has a lot going for it. Packed with advanced technologies and upgraded safety that includes the global debut of a new pedestrian detection technology, the Mondeo is as always, a reliable choice.
Compare all Ford Mondeo saloon deals
Jaguar XF saloon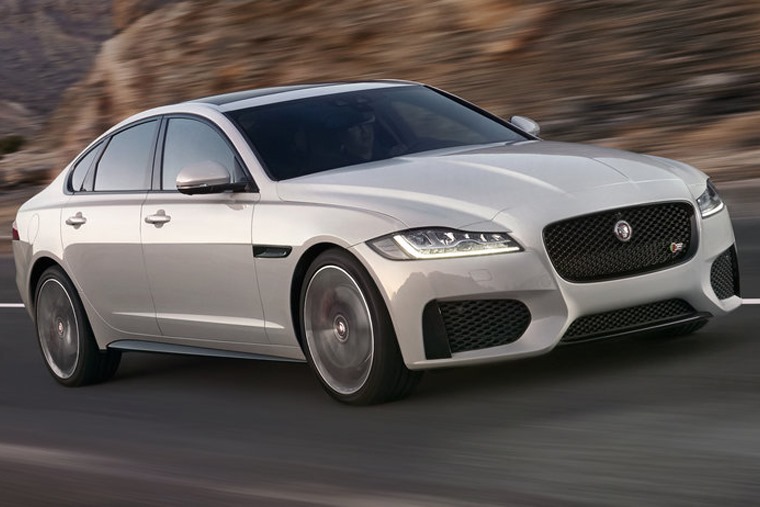 The current model went on sale in 2015 and is still a little more upmarket than its German rivals and is competing with the Ghibli.
Despite the Jaguar XF being a premium option, it's a practical one too. With a big boot, spacious rear seats and advanced driver assistance technologies, the XF holds some serious bargaining chips when you're deciding on your next saloon lease deal.
Compare all Jaguar XF saloon deals
Volkswagen Passat saloon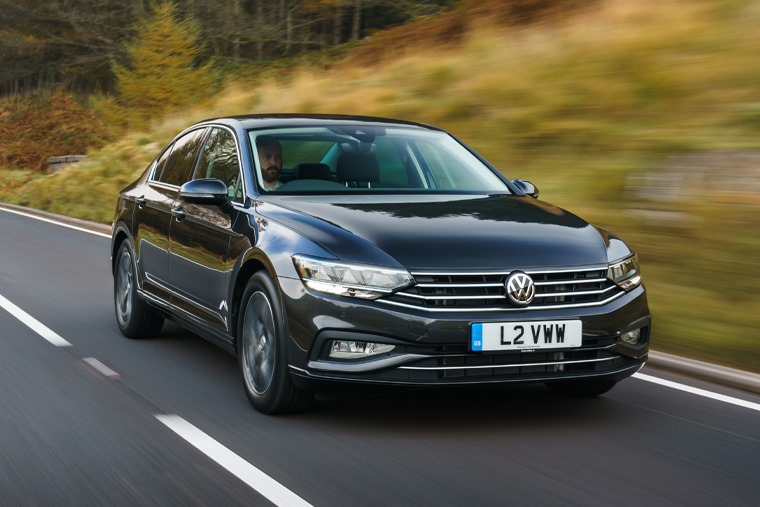 Considered to be an affordable option within the executive saloon choices, the Passat certainly holds its own. With a responsive touchscreen infotainment system and an impressive optional extra list to choose from, you can certainly bump up your interior to rival the Passat's competitors.
As you'd expect with a Volkswagen, you aren't spoilt for choice when it comes to engines and trim levels, which also includes a plug-in hybrid.
Compare all Volkswagen Passat saloon deals
Tesla Model 3 saloon
I feel as though I'm repeating myself featuring the Model 3, but you can't deny the brilliance of Tesla's saloon. It's one of the best cars there is. Full stop.
Spacious? Tick. Technology? Tick. Safety equipment? Tick. Performance? Tick. It really does have it all. Did we mention it's electric?
Compare all Tesla Model 3 saloon deals
Mazda 6 saloon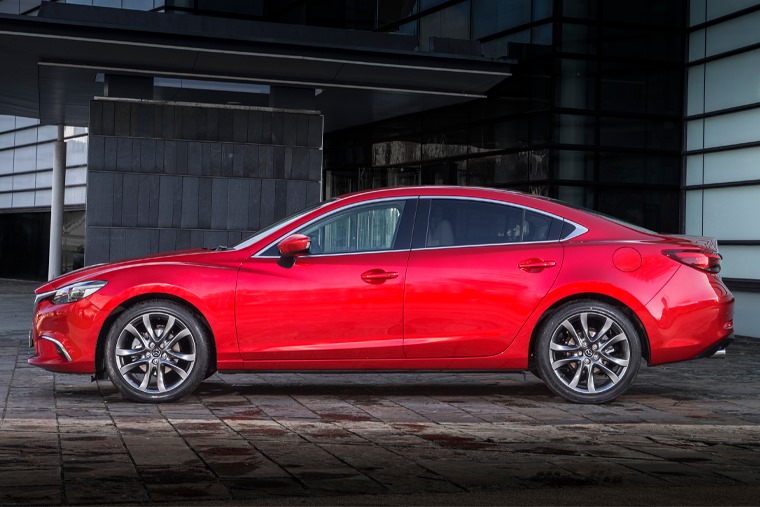 The sporty and sleek look of the Mazda 6 has an impact on its practicality. However, it remains a great choice for families who  want to rock up to the supermarket and get the most street cred.
With its dynamic new rear design and low profile, the Japanese automaker claims it's "as stylish and powerful to drive as it looks." If you're after a driver's car, lease one. Take our word, and you'll have some fun driving it. And you'll love just looking at it too.
Compare all Mazda 6 saloon deals
Honda Civic saloon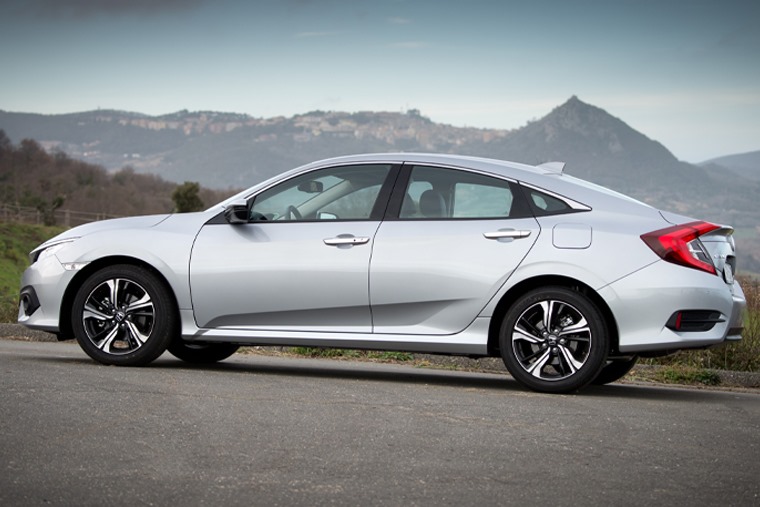 If you don't need the outright practicality of the hatchback door, the Civic Saloon is easily the more comfortable option. Whilst almost everything inside is identical to the hatch, you shouldn't expect Type R levels of feedback, but then this is a car for ferrying the kids and commuting in. Now all you're thinking about is the Type R, Howard got his hands on one and you can watch the review here.
Compare all Honda Civic saloon deals
Now that you've reached the end you either deserve a clap or a new saloon. However, if you're still browsing and aren't sure a saloon is for you, why not check out our best estates, hatchbacks and crossovers.