Best lease cars for tech fans
We cover a lot of new car news here at Leasing.com, and not a launch goes by when a new model isn't bringing some new gadget to the market to make a driver's life easier and/or safer.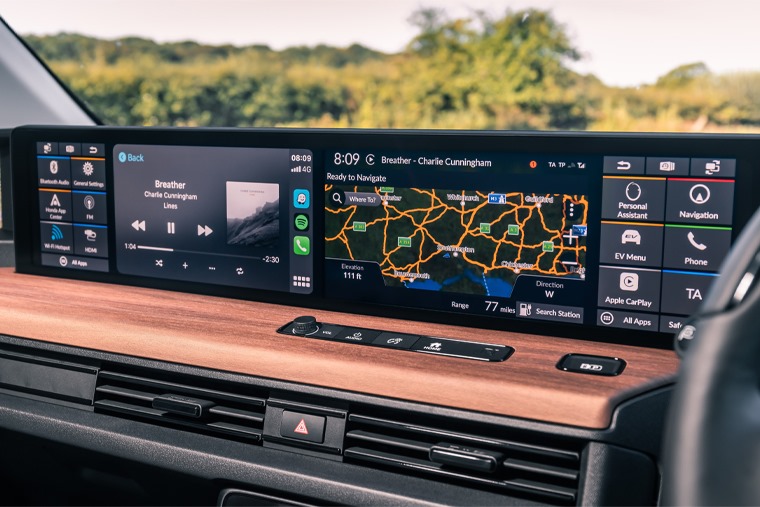 It's no big secret that technology continues to grow and grow in importance, not only to car manufacturers but to drivers themselves. When the fact that whether or not a car comes with Apple CarPlay can be a deciding factor in choosing to lease then you know it's a big deal.
With this in mind, you can add 'keeping up with the latest tech' as a reason why leasing a car makes sense, as chances are when your two or three year contract is up there will be further safety and entertainment innovations to be found in your next lease car. So what cars might currently appeal to tech fans? Here's our top ten.
BMW 4 Series
Grille aside, the 4 Series is not only an unbelievable drive, it hosts an array of high-end tech with BMW's iDrive's simplicity.
The new 4 Series gets a new 10.25in touchscreen Central Information Display. A suite of new digital services, including Connected Music, and driver assistance systems, such as the new Reverse Camera. Extras include the optional Technology pack, with Head-up Display, Harman Kardon Loudspeaker system and Gesture control.
A fantastic feature that the majority of cars now have is Remote Software Upgrade – similar to how your phone is updated, your will be able to update your car's technology over the air. This way, other functions you want to add to your car can be activated in just a few clicks.
Honda e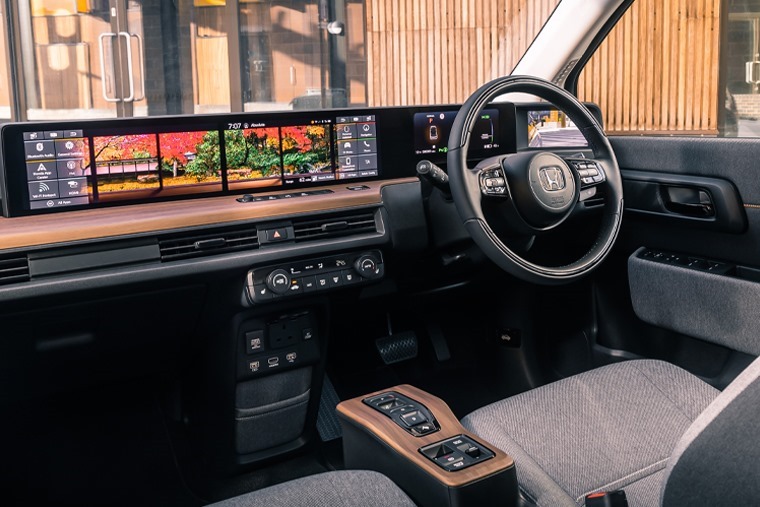 Perhaps one of the most futuristic cars available is the Honda e. Before we get into the tech and interior we want to make sure you don't underestimate this cute little motor's abilities. Under the bonnet there's a 35.5kWh battery pack mounted low down in the floor, with a single electric motor producing 154hp and 315Nm of torque with a WLTP official range of just 125 miles, and a real-world figure of around 100 miles. All that power goes through the rear wheels, too.
However, with the Honda e, it's all about the front cabin. Video screens run, literally, from one window to the other. At the far left is a screen that displays the view from the exterior camera mounted on the door - there's no wing mirror, just a high-tech solution that improves style and airflow. From there runs a bank of screens showing every bit of infotainment data you could imagine, from maps and radio to energy efficiency and pictures of a forest. You can even have a fully animated digital aquarium, with options to change the scenery, number and even type of fish on display.
Skoda Kodiaq
A car that does everything you need it to competently… and in style. The Kodiaq is consistently trending on our site with prices averaging around £210 per month.
In SE-L spec, you'll be getting something that's loaded with equipment - there's satellite navigation, heated seats, keyless entry, electric tailgate, in-car wifi, two reading lights in front, two in rear, an auto-dimming rear view mirror, cruise control and much more. It's also about as safe as you can get.
Putting tech aside, it's worth noting that all new Skoda's have another difference that it calls 'Simply Clever'. It's a philosophy of making family life easier, so the Kodiaq comes littered with storage bins, luggage hooks, an ice scraper hidden in the fuel filler flap and even umbrellas hidden in the doors on higher spec models.
Polestar 2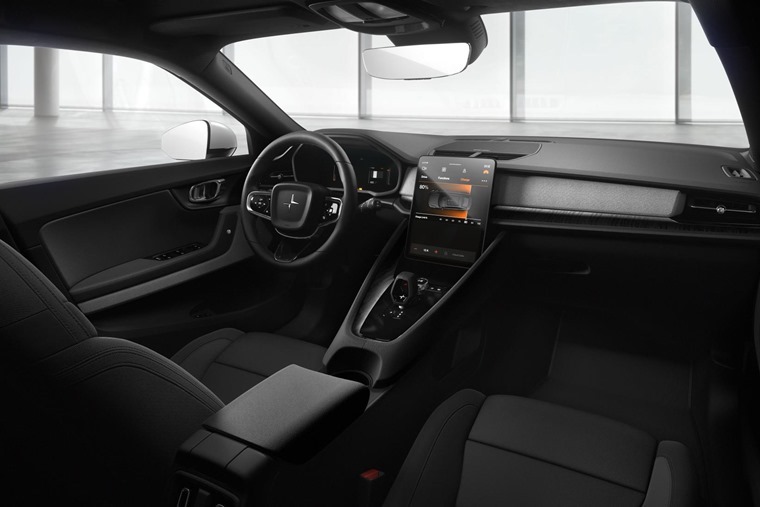 Polestar, has been making some (electric) noise over the past few years and now they're becoming more popular on the UK roads. The Polestar 2 aims to bring electric performance cars to a broader and increasingly progressive audience.
The 300 kW all-wheel drive powertrain has a large 78 kWh battery pack which offers range flexibility and a dynamic drive as well as a range of 292 miles. Add to that an emphasis on performance via 408hp and 660 Nm torque, with a 0-62mph time of less than 5 seconds, and its credentials become apparent.
Polestar 2 is one of the first cars in the world to embed an infotainment system powered by Android. This means Google services including Google Assistant and Google Maps are ready to use in a car for the first time.
Phone-as-Key technology further adds to this by enabling car sharing and more integrated ownership experience, as well as Polestar's connected services such as pick-up and delivery.
Range Rover Velar
"The first mainstream car ever made that is so nice to look at you might even want a sculpture of one in your lounge." – Howard Ritchie.
The centre switchgear has been replaced by a pair of glossy touchscreens, complete with apps and settings to change virtually anything about the car. The highlight has to be the digital buttons on the steering wheel. Rotate your thumb over the roundel and the audio volume changes, but press the middle and the graphics on the button change to display up and down switches for changing stations, or adjusting settings displayed on the instrument panel.
Mercedes-Benz A-Class
With lease deals available from as under £200 per month, we can't think of a more stylish, high-tech and all-round exclusive hatchback that's on offer for the same money.
As our most popular lease in 2019 and 2020, the A-Class offers drivers an impressive amount of connected and interactive technology on top of class-leading refinement and comfort.
Perhaps its crowning feature is it was also the first model to launch with Mercedes-Benz MBUX infotainment. This is as close as a current car gets to the likes of Amazon's Alexa, with the A-Class offering probably the best voice assistant on the market. It even understands indirect speech so all you have to do is say: "Hey Mercedes, I'm cold," and the air vents will glow red to indicate a rise in temperature.
Our favourite feature though is the augmented reality navigation, which goes out of its way to make getting to your destination as easy as possible. It uses a front-facing camera to stream a live feed of the road into the driver display, with arrows directing you where you need to go as well as giving street names and numbers.
Tesla Model 3
Electric is on the rise, and the model standing at the vanguard of tech innovations and capturing the public imagination is the Tesla Model 3. After all, who doesn't want a car that lets you play chess on the touchscreen, or make fart noises when someone sits in a passenger seat?
But away from the daft and entertaining, the Model 3 also happens to be one of the safest cars currently available. The Tesla Model 3 scored a best-ever 94% in Euro NCAP's 2019 Safety Assist tests, thanks to its superb driver assistance systems such as lane support, speed assist and autonomous emergency braking.
With its minimalist interior dominated by a 15in horizontal touchscreen, this unit controls all of the in-car functions with the only physical buttons in the car are those for the windows and on the steering wheel.
Volvo XC40
Volvo, along with Tesla, has the distinction of being one of the few manufacturers to currently offer a portrait-aligned infotainment system. Sensus Connect is certainly one of the most stylish infotainment units available, featuring a user interface with several innovative functions such as 3D map navigation and free map updates, a local search function and an option to remotely send destination instructions to the car.
Having partnered with Google, Volvo could soon have the bragging rights of offering the best infotainment system on the market. The next generation of Volvo vehicles will embed the voice-controlled Google Assistant, Google Play Store, Google Maps and other Google services. Even better, new apps and software updates will be available in real time and be automatically applied.
As standard, the XC40 gives you access to everything from Oncoming Lane Mitigation and Run-off Road Protection to Driver Alert Control and Full Auto Brake. Not to mention a Whiplash Protection System, Inflatable Airbag Curtains, Side Impact Protection and Stability and Traction Control.
This doesn't even scratch the surface of everything available to mitigate risk while driving either! It's no surprise that it remains one of Euro NCAP's highest rated vehicles.
Audi A8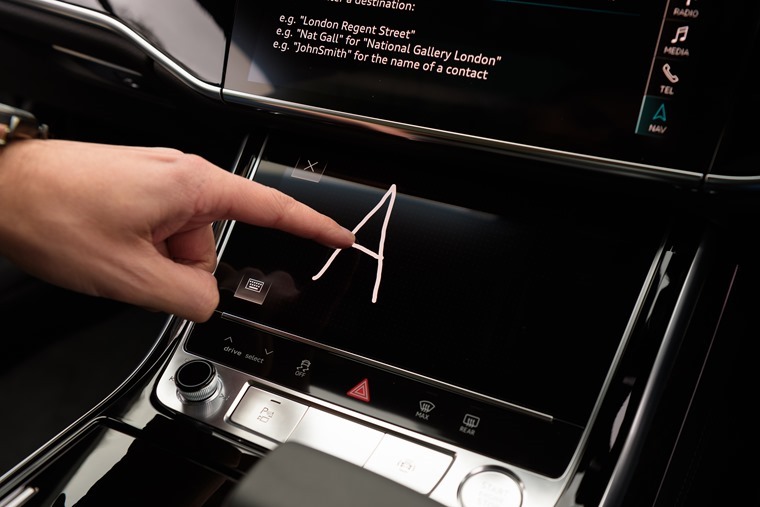 It's safe to say technology is at the heart of the Audi A8 luxury saloon. Launched in 2018, it was the first production car in the world to be developed specifically for automated driving, with piloted functions such as the Audi AI parking pilot, garage pilot and traffic jam pilot all being gradually rolled out over its lifetime.
The model also introduced the next stage of Audi's infotainment offering, replacing the rotary-control based infotainment system of yesterday with an innovative touch-based system. This also included haptic-feedback, a cool feature which ensured a click is heard and felt with each choice made on the touchscreen to acknowledge your input so you're not taking your eyes off the road.
As for the satnav itself, the A8 uses quality pictographic images for the map with the option to use Google Maps satellite images for the background if you have an internet connection. Any directions are transferred either to the Virtual Cockpit or the driver display to make life a little easier.
Kia ProCeed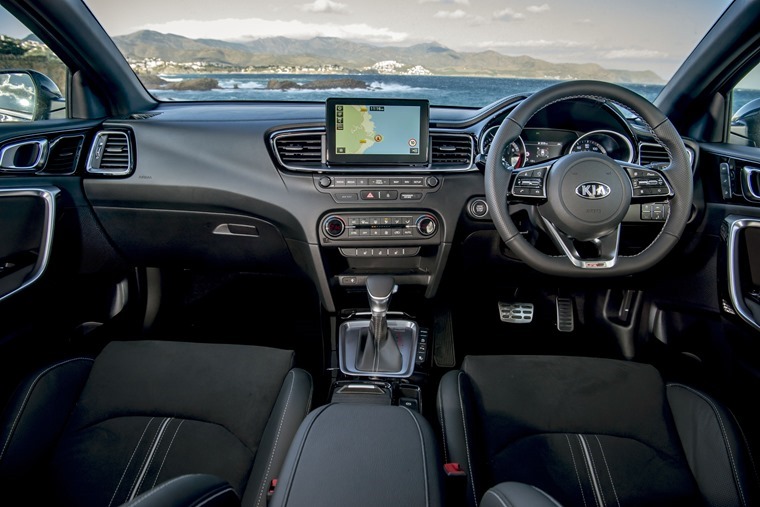 It may stick out like a sore thumb compared to some of the more premium manufacturers on this list, but ignore the Kia ProCeed at your peril: this is one serious piece of kit.
With a dashboard angled slightly towards the driver, it features an 8in touchscreen infotainment system which sits just above the similarly simple heating and ventilation controls. Navigation, DAB radio, Bluetooth, Apple CarPlay and Android Auto all come as standard across the ProCeed range, while higher spec models also come with wireless mobile phone charging and TFT driver display.
With lease prices starting from just £171 per month, the Kia ProCeed is definitely the ideal car if you want to keep costs low without compromising on tech.