Replacing tyres on a lease car: What you need to know
Back to 'Expert guides'
Ensuring your tyres is not just important for your own safety – it's a legal requirement. But when should you replace them? How do you know when you're due a new set? Who pays for it on a lease car?
In this guide, we cover all these questions and more to ensure you're in the know when it comes to replacing your lease car's tyres. So, first things first…

Who is responsible for replacing tyres on a lease car?
While costs like road tax are included in a lease deal, when it comes to maintenance and servicing, it's your responsibility to keep on top of things and maintain the vehicle correctly – just like it is with any other car finance. That includes the tyres, meaning it's important you ensure they are safe and legal.
Our partner National can help you find the right set of tyres for your lease car, and provide fitting too – all for a very competitive price. You can order tyres right now by hitting the link below.
What if I have a maintenance package?
While replacing the tyres is your responsibility over the course of a lease, if your agreement includes an optional maintenance package, tyres will often be included in the deal. Lots of maintenance packages include unlimited tyre replacements, along with a free mobile tyre fitting service.
That said, it's always worth checking the small print; different brokers have different stipulations when it comes to maintenance packages. It's also worth remembering even if you've got a maintenance package that includes tyre replacement, it will not cover costs if tyre damage has been caused by the driver, or if you've had your tyres vandalised.

How do I know when to change my tyres?
Even if you take care of your tyres, they will always wear. It's important to be able to identify how worn your tyres are, in order for you to replace them before they become dangerous. You'll find all tyres feature a wear indicator, which can be seen as a bar at specific intervals in between the tyre treads themselves.
On a new unworn tyre, these will be well below the surface of the tyre. As the tread wears down, however, they'll become closer to the surface. These indicators are 1.6-1.75mm thick – which is also the legal tread depth in the UK. If the tyre is worn down to these indicators, it's time to replace them.
A quick and easy way of identifying a worn tyre is by placing a 20pence piece into the tyre treads. If you cannot visibly see the ridge that goes around the edge of the coin, then your tyres are below the legal limit.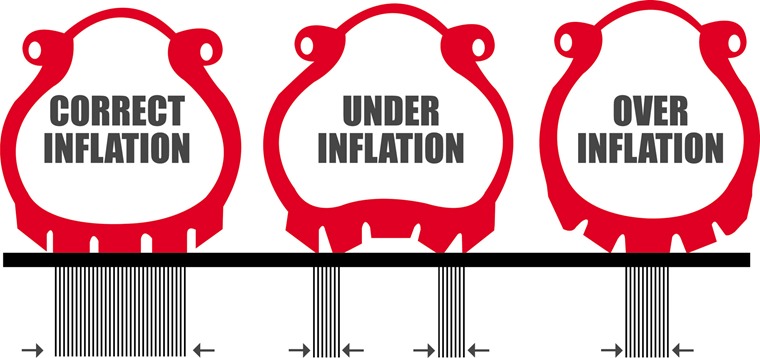 What causes tyre wear?
As we said, tyres wear down naturally with use. But there are certain things that speed up the wear process. Driving style is of course an important factor – with heavy braking just one of a number of variables likely to reduce the life of your tyre.
Under-inflation and over-inflation can also have a negative impact on the rate of wear. This is because tyres are designed to run at specific pressures to maximise contact with the road. Not checking your tyre pressures regularly can lead to adverse wear.
Occasionally, a vehicle malfunction can cause wear. For example, if your car isn't tracking correctly, or has too much camber (the angle of the wheels) then your tyres will wear much more quickly than on a correctly set-up car. Tracking misalignment can be caused by curbing wheels.

Do my tyres need to be the same brand as the originals?
When you replace your lease car's tyres, they don't need to be exactly the same brand as the originals. However, they must be new and most lease companies stipulate they have to be a premium option. That means choosing a brand such as Michelin, Continental or Bridgestone.
There's nothing to stop you putting less expensive tyres on the car over the course of the lease, but when you hand the car back it must be fitted with premium tyres.
What about the spare tyre?
If you're wondering if you need to replace the spare tyre, or if you can use, then the answer is probably no. Lots of new cars no longer have a spare tyre, and those that do are usually space savers that are designed as a temporary get-me-home measure.
In the event of a puncture out on the road, it's fine to use your spare tyre, but you should get it replaced as soon as feasibly possible. Space savers usually have lower speed limits and are not suitable for heavy use.

Where is the best place to buy lease car tyres?
As stipulated above, the tyres you put on your lease car need to be of a high quality and require fitting by professionals. To make customers' lives as simple as possible, we've partnered up with market-leading tyre provider National, who can help you find the tyres you need and even come out and fit them for you.
They supply a comprehensive range of brands – simply enter your reg number into the site and you'll be able to find the tyres that suit you. Just click the button below to find out more.
Still have a question?
If you're still not sure on what to do about replacing your lease car's tyres, the best thing to do is contact your lease company directly who will be more than happy to help and tell you the best ways of going about it.
Alternatively, you can find more helpful info on choosing, running and maintaining your lease car in our comprehensive guides section. Find out more about maintenance packages here.