Volkswagen ID.3 colours guide: Which one should you choose?
Back to 'Expert guides'
The Volkswagen ID.3 is one of the most well-regarded EVs to date, and it's proving popular to lease. But what colours are available if you want a swish all-new electric hatchback on your drive?
There are several trims and packages available on the ID.3 that make it a great car for everyone, but there are surprisingly few colours to choose from (although all feature a contrasting black roof).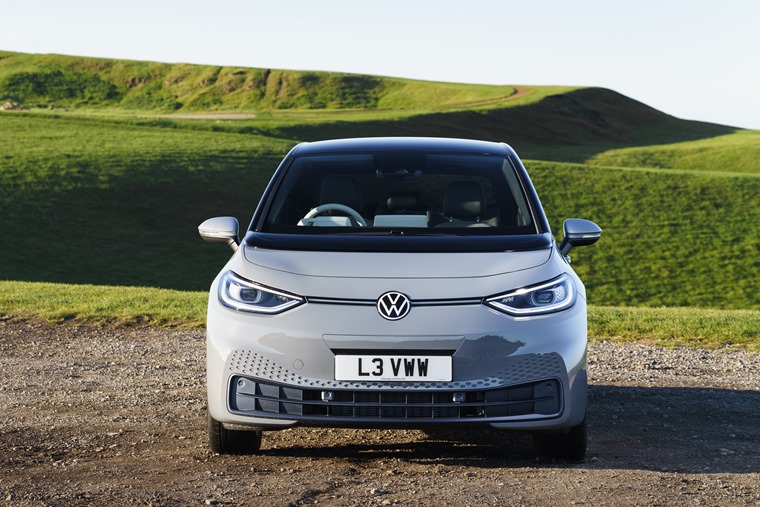 Below, we've put together a handy guide that runs through the various hues you can choose from. We've included the price too – which if you lease would be split over your monthly payments.
Volkswagen ID.3 colours 2022
Moonstone Grey / Flat Black - £0
Glacier White Metallic / Flat Black - £645
Makena Turquoise Metallic / Flat Black - £645
Manganese Grey Metallic / Flat Black - £645
Scale Silver Metallic / Flat Black - £645
Stonewashed Blue Metallic / Flat Black - £645
Solid paint finishes
Moonstone Grey / Flat Black - £0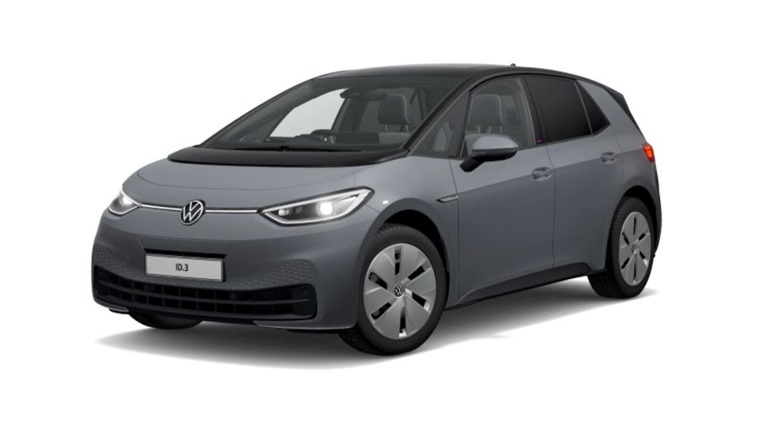 We'll start with the only solid paint finish available on the ID.3 – Moonstone Grey. It's a light shade and, being the no-cost option, is likely to be one of the most popular choices. Grey has consistently proved to be the UK's favourite car colour for two years on the trot now. Easy to keep clean and able to hide the odd car parking scuff, it suits the ID.3's lines well and compliments the contrasting black roof fantastically.
Metallic paint finishes
Glacier White / Black - £645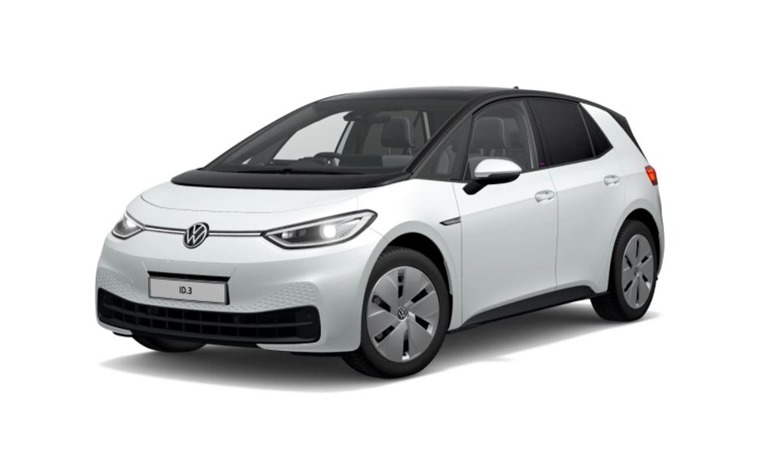 The first metallic option is Glacier White and, like all of them, costs £645 and features a contrasting black roof as standard. It's a classy look for the simple yet sophisticated ID.3. With those LED headlights up front and the light-up badge and grille bar, it suits it well. A contrasting black roof and lower body trim really help it pop. It's rare that white helps a car stand out, but it really does with the ID.3.
Makena Turquoise / Black - £645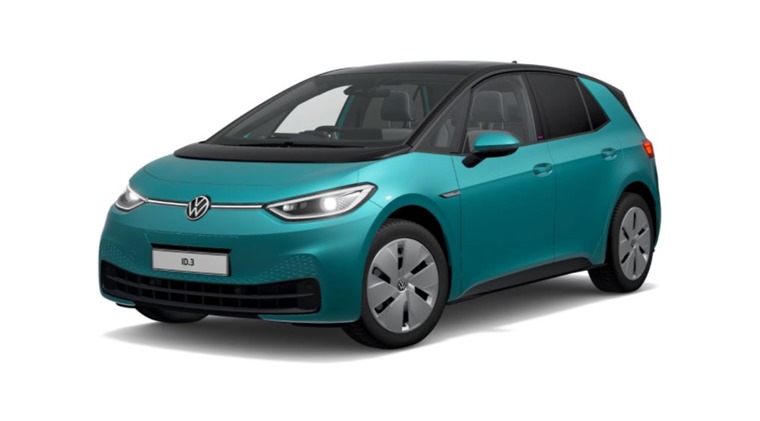 Thought you wouldn't find a colour for the extroverts? The EV might be rather plain-looking as EVs go, but Makena Turquoise goes to show it can pull off a bright and eye-catching colour. In fact it might just be our favourite. Combined with those huge alloy wheels with a white rim, it's the go-to ID.3 colour for those wanting something a little different.
Manganese Grey / Black - £645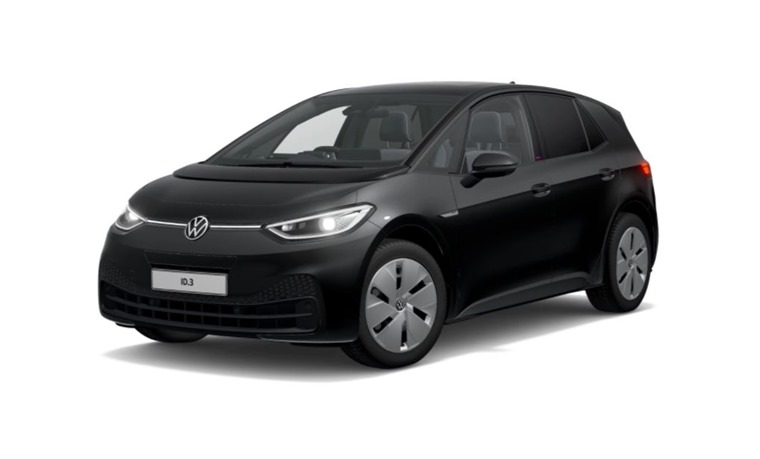 Manganese Grey is as close as you'll find to a black on the ID.3 colour chart. In fact it's the darkest shade on offer. It'll probably prove to be a popular choice thanks to its ability at hiding road grime, although it may show up little dings and scratches quite easily. The roof remains a true black though, so you will be able to tell it's a contrasting paint job.
Scale Silver / Black - £645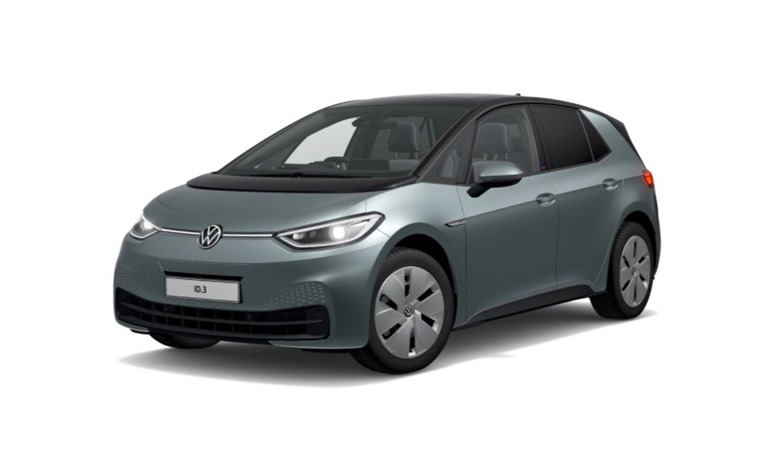 Scale Silver has an almost matte-like green quality to it, and really looks the business when the light hits it the right way. It won't be quite as easy to keep clean as some on this list though, so regular trips to the carwash might be necessary to keep it looking its best. We'd argue that this one might look even better as a single colour without the contrasting roof, but that's not currently an option.
Stonewashed Blue / Black - £645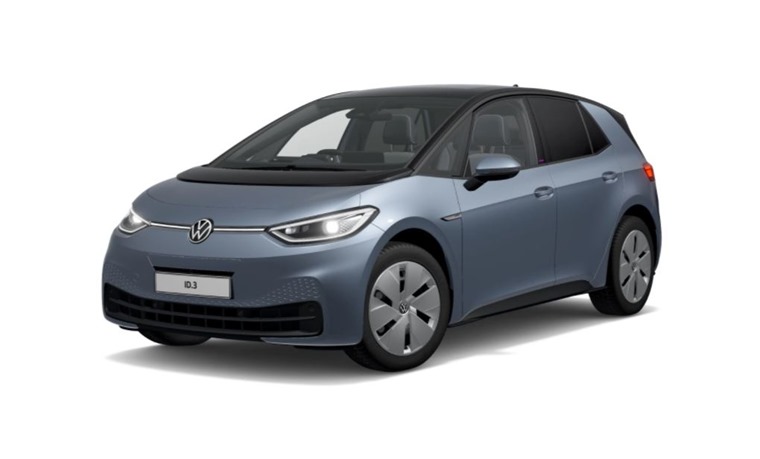 Stonewashed Blue is the colour for those that want something bright, but aren't too keen on Makina Turqoise. It adds just the right amount of colour to differentiate it from Scale Silver, but just like that hue it might be quite difficult to keep  clean. Time will tell us if it's a popular choice but, like all ID.3s, the contrasting black roof comes as standard.
Other exterior paint options
Bi-colour exterior styling packs - £480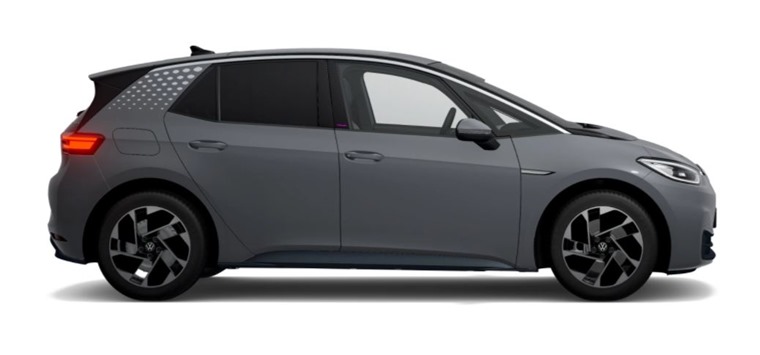 As well as the standard colours you see above, for an additional £480 you can add a bi-colour exterior styling pack. Available across the range in Silver, it adds contrasting trim, roof rails and a snazzy design on the C-pillar behind the rear door. While there aren't too many ID.3 colours to choose from, if you want to add a bit more individuality to yours, this is a great way to do it.
Already know the colour you want?
If you've got your heart sat on Volkswagen's new EV, just click on the button below to start comparing leasing plans right now. Alternatively, we've a number of other colour guides for popular leasing vehicles. Check out our Volkswagen Golf colour guide to see which shades are on offer if you go for the ever-popular hatchback.