BMW XM: All-new performance super-SUV revealed
Say hello to the BMW XM – an all-new model created by BMW's M division. It's the first bespoke M-only model the sub-brand has made in years.
Featuring a potent hybrid drivetrain and a bold new look, here's everything we know so far.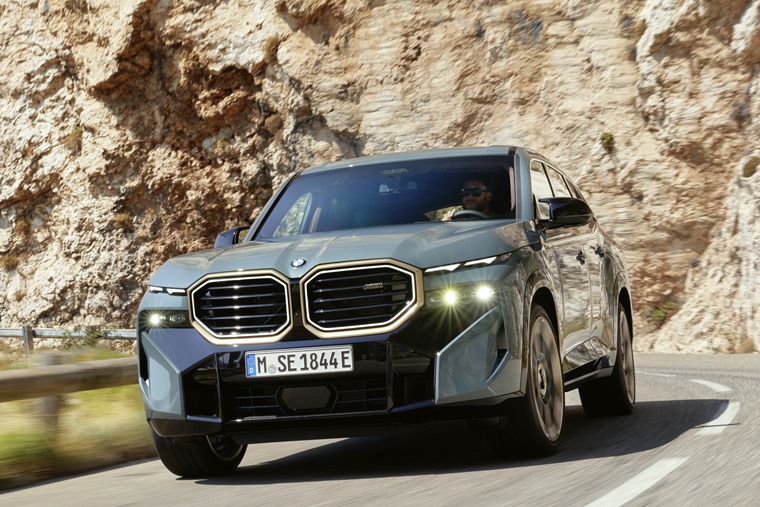 BMW XM fast facts
Styling draws inspiration from concept cars
Hybrid drivetrain features 490hp V8
Combined with electric motor is makes 650hp
0-62mph in less than five seconds
55 miles of electric-only range

BMW XM styling
With ambitions to take on cars like the Lamborghini Urus, the XM is certainly an imposing car. It takes direct inspiration from M concepts of the past, while also being obviously influenced by the styling cues of the newest BMWs including the 7 Series.
This is more notable up front, where you'll find split-level headlights flanking the huge, chiselled kidney grille. The window-line is relatively high up, while the huge 21in alloy wheels are complimented with gloss black chunky trim pieces. 22in and even 23in rims will also be offered.
Round the back, again there are notable similarities between this new model and other cars in BMW's line-up. The long, thin tail lights are accompanied by a huge rear diffuser with stacked exhaust tips.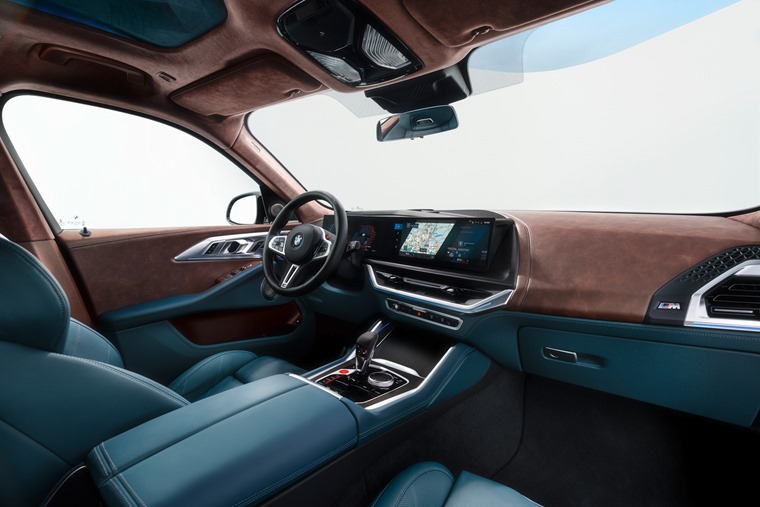 BMW XM interior and tech
From the driver's seat, it's obvious that this is a car from the BMW stable. It borrows its infotainment and digital driver display from the high-tech iX, which means you get a pair of curved 14.5in screens that neatly mould into a single panel.
That said, there are a plethora of M-only trim pieces, such as a new steering wheel, dashboard trim and pedals. There's also a host of safety kit as standard, including lane departure warning, a speed limit sign warning and front collision warning.
Size-wise, the XM will be available in five-seat form only. Passenger space is immense, while the boot stands at a very usable 527 litres – that's around the same as BMW's iX and comparable to family cars like the Mercedes GLC.

BMW XM drivetrain
From launch, the XM will be fitted with a 4.4-litre twin-turbo V8 and electric motor. The former makes almost 500hp, while the electric motor kicks the figure up to 650hp. It also produces a whopping 800Nm of torque.
The result is a 4.3-second 0-62mph time and a limited top speed of 155mph. This can be raised to 168mph with the addition of the Driver Pack. Despite its ferocious power, the electric motor's 25.7kWh battery means that drivers can achieve more than 50 miles on electric power alone.
In fact the driver can choose from a number of modes. Under normal driving, the XM acts as a traditional hybrid. If you opt for Comfort mode, electric power will be prioritised, while Sport and Sport Plus modes permanently engage that potent V8.
As you might expect from a car from the M division, things run deeper than just the engine. A clever suspension system and electronically controlled damping allow the car to adjust itself depending on driver input and the mode the driver chooses.

BMW XM release date and prices
The XM is actually available to order now, with list prices starting from a rather lofty £144,980 – putting the car on par with ultra-luxury super SUVs like the Bentley Bentayga, the Lamborghini Urus and range-topping Range Rover.
We'll bring you leasing plans as soon as they are available. In the meantime you can check out lease deals on BMWs available right now by clicking here.