Leasing.com XI: Football team of cars
We love cars at Leasing.com. We also love football, that's why the new Macclesfield FC stadium will be known as the Leasing.com Stadium.
When you think about it, cars have similar attributes to footballers. Some are practical, reliable and hard-working, others are classy head-turners that get you on the edge of your seat.
So why not combine both? What if you could pick a football team of cars? Which car would you have to excite the fans and which is the best at taking corners?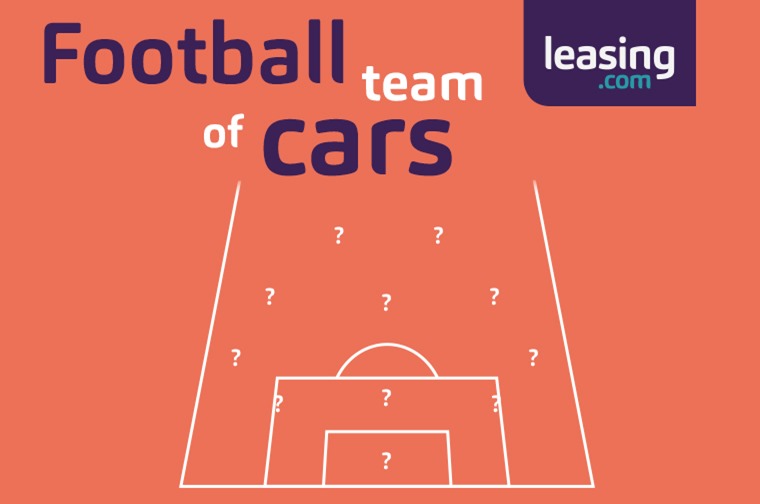 We decided to pick our own line-up. We're playing a continental 3-5-2 system.
Goalkeeper: Toyota Land Cruiser
Measuring in at 1,835mm, the Land Cruiser clears 6ft, so adds height between the sticks. Often used as a military or police vehicle, not much gets past it. It's a safe, steady pair of hands.
Central Defender: Volkswagen Tiguan
The Tiguan has got it all, but first and foremost it's a practical, high-riding SUV. Its raised driving position means it gets a good view of the game.
Central Defender: Land Rover Defender
How could we not have the Defender? Aside from nominative determinism, it reminds us of Harry Maguire. Tough. Classy. But expensive.
Central Defender: Volkswagen Passat
Another German in the back line. We want to be able to 'pass' from the back in our system. Get it? Plus the Passat is a brilliant, no-nonsense vehicle.
Left wing-back: Jaguar I-Pace
You want electric pace on the wing don't you? What could have more electric pace than the Jaguar i-Pace.
Right-wing back: Tesla Model 3
In the same vein, the new all-electric Tesla Model 3 can sprint from 0-60 in 2.9 seconds and has a range of up to 322 miles. So that should keep it racing up and down the wing for the full 90 mins, plus extra time.
Central midfield: Volkswagen Golf
The Golf is a dependable covering midfielder. Reliable. Practical. It's a real all-rounder that's one of the first names on the team sheet. A bit like N'Golo Kante.
Central midfield: Range Rover Evoque
Classy and refined, the Evoque provides a bit of upmarket style and guile to midfield. If it was a footballer, it would probably have a massive Instagram following.
Central midfield: Mercedes Benz A-Class
The upmarket five-door family hatchback was the most popular car to lease last year. Laden with tech, it has plenty of tricks and skills to complement the more prosaic Golf and round off a perfect midfield trio.
Forward: Nissan GT-R
Nicknamed Godzilla because it's a gigantic monster that destroys its rivals, the GT-R is a pacey beast. Not many defenders would fancy marking the GT-R. It also takes a mean corner.
Forward: Ford Mustang
If you want a thoroughbred up front, look no further than the Mustang (insert eye roll). The impressive muscle car boasts a 5.0-litre V8 and can easily handle a wet, windy Wednesday evening in Stoke.