BMW M2 revealed with 460hp
Say hello to the all-new BMW M2 – possibly the last all-new combustion-engined M car from the iconic sub-brand.
With 460hp, it'll get to 62mph from rest in just 4.1 seconds. Set to arrive in Spring 2023, here's everything we know so far.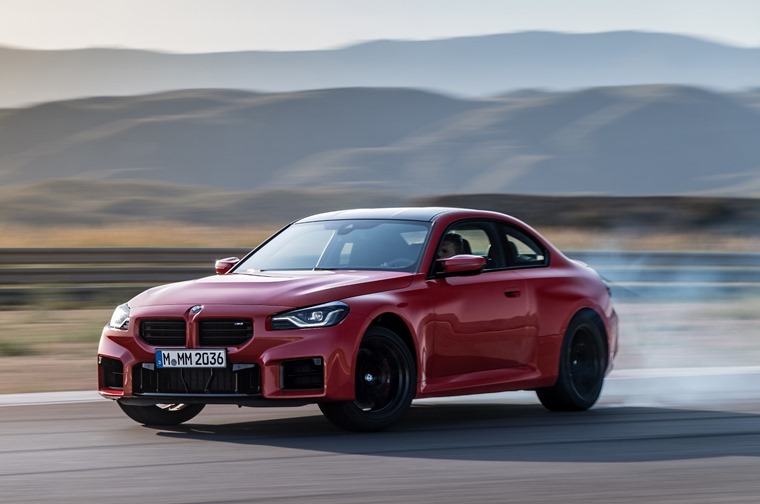 BMW M2 fast facts
0-62mph in 4.1 seconds
Six-speed manual option
Same engine as latest M3
Interior and tech upgrades
Set to hit market in May 2023

BMW M2 styling
The M2 is of course based on the 2 Series Coupe that arrived earlier this year, and just like the more ordinary models, it marks a definite break with previous M2s. The grille is more rectangular than before, as are the headlights.
The M2 model is more sculpted than the standard model too, with the use of carbon fibre used for some body panels. The front bumper is much more aggressive too, as is the rear where you'll find four exhaust exits jutting from the diffuser.
The body kit is much chunkier too, with flared wheel arches front and back. The sill-step also protrudes much further than it does on the standard model. All in all, it's easy to mark the M2 out as something truly special – even compared to the M240i.

BMW M2 interior and tech
The dashboard is dominated by a large infotainment screen and digital driver display that moulds into one single unit. The whole system has been designed to be as driver-focused and as sporty as possible.
That means that as well as the usual Apple CarPlay and Android Auto connectivity options, it's brimming with impressive features including a lap timing system and even a drift analyser.
The rest of the interior has been similarly reworked, with a set of beautiful sports seats sculpted to give as much support as possible. A set of race-specific bucket seats are also on offer as an optional extra.

BMW M2 engine and drivetrain
All M2s come kitted out with the same 3.0-litre twin-turbo engine that you'll find in the most recent M3 and M4. In this model, it produces 460hp – almost 100hp more compared with the outgoing M2. In fact it's almost on par with the M3 – but in a much smaller package.
The result is a limited top speed of 155mph and a 0-62mph time of just 4.1 seconds. Where it does differ from its larger siblings is in the gearbox department. That's because as well as the standard eight-speed automatic gearbox option, you can plump for a manual if you so wish.
If you do go for a stick shift, then you even get a special system that'll rev-match gears for you automatically as you change down a gear – snazzy.

BMW M2 price and release date
BMW has confirmed the new M2 will cost from £61,495 – on par with its main rival the AMG A45 S. Exact UK specs are to be confirmed, but we know it'll be available to order next year, with the first customers expected to receive their cars in May.
We'll bring you leasing plans on the new M2 as soon as they're available. In the meantime, you can read more about another all-new M model – the XM by clicking here.