Influential Instagrammers: 10 biggest automotive brands
With 1 billion active monthly users, Instagram is second only to Facebook when it comes to user engagement. Appealing to all kinds of influencers, advertisers, and brands, with its emphasis on the visual it's tailor-made for car manufacturers to excel. After all, if there's one thing we like lusting over it's censored, I mean cars… fast cars.

Below, we find out who the ten most influential automotive brands are on Instagram and what they're doing on the platform to warrant so many followers. If you'd like to gives Leasing.com a follow, click the image above and it'll take you right to our page. We might not have millions of followers but everyone loves a plucky underdog don't they?
10. Maserati 11m followers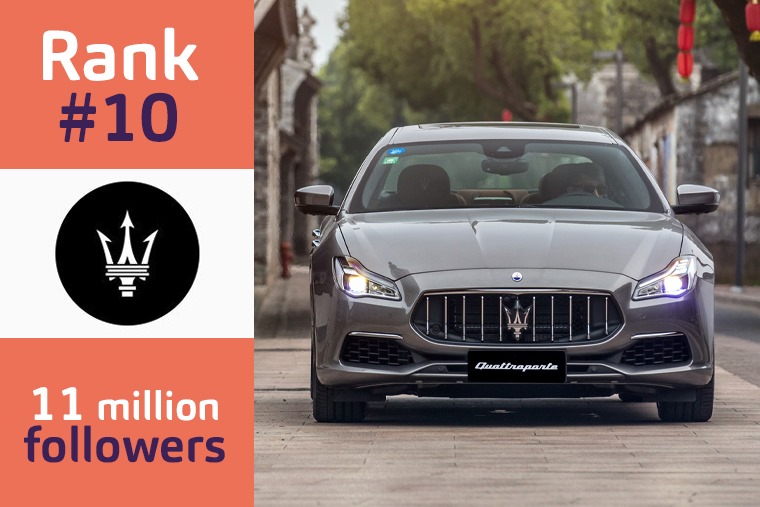 Maserati has a reputation for style, class and elegance with performance as the centre stone. Formed in 1914 by five brothers, Maserati's tradition of innovation now falls to their parent company Fiat Chrysler Automobiles.
Constructed with the utmost attention to detail, every Maserati is a true masterpiece of Italian design, from the Ghibli and its tag line of 'You're not like everyone else' (£54,800) up to the GranCabrio ('Rarely seen. Always heard.' at £108,475).
Unobtainable? For some. Aspirational? Absolutely. Their Instagram channel is used to promote all of the models in their range, including their heritage fleet. On top of this, their focus on attention to detail includes the interior and exterior shots which highlight every aspect of their cars.
9. Jaguar 11.4m followers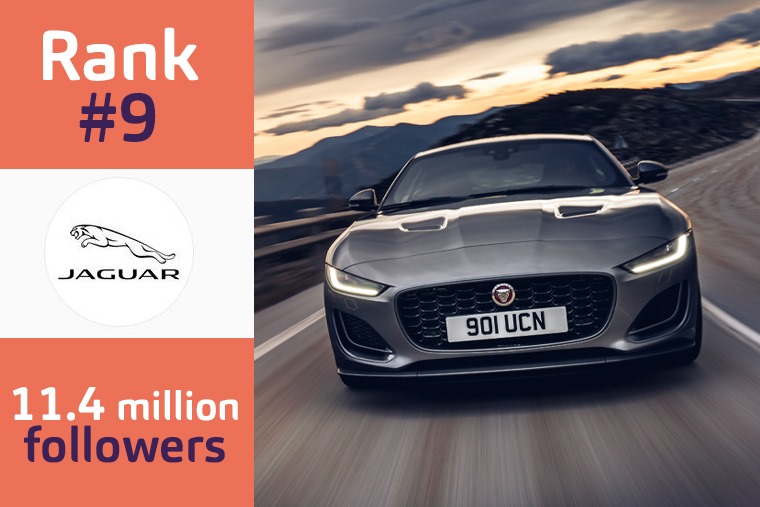 Doing British manufacturing proud, few can claim to have the legacy, heritage and class of Jaguar. A brand that prides itself on the Art of Performance, they have gone from strength to strength in recent year with their first all-electric model, the I-Pace, winning every major plaudit under the sun.
For such an aspirational brand, Jaguar use their Instagram channel to give behind the scenes looks, performance demonstrations and comprehensive range reviews to show how good their cars look anywhere and everywhere.
8. Bugatti 12.6m followers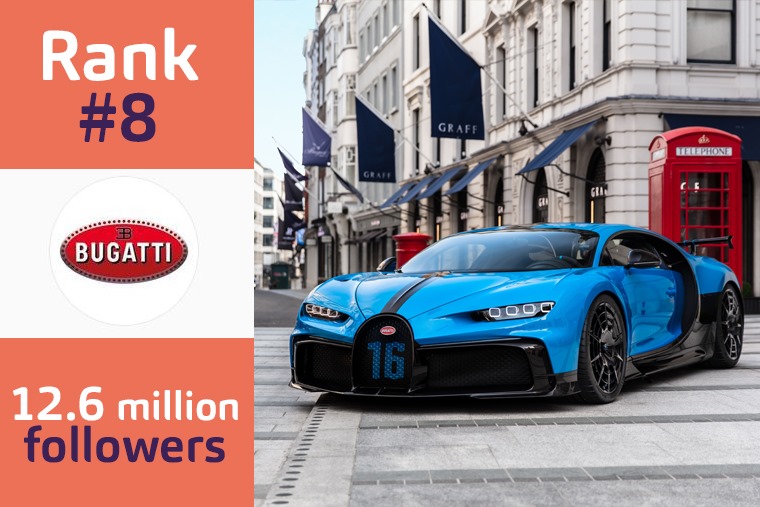 When you think of Bugatti, the words power, performance and pure class come to mind.
Combining an artistic approach with superior technical innovations in the world of super sports cars, Bugatti has long been the awe inspiring car manufacturer that petrolheads gravitate towards. With this in mind, it's no surprise to see so much of their recent Instagram output revolving around becoming the first automotive manufacturer to ever cross the 300mph mark with the Chiron Super Sport.
Elsewhere on the page, the history of the brand is celebrated as well as featuring plenty of shots of their vehicles in some of the most picturesque roads and locales out there.
7. Mercedes AMG 13m followers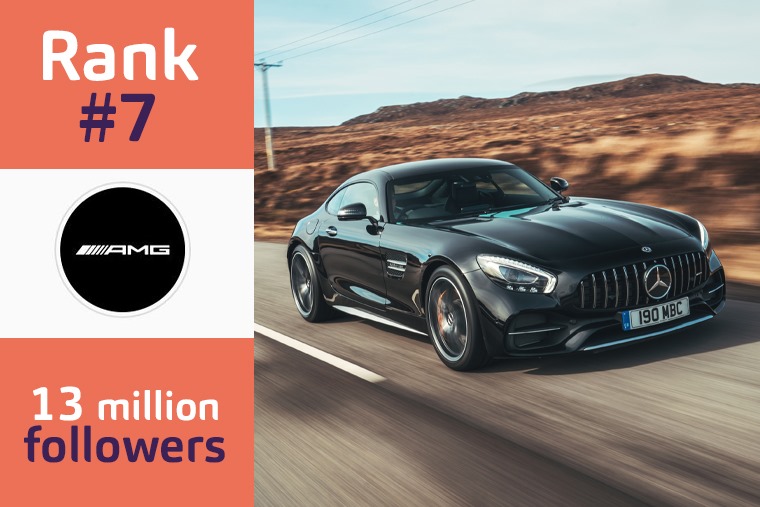 Mercedes use their AMG-specific page to not only promote their ambassadors such as Lewis Hamilton as well as their vehicles, but to actively sell to their followers. Their most recent post allows Instagram users to easily purchase lifestyle accessories such as an AMG snap-hook key ring for €59… we suppose the glorified karabiner is cheaper than the cars at least.
Elsewhere on the page you get behind the scenes glimpses at some of the events and races AMG have been involved in such as Michelin Raceway Road in Atlanta, as well as promotional partnerships with lifestyle brands such as Santoni. If ever a brand nailed the aspirational aesthetic at the heart of Instagram, Mercedes AMG is it.
6. Audi 15.9m followers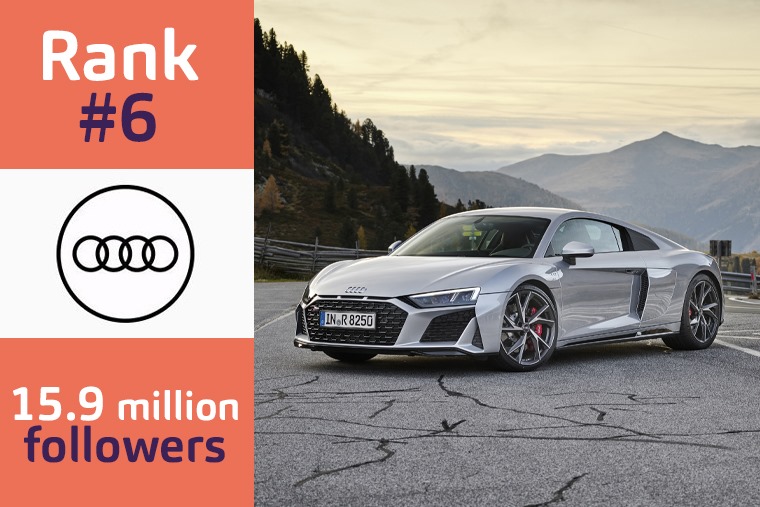 Audi pride themselves on the aesthetic beauty, innovative technology, and sporty image when it comes to the presentation of their vehicles on Instagram. Cool, colourful, and quality, each image verges on a piece of art.
The manufacturer uses their Instagram channel mainly as a promotional tool, but the company engages its users on a range of other topics too. These include providing phone wallpapers of their various models as well as a #MyAudi competition which encouraged users to send their pictures to celebrate 50 years of the brand.
5. Ferrari 18.9m followers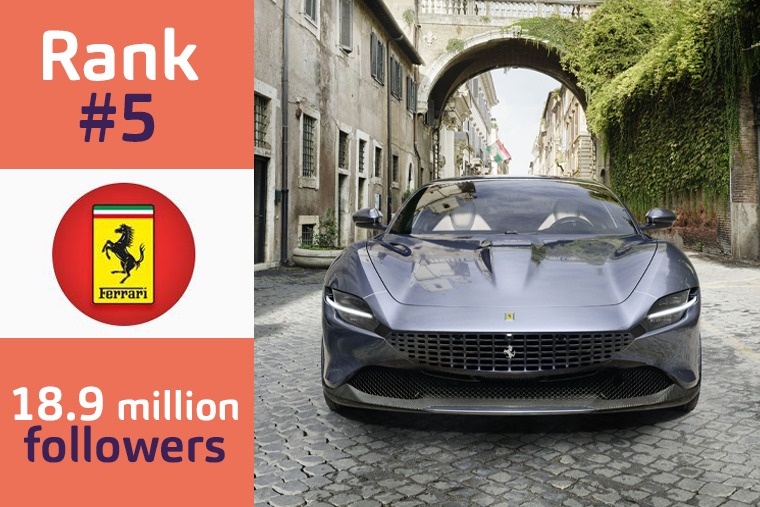 Ferrari has always stood as the beacon of pure Italian sports cars luxury, so it's no surprise to see them retain that position on Instagram. Alas they lose out to old rivals Porsche by around two million users when it comes to Instagram bragging rights.
As is to be expected, every picture on their channel wouldn't look amiss on any teenagers wall, with the luxury and elegance of the brand celebrated and championed in full. Unlike Mercedes AMG there isn't much cross promotion with F1, with the brand instead focusing on promoting the lifestyle aspect of their vehicles.
Ferrari are also a brand that fiercely protect their image and reputation. In August 2019 they famously sent a cease and desist letter to fellow Instagrammer Philipp Plein, a German fashion designer with 1.9m followers, after he posted various pictures ranging from models draped over his emerald green sports car to his clothing with his car. Of course, this being the internet, it only brought more exposure to what Ferrari wanted to stop. Oh well!
4. Porsche 21.7m followers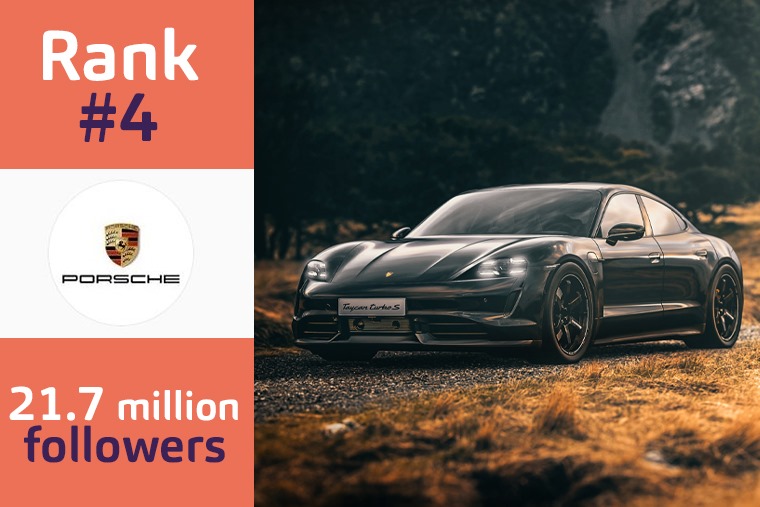 Porsche perhaps have the ultimate bragging rights over any other manufacturer: they are the most profitable in the world. But when it comes to Instagram bragging rights they're only the fourth most popular manufacturer.
With an emphasis on tradition and a legacy of high performance sports cars, Porsche's Instagram page highlights both these things and then some with colourful and stylish images.
3. Lamborghini 26.8m followers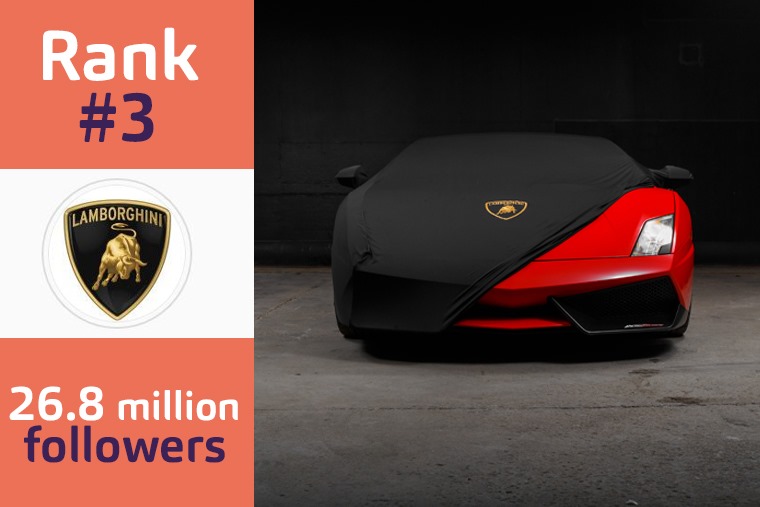 When you think of luxury sports cars, you probably think of Lamborghini. From the shape of the models to the exterior designs, they look as fast and as luxurious as they actually are.
Lamborghini's posts highlight their models in a unique way, showing off the attention to detail of their cars with user engagement as the key metric. Whether it's a weekly #GuessFromDetails quiz where an element of a model will be shown and followers are asked to guess what it is, to promoting their latest model, the Urus, Lamborghini aim to capture their 25.9m followers imaginations and hearts.
One trend seen across the three Volkswagen Group manufacturers on this list is their emphasis on promoting their latest models as well as engaging with their followers via high quality wallpapers and quizzes, which all goes to show VWG have the social aspect of social media tied up.
2. Mercedes-Benz 27.62m followers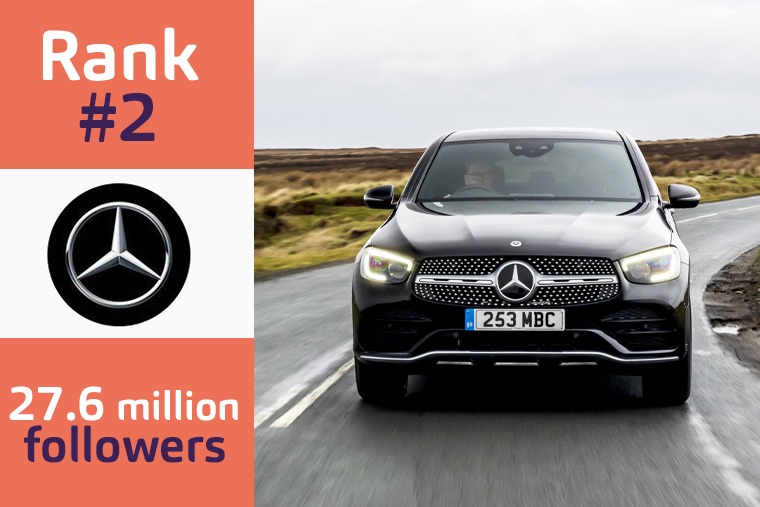 While the majority of manufacturers on this list fall into the eye-catchingly aspirational box, few straddle the line between aspirational and attainable so it's no surprise to see Mercedes-Benz near the top of the list.
As the only manufacturer with two derivatives in the top ten, it's safe to say they know their markets and are pretty good at this Instagram thing. Erring away from the partnerships and events seen on the AMG page, Mercedes sole focus is on highlighting what makes their cars so great in the most aesthetically pleasing way possible from the past (Mercedes-Benz 280 SE 3.5 Cabriolet) and present (A-Class) to the future (Vision EQS).
Whereas others use their Instagram Stories to highlight achievements and the latest models, Mercedes focus is on their appearances at various motor shows as well as cool Instagram-specific add-ons such as a CLA filter to use on your own Instagram posts. Unlike other manufacturers who use their page description and link to promote what they're all about, Mercedes have used the space to inform their followers about their data rights… which is possibly the most Germanic thing you'll ever see.
1. BMW: 27.63m followers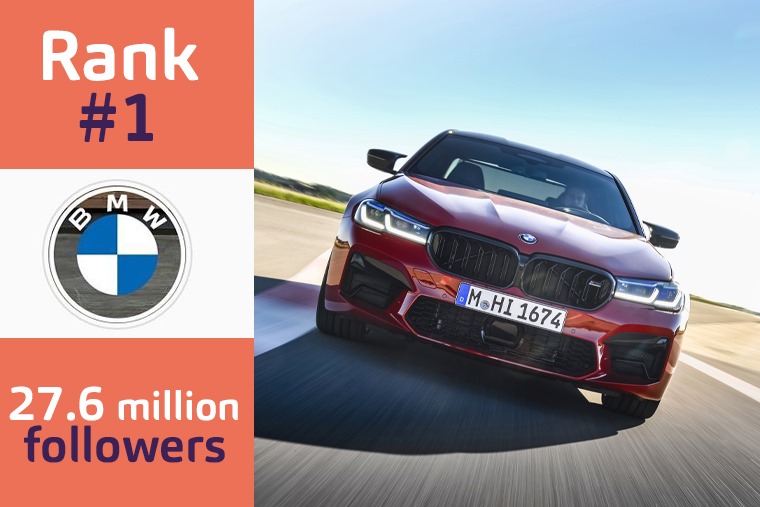 It's the longest-running rivalry in the world of automobiles, and when it comes to Instagram BMW just pips Mercedes-Benz to the post for being the most influential and popular. The 'home of Sheer Driving Pleasure on Instagram', BMW highlight their models through both Instagram Stories and posts in an almost robotic manner with no real emphasis put on engaging with their fans or getting them involved. That means unlike others on this list there are no wallpapers for your phone, no hashtag competitions for fun, no unique filters, just pictures of cars and a fun tagline to accompany it.
If anything this goes to show the power of the brand. People flock to BMW because of their legacy of quality and to lust over their craftmanship, so BMW gives them that in droves and, well, nothing else. But hey, it works for them so who are we to say it's the wrong approach to social media ¬_¬
In another Germanic twist, certain posts from BMW aren't exactly the most engaging or succinct. Here's one such example from a photo of the all-new X5 M:
New sheriff in town.
The all-new BMW X5 M Competition.
#TheX5M #BMW #X5M #BMWM
__

BMW X5 M Competition: Fuel consumption in l/100 km (combined): 13.0–12.8. CO2 emissions in g/km (combined): 296–291.
Acceleration (0-100 km/h): 3.8 s. Power: 460 kW, 625 hp, 750 Nm. Top speed (limited): 250 km/h (with optional M Drivers Package: 290 km/h). Paint finish shown: Marina Bay Blue metallic.
The values of fuel consumptions, CO2 emissions and energy consumptions shown were determined according to the European Regulation (EC) 715/2007 in the version applicable at the time of type approval. The figures refer to a vehicle with basic configuration in Germany and the range shown considers optional equipment and the different size of wheels and tires available on the selected model. The values of the vehicles are already based on the new WLTP regulation and are translated back into NEDC-equivalent values in order to ensure the comparison between the vehicles. [With respect to these vehicles, for vehicle related taxes or other duties based (at least inter alia) on CO2-emissions the CO2 values may differ to the values stated here.] The CO2 efficiency specifications are determined according to Directive 1999/94/EC and the European Regulation in its current version applicable. The values shown are based on the fuel consumption, CO2 values and energy consumptions according to the NEDC cycle for the classification. Further information on official fuel consumption figures and specific CO2 emission values of new passenger cars is included in the following guideline: 'Leitfaden über den Kraftstoffverbrauch, die CO2-Emissionen und den Stromverbrauch neuer Personenkraftwagen' (Guide to the fuel economy, CO2 emissions and electric power consumption of new passenger cars), which can be obtained free of charge from all dealerships, from Deutsche Automobil Treuhand GmbH (DAT), Hellmuth-Hirth-Str. 1, 73760 Ostfildern-Scharnhausen and at https://www.dat.de/co2/.
Box ticking much?
*all follower number correct as of 25/06/20.