Rolls-Royce Spectre EV: Rolls reveals first electric car
This stunning new machine is the Rolls-Royce Spectre – the brand's first electric car and one of the most luxurious EVs launched to date.
Featuring a jaw-dropping design and more than 300 miles of range, here's what we know so far.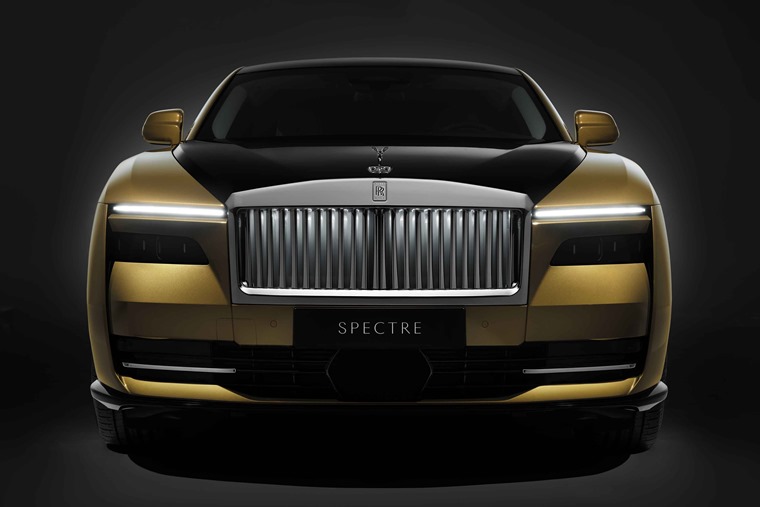 Rolls-Royce Spectre fast facts
Stunning new looks
Trademark rear-hinged doors
585hp four-wheel drive drivetrain
320 miles of range
Usual lavishly appointed interior

Rolls-Royce Spectre styling
The Spectre in many ways marks a new era for Rolls-Royce. With electric power being used for the first time in one of its production models, it wanted to update its design without losing any of Rolls' traditional feel. It calls the Spectre an "ultra-luxury electric super coupe" and the styling reflects this.
From the front, Spectre's split headlight treatment is intersected by the widest grille ever bestowed on a Rolls-Royce. The vanes of the Pantheon grille are now smoother in section and a flusher fit, designed to help guide the air around the motor car's front.
The angle and polished stainless steel finish of the grille does much to enhance Spectre's presence using environmental reflection. Along with an aero-tuned Spirit of Ecstasy figurine – itself the product of 830 combined hours of design modelling and wind tunnel testing – the grille enhances the car's aero credentials.
Rolls says that side-on, the "monolithic" flanks draw the eye to the car's bodywork, while the most dramatic feature is the Spectre's silhouette.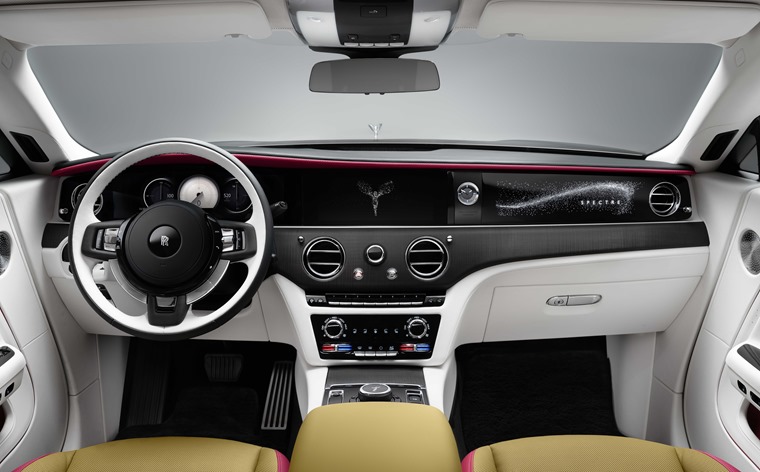 Rolls-Royce Spectre interior and tech
Inside, it's everything we've come to expect from Rolls-Royce: the ultimate in luxury, space and minimalist style. That means unlike many premium EVs, the Spectre doesn't get swathes of gadgetry – at least that you can see.
In fact the dashboard and controls are very similar to the ones you'll find in the brand's Ghost saloon. The same digital driver display and central touchscreen are the main talking points in terms of tech.
However, there are some new features. For example, the brand's trademark Starlight light is not only in the roof lining – it's now in the door cars and across the dashboard. The result is a stunning and unique look that embodies the tranquil feeling this car's interior aims to deliver.
Rolls-Royce Spectre drivetrain
Let's talk about that all-electric drivetrain. All Spectres feature dual motors, with a combined output being 585hp. 900Nm of torque is also on offer, resulting in a 0-60mph time of 4.5 seconds – on par with the likes of the BMW i7.
Exact battery specs are to be confirmed, but details have been revealed on range – it'll manage a minimum of 320 miles between charges. Considering most Rolls-Royces chauffeur passengers around the finer parts of city centres, that should be more than adequate.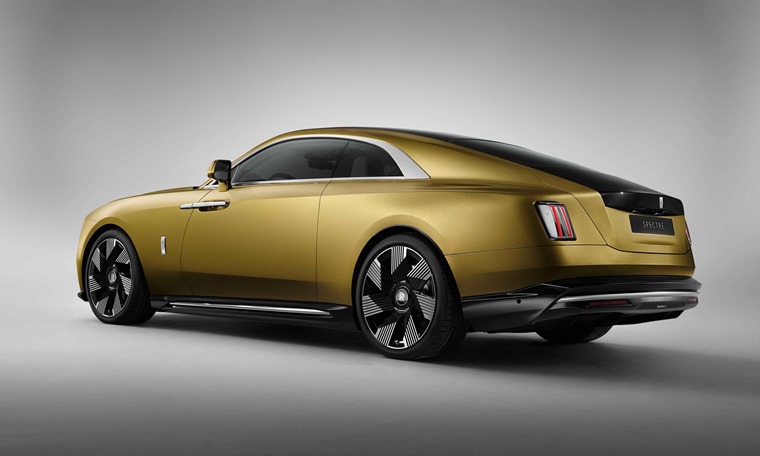 Rolls-Royce Spectre release date
Order books for this ultra-luxurious model are now open, with the two-door costing a cool £300,000 – that puts it way above other luxury EVs in terms of price. But hey, it is a Rolls – with bespoke options and every thinkable customisation on offer, it's never going to be cheap.
We reckon the Spectre will start appearing on UK roads towards the end of 2023. We'll bring you more details as soon as they are available.