Alfa Romeo Stelvio vs Tonale: What's the difference? Which one's best for you?
Advertising feature
Alfa Romeo has long offered stylish, premium cars that offer something a little bit different compared to more obvious German rivals. And in 2023, its pair of SUVs are no exception to this long-standing rule.
The handsome Stelvio SUV has been around a few years now, but it's been joined by a smaller sibling – the all-new Tonale. Featuring a fresh look and advanced hybrid drivetrain options, we decided to stack it up against its big brother.
Which one of these handsome models would be best for you? To find out we put the pair head to head and compared all the areas that matter.
Compare Stelvio deals
Compare Tonale deals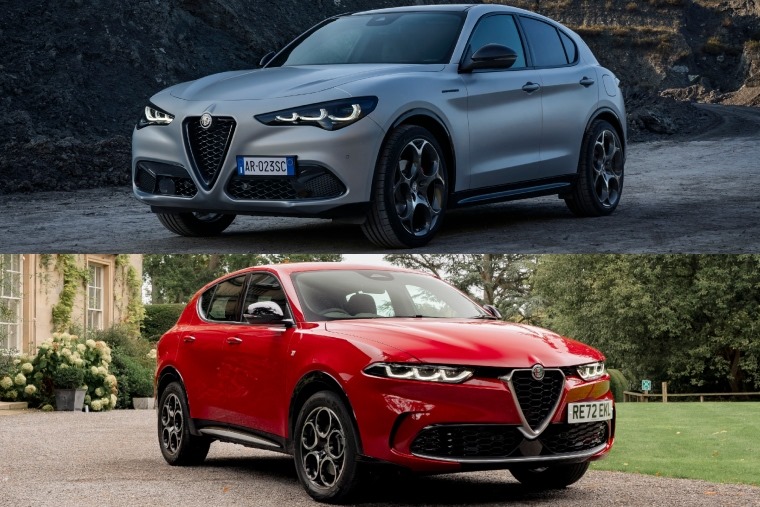 Style and size
Let's start with the longer-standing model: the Stelvio. In an exceptionally crowded marketplace, this stunning SUV manages to stand out today just as much as it did when it first appeared in 2017. Even though it's just had a mild facelift, it didn't really need one; in the truest Alfa tradition this is a seriously gorgeous car.
The trademark shield grille and sculpted headlights mirror that of the sleek Giulia Saloon. With a teardrop-like rear end and a variety of large alloy wheels on offer, it has more presence than many of its rivals. Size-wise, this is a car that takes aim at the likes of the Audi Q5, and its proportions reflect this. At almost 4.7 metres in length and with a width approaching two metres, it's not what you'd describe as a compact SUV.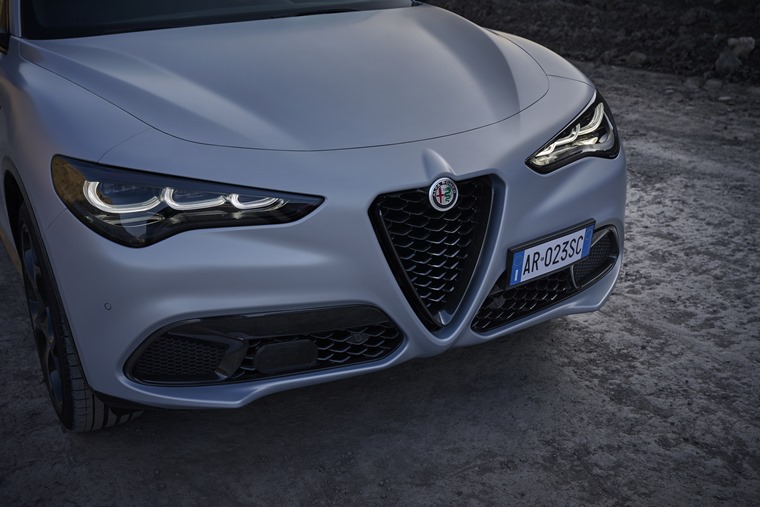 When it comes to introducing smaller models, many manufacturers create scaled down versions of existing models. But not Alfa. As soon as you lay eyes on the Tonale, it's clear this is very much a standalone model and, while there are a few similarities with the larger Stelvio, for the most part its design is unique.
Up front, it's more angular than its sibling, benefiting from a smaller shield grille that moulds neatly into the bonnet shut line where you'll also find a sharper pair of headlights. Around the back, it's the same story. The Tonale gets a unique light bar that runs the width of the car – neatly incorporating the brand's insignia in the centre.
At just over 4.5 metres in length, it's the smaller of the two models, although only just; the Tonale still offers the presence of the larger car but it's fair to say its more compact nature will make it slightly easier to manage around town. Proportionally, it does miss out on the sculpted teardrop rear end, but its beautiful rear lights and "tele-dial" alloy wheels more than make up for that.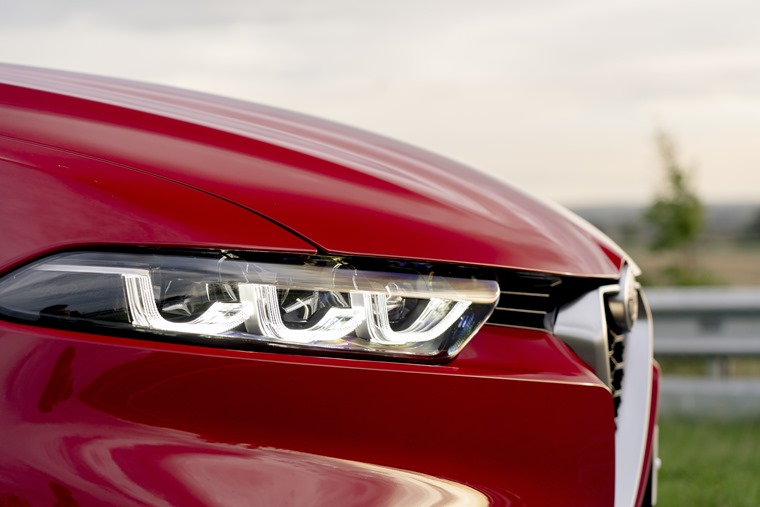 So which is the better-looking model? The truth is that both the Stelvio and Tonale offer looks that rivals can't match. The Tonale does have a slightly fresher design, but with the Stelvio getting that recent facelift (and generally being a very good-looking car itself) you can't really tell.
In the end it'll probably boil down to personal taste and what size of vehicle you're after; the Stelvio is after all a full-size SUV, while the Tonale can be considered a crossover.
Compare Stelvio deals
Compare Tonale deals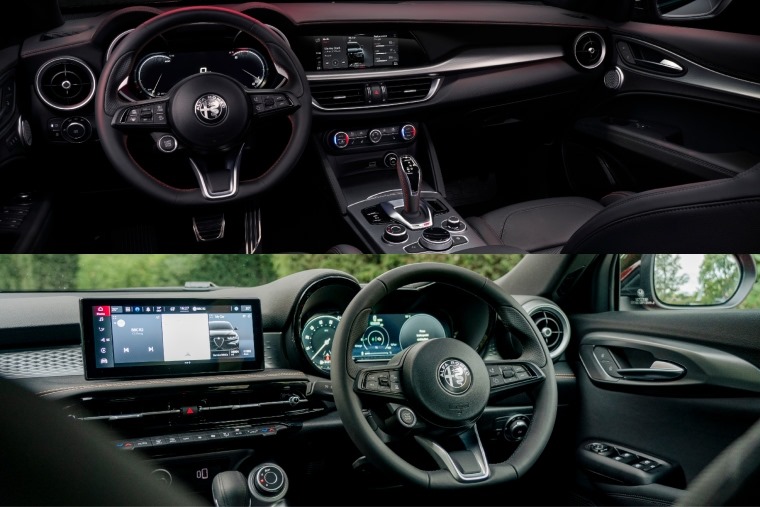 Interior and tech
Inside, the Stelvio lives up to expectations. Stepping into the driver's seat of an Alfa has always been an experience, and it doesn't disappoint. The driver-focused cockpit gets a beautifully crafted steering wheel, where you'll also find a stop/start button – a nice sporting touch and a nod to Alfa's racing heritage.
The quality and materials are thoroughly premium, and the digital driver display and infotainment systems are fantastic to use and operate. The central screen melds neatly into the centre console, which is angled towards the driver. The gear selector falls neatly to hand, while the paddle shifts behind the steering wheel wouldn't be out of place in a supercar.
Space-wise, you get a 525-litre boot which is pretty impressive for its class. It outdoes cars like the Porsche Macan, and makes this a really usable family SUV if that's what you're after. In fact if you need more space, then folding down the rear seats increases capacity to a whopping 1,600 litres. Not bad at all.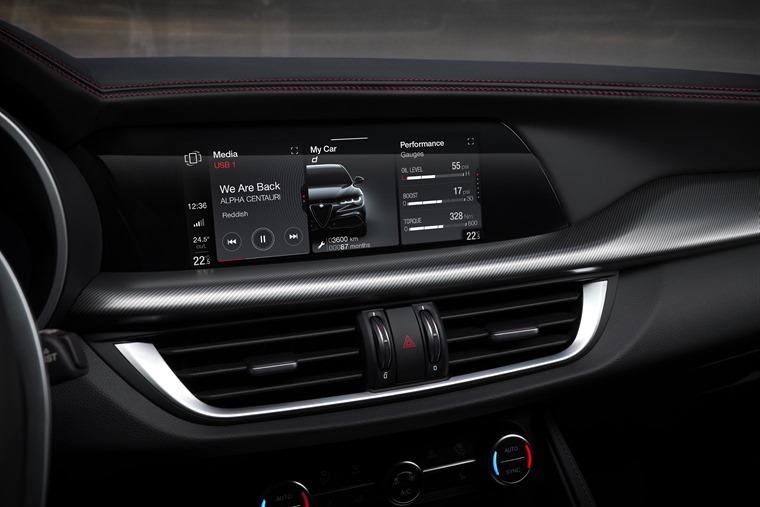 It might not be able to compete with the Stelvio on the space front, but in every other regard you can consider the Tonale an equal. In fact in places, it's clear it's the more modern car – especially as far as infotainment goes. The whole cabin and cockpit is neatly designed and, while it misses out on some of the touches that make the Stelvio so special (it gets a more ordinary gear shifter, for example) in other areas it more than makes up for it.
The infotainment screen itself is perhaps a more modern take on the Stelvio's set up. It uses the same tech, but features a 10.3in floating monitor that sits above the dashboard. The large 12.3in digital driver display further helps give it a cutting-edge feel, while the quality of the materials is still top notch – it gets the same shift paddles behind the steering wheel (depending on trim level).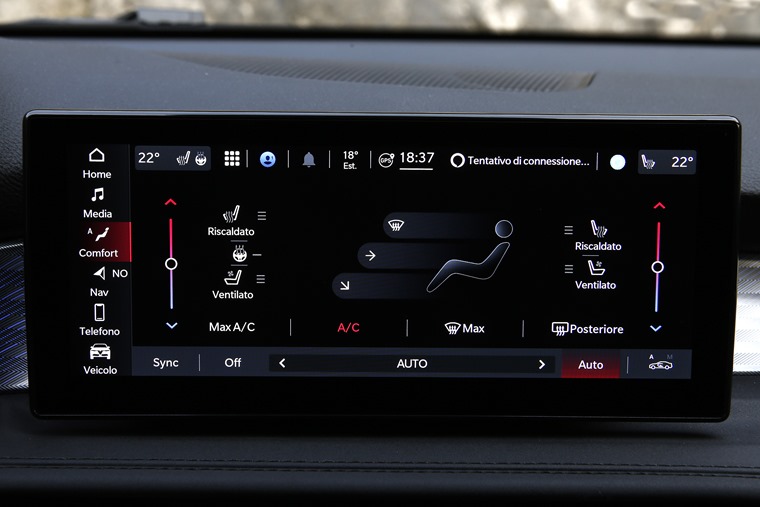 While the Tonale can't quite match the Stelvio for load-lugging capacity, it's only 25 litres short of its larger sibling in the boot. 500 litres of space is still a very usable amount of room, and outdoes many similarly sized rivals from other brands. The rear passenger area is a little less capacious though, and if you regularly carry adults in the back then the Stelvio remains the better choice.
All in all, both these SUVs have interiors that wow. The Tonale edges out in front if you're after the latest and greatest tech that feels bang up to date, but the Stelvio remains competitive against other rivals in this regard – and adds rear passenger and boot space. This means the one that is best for you will be down to how you plan to use your car.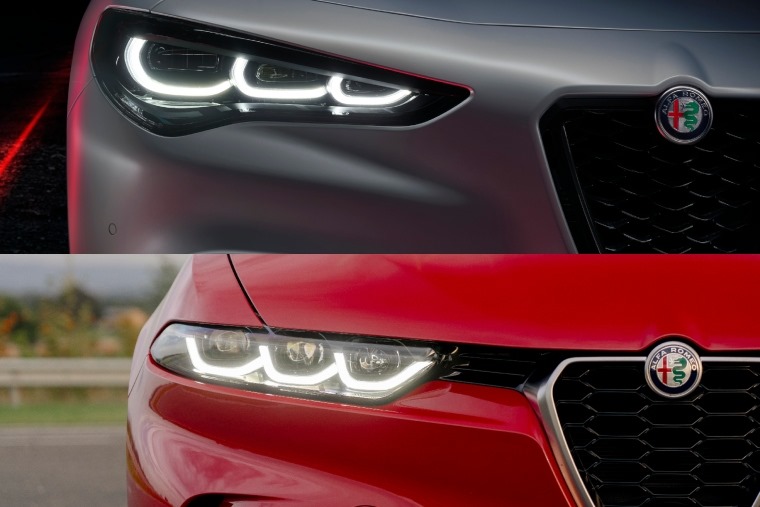 Drivetrains and performance
While the cabins may offer a similar feel, it's the drivetrains that really set these two apart. After all, they do sit on two unique platforms. Kicking off with the Stelvio, it's available with a number of fantastic petrol and turbo diesel options. The petrol line-up includes a 280hp unit, which makes use of a turbocharged 2.0-litre four-cylinder. Combined with the standard 8-speed automatic gearbox, it gets from 0-62mph in less than six seconds.
There is of course the Ferrari-beating Quadrifoglio motor to consider here, which pumps out over 500hp from a 2.9-litre V6 engine. The 2.2-litre diesel engine might not be as popular as it once was, but it's still a great choice if you want a fantastic mix of power and economy – producing 210hp, this unit is capable of 44.1mpg, and over 45mpg in the latest Sprint and Veloce trims.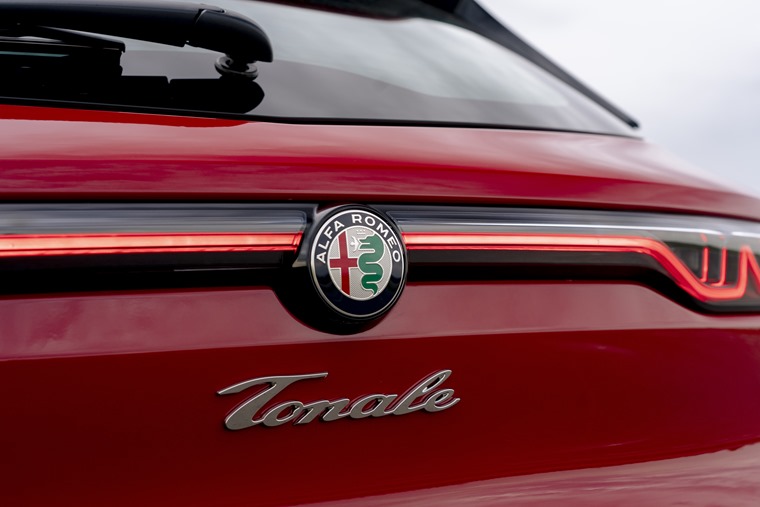 In some ways, the Tonale engine choice is much simpler. It's also easy to tell this is a car designed with the future in mind. All models feature hybrid petrol drivetrains, with a 1.5-litre unit combining with a small electric motor to produce 160hp. It's great for around town, where the electric motor can work independently for short periods of time. The result is around 135g/km of CO2, and around 47mpg.
Admittedly, this option can't offer the punchy performance some of the engine options of the Stelvio can. But hybrid power doesn't necessarily come at the expense of performance, as Alfa proves with its plug-in hybrid Tonale. Available to order now, this drivetrain uses a smaller 1.3-litre petrol engine and two electric motors to produce 280hp. Its 15.5kWh battery is capable of driving more than 40 miles without a recharge, and the 0-62mph time is just 6.2 seconds. Basically, it offers you the best of both worlds – and you get an excellent four-wheel drive system as standard.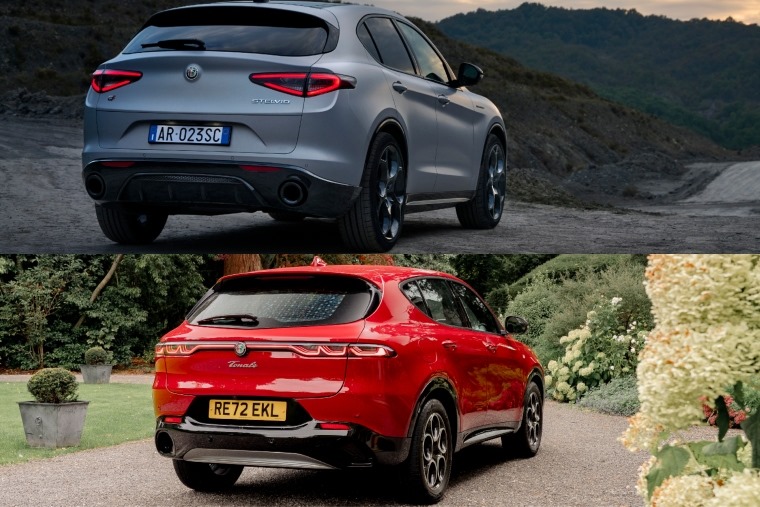 So which Alfa SUV should you lease?
That's a difficult question to answer, because as ever, the right car for you will no doubt come down to your personal requirements. There's no getting around the fact that the Stelvio offers more space and, with its large, comfortable cabin, remains the better option for long-distance motorway cruising.
Despite being a few years old, its recent facelift and excellent interior means it remains a competitive option against other rivals too. And the Tonale? It's clear in some ways it's the more modern design. Its hybrid drivetrain options and snazzy infotainment system give that away.
It also looks great too. Of course, pricing also plays a part in any decision, and that's where the gap starts to grown more in the Tonale's favour. Lease deals current start from around £425 per month, while Stelvio prices are upwards of £500 per month.
Considering the Tonale is the newer car, and it comes close to the Stelvio in terms of practicality, we'd say it's the one to go for in 2023. If you're interested in either the Stelvio or Tonale, you can compare prices right now. Hit the buttons below and find the best leasing plans from all the UK's leading providers.