2021 Citroen C5 X: Everything you need to know
Say hello to the all-new Citroen C5 X – the French brand's new flagship with a bold new look.
Set to arrive later this year, it'll get a range of petrol and hybrid drivetrains. Here's everything we know so far.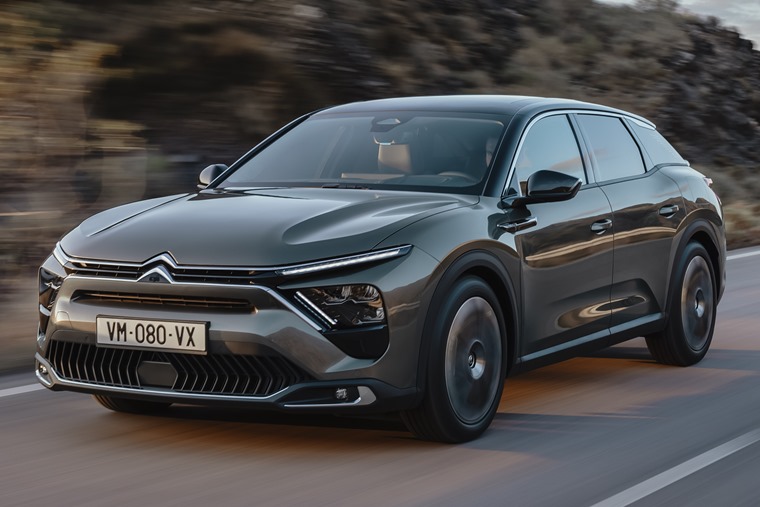 Citroen C5 X exterior
Citroen is known for going it alone when it comes to exterior design, and the C5 X is no exception. It's a big car that looks as if someone melted a crossover and an estate and then stuck them together.
That might not sound too appealing, but Citroen's design is certainly striking. It gets the same bold front end as the new C4 range, but the bonnet is more elongated than the smaller car.

At the rear, things are even more stretched out, with a contrasting roof and sloping tail gate giving it a hint of fastback too.
Riding high off the ground on large 19in alloy wheels, it's certainly a unique design compared to its direct rivals.

Citroen C5 X interior and tech
The inside of the C5 X is more ordinary, featuring lots of tech and materials we've seen in other Citroen models lately. The Advanced Comfort seats are standard on all models, which gives occupants and driver excellent ride quality.
There's a large central infotainment touchscreen measuring 12in in diameter, while the driver gets  digital display too. Judging by its external proportions, it isn't a surprise to discover the C5 X is rather capacious too; there's acres of rear passenger space, while the 545-litre boot is larger than key rivals.
UK specs and trim levels are to be confirmed, but we'll bring you more info as soon as it is released.

Citroen C5 X drivetrains
There's no official details on drivetrains yet, but expect plug-in and electric technology to feature highly. We know that from launch, you'll be able to choose between at least two petrol-powered versions, as well as a plug-in hybrid that can cover 31 miles on electric power only.
We do know, however, the C5 X gains Citroen's new Advanced Comfort suspension system. This is designed to smooth out the bumps of the road and keep the occupants as comfortable as possible. With a track record of innovation in this area, it's likely the suspension set-up will prove true to its name.

Citroen C5 X release date
We're still waiting on full specs, prices and a release date for the all-new C5 X. However, we reckon list prices will start somewhere between £24,000 and £28,000.
We'll bring you full details and the very best leasing plans as soon as they are available.