A to Z of EVs in 2023: Every electric car available right now (or coming very soon)
EVs are coming thick and fast, with majority of mainstream manufacturers now having at least one shiny all-electric vehicle in its line-up.
This trend is only set to continue, with an innumerable amount of new models set to launch over 2023.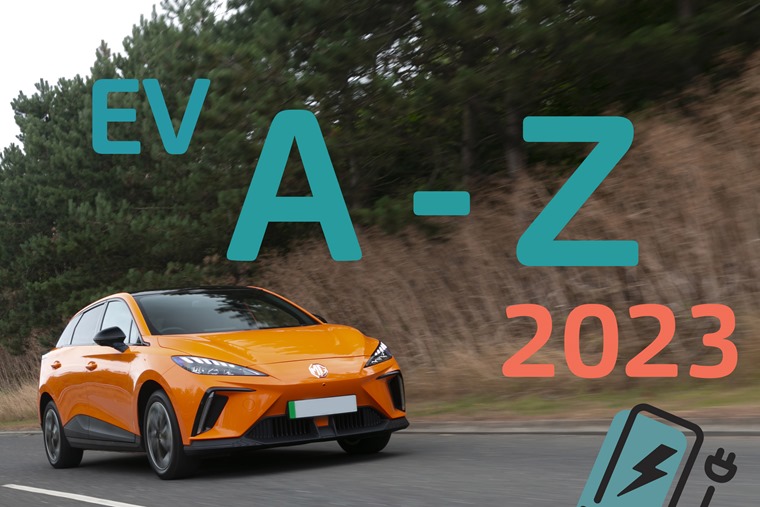 We've put together a handy A to Z including all the key EVs currently available to lease – along with a few that are just around the corner too.
We've also included a bit of info on each brand – including its overall plans and electrification process as we head towards 2030.
What EVs can I get right now?

Jump to vehicle:

Abarth

Abarth is the sporty cousin of Fiat, and as such has traditionally offered peppy petrol-engined superminis and sports cars. But now it's going electric, and lease deals on its latest 500 are available right now.

Available now: Abarth 500 Electric

Abarth has produced sporty versions of the baby Fiat for years, and it appears that the new all-electric model is no exception. With 150hp, it's significantly up on power compared with the little Fiat.

As you'd expect, it gets Abarth's usual plethora of styling, with a more aggressive look all round. 0-62mph takes seven seconds and, with a convertible also on offer, we're struggling to think of a more fun city EV available right now.

Compare Abarth 500 lease deals

Audi

Audi is part of the huge Volkswagen Group. This means it's been ahead of most manufacturers when it comes to electrification plans and appears to have a well thought out strategy in terms of model launches.

There are already a handful available, and there's at least 14 other pure electric vehicles set to launch by 2025.

Available now: Audi Q8 e-tron

The Audi e-tron was the brand's first step to electrification, and has essentially been replaced by the most recent Q8 e-tron.  It features some innovative tech such as those door cameras in place of mirrors.

Its SUV proportions have also ensured it's a really popular EV, and its 106kWh battery pack is enough to provide around 305 miles of range. All Q8 e-tron models feature rapid charging capabilities too.

Compare Audi Q8 e-tron lease deals

Available now: Audi e-tron GT

Now available to lease, the Audi e-tron GT can be seen as an alternative to the Porsche Taycan. All models can muster more than 290 miles of range, while the RS (which is the first EV to bear this famous Audi nomenclature) can get from 0-62mph in just 3.3 seconds.

Compare Audi e-tron GT lease deals

Available now: Audi Q4 e-tron

The Audi Q4 e-tron offers a little less practicality than the larger e-tron, but it offers a little more style. SUV coupes are all the rage, and the Q4 e-tron is one of the most advanced on offer. Even entry-level 35 models are capable of up to 217 miles between charges.

Compare Audi Q4 e-tron lease deals

Coming soon: Audi A6 e-tron

The Audi A6 e-tron is set for a full reveal in 2022, with the car likely to hit the UK in early 2023. Featuring the same underpinnings and electric tech as the SUVs on this list, you can consider this the electric A6. That means it'll take the form of a saloon and rival the likes of the Tesla Model S.

BMW

BMW has actually had an EV available for almost a decade in the shape of the i3. However, things slowed in more recently years. But that's all set to change with the arrival of an all-new generation of electric models.

The iX3, iX and i4 are available to order now, with a number of other launches set for 2022 and 2023.

Available now: BMW iX3

Is the i3 a little too individual for your taste? If you want a cutting-edge EV that doesn't actually look like an EV, then the iX3 is the better choice. It's essentially an all-electric version of the standard X3 crossover. Expect a range of 286 miles between charges, which can be charged via a rapid charger from 0% to 80% in around half an hour.

Available now: BMW iX

The radical BMW iX is the Bavarian answer to the Tesla Model X. Big, bold and extremely capable, it's dimensionally similar to the X5. Unlike the X5, however, it gets either a 70kW or 100kW battery, with the latter offering up to 370 miles and around 500hp. All models are all-wheel drive, thanks to the pair of electric motors on each axle.

Available now: BMW i4

BMW sees its i4 as a direct rival to the Tesla Model 3. With up to 367 miles of range an an optional potent M50 variation, this is the kind of car that we imagine will replace the 320d as a company car of choice in the coming years. Like all BMW's EVs, it gets the latest iDrive technology and an awesome cabin.

Available now: BMW i7

The new BMW 7 Series is now available to lease, and it's the first generation of the luxury saloon to get an all-electric variant: enter the i7. From launch it's available as the i7 xDrive 60, and is capable of up to 388 miles of range. This puts it on par or above many key competitors. Its 105kWh battery can also support super-quick charging too.

Coming soon: BMW i3 (electric 3 Series)

The i3 is due a replacement, and it's likely that it'll be more 3 Series-shaped than the current hatchback. Sources reckon it'll get around 285 miles of range and be available with the same high-performance electric motors as the i4. We'll bring you leasing plans as soon as they're available.

Coming soon: BMW i5 (electric 5 Series)

Similarly, an all-electric variant of the 5 Series is in the works, and will take the name of the i5. Designed to rival models like the Tesla Model 3 and Mercedes-Benz EQE, it's set to be revealed later this year. We'll bring you details as soon as we know more.

BYD

BYD is an all-new Chinese brand, and has arrived in the UK with its Atto 3. This good-looking EV has been designed to compete with the likes of Tesla, but offer much more affordable pricing. We'll have to wait and see if any other BYD models make it to our shores.

Available now: BYD Atto 3

Available to lease right now, the BYD Atto 3 features a 60.4kWh battery pack that can offer up to 261 miles of range. While that's not as much as more premium brands, it is on par with rivals like the MG ZS and MG 4 (another Chinese brand).

It also features a fantastic interior, with a 12in floating infotainment system and tonnes of safety tech. Could this become the go-to family EV for 2023? Click on the button below to compare deals now.

Compare BYD Atto 3 lease deals

Citroen

Remember the C-Zero? It was launched around the same time as the original Nissan Leaf. While that model might have not proved popular, the Stellantis-owned French brand is set to take full advantage of platform sharing in the coming years. Expect to see all-electric versions of its entire line-up by 2030 – with a quirky new model or two thrown in along the way.

Available now: Citroen e-C4

The Citroen e-C4 is the first all-electric Citroen since the C-Zero, and it's a massive improvement. Comfortable in a way only a big French car can be, it's capable of up to 217 miles according to official stats. 380 litres of boot space make it a practical proposition for families too.

Compare Citroen e-C4 lease deals

Available now: Citroen e-C4 X

If you fancy a slightly larger version of the e-C4, you're in luck: the e-C4 X is now available to lease. With 510 litres of boot space and up to 224 miles of range, it utilises the same tech as Peugeot's latest 408.

Longer, larger and more practical, its low roofline extends downwards from the boot, allowing plenty of passenger space as well as that capacious boot.

Compare Citroen e-C4 X lease deals

Available now: Citroen Ami

Yes, that's right – the very unique Citroen Ami is available to lease in the UK. With monthly costs starting from around the £100 mark, it's super affordable. But it does have its limitations: top speed is just 28mph, and range stands at under 50 miles. That said, it's the perfect companion in urban situations. What do you think?

Cupra

Cupra has had a successful few years on the back of its Ateca and Formentor SUVs. It'll be hoping its electric cars will prove just as popular and, if the pictures are anything to go by, we're sure they will. The main challenge for Cupra will be to create a sporty model with a unique feel from the electrified platforms it shares with its Volkswagen stablemates.

Available now: Cupra Born

The Cupra Born shares a platform with the Volkswagen ID.3, but its looks, tech and drivetrains have been geared to make it sportier than the VW. The range-topping version uses a 77kWh battery pack, helping it get from 0-62mph in less than seven seconds. It gets up to 335 miles of range and features a rear-wheel drive platform. Better than the ID.3? For those after something a little spicier, we think so.

Compare Cupra Born lease deals

Coming soon: Cupra Tavascan

The Cupra Tavascan SUV was revealed in concept form back at the 2019 Frankfurt Motor Show. Since then, it's been confirmed it's headed for production. Or a very similar car is anyway. It'll likely build on the styling seen on the Formentor and will likely get a drivetrain offering potent performance and more than 250 miles of range.

Dacia

Dacia's success thus far has partly been down to the fact it keeps production costs down – that means that pure petrol and diesel remains the go-to for the moment, as electrified platforms cost money and will take a while to filter down from the more expensive Renaults on which they are based. However, there is on on the way.

Coming soon: Dacia Sprint Electric

This cute little crossover is set to launch in some European markets next year, but it is yet to be confirmed whether or not it'll make it to the UK. Featuring a range of around 140 miles and a back-to-basics interior, it's primarily aimed at developing markets. We'll have to wait to find out whether the Spring is coming to the UK.

DS

DS – once an offshoot of Citroen – is now a brand owned by Stellantis. As such, it's well placed in the race to electrification and you can expect it to share platforms with Citroens, Peugeots and Vauxhalls over the coming years. There's already one EV available – the DS 3 Crossback.

Available now: DS 3 Crossback

With between 190 and 206 miles of range, the DS 3 Crossback in E-Tense form is a great choice if you're after a comfortable and capable electric car. It produces around 130hp, resulting in swift acceleration from 0-62mph in under nine seconds. Its looks won't be for everyone though, but that's not an issue – you can get the same drivetrain in a number of models from Citroen, Peugeot and Vauxhall.

Compare DS 3 Crossback E-Tense lease deals

Fiat

If you're after a characterful electric vehicle, then you might want to consider a Fiat. Its ever-popular 500 is now electric-only, with larger 500-based EVs likely to make an appearance soon. There's an equally quirky electric Panda set for launch in 2022, too.

Available now: Fiat 500

Despite its advanced electric drivetrain, the Fiat 500 has kept its cute city car looks and also boasts a range of innovative safety tech – including semi-autonomous driving aids. If you're after a truly affordable EV, this could be the one for you. Monthly prices currently start from less than £200.

Coming soon: Fiat Centoventi / Panda

Set to offer an equally affordable but more practical model than the 500e, the new Panda (Centoventi) will get an electric drivetrain. We've only seen it in concept form at the moment, but we'll be able to confirm further details in the coming months.

Ford

Ford might seem like it's behind rivals when it comes to EVs, but earlier this year it confirmed that all European models sold by 2026 will be "zero-emissions capable". For now, just one model is on offer – but what a model the Tesla-beating Mustang Mach-E is!

Available now: Ford Mustang Mach-E

We've waited a long time to see a fully electric Ford, and the Mustang Mach-E doesn't disappoint. Able to rival Tesla in pretty much every sense, some people might not like the fact it shares its name with the iconic muscle car.

But that's the only similarity with the two-door: this 4.7-metre SUV is powered by an electric drivetrain that produces anything between 260hp and 470hp depending on the variant in question. With more than 350 miles of range and a huge tablet-style infotainment system, it's one of our favourite EVs to date.

Compare Ford Mustang Mach-E lease deals

Genesis

Genesis is a new entry to the UK market and is essentially the upmarket premium badge of the group that owns Korean titans Hyundai and Kia. As such, it's got a great basis to launch its EVs on – namely the expertise that has led to cars like the Ioniq 5 and Kia EV6.

Available now: Genesis GV60

While other Genesis vehicles are available with electric drivetrains, the GV60 is the brand's first ground-up EV and takes the form of a low-slung SUV. The looks are certainly different, and it uses the same basic battery packs you'll find in the Kia EV6. That means an impressive range of 280 miles is on offer, while power varies between 225hp and 435hp.

Compare Genesis GV60 lease deals

Honda

Honda has gone big on hybrid platforms in recent years, but to date only has one all-electric model – the Honda E. This is likely to change drastically in the next years or two though, but Honda committed to 100% of European sales to be electric in the future.

Available now: Honda e

Quirky it may be, but not everyone is a fan of the Honda E's looks. It harks back to the tiny Civic hatches of the 70s, but that's where the similarities end. Its high-tech interior complements its electric drivetrain perfectly. Our only complaint is the official range of just 125 miles – but it is a city car after all.

Hyundai

The current line-up of Hyundai EVs really shows how far the Korean brand has come in recent years. Its Ioniq and Kona electric models were impressive back when they launched, and they still make sense today. But it's the Ioniq 5 that's stealing the show – a true Tesla competitor. Expect more great things soon.

Available now: Hyundai Ioniq

The Hyundai Ioniq has been a go-to vehicle for those looking for a hybrid, plug-in hybrid or full electric vehicle for a number of years now. With the Electric Premium SE model capable of up to 193 miles and leasing plans starting from less than £250, it's one of the most practical family EVs. However, it's showing its age a little compared to Hyundai's other electric products.

Compare Hyundai Ioniq lease deals

Available now: Hyundai Kona

The Kona Electric can be considered a step up compared to the regular Ioniq. For starters, it's a crossover rather than a slightly awkward looking hatchback. Secondly, it's available in two forms: a 39kWh model capable of around 190 miles and a 64kWh model that ups this to 279 miles. The latter is also compatible with 100kW charging too, allowing you to charge the battery from 0% to 80% in under an hour.

Compare Hyundai Kona Electric lease deals

Available now: Hyundai Ioniq 5

The Ioniq 5 is one of Hyundai's next generation of EVs. Don't let the blend of retro style fool you; it's as futuristic as things get. The interior is full of tech, featuring two large screens and touch-sensitive controls. Underneath, the Ioniq 5 is available with either a 58kWh or 72kWh battery, with the potent variant also available with all-wheel drive.

The 72kWh model can muster up to 298 miles of range, putting the Ioniq 5 firmly in the "Model 3 alternative" camp. Combined with its DC fast charging capability of up to 350kW, it's one of the most advanced mainstream EVs ever, and it's available to lease right now.

Compare Hyundai Ioniq 5 lease deals

Available now: Hyundai Ioniq 6

The Ioniq 6 is a streamlined hatchback, and it made its debut earlier this year. It might look different to the Ioniq 5, but under the skin it borrows all the tech that makes its SUV-sibling such a success. It's available to lease right now, and is already proving a popular choice on Leasing.com.

Compare Hyundai Ioniq 6 lease deals

Jaguar

It's hard to believe the I-Pace is two years old already – it's still one of the best-looking EVs available in our opinion and remains competitive against other vehicles. As far as other electric models go, plans for the XJ EV have been shelved for now, but Jaguar is aiming to become the first "all-electric" luxury brand by 2025.

Available now: Jaguar I-Pace

The Jaguar I-Pace remains a desirable EV. It's hard to believe it's been on the market two years already, and its range of 292 miles ensures it remains competitive in the face of numerous upcoming models from rivals. It's also a seriously impressive electric vehicle to drive, featuring a sub five-second 0-62mph time.

Compare Jaguar I-Pace lease deals

Coming soon: Compact EV by 2025

Despite the scuppered plans for an all-electric XJ, Jaguar has confirmed it plans to launch three compact electric models by 2025. These are likely to be replacements for the XE, XF and potentially even the F-Type sportscar.

Jeep

Now part of Stellantis, Jeep is forging ahead with electrification plans in Europe, and its first all-electric vehicle is now available to lease. Expect more to hit the road in the coming years.

Available now: Jeep Avenger

The all-new Avenger is now available to order, and is capable of up to 248 miles between charges according to WLTP figures. It gets a fresh look, and ushers in a new era of styling for the America brand.

Using a rapid 100kW charger, you can regain an 80% charge in less than half an hour. Single and dual electric motors are offered, allowing for both two and four-wheel drive models. All motors produce 120hp.

Compare Jeep Avenger lease deals

Kia

Along with Hyundai, Korean counterpart Kia has also knocked it out the bag with its recent EVs. Already known for the impressive e-Niro, the stunning EV6 is now available – with other impressive electric vehicles set to follow in the coming years.

Available now: Kia Soul

The Kia Soul name might have been around, but a recent revamp saw it receive the same 64kWh battery pack as the e-Niro, giving is a range of up to 280 miles. The styling was refreshed too and, while it won't be to everyone's taste, it remains a competitive EV in the compact crossover segment.

Available now: Kia EV6

Like the sound of the Ioniq 5 but want something a little sportier? You might want to take a look at the Kia EV6. This new model sits on the same platform as the Hyundai, but a number of tweaks make it a more engaging driving. It's also available with a larger battery pack that not only gives it the edge performance-wise, but boosts range to 300+ miles too.

Land Rover

Land Rover hasn't launched an all-electric vehicle yet, but it has the know-how of the creators of the I-Pace and has a wide range of PHEV vehicles currently on offer. The company says that three of every five vehicles it sells by 2030 will be zero-emissions models, with diesel set to be phased out completely by 2025.

Lexus

With a long history of producing hybrids, Lexus is ahead of the game as far as plug-in tech goes. However, to date, only one model is all-electric, but there'll be plenty more EVs based on a new platform over the coming years.

Available now: Lexus UX

The Lexus UX 300e is the brand's first all-electric model, and it's available to lease right now. With up to 196 miles of range coming courtesy of its 54.3kWh battery, it's capable of 50kW DC fast-charging, allowing it to charge from 0-80% in less than an hour. With its premium styling and quality interior, we should see more all-electric Lexus models hit the market soon.

Compare Lexus UX 300e lease deals

Mazda

Mazda had previously stated that it would stick to petrol power for as long as possible, but it's also starting to build EVs. The MX-30 is available now, while there'll be an all-new platform to launch a trio of vehicles on by 2025.

Available now: Mazda MX-30

The Mazda MX-30 looks fantastic. Its bubbly crossover styling includes design cues harking back to the fun RX-8 sports car – check out the rear doors! However, it's somewhat let down by a range of just 126 miles – that's decent enough for a city car, but not quite up to the standard of other all-electric family crossovers.

Compare Mazda MX-30 lease deals

Coming soon: Three EVS by 2025

No technical details of future Mazda electric vehicles have been announced, but Mazda is planning to launch three more models by 2025. They'll share the same platform as the brand's hybrid range, with the company aiming for 25% of its global sales to be all-electric by 2030.

Mercedes

Like other German premium brands, Mercedes has a solid plan to offer an electrified model of its entire range by 2030. Known as the EQ range, there's a number already available to lease, while a plethora of new models are set for launch in 2022 and 2023. Despite the new platforms, all EQ models are available in a range of recognisable trim levels including AMG Line.

Available now: Mercedes EQA

The Mercedes EQA crossover bears a striking resemblance to its larger sibling, the EQC. That's no bad thing: Mercedes has been ahead of the game when it comes to electrification, and this small crossover has already become a popular choice. With more than 263 miles of range combined with Mercedes' quality fittings, it's a practical and premium EV.

Compare Mercedes EQA lease deals

Available now: Mercedes EQC

The EQC is Mercedes' answer to the Audi e-tron. Refined, stylish and capable, it's one of the flashier EVs currently available. Its 255 miles of range might not be quite as impressive as the Jaguar I-Pace or Audi e-tron, but its sumptuous tech-laden interior and ride quality put it ahead of rivals if you're after a relaxing and refined EV.

Available now: Mercedes EQS

If you're wondering what an electric S-Class looks like, the EQS answers that question. It's sat on a dedicated electrified platform that's been specifically designed for use under larger models. A host of battery packs are on offer, but the 107.8kWh option is capable of more than 450 miles between charges – one of the most impressive EV ranges to date.

Available now: Mercedes EQE

You can consider the EQE a scaled down version of the EQS. It gets the same sleek looks and a 90kWh battery pack offering more than 400 miles of range. It also gets Mercedes' usual plush interior and cutting-edge infotainment tech. All in all, an impressive car.

Compare Mercedes EQE lease deals

Available now: Mercedes EQB

The Mercedes-Benz EQB is set to be a practical seven-seater SUV that's capable of around 300 miles between charges. It gets the same styling cues as the rest of the EQ range and offer a more practical proposition than similarly priced rivals thanks to its third row of seats.

Compare Mercedes EQB lease deals

MG

MG might have been known for sporty classics such as the MGA and MGB, but since the Chinese takeover a few years ago it has been producing affordable and well-made vehicles – including EVs. The popularity of the ZS and MG5 bode well for the future, although we'll have to wait and see if a more traditionally sporty model gets electric power.

Available now: MG ZS

The MG ZS might onloy feature a 44.5kWh battery pack (considerably less than some rivals) but that's most definitely reflected in its price. And despite the battery size, it's still capable of driving more than 160 miles between charges – more than the considerably more costly Mazda MX-30. With oodles of room and decent styling, there are few more affordable ways into an EV.

Available now: MG5

If outright practicality outweighs stylish looks, then the MG5 is a thoroughly good EV. It offers in excess of 200 miles of range thanks to a 48.8kWh battery, and a large 464-litre boot space. With the rear seats down, this increases to 1,456 litres. That's mighty impressive for an EV. The interior, while not exactly premium, is of a good quality too. Combined with its 7-year warranty, it's quite easy to see the increasing appeal of choosing an MG.

Mini

The Mini Electric is now available to lease in two-door form, but by 2025 you'll find an electrified version of all the models in its diverse line-up, the first of which is likely to be the Clubman.

Available now: Mini Electric

Yes – the Mini has officially gone electric. Well, you can at least opt for the two-door hatch in electric form at least. Offering between 124 and 144 miles of range on a single charge, it'll be taking on other EVs like the Vauxhall Corsa-e and Honda E.

Compare Mini Electric lease deals

Coming soon: All-electric range by 2025

Mini has confirmed that every model in its line-up will soon be available with electric power, with the last petrol Mini to be launched in 2025. There are also rumours the "Minor" nameplate will be revived on an EV, with the project being a joint venture between BMW (Mini's owner) and Great Wall (a Chinese conglomerate investing heavily in the EV market).

Nissan

Nissan might have come up with one of the world's most popular EVs (the Leaf), but since its inception it hasn't really expanded its offering. That's set to change next year though, with the arrival of the Ariya – the first of eight models that are set to launch in 2022 and 23.

Available now: Nissan Leaf

In its current guise, the Nissan Leaf still makes a great choice for a family car. Its range is no longer as impressive as it once was, but it combines its electric drivetrain with a host of innovative safety features such as adaptive cruise control and Nissan's e-pedal.

Compare Nissan Leaf lease deals

Available now: Nissan Ariya

The Nissan Ariya is the the company's second foray into the lucrative electric market, and its stunning SUV styling certainly sets it apart from the Nissans of the past. It's a truly premium model, and there's a host of battery options and drivetrains on offer too, with a maximum range of 285 miles.

Compare all Nissan Ayria lease deals

Ora

Not heard or Ora? You're probably not alone. The company is owned by the Chinese company responsible for Great Wall pick-ups and the upmarket Wey brand, and is planning to break into the European market with an all-new affordable EV.

Coming soon: Ora Cat

The Ora Cat is a compact EV that was showcased at the Munich Motor Show back in September 2021. Its list price – around £25,000 – helps it stand out from the crowd. Featuring interesting styling that looks a little like a cross between a Tesla Model 3 and a Mini, it'll be available with either a 58kWh or 63kWh battery pack.

The  latter can provide up to 261 miles of range – that's significantly more than key rivals that cost more. We should find out more about the Ora Cat 01 in the coming weeks, with a full UK launch planned for the end of 2021.

Peugeot

Peugeot is leading the Stellantis charge as far as electrification goes, with ambitious plans to offer an electric version of everything in its range by 2023. We'll have to wait and see it it pulls that one off, but expect lots of pure-electric models to hit the market soon.

Available now: Peugeot e-2008

Rather than making Electric-specific models, Peugeot is one of the brands that aims to offer an electric "variant" of existing cars in its range. The e-2008 is a great example of how this can be successful. It looks just like its combustion-powered siblings, but underneath you'll find a 50kWh battery capable of up to 206 miles between charges; that's much more than a Mini Electric, but not quite as good as a car like the Volkswagen ID.3.

Compare Peugeot e-2008 lease deals

Available now: Peugeot e-208

The Peugeot e-208 has been praised as a fun-to-drive electric supermini with a 136hp electric motor. Inside you'll find the usual array of screens and "i-cockpit" controls as any other Peugeot, but underneath is the same electric motor and platform you'll find underpinning the Corsa-e. It's another fine example of how the Stellantis group is making a success out of platform sharing.

Compare Peugeot e-208 lease deals

Coming soon: Peugeot e-408

Peugeot's stunning new 408 will get electric power later in 2023. It's currently available with two plug-in hybrid drivetrains, but the e-408 is likely to join the range in the coming months. We'll bring you leasing plans and specs as soon as we know more.

Coming soon: Peugeot e-308

The Peugeot e-308 is the next all-electric Peugeot and is expected to launch in the coming months. It'll feature the same electric motors and drivetrain seen on the e-2008. It'll be taking on cars like the Volkswagen ID.3 when it arrives, and it might just be able to tempt a few customers its way thanks to that stunning styling.

Polestar

Swedish Polestar has made successful in-roads to the electric market, with the Polestar 2 being among the best rival to the Tesla Model 3. It's due to launch the Polestar 3 next year, while a host of other concept cars hint at what else is to come.

Available now: Polestar 2

Polestar's 2 is arguably one of the sleekest and most stylish EVs currently available, and certainly one of the biggest rivals to Tesla's all-conquering Model 3. It takes the form of a coupe SUV, and offers a refreshingly simple interior. There are various models on offer, with the Single Motor Long Range offering an impressive 335 miles of range.

Compare Polestar 2 lease deals

Coming soon: Polestar 3 SUV

Polestar has also confirmed the imminent arrival of the 3 – an all-new model that will debut a new generation of models. It's likely to follow the styling cues of the Polestar 2, but wrap everything up in a larger body that'll go head-to-head with the Audi e-tron and BMW iX. It's set for launch in 2022.

Coming soon: Polestar 4

The Polestar 4 is set for a full reveal later this y

ear, and will take the form of an SUV Coupe. Not much info other than the teaser image above has been revealed. We'll bring you more info as soon as we know it.

Porsche

Porsche is one of the best sports car manufacturers in the world, and it's set to make a splash on the electric scene. In fact, it's already done it – just look at the stunning Taycan. With more electrified models coming soon, an electric 911 is still a way off – but it'll be here by 2030.

Porsche Taycan

How does a company renowned for its petrol-powered prowess go electric? With the Taycan of course. Porsche might still produce some of the most desirable combustion-engined cars around, but the Taycan proves it can create an EV that's just as exhilarating and appealing. Shockingly quick and with a 300-mile range on offer, it's a clear signal that Porsche will continue to dominate the performance market with its electric-powered products.

Compare Porsche Taycan lease deals

Coming soon: Porsche Macan Electric

Porsche is gearing up to launch its next all-electric model in the form of the updated Macan. It'll get a completely new look, likely influenced by the Taycan's design along with an electric drivetrain that'll put it on par with models like the Audi e-tron. We'll bring you further details as soon as we know more.

Renault

There's a total of eight all-electric Renaults planned by 2025, and the Megane E-Tech is the first example of its next-gen EVs. The Zoe has been around for years of course, and is still a good option for those looking to make an affordable step into electric vehicle usership.

Available now: Renault Zoe

The Renault Zoe has consistently been a hit with lease customers looking to go electric, and even years after its launch, it remains a decent choice. It's comfortable and offers enough range to make long journeys a reality. But there are newer, more advanced EVs now on offer – from competitors and also from Renault itself.

Compare Renault Zoe lease deals

Available now: Renault E-Tech Megane

Renault recently revealed the all-electric Megane E-Tech – the next generation of the model that replaces the hatchback with an SUV design. With up to 292 miles of range, a high-tech cabin and an advanced platform, it's offered with two batteries from launch: 40kW and 60kW. They produce 130hp and 218hp respectively, and both support rapid charging of up to 130kW.

Compare Renault Megane E-Tech lease deals

Coming soon: Renault 5

That's right – the Renault 5 supermini of the 80s is set to make a return. But it'll be packed full of tech and feature an electric drivetrain. Hoping to capture some of the retro appeal that has made the Honda E a success, the 5 will be just one of several new EVs that Renault hopes will account for 30% of its global sales by 2025.

Seat

Aside from the aging Seat Mii Electric, the Spanish company is yet to launch an all-electric model. That's mainly because its sporty sub-brand Cupra has been given the use of parent company Volkswagen's electric architecture. It will filter down to Seat at some point, but in the meantime the company is making big strides into the hybrid market.

Skoda

Skoda is yet another company that falls under the huge Volkswagen Group brand, and to date the only all-electric model is the Enyaq iV. Expect that to change soon though – there's been several concepts showing the Skodas of the future including the "Vision iV" – a crossover with 300 miles of range.

Available now: Skoda Enyaq EV

The Skoda Enyaq iV is the company's first dedicated EV and shares a platform with the new Volkswagen ID.4. With a 585-litre boot and a torquey all-wheel drive system on offer, it proves to be great value for money for such a practical vehicle. Three versions are available, with the Enyaq iV 80 featuring an official 333-mile range – more than enough to worry the Tesla Model 3 – that isn't half as practical.

Compare Skoda Enyaq iV lease deals

Smart

Smart has now been an electric-only company for two years, and their diminutive dimensions actually make them ideal as an electric run around. There's a new model on the horizon too, with a model expected in 2023. In the meantime, you've got the choice between the fortwo and forfour EQ.

Available now: Smart EQ fortwo

The cutesy Smart fortwo has been a feature in cities across the world for two decades now, and the latest one ditched petrol power completely in favour of a 17kWh battery pack and electric motor combo. Range is limited to around 75 miles according to official figures, but it is a city car after all.

Compare Smart Fortwo lease deals

Available now: Smart EQ forfour

The Smart forfour adds a dose of practicality courtesy of two extra doors, but don't be mistaken; this is still an EV that's best left for city dwellers. Why? Well its 17kWh battery pack provides around 60 miles of range.

Compare Smart ForFour lease deals

Coming soon: Smart #1

The next generation of Smart car is on the way, with the #1 set to debut in December. With up to 273 miles of range, this car is aiming to take the brand into a sector it is yet to have a presence in: the crossover market. We'll bring you leasing plans as soon as they are available.

Coming soon: Smart #3

The Smart #3 is set to be the larger sibling of the #1, featuring a larger more practical body. It's likely to be an SUV. You can read more about it here.

Tesla

While more established vehicle manufacturers have been catching up with Tesla's momentous progress in EVs, the brand has been hard at work. The Model Y is officially on the way, and the Roadster and Cybertruck are touted for a 2023 launch too.

Available now: Tesla Model 3

Tesla's Model 3 has taken the UK by storm and is one of the first EVs to have broken into the top ten most popular new cars. It's no surprise really. Aside from the 360-mile range the Long Range version offers, it also features blistering performance and one of the most advanced semi-autonomous driving aid systems on the market. Leasing prices have come down considerably too, making it surprisingly affordable to get behind the wheel of one.

Compare Tesla Model 3 lease deals

Available now: Tesla Model S

Depending on the specification you choose, the Tesla Model S officially has the quickest acceleration of any electric vehicle in production. However, compared to more recent models such as the 3 and the Y, the Model S does look a little dated in our opinion. It's still an impressive vehicle, but there are better options out there.

Available now: Tesla Model X

Like the Model 3, the Tesla Model X claims to be capable of up to 360 miles between charges. Unlike the Model 3, it features stunning gull-wing rear doors, imposing SUV styling and enough room inside for seven people. This was also the model the plethora of electric SUVs now available set out to beat.

Available now: Tesla Model Y

The Tesla Model Y is the newest car in the American brand's line-up, and it's now available to lease. It's essentially half way between a Model 3 and a Model X, offering a crossover style that is bound to be popular. Want to be one of the first in the UK to lease one? Check out deals by hitting the button below.

Compare Tesla Model Y lease deals

Coming soon: Tesla Roadster

The Tesla Roadster was revealed way back in 2017, but due to the pandemic and chip shortage, production has now been pushed back until 2023. In the UK, however, it's likely to be the next all-new Tesla available to lease. With a sub two-second 0-60mph time and a range of up to 620 miles (to be confirmed), it will use a 200kWh battery pack – that's almost twice the size of most other cars on this page!

Toyota

Toyota is a bit late to the all-electric game, mainly because all its current line-up already feature hybrid power. This ensures its range will remain competitive over the coming years. That said, change is afoot. There's an all-new electric Toyota crossover due next year – the first of several EVs set to hit the market over the coming years.

Available now: Toyota bZ4X

Toyota's first all-electric model, the bZ4X, is now available to lease. Not the catchiest name, we have to say. But it looks much like the original concept and is set to feature a battery pack offering up to 280 miles of range. It'll actually shares a platform with the Lexus UX, and is set to take on models like the Kia e-Niro and Hyundai Kona Electric when it arrives in 2022.

Compare Toyota bZ4X lease deals

Vauxhall

Vauxhall is a seriously popular brand in the UK, and thanks to its Stellantis ownership, it has more pure EVs currently available than big rival Ford. By 2024, it wants to launch a further eight all-electric variations, with the aim being to offer a fully electrified range ahead of the 2030 cut off point.

Available now: Vauxhall Corsa-e

The Vauxhall Corsa-e is the perfect electric car for those that don't particularly want an electric car. It looks just like the petrol and diesel models and gets a good amount of kit too. Powered by a 50kWh battery pack, it provides punchy performance around town and enough range (up to 209 miles) to make it a viable EVs for long journeys too.

Compare Vauxhall Corsa-e lease deals

Available now: Vauxhall Mokka-e

The latest Vauxhall Mokka is a significant improvement over the old model, adding a stylish body and – most importantly – the availability of an electric drivetrain. Although more expensive than petrol-powered models, it's capable of more than 200 miles of range and can be recharged using a 100kW rapid charger. Doing this will help you boost the battery from 0% to 80% in just 30 minutes.

Compare Vauxhall Mokka-e lease deals

Coming soon: Vauxhall Astra-e

The Astra is the next Vauxhall stalwart to get the electric treatment, and it's likely to be the most advanced yet. It gets a stunning new look and an electric drivetrain that should provide up to 250 miles of range. We expect it to hit the market shortly after the launch of the petrol and plug-in hybrid models – so 2023 at the very latest.

Volkswagen

Volkswagen's ID.3 is a hugely important model for the brand. Not only is this being heralded as the electric Golf, but it also sits on a platform that will underpin various models with different badges including Cupra, Seat and Skoda. As for Volkswagen itself, it's already launched the larger ID.4 and the ID.5 is set for a full reveal in 2022.

Available now: Volkswagen ID.3

The Volkswagen ID.3 can be considered to be the new e-Golf. It was the first of VW's ID range to launch, and as such is a very important car for the brand. With a minimalist interior and impressive infotainment system, its electric drivetrain can be had in a number of formats with 58kWh and 77kWh battery packs on offer. Some models can manage upwards of 300 miles of range, putting it on par with much more expensive EVs.

Compare Volkswagen ID.3 lease deals

Available now: Volkswagen ID.4

The Volkswagen ID.4 is just like the ID.3, but offers more room and a larger crossover body shape. It uses the same interior tech and sits on the same platform. That means you can expect similar levels of performance and range to the ID.3, but with the added bonus of a family-friendly spacious cabin. It's the one we'd go for – particularly in hot GTX guise.

Compare Volkswagen ID.4 lease deals

Available now: Volkswagen ID.5

The ID.5 is – you guessed it – the bigger sibling of the ID.4. It gets up to 323 miles of range, and takes the form of a coupe-SUV. It's also available in sporty GTX guise – that's Volkswagen's new badge for its performance VW models.

Compare Volkswagen ID.5 lease deals

Available now: Volkswagen ID.Buzz

The ID.Buzz has been heralded as the spiritual successor to the Volkswagen Transporter and, by default, classic models like the Type 2 and Type 3 microbuses of the 60s and 70s. There's passenger and commercial variations on offer, and batteries range from 48kWh to 110kWh.

Compare Volkswagen ID.Buzz lease deals

Coming soon: Volkswagen ID.7

Every snap we've seen of the ID.7 so far features the car in heavy camouflage, meaning not too many noticeable design cues have been given away.

However, it's certain from its silhouette that it will take the form of a swoopy saloon, marking a break away from designs we've seen from the ID.3, ID.4 and ID.5.

Volvo

Volvo now has the all-electric XC40 Recharge available, and next year it will launch its first uniquely electric model in the form of the C40 Recharge. The Swedish company wants to split its range 50-50 between fully electric and plug-in hybrid cars by 2025, while pure electric models will make up the entire range by 2030.

Available now: Volvo XC40 Recharge P8

The Volvo XC40 Recharge is the first pure electric vehicle Volvo has created, and it's chosen a great model for the basis of its first EV. The XC40 has won multiple awards and is a fantastic compact family SUV. The Recharge model replaces the petrol/diesel engine with a 78kWh battery and two electric motors that make a combined 402hp – impressive stuff. With 260 miles of range, it's not quite on par with some rivals in terms of usability, but shows just what Volvo has up its sleeve for an electrified future.

Compare Volvo XC40 Recharge lease deals

Available now: Volvo C40 Recharge

The Volvo C40 Recharge is set to be the first electric-only vehicle from the Swedish brand, and will get a similar set of credentials to the XC40 recharge. It gets a sub five-second 0-62mph time, up to 275 miles of range and a host of clever safety tech (although the latter kind of goes without saying as far as Volvos go).

Coming soon: Volvo EX90

The Volvo XC90 is the replacement for the XC90, and is set to enter production towards the end of 2023. With up to 360 miles of range, tonnes of safety tech and seven seats on offer, it's likely to be a family favourite that'll take over the long-standing XC90 in terms of popularity.

Ready to go electric?

While we have covered the key EVs that are available now or coming soon, this list is by no means exhaustive. There are other electrified vehicles out there – including van-based cars and commercial vehicles. You can search for all our electric vehicle deals by clicking the link below.