Toyota C-HR vs Yaris Cross – Which is for you?
Two compact crossovers. One badge. Which one should you go for?
Advertising feature
Toyota has had a fantastic offering of SUVs available for years now, and when it comes to the smaller end of the scale, it's never had the market more sewn up than it currently does. Among the plethora of options, you'll find two that are smaller than the RAV4 – the C-HR and the Yaris Cross.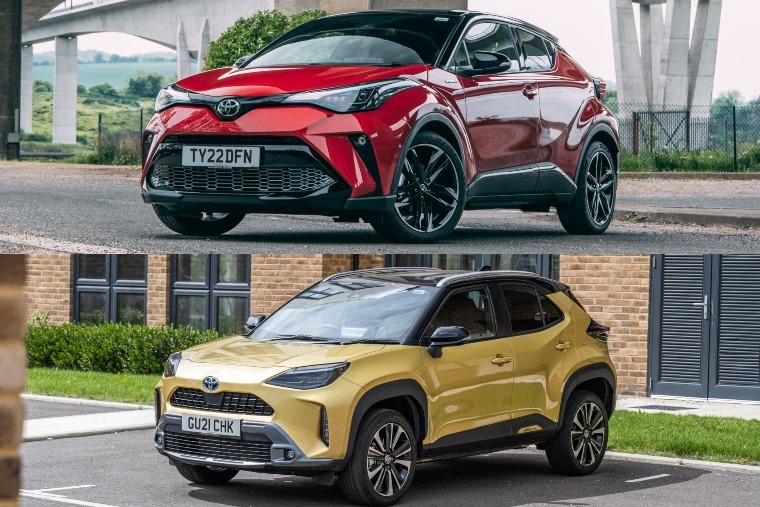 The C-HR has been around for a while now, and very popular it remains too. But with the recent introduction of the Yaris Cross, does it still make sense? They're both compact enough to be convenient, both feature advanced hybrid drivetrains and both have that SUV-styling that everyone seems to crave.
So which one's best for you? We compared the pair in all the areas that matter to help you decide.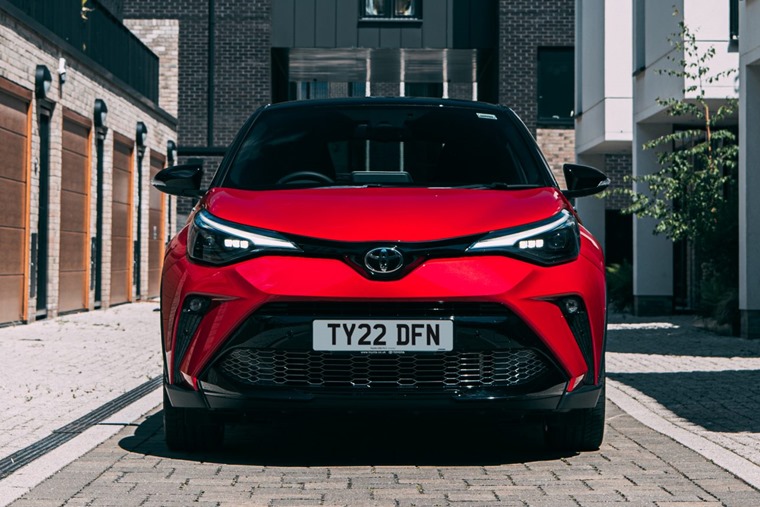 Compare Toyota deals with Kinto
Styling and size
In a crowded marketplace, both the C-HR and Yaris Cross make a decent stab at standing out. The CH-R is the older design of the two, but it still looks as futuristic as it did when it arrived a few years ago.
Those angular headlights, strong creases and swoopy couple-like rear end give it a sportier appeal than most other crossovers. In 2019 the C-HR benefited from a little facelift, which kept it in line with Toyota's growing line-up. It's fair to say it looks as snazzy as ever, and a great alternative to something like the Ford Puma or Nissan Juke.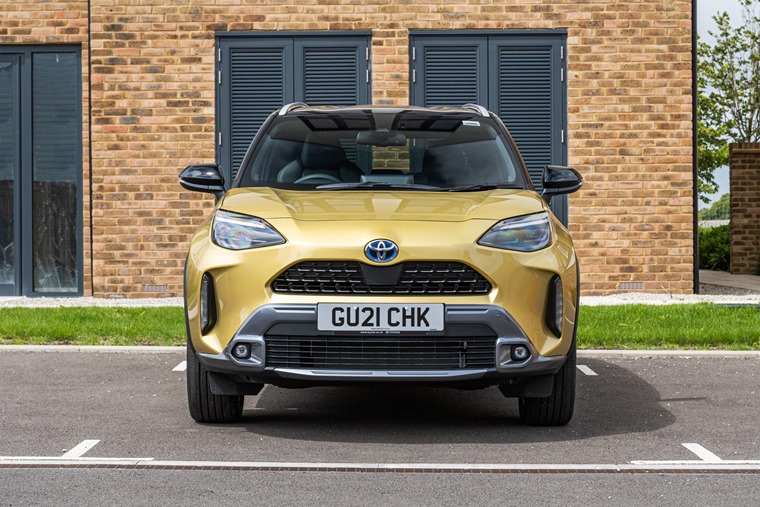 The Yaris Cross, on the other hand, is much more "crossover-like" in the traditional sense than the CH-R. But that's not to say it is plain. Just like the C-HR, there's a number of contrasting colour options you can go for to add that extra something. From the front, its smaller grille and well-proportioned headlights give it a handsome look, while the rear lights and design mirrors that of Toyota's larger 4X4s. Don't be fooled; despite its name, it's certainly more downsized RAV4 than an upscaled Yaris.
Styling is of course extremely subjective, and which one steals your eye will be down to individuality. If we had to pick a winner, it's probably the Yaris Cross, but only because it's the newer design of the two and offers lease customers that "fresh-out-the-box" appeal. Size-wise, the Yaris Cross is just under 4.2 metres long, while the C-HR is a little longer and closer to 4.4 metres. So, if you're wondering which one is the easier of the pair to park, it's the Yaris Cross.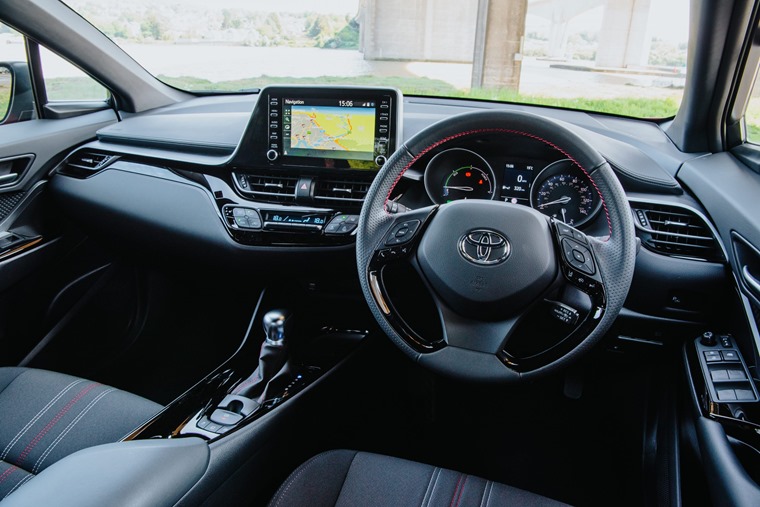 Interior and practicality
When it arrived on the scene, the CH-R's interior caused quite a stir. With an angular dashboard and a futuristic feel, it still feels as fresh as ever. As standard, you'll get an 8in infotainment system that's relatively easy to use, although the most basic trim doesn't come with satnav. While the materials used can't exactly be described as luxurious, everything feels well made and screwed together well in the truest Toyota tradition.
And, despite missing out on satnav, standard equipment is healthy. There's dual-zone climate control, along with automatic headlights and wipers. A reversing camera also features, which might be useful as rear visibility isn't the best due to that swoopy rear end. While there's ample room for passengers in the front – and the back – rear headroom isn't as impressive as some crossovers, which is again due to its coupe-like styling. With 358 litres of boot space, however, it compares well against some rivals.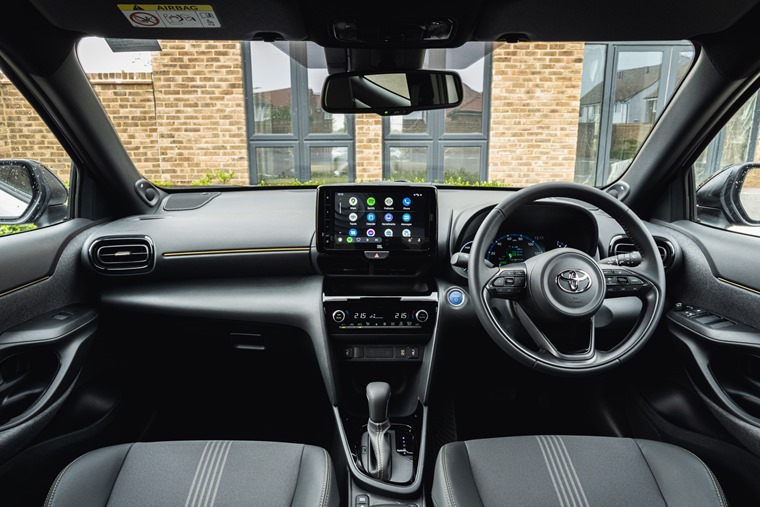 Compare Toyota deals with Kinto
The Yaris Cross is the newer of the pair, and that shows as soon as you step inside. The materials all feel a little plushers – particularly on the doors and dashboard. The floating infotainment system is more contemporary too, and while basic models stick with an 8in display, a 9in version is on offer too. Satnav is standard, as is compatibility with Android Auto and Apple CarPlay. If you pay a little extra for a trim such as Excel, you'll get wireless connectivity too.
Despite its Yaris namesake, don't be fooled into thinking you'll have to deal with supermini levels of space. There's more headroom in the rear than the CH-R offers, which makes it the better choice if you regularly carry more than one adult passenger. You'll also find a plethora of storage bins dotted about the dashboard for storing things, while in the boot department things are very impressive indeed – with 397 litres of space, there's more room than you'll find in cars like the Renault Captur. The optional 40:20:40 rear seat and flexible boot floor further add to its practicality credentials.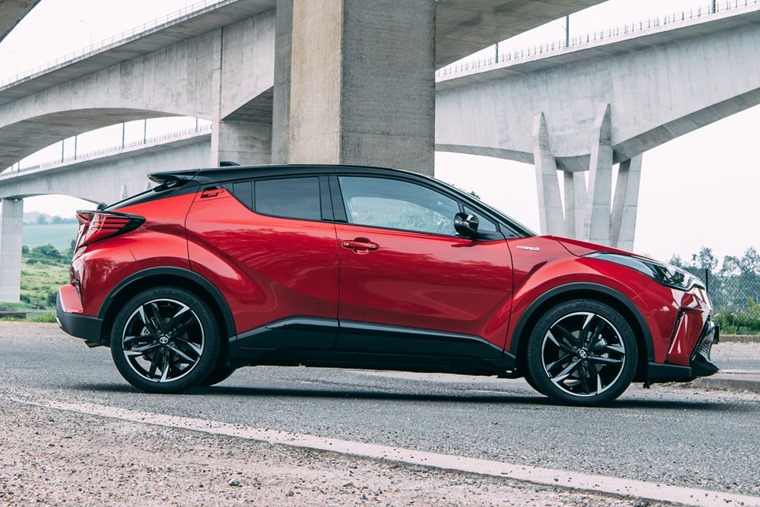 Drivetrains and performance
As crossovers go, the C-HR is rather low, which gives it a sportier feeling than many in its class can manage. The C-HR is available with two of Toyota's hybrid drivetrains – a 1.8-litre unit and a 2.0-litre unit. They're both borrowed from the frugal Prius hatchback, meaning they come with a CVT automatic gearbox. While this might seem a little noisy when you accelerate, it certainly offers a relaxing and smooth driving experience.
The C-HR isn't meant to be an outright performance car, but if you want pace that matches the styling, your best bet is the 2.0-litre unit. It's noticeably quicker than the 1.8, and several seconds faster to 60mph than the Yaris Cross. Whichever option you go for, you can expect seriously impressive economy, with the smaller engine capable of up to and above 70mpg.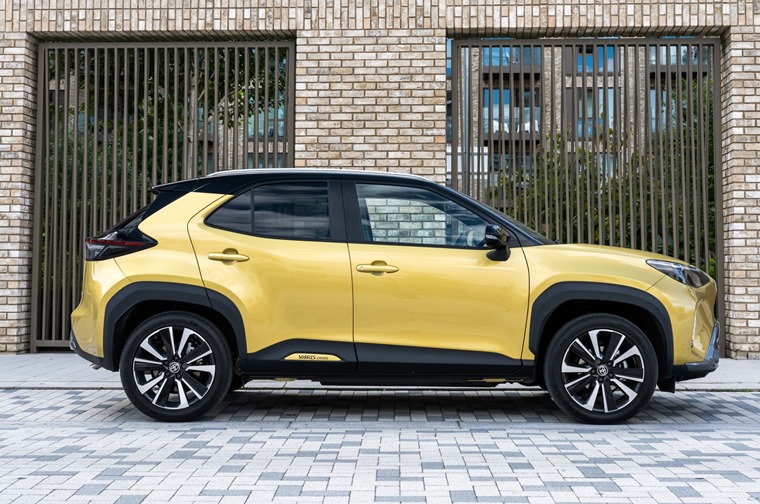 While you may think the Yaris Cross will borrow the same hybrid drivetrain as the C-HR, it's actually a different unit. It's also a more limited in choice. So limited, however, that it's only available with a 1.5-litre petrol hybrid, which takes a rather average 11.2 seconds to get from 0-62mph. Coupled with the smooth CVT automatic gearbox, however, makes it a fantastic cruiser around town, and its 114hp doesn't feel sluggish in the real world.
With the capability to run on electric power only for certain periods of time, economy is seriously impressive, with 55mpg to be expected as an average. We haven't mentioned that the Yaris Cross is available as a four-wheel drive, but unless you find yourself in situations where you'll value that extra grip, we'd probably stick with the two-wheel drive. The all-wheel drive system works well, but it does reduce boot space and just isn't really a necessity for a car in this class.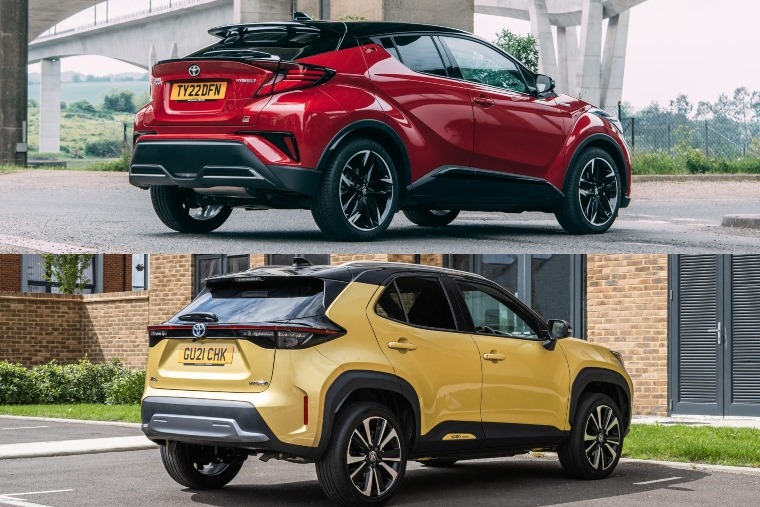 So which one should you lease?
That's not an easy question. The C-HR is the sportier and more dynamic of the two, and is available with a larger range of engines. And despite being the older of the pair, its futuristic looks and coupe-like styling will still make it tempting for many. The Yaris Cross on the other hand, is the newer and more practical option – although it'll be a matter of personal preference whether the smaller engine and more restrained looks add or take away from its appeal.
Running costs will be pretty much like for like, although leasing rates tell a slightly different story. Both are available for less than £300 per month, although the Yaris Cross slips under the £250 mark, and at the moment the C-HR doesn't*. Considering it's the newer of the pair, as well as the more practical, that's certainly a lot of car for the money.
You can compare leasing plans on both the CH-R and Yaris Cross and find the very best rates by hitting the buttons below. You'll find hundreds of offers, direct from Kinto – Toyota's financial partner.
Compare Toyota C-HR deals with Kinto
Compare Toyota Yaris Cross deals with Kinto
*Prices correct as of 13/07/22, exact monthly payments depend on specification, trim levels and rental profiles