Toyota bZ4X | How Toyota's first EV works | What's it like? All you need to know
Advertising feature
The sleek Toyota bZ4X arrived last year, and it's the first all-electric car from the brand. Standing for "beyond Zero", it's the first in what will soon be a family of battery-powered vehicles in the Toyota range.
But what makes this EV different from other rivals? How does the drivetrain work? We've taken a deep-dive to give you an in-depth look at exactly what the bZ4X and why you should lease one.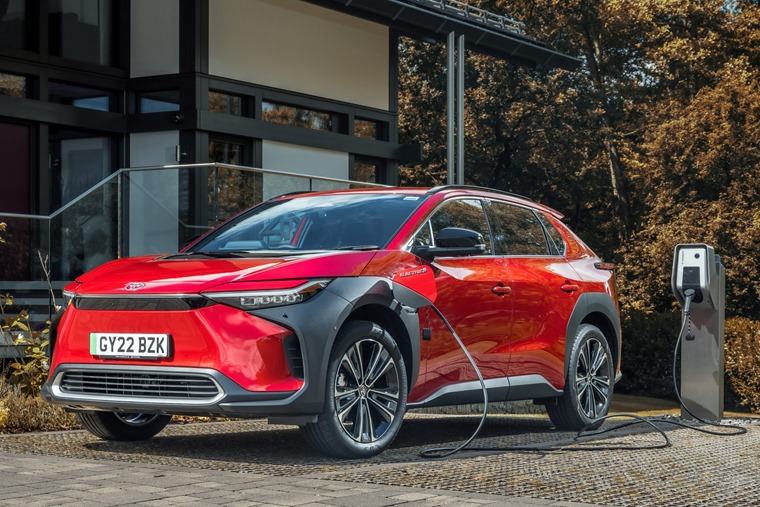 What powers the bZ4X drivetrain?
Despite being Toyota's first fully electric vehicle, it's far from the first of the brand's cars to feature a battery. Toyota has been renowned for creating some of the world's best hybrids, and it's drawn on this experience to create the bZ4X.
So confident is Toyota in its tech that it offers a service-activated 10-year warranty on its battery pack, stating that it will still operate to 70% of its original capacity after this amount of time or miles.
It's all thanks to the systems that Toyota uses to monitor and control the individual battery cells. The battery is water cooled, while other safeguards during the manufacturing process ensure the batteries abide by Toyota's rigorously high standards.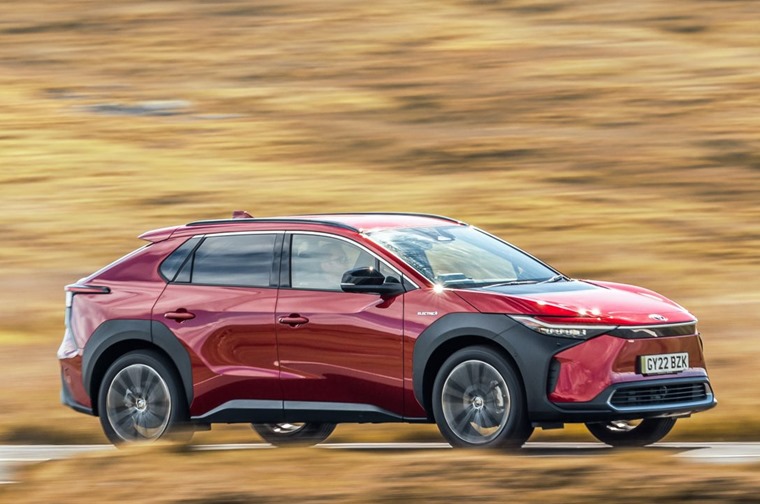 What are the bZ4X's performance and range credentials?
All bZ4X models are fitted with a 71.4kWh battery pack, while front- and all-wheel drive models are offered. The front-wheel drive bZ4X uses a 150kW electric motor producing around 200hp. That's enough to give it a 0-62mph time of 7.5 seconds.
The all-wheel drive model swap this out for two 80kW motors across two axles. This drivetrain products 214.5hp and 336Nm of torque, dropping the 0-62mph dash to just 6.9 seconds.
Thanks to efficient motors and energy management, official WLTP data shows that the front-wheel drive Pure model can achieve a driving range of 318 miles (4.3 miles per kWh) from its 71.4kWh battery. For the all-wheel drive bZ4X Motion, the official range is 285 miles (3.9 miles per kWh).
An 80% charge can be achieved in around 30 minutes using a 150kW fast-charging system (CCS2), while an 11kW three phase on board charge is available to further improve charging performance.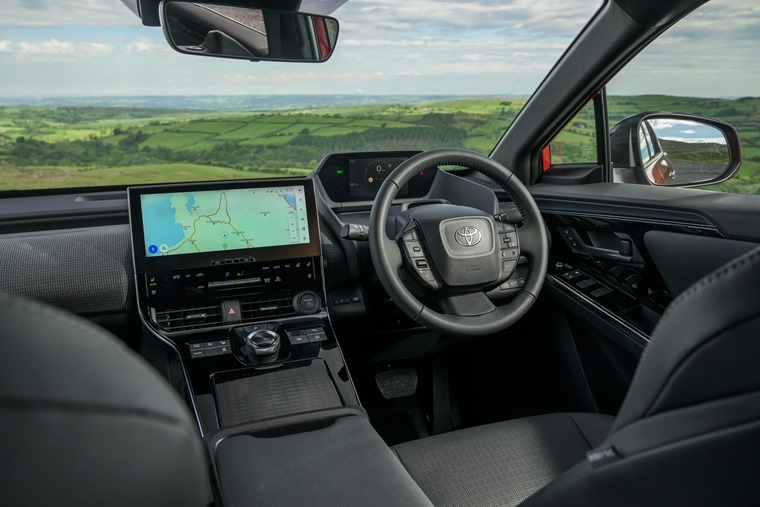 What interior tech is on offer?
The sleek interior includes the latest version of Toyota's infotainment system, that's operated via a vivid 12in touchscreen. You'll be able to view and control EV-specific features on it too, with driving range, charging station details and driving support all available.
A clever voice command system works well, allowing you to interact with the system without touching a button. It will also update automatically thanks to over-the-air upgrades as and when they are released.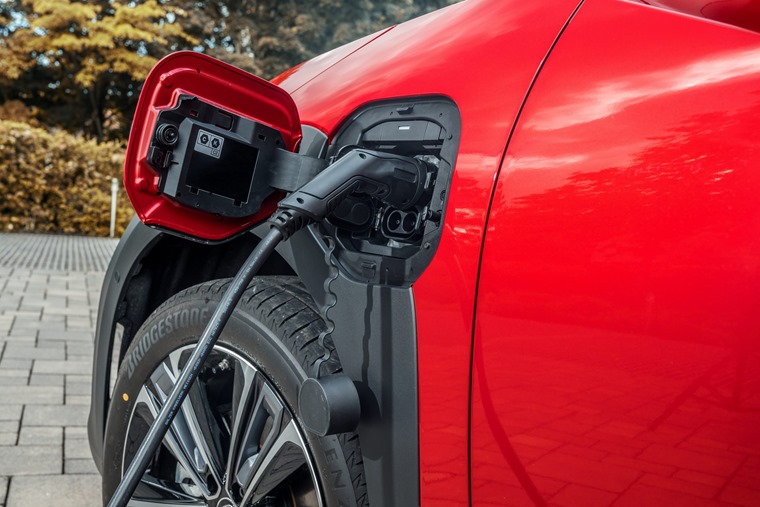 Is it a capable off roaders?
Toyota worked with Subaru to create the bZ4X and ensure that in all-wheel drive form, it's one of the most capable electric vehicles off road. The X MODE is selectable by the driver, and has settings for snow, mud and grip control.
The system operates below 13mph and is one of the best fitted to an electric vehicle, and certainly the very latest and greatest on offer in the bZ4X's market segment.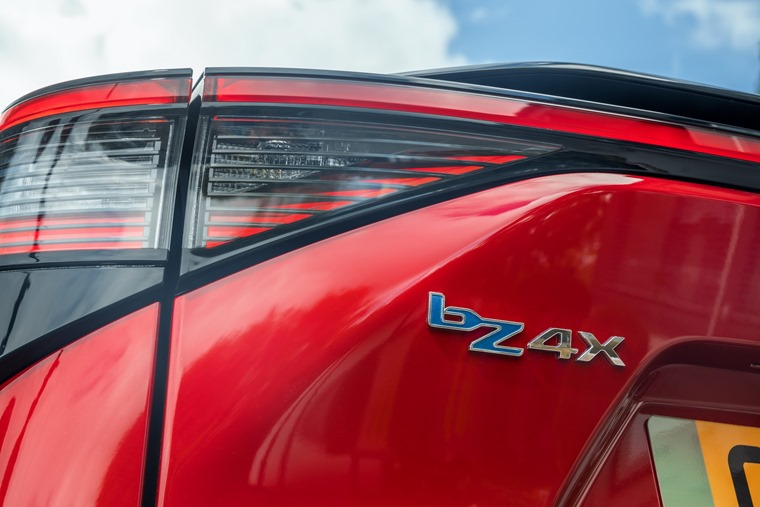 Besides the electric power, what else is new?
While the main talking point is the electric drivetrain, the bZ4X is packed full of other innovations. These include the advanced Toyota T-Mate systems, which includes a raft of active and passive safety features.
Thanks to an upgraded front camera and radar, the level of detection and its range has dramatically increased compared with previous systems:
The Pre-Collision System can detect oncoming vehicles and motorcycles;
The Intersection Turn Assistance can identify approaching traffic across two neighbouring lanes instead of just one;
The Emergency Steering Assist system provides additional mild braking to help keep the car within its traffic lane when the driver moves to avoid a hazard;
The front-to-front oncoming car and motorbike daytime detection system warns of vehicles approaching, while the pre-collision system with intersection detection protects you at junctions
The new Safe Exit Assist can help avoid a collision between an opened door or exiting occupants with vehicles or cyclists approaching from the rear.

Leasing the bZ4X
The bZ4X is without doubt one of the most forward-looking most sophisticated cars Toyota has ever made. If you're considering one, then leasing can make sense. Monthly payments are lower than other forms of finance, and it rolls several costs into one.
Hit the button below to compare offers from our partners Kinto – Toyota's financial provider – and find the perfect bZ4X lease deal to suit you.