Jeep Compass 4xe vs Jeep Avenger: Which is best for you?
Advertising feature
Jeep has gone from strength to strength in recent years, but over the last 24 months the brand has launched a number of new models that embrace the latest electrified drivetrains. It's also recently launched what could be its most important car in decades – the Avenger EV.
We decided to take a look at how this sharp-looking crossover compares to another of the brand's electrified vehicles – the Compass 4xe plug-in hybrid. Of course both these models have their strengths, but which one makes most sense for you?
Let's get to it.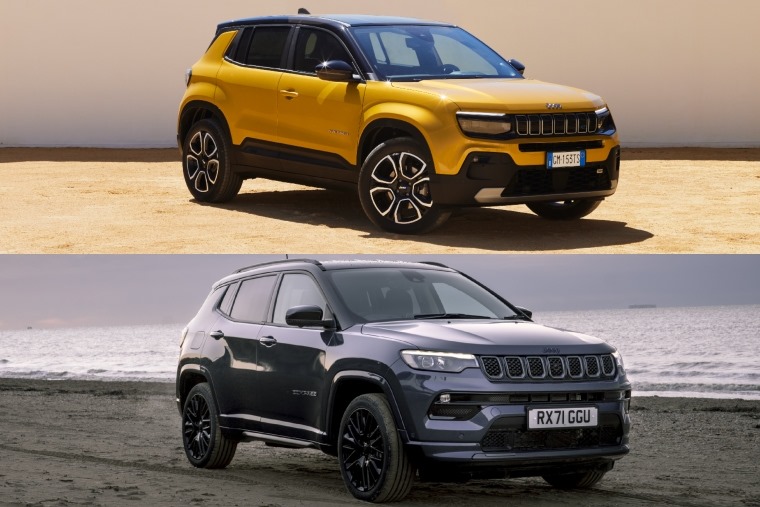 Looks and size
Let's kick off with the Avenger. It's a significant car for Jeep, because it's the first all-electric vehicle it's ever made. While some hallmark Jeep design cues are carried over, such as the grille, this is a completely fresh design from the ground up.
It's designed to take on cars like the Peugeot 2008, so it's not as large as other Jeep models. With two-tone paint options and distinctive design, it certainly stands out in a crowded market place – something that isn't easy to achieve.
The rear door handles are neatly integrated into the door frame, giving the Avenger a sleek side profile. Various alloys are on offer, which are flanked by Jeep's traditional 360 body protection – a reminder that this is something a little special.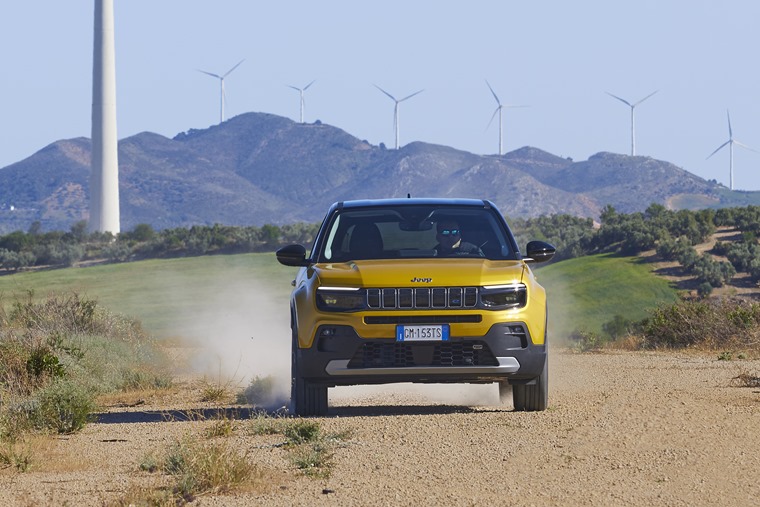 By contract, the Compass 4xe is the larger car and, while it design doesn't feel quite as fresh, it still has a more premium, grown up feel to it. It rides higher than the Avenger for a start, and depending on the trim you plump for you get 360 body protection.
It's around 25cm longer than the Avenger which, combined with that extra ride height, gives it more presence out on the road. While the Avenger can claim to be a compact crossover, the Compass is definitely an SUV.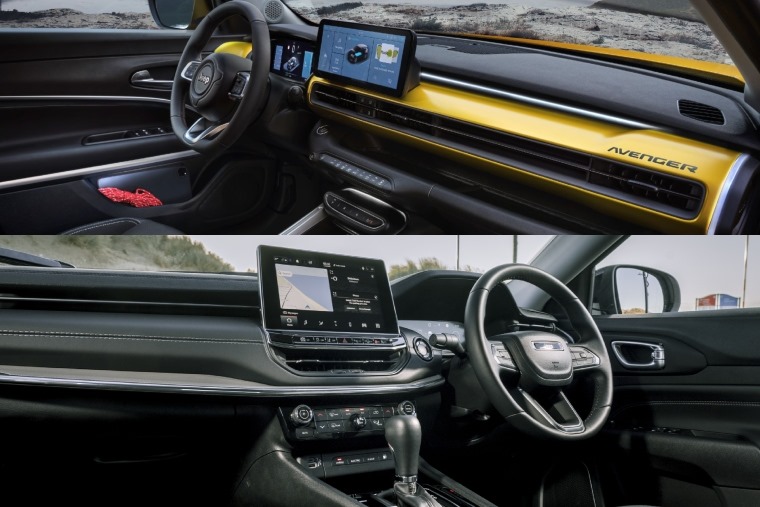 Interior and tech
The Avenger's fresh design continues inside, with a minimalist cabin featuring some quirky features. The air vents appear to run the width of the body-coloured dash, atop which you'll find a 10in infotainment system that's easy to use.
Android Auto and Apple CarPlay compatibility comes as standard, although you can opt for add navigation if you so wish. Along with the colour-matched dashboard, you can opt for some funky upholstery too, either with body-coloured stitching or camo-effect inserts.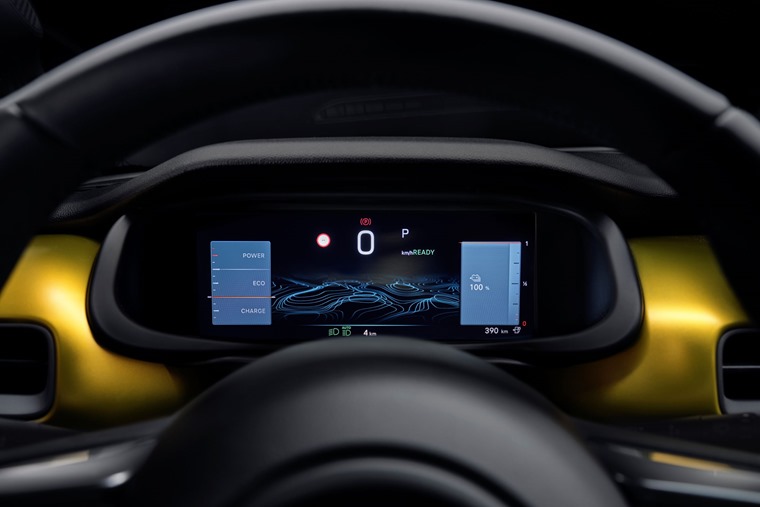 All the controls feel intuitive, with the gear selection made up of a row of buttons in the centre console. Unlike some EVs, Jeep has decided to stick with physical buttons for controls like the climate control, which we think is a good idea.
The Compass is the older of the two cars, but a recent refresh means that much of the Avenger's tech is carried over. You get the same 10in digital driver display along with a 10in touchscreen. Like the smaller model, it's easy to connect your phone with Android Auto or Apple Car Play.
A bit like its exterior, the Compass feels the more grown up car inside, with a more upmarket dashboard clad with leather-effect woven material (depending on trim level). Its various drivetrain modes are easy to understand, with controls beneath the climate control buttons.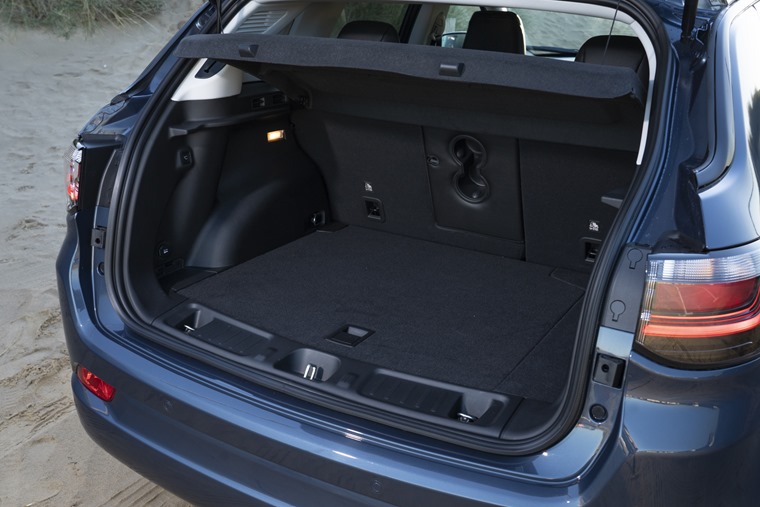 Practicality wise, both these cars are large enough to carry four adults comfortably, but the cabin of the Compass is notably more spacious. The same applies to the boots, with 380 litres offered in the Avenger and 438 litres in the Compass.
Despite the plug-in hybrid drivetrain, boot space in the Compass is just the same as the other non-plugin models too – something that can't be said for its rivals.
Driving, motors and Performance
The Avenger features an all-electric drivetrain that utilises a 54kWh battery pack. This gives it an official range of 249 miles, with around 200 realistic in the real world. Compared to many similarly sized rivals, this is reasonably impressive.
It can be charged from 0% to 80% in around half an hour using a fast public charger, while charging over night at home will take around six hours if you use a 7kW charger.
Being a full EV, the Avenger is most at home around town. Its soft suspension absorbs all but the biggest of bumps, while parking is a doddle courtesy of finger-light steering. If you opt for an Altitude model or above, you get a fantastic camera system too, that offers 360-degree visibility.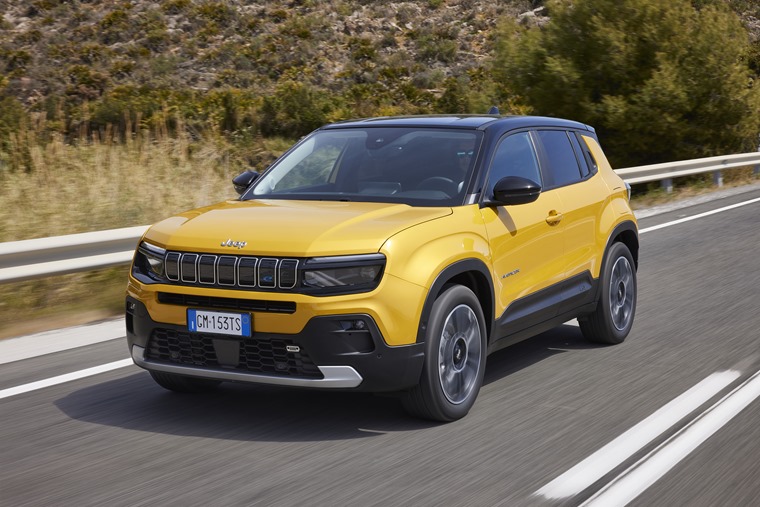 While the 4xe isn't fully electric, that plug-in hybrid drivetrain gives you up to 30 miles of range using just battery power, making it just as great around town as the Avenger. Where it comes into its own though, is on the open road.
Its 1.3-litre petrol engine is turbocharged and produces punchy power when it is needed, and it feels more at home than the Avenger on the motorway.
That's not to say the fully electric model can't handle longer journeys, but the Compass offers a perfect mix of electric power around town and a traditional electric drivetrain for long distance driving.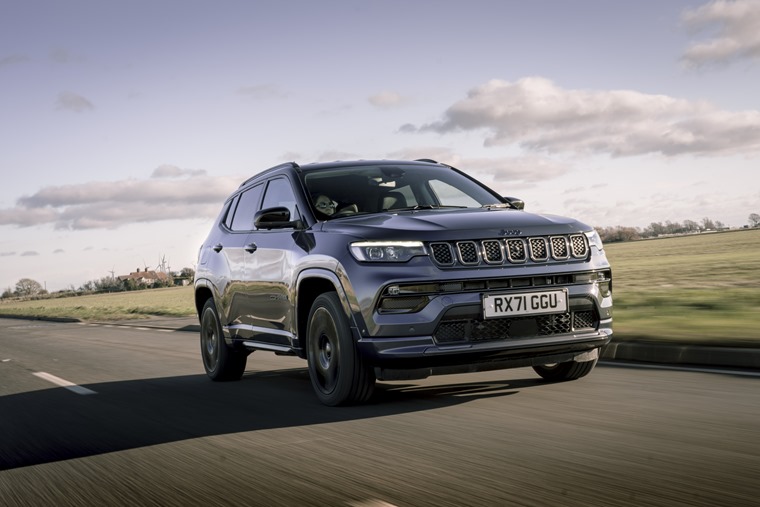 It's also a little quieter than the Avenger at higher speeds, while the high ground clearance gives it a supple ride. You can expect around 40mpg from the 4xe in the real world, while producing less than 50g/k, of CO2 makes it a viable option for company car drivers.
Unlike the Avenger, the 4xe features a proper four-wheel drive system too, giving it off-roading ability in the truest Jeep tradition. It offers several modes that can help when the going gets tough, and will out perform most rivals when faced with a muddy track or slippery incline.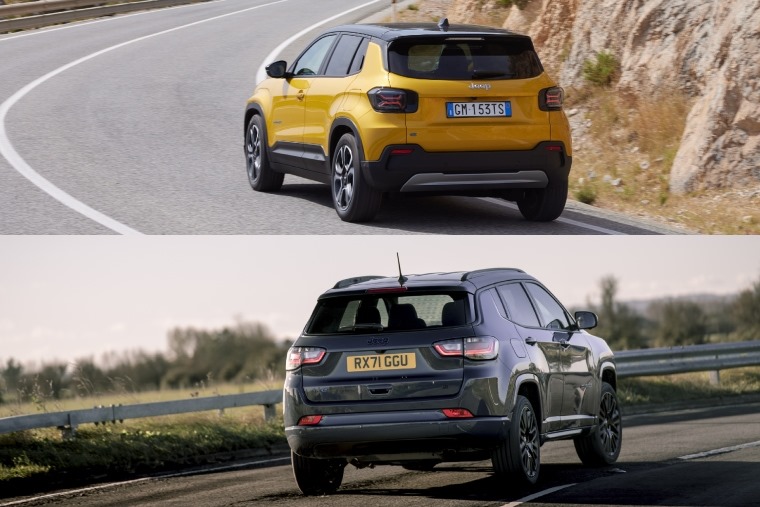 So which is best for you?
That really depends on what you need. The Avenger is an accomplished EV that's an impressive effort considering it's the brand's first fully electric car. Its sharp styling and emission-free drivetrain make it the perfect companion around town.
It fairs favourably when compared to other electric rivals too, and offers enough space and practicality to make a sensible family vehicle.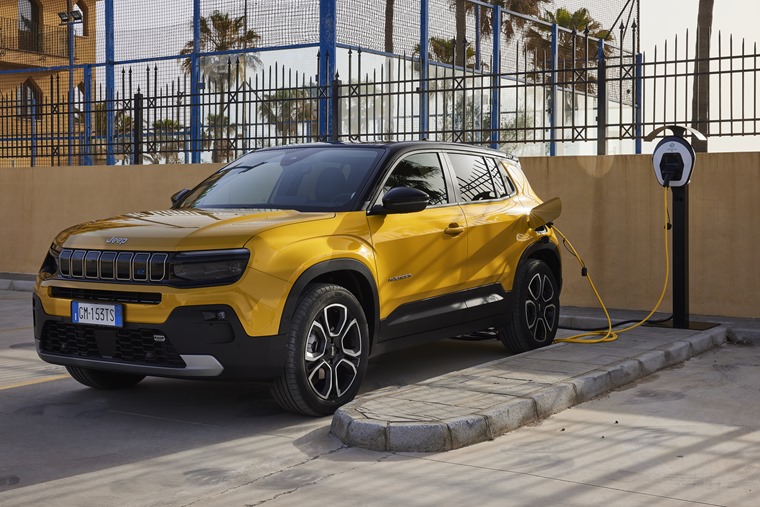 The Compass, on the other hand, can offer the same electric propulsion around town, while its punchy turbo petrol motor makes it the one to go for if you aren't quite ready for full electric power just yet.
It also feels slightly more refined on the open road too, with a more grown up, premium demeanour than the quirky Avenger. Its off-roading ability is another string in its bow.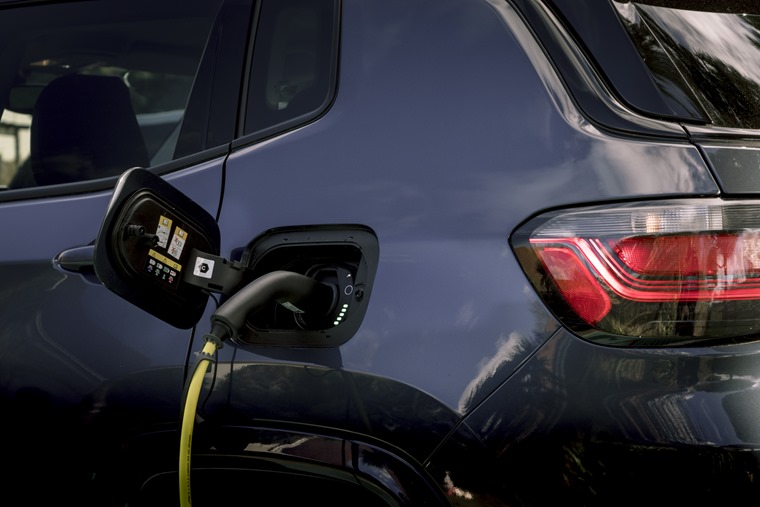 Whichever you choose, you'll find both cars are great options. Price obviously plays a part too, and you'll find that the Avenger comes in approximately £50 to £100 per month less expensive than the Compass, depending on specification.
You can compare both models right now and find the very best Jeep lease deals by hitting the buttons below.