Toyota Aygo X: What's new?
Advertising feature
Toyota's Aygo has been around for well over a decade now, but times are changing. The smallest city cars are making way for larger cars – namely crossovers.
This burgeoning segment of the market is well catered for by Toyota, with both the C-HR and Yaris Cross fitting into this category. But what if you want something even smaller?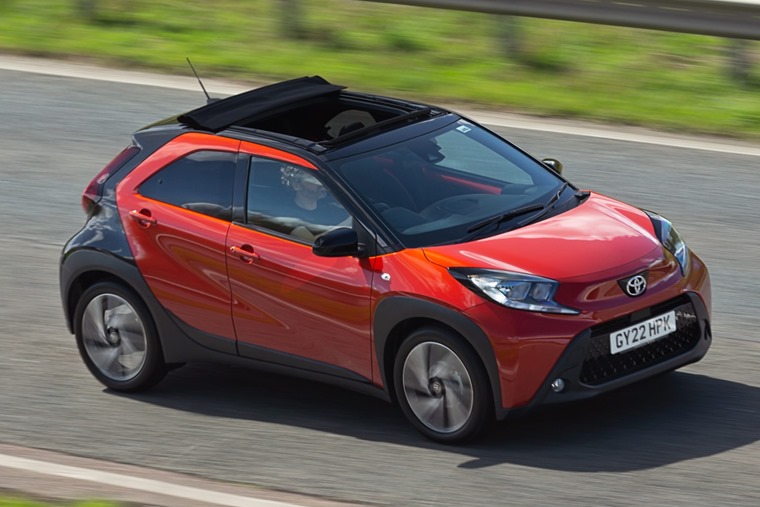 Happily, the brand recently gave its city-slicker a remake – enter the Aygo X. This ultra-compact crossover is a breakaway from the original car, but retains the key ingredients that made it so popular in the first place.
If you're considering leasing one, we took a deep dive on this all-new model to see what's what, and just how it's different from other cars in its class. So, let's get to it.
Compare Toyota Aygo X deals with Kinto
Supermini? Crossover? Both?
First things first, just what is the new new Aygo X? While it retains the name, the X is a much more practical proposition than its predecessor. With four doors, increased ride height and a much more spacious interior, it takes things to another level.
You can still consider it a supermini, and despite its larger dimensions it retains the compact nature of the original, making it a joy to use around town. The styling is certainly a talking point too. Its funky looks are aiming to take on cars like the Suzuki Ignis.
From the front, it could just be the happiest looking car in the world. The chunky bumpers and body skirts contrast nicely, and meld neatly into a two-tone paint job. 17in alloy wheels are standard on even the most basic models, too.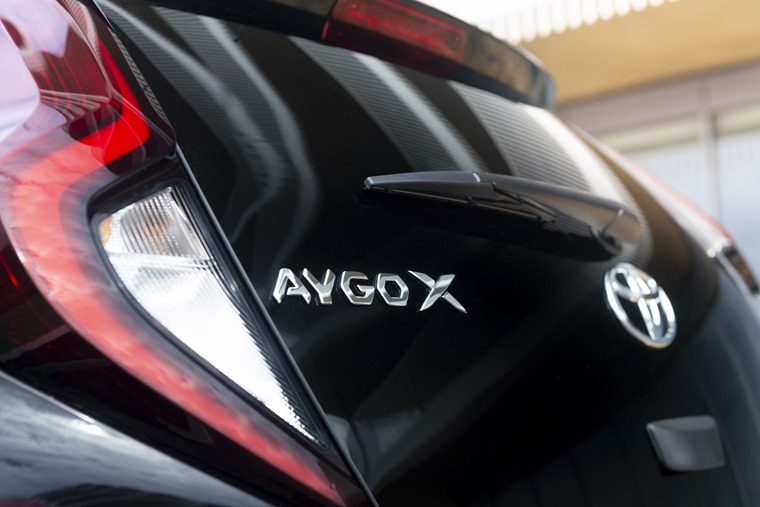 Around the back, it's much more reminiscent of the original car, with a single-piece glass boot lid and a curvy pair of stacked tail lights.
The most noticeable difference isn't necessarily its extra size, but its extra height. It's easier to get in and out of and easier to load too. So, is it a crossover or a supermini? Well it's actually one of the few cars on the market that can claim to be both.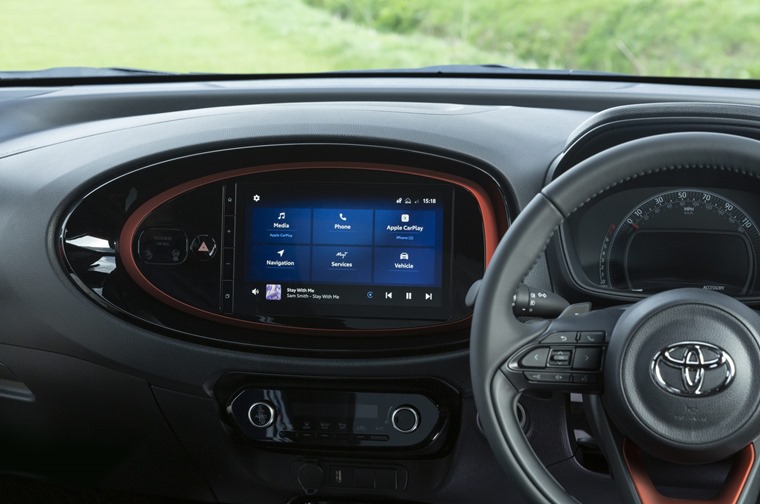 Compare Toyota Aygo X deals with Kinto
What's it like inside?
That extra height pays dividends inside. Combined with a longer wheelbase, the cabin is surprisingly spacious. There's plenty of handy storage space and, with a 231-litre boot, it has usable luggage capacity that's some 60 litres larger than the old city car.
The Aygo X is a stylish car, and that shines through on the inside. There's lots of body-coloured trim on the inside, with bare metal contrasting well with the rest of the interior. The dashboard features a digital driver display and a 7in infotainment system.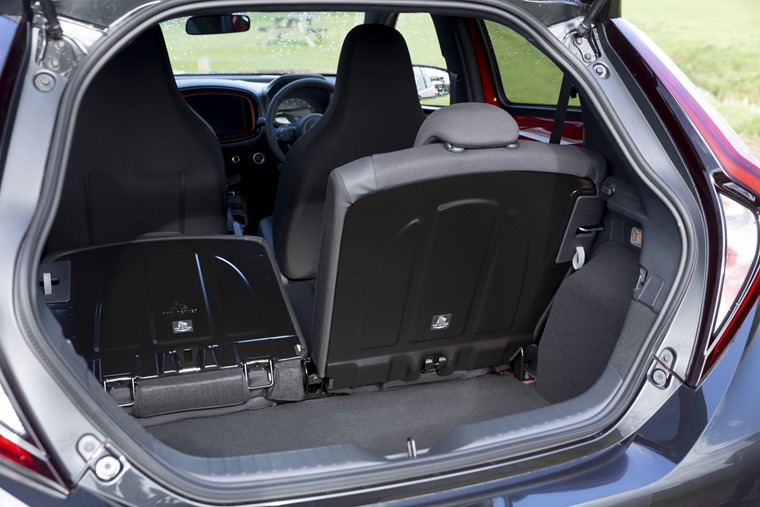 The latter is compatible with Apple CarPlay and Android Auto and offers a vivid display and smooth operation. Plump for a higher trimmed Exclusive though, and you'll get a larger 9in interior as well as wireless smartphone charging.
For its price point, the tech is impressive – Adaptive cruise control is offered, while autonomous emergency braking system is standard on all models to keep you as safe as possible.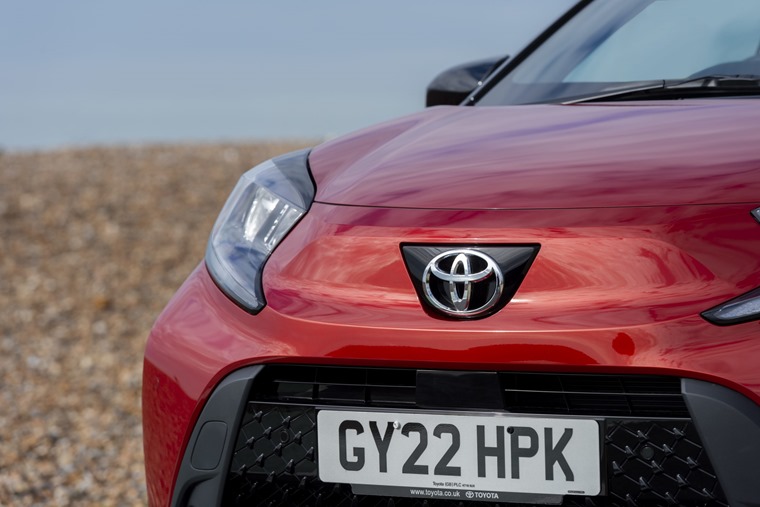 Compare Toyota Aygo X deals with Kinto
What about the engines?
All Aygo X models come kitted out with a 1.0-litre three-cylinder petrol engine, with economy figures showing it is an exceptionally efficient unit – more than 55mpg can be expected on a combined cycle. While the Aygo X isn't the swiftest, driving it around town is a doddle thanks to its small size.
Acceleration is impressive too due to its low kerb weight. You've also got the option of a silky smooth CVT automatic transmission, which takes even more of the effort out of darting around town. That high right height and impressive visibility mean it's a great car to drive out of the city, too.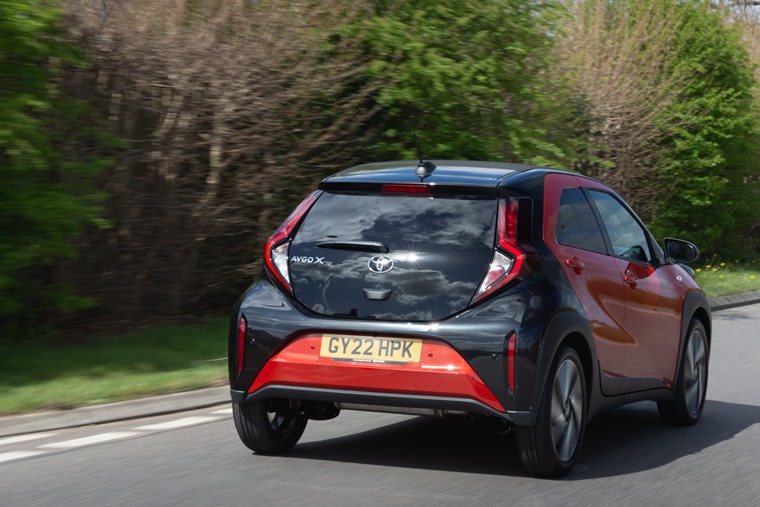 Toyota Aygo X: Looking to lease?
If you're interested in leasing a Toyota Aygo X, our partner Kinto has the very best lease plans available right now. Click on the link below to compare prices or, alternatively, check out a head to head of two of Toyota's larger crossovers.