Cyber Monday: Best car leasing deal tips, advice and offers
Sale events like Black Friday and Cyber Monday have captured the public imagination over recent years.
But let's consider a fact. Which? recently revealed that out of 83 products the organisation tracked at major retailers, just four were cheaper than at other times in the year. That's right. Just 5% of times were cheaper on Black Friday. So marketing events for big ticket items like cars, might not be all they're cracked up to be either.

You may or may not know that just before a number plate change is one of the ideal times for you to find a cracking offer, or when dealers are looking to hit their end-of-quarter performance bonuses. Plus there will always be stock vehicles that manufacturers will discount so they can be sold before the end of a financial period. But the real key to finding a good deal is proper research and comparing prices across the market.
By doing your research and shopping around you'll be far better equipped to find the best car leasing deals ANY time of year – check out our guide on how to get a good lease deal
Compare the market by looking on Leasing.com – the biggest and best car leasing comparison site
Also, if you've seen new car deals that seem too good to be true on social media via targeted ads, chances are they are and they deserve some scrutiny before you jump in. As the one stop marketplace hosting millions of deals from brokers and main dealers, you can be assured Leasing.com is the first and only place you should visit to compare the market.
Tell-tale signs of scammers often include deals that don't require a credit check or ask you to get in touch via direct message to get the deal. Legitimate leasing brokers adhere to Financial Conduct Authority (FCA) rules and will carry out credit and affordability checks. Those who don't will not be legitimate traders and could be out to scam you.
More for your money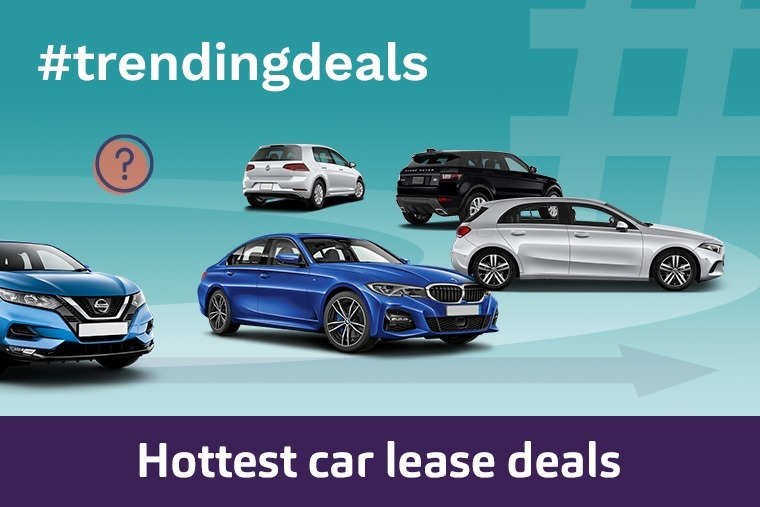 The Leasing.com top trending car lease deals article uses an algorithm to collect historical and current search data. This analyses what people are looking at on the site in real-time and when it spots a trend it will showcase the hottest car leasing deals on the #trendingdeals panel.
Best value score

We've developed an advanced algorithm to give every one of the offers on our site a score out of ten, which you can use to compare deals and rank them. So, if you're looking for a bargain, or want to know if you're getting value for money, just check the score.
Sort by best value lease deals
Top Picks
Our team of experts have handpicked some of their favourite cars based on your needs. Looking for an SUV for under £250 a month? Want to know which are the best electric vehicles to lease? Our Top Picks help you compare lease deals from different manufacturers all in one place to find the right car and the right deal. Head over to the Top Picks hub to see the full list.
Best new cars for the new 70-plate

If you're looking to lease a new car, we've put together five of the best choices that will have you turning heads with your new 70-plate. We've tried to put something in for everyone…
Compare our top five 70-plate deals
Top five low deposit car leasing deals
Car finance usually requires some form of large upfront payment, and with leasing that has traditionally involved an initial rental of three, six or nine months. Until now…
From the new Volkswagen T-Roc to the popular Nissan Qashqai, here are the most popular lease cars available with a one-month initial payment.
Compare all one-month initial payment deals
Best cars for under £150 per month

2020 has been a year full of surprises and we understand that keeping costs down is a priority, but don't think you can't ball on a budget. If your main aim is to drive a new car and keep costs to an absolute minimum, we host thousands of deals that'll help you get behind the wheel. See our top five deals under £150 per month.
Compare all deals under £150 per month
Best SUVs for under £250 per month

SUVs are often more practical than smaller family hatchbacks thanks to their raised ride height, larger loading areas and roomier cabins. But which are the best five on offer if you've £250 per month to spend? Find out here.
Compare all SUVs under £250 per month
Best electric vehicles for under £350 per month

It was only a short while ago that you'd struggle to get ANY electric vehicle for under £350 a month, let alone cherry pick the best for a listicle like this. Find out which five EVs made the cut.