James Bond at 60: Top five best Bond cars … and some of the worst
Last year's No Time to Die was the 25th Bond film, but did you know the master spy has now been on the big screen for 60 years? Kicking off with Dr No. in 1962, the Bond franchise quickly became an icon of British cinema, and remains so to this day.
In fact the film makers have produced an icon or two of their own along the way – yes – we're talking about many and varied cars that have featured as James Bond's transport of choice over the years. To commemorate its 60th anniversary, we took a look at some of the best… and worst.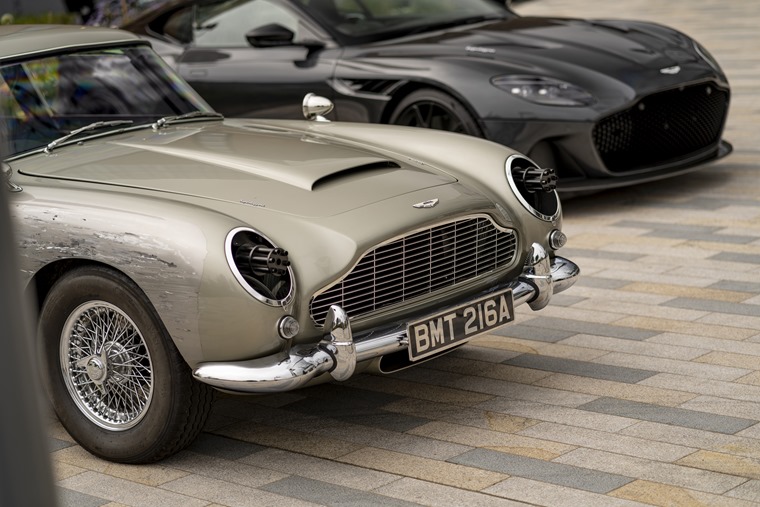 To celebrate the return of 007 (and several of his most well loved cars), we've put together a list of some of Bond's best and worst motors over the years.
Aston Martin DB5
We'll kick off with the most obvious of the lot – the iconic Aston Martin DB5. Its role in Bond cannot be understated. First seen in 1964's Goldfinger racing a Mustang up a mountain, BMT 216A quickly became a symbol of the Bond franchise, despite featuring in surprisingly few films.
After Goldfinger, Sean Connery's Bond never used the car again, although it did cameo in Pierce Brosnan's GoldenEye (1995) and Tomorrow Never Dies (1997), before stealing the show during the spectacular climax of Skyfall (2012). It also featured heavily in the latest Bond, No Time to Die, with the bullet-proof glass and shielding proving particularly helpful atop an Italian fort.
The gadget-laden DB5 featured machine guns hidden behind the lights, Boudica-style spikes protruding from the wheel hubs, satellite navigation (of sorts), a bulletproof screen behind the rear window and, of course, the famous ejector seat. It also somehow managed to keep pace with a Ferrari 355 Spider, a car 30 years its junior that can cover a quarter mile four seconds quicker.
Toyota 2000 GT
Another car from the Connery era now, in the form of Toyota's curvaceous 2000 GT. Arguably one of the company's first supercars, it was Japan's answer to the Jaguar E-Type. Just the ticket for Bond, then, although it was actually Bond girl Aki who did the driving in You Only Live Twice  (1967).
With around 300 2000 GTs ever made, it's a very rare car indeed, and even rarer is the convertible version seen in the film, probably because they were made specifically for it owing to Connery's 6' 2? stature.
Lotus Esprit
Who can forget the moment when Roger Moore's punchline-oholic Bond drove his shiny new Lotus into the sea? Nobody, and that's why the Esprit S1 deserves an honourable mention in dispatches.
Bond's car of choice for two films (1977's The Spy Who Loved Me and 1981's For Your Eyes Only), the Esprit tackled everything from the Mediterranean warmth of Sardinia to the freezing cold of Cortina d'Ampezzo in the Dolomites, but it is best known for the time it spent under the ocean waves.
Transforming into a fully functional submarine was one of the great moments of the silver screen, but sadly it was staged. The car used in the shots was actually incapable of driving anywhere, but it was a real submarine, complete with space for a driver. Trivia junkies might be interested to know that it's now owned by eccentric Tesla MD Elon Musk.
AMC Hornet X
With all the tasty stuff Bond has been seen in over the years, it might seem a little bizarre to include the relatively lukewarm AMC Hornet X Roger Moore piloted in The Man With the Golden Gun (1974), but bear with us.
The American Motor Company's hatch was actually part of a massive product placement offensive if the massive billboards at the dealership Bond bursts through the window of weren't enough of a clue. He's reunited with Sheriff J.W. Pepper in the Thai showroom, and team up to chase Scaramanga. And now for the most impressive feat…
The chase culminates in the humble Hornet performing a mid-air 360-degree barrel roll across a broken bridge, before successfully making it to the other side unscathed.
Aston Martin DBS
One of Bond's more recent set of wheels now, in the form of the Aston Martin DBS. It will never live up to the DB5, but it's famous for taking more damage than most. In a scene designed to be a modern take on the accident from Fleming's original novel, the 2006 film Casino Royale sees the DBS seemingly written off in an enormous crash.
With his love interest, Vesper Lynd, lying in the middle of the road, Bond swerves to avoid her and ends up rolling the £160,000 Aston a total of seven times. As well as making for a dramatic film scene, the crash actually set a world record for rolls, taking the title from TV show Top Gear.
Incredibly, the DBS returns from the dead for the opening sequence of Quantum of Solace (2012), where it is chased through Italy by two Alfa Romeo 159s. The DBS just about survives this time, although it has scratches and bullet holes everywhere. Oh, and it's lost a door.
And some of the worst…
It's not all flash Astons for Bond though. Like anyone, even Bond comes a cropper now and again, and this has led to a few somewhat unexpected choices of vehicular transport for the best British agent. They arguably make for a more entertaining chase, though. Here' some of the least likely Bond cars to have featured over the years…
Renault 11
In 1981's A View to a Kill, Roger Moore's Bond had little choice but to "acquire" a Parisian taxi to chase May Day (Grace Jones) through the streets of Paris. It might not have had a lot of street cred, but it stood up well in the face of some rather serious collisions.
First, it lost its roof when a lorry catches out Bond, but things only get worse when the rear end is lost courtesy of a hapless Parisian driver. While it might have kept going, it isn't exactly a great demonstration of the structural integrity of 1980s Renaults. Product placement this is most definitely not.
Tuk-Tuk
After winning a cheeky game of backgammon in Octupussy  (1983), Moore cadges a lift with MI6 agent Vijay in this Bajaj RE (commonly referred to as a tuk-tuk or rickshaw). Surprise Surprise, they're shortly pursued by the Afghan prince's right hand – Gobinda – aka a gun-wielding lunatic. Little does he know, however, that Vijay's rickshaw has been kitted out Q-Branch style, featuring a motorbike engine with wheelie-inducing power.
Citroen 2CV
After a mishap with the self-destruct mode on his Esprit in For Your Eyes Only (1981), Bond is forced to take the wheel of his darling - Citroen 2CV – a car designed to transport the French peasantry to market rather than outrun some bad guys in menacing-looking Peugeots.
Happily, for Bond, the 2CV's soft-sprung suspension comes into its own and allowed him to, as he put it: "Take the low road". The standard 29bhp two-cylinder engine wasn't up to the stunts though, and the cars in the film actually featured larger 1299cc four-cylinders from the Citroen GS. A special edition '007' special edition of the 2CV, complete with stick-on bullet holes, was released shortly after the film.
Ford Mondeo
We're still a fan of the Ford Mondeo here at leasing.com, despite more premium badges now overtaking it in terms of popularity. But would Bond really be a Mondeo man? Well, it was 2006…
It's not surprising to hear that the 2.5-litre ST model driven by Daniel Craig's Bond in the opening of Casino Royale was a rental car.