Colour guide: How much difference does colour make to a Mercedes C-Class?
Back to 'Expert guides'
Once you've set your heart on the car you want, the next big decision is usually which colour to go for. As much as optional packages and alloy wheel choice matter, the shade of your car remains the best way to add that personal touch.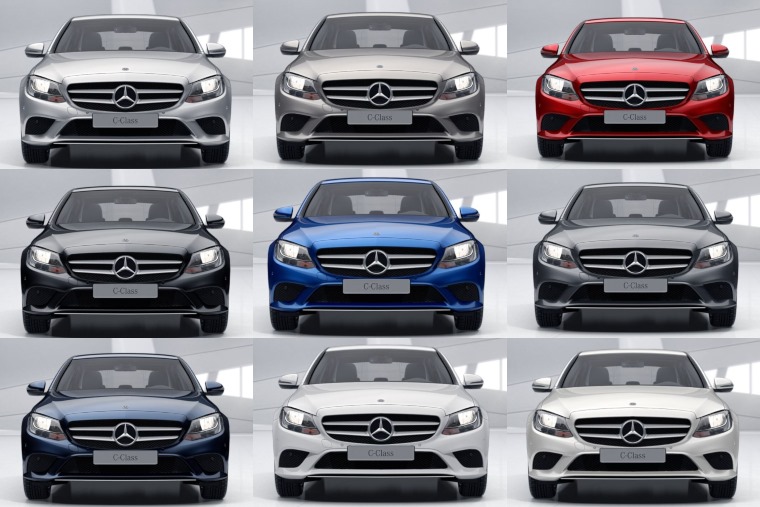 But which to go for? Car makers offer hundreds of different hues, but to simplify your main options we've had a look at the colours of one of the country's most popular lease cars – the C-Class. Mercedes offers nine shades for its compact exec in total, although some are admittedly rather similar to each other.
Its marketing department clearly does its research though, because the colours that are available are more or less made up of the UK's most popular car colours. To demonstrate how colour can change the look of a car, we've had a closer look at the C-Class' colour chart to hopefully help you make up your mind which hue is for you…
Whites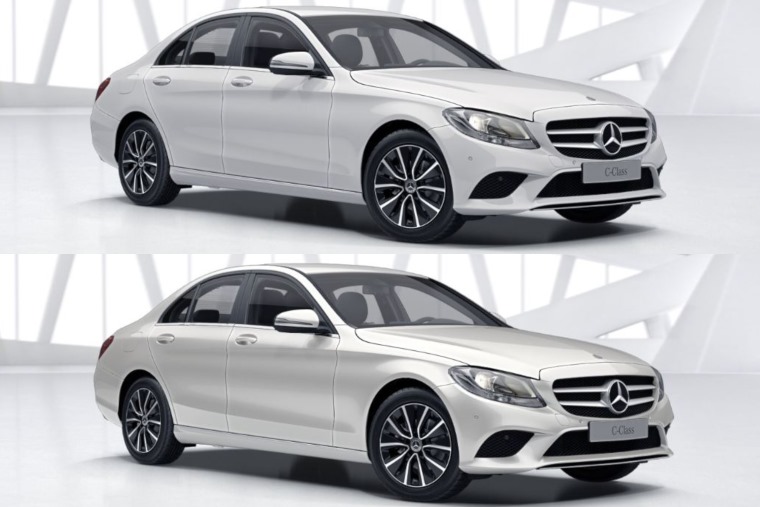 It might not be the most interesting choice in the world, but white has made a serious comeback recently and is now the most popular car colour in the UK. There is a school of thought that if a car looks good in white, it's a good-looking car, and the C-Class fits this to a tee.
However, hues like Mercedes' Polar White will obviously be more difficult to keep clean than darker colours and, because it isn't metallic it won't be quite as shimmering as other options. You can spec Diamond White instead, which is one of Mercedes' exclusive Designo metallics, but unless you really want to spec your car in white, we're not sure it's worth the extra £895.
Black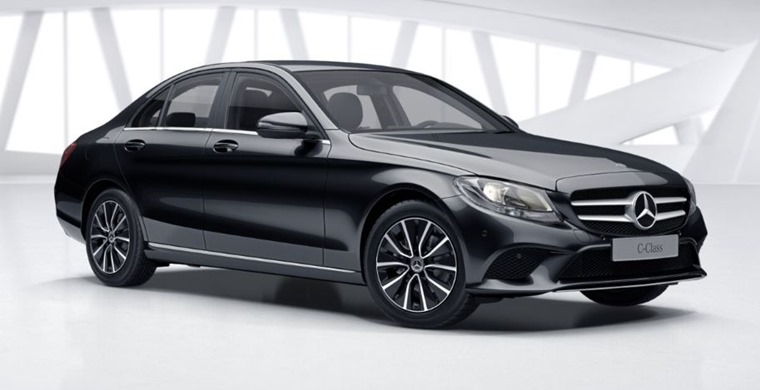 Black gives most cars a classy look, and the C-Class being a Mercedes, this rings more true than ever. That said, you'll have to pay extra for it. Obsidian is the only black available on the facelifted C-Class, and as part of Mercedes' metallic colour options it'll cost £685.
If you're thinking of going for black because it's easy to keep clean however, don't be fooled – black cars can actually show up dirt just as badly as lighter shades.
Blue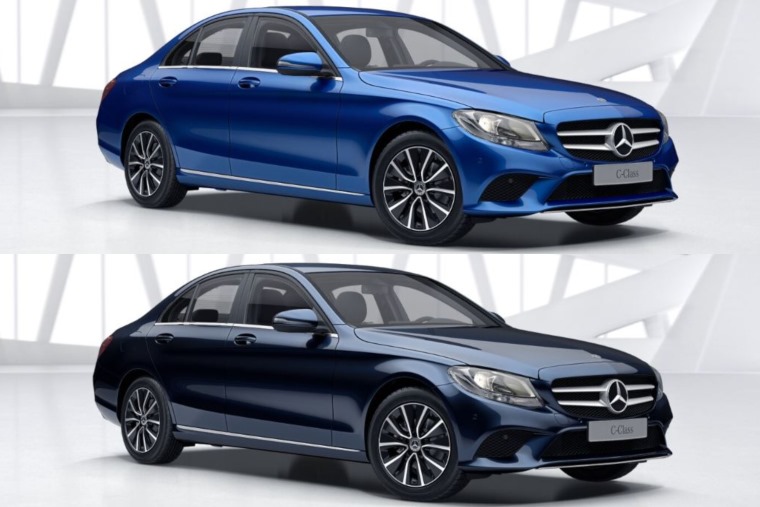 After white, black and grey, blue is the UK's fourth most popular car colour and makes up 15% of the market. That's quite an all-encompassing statistic though, considering blue covers anything from the sky, to hues that have an almost black-like quality.
Mercedes' Brilliant Blue is somewhere in between the two really, although as the configurator attests, it's a rich colour that gives the C-Class a stately look. If you're after a more understated look, then Cavansite Blue (bottom one), might be your thing.
Red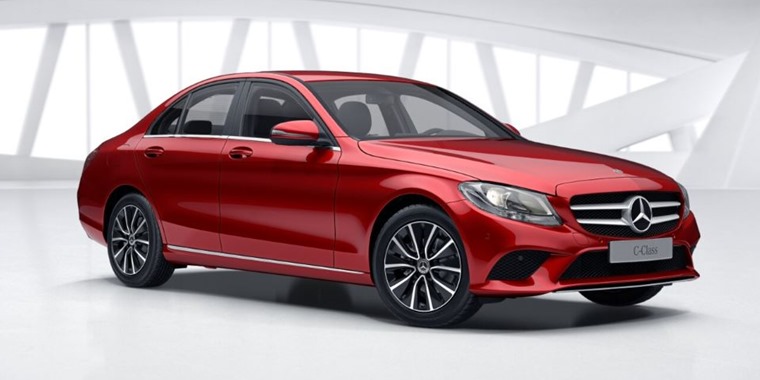 Hyacinth Red is one of the brighter options available for the C-Class and is one of its Designo exclusive shades. Ferrari may refer to the colour as "resale red", but for executive cars like this (in fact anything bar Ferraris really) it'll likely suffer from lower residuals than silvers or whites.
In fairness, that's something that affects all brightly coloured cars. But that needn't necessarily put you off something flashy – if you want to give it an extra level of exclusivity, you can be assured you won't just blend into a sea of grey and silver in the car park.
Silvers/Grey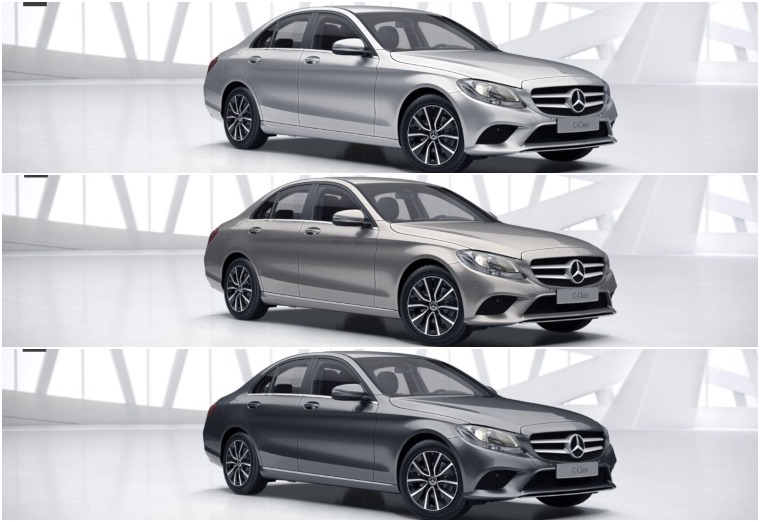 Silver is the colour of choice for fleet operators, and not just because residuals are higher; it can hide weeks of road grime too, so if you're not a fan of the bucket and sponge, it's probably your best bet.
You're spoiled for choice with the C-Class, with Mercedes offering three choices: Iridium Silver, Mojave Silver and Selenite Grey. They are all metallic shades, although Selenite can be ordered as a Designo colour too, which gives it an almost satin-like finish and, in the C-Class' case, suits higher trim levels fantastically.