PUROSANGUE unveiled: FERRARI's First Ever SUV.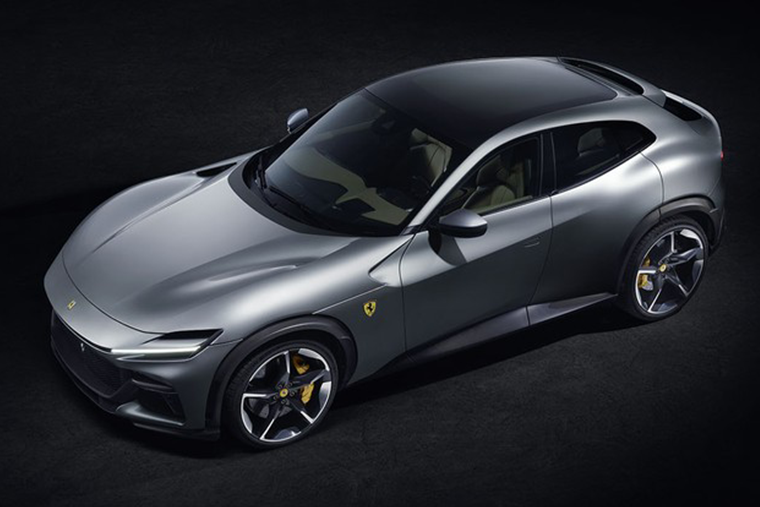 Purosangue, or "Thoroughbred" in English is pronounced 'PUR-o-SANG'.
Not only is the Purosangue Ferrari's first ever SUV, but it is also the first four-seater Ferrari has built.
The vehicle is fitted with a V12, pushing a whopping 725cv.
Whilst Land Rover celebrate their 75th year of existence with a new, limited edition green Defender; over in Teatro del Silenzio, Ferrari choose to celebrate their 75th anniversary with a ground-breaking new SUV reveal. Touché.
You might wonder why the brand decided to steer off the beaten track of their trusted and much-loved 2+2 cars. The answer is Ferrari wanted to bring to light a unique vehicle which offers a smooth and luxurious drive, with all the joy and exhilaration of driving and owning an iconic Ferrari.
To create an SUV which encompasses the DNA of a traditional Ferrari. Engine mounted in the mid-front with the Power Transfer Unit (PTU) at the front and the gearbox at the rear. Giving it the Maranello 49:51% weight distribution and driving dynamics.
That's not the only aerodynamic quality the new Purosangue has to offer. The front bumper and wheel arch are given a slight air curtain which allows the front wheels to power on without turbulent, transverse air flows hindering your drive quality.
The SUV will be a four-wheel drive, 8-speed F1 DCT with a 6-way Chassis Dynamic Sensor (6w-CDS) which controls the body roll when turning corners and supports the tyre contact area over more challenging surfaces. This is all to give you the same driving experience you expect when behind the wheel of a traditional Ferrari.
The new chassis has been given a carbon-fibre roof, designed to lower the centre of gravity by pushing weight down on to the vehicle. The rear doors open much like the Coach doors of a Rolls Royce Phantom, rear-hinged, offering plenty of space for the passenger to exit, whilst keeping the vehicle compact and easy to access.
Inside, you will benefit from four electric heated seats and the biggest boot Ferrari has ever designed. At 473 litres of space, you can fold the rear seats to accommodate for larger loads. This, whilst Ferrari have made a concerted effort to maintain the connection the driver has with the car whilst sitting in the cockpit.
The interior sound system has been designed by Burmester© and you can choose to include the optional brand-new Alcantara® upholstery.
The Purosangue will achieve an impressive 0-62mph in 3.3 seconds, with a top speed of almost 200mph. All whilst projecting the V12 sound as you accelerate. A 6.5-litre capacity and high-pressure direct injection gives the Purosangue the high torque, low rev quality it has been designed and intended for. Current fuel economy is under homologation, but we will bring you more news as and when we are updated.