BYD Atto 3: The best EV you've never heard of?
We've recently had the pleasure of a BYD here at Leasing.com HQ.
BYD you say. What's a BYD?
Well before we tell you what it actually stands for, it's one of the biggest automotive brands in the world. But until recently it's unlikely you'll have heard of it.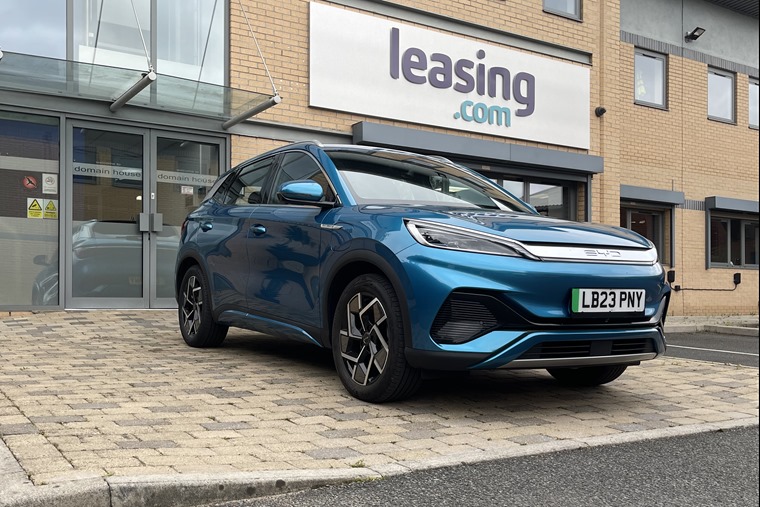 That's because it's from China. Despite making almost one million electric vehicles in 2022, BYD is a fresh face on UK streets. In fact its Atto 3 is the first model to come to Europe.
If our experience is anything to go by, the brand could take the UK market by storm. Its Atto 3 is an EV taking aim at the likes of the Kia Niro, Volkswagen ID.3 and Skoda Enyaq iV. Here's everything you need to know about the best car you've never heard of.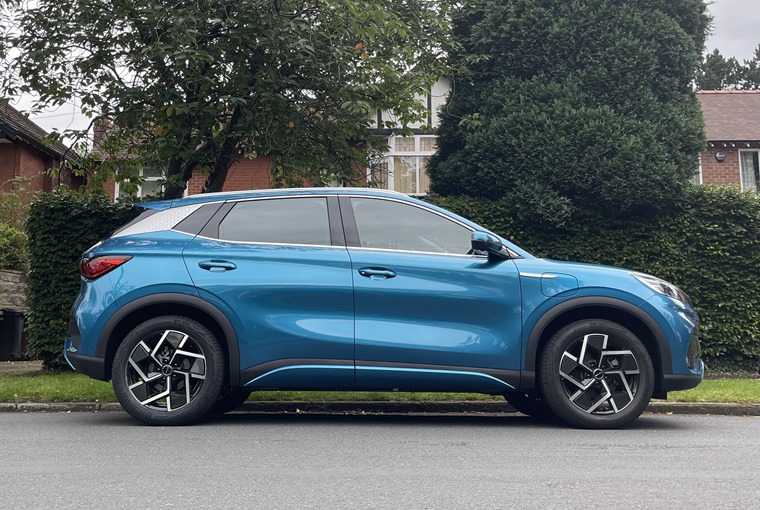 The looks
Build Your Dreams. That's what BYD stands for. But if we hadn't told you, you simply have to walk around the back of the car to see it proudly emblazoned on the boot lid. In fact this is the only external detail we're not sure on. The font looks great and as a brand name it works too. But having it on the tail gate just seems a little odd to our eyes. What do you think?
Elsewhere though, we like the design. It takes the form of a compact crossover and it's really neatly done. Despite being a completely new model, it somehow feels familiar. It's as if BYD has taken the neatest styling traits from a mixture of brands and added its own twist. You could say it's derivative but we think it works really well.
To our eyes, this is a car that can compete with Volkswagen and Tesla in the design department.
The details are neat and proportions are right. To our eyes, this is a car that can compete with Volkswagen and Tesla in the design department. There's full-width lighting bars at the front and rear, and it's available in a number of bright colours like the Surf Blue you see here that help the Atto 3 stand out further. All models feature nice touches like contrasting gloss black trim and a snazzy set of 18in alloy wheels too.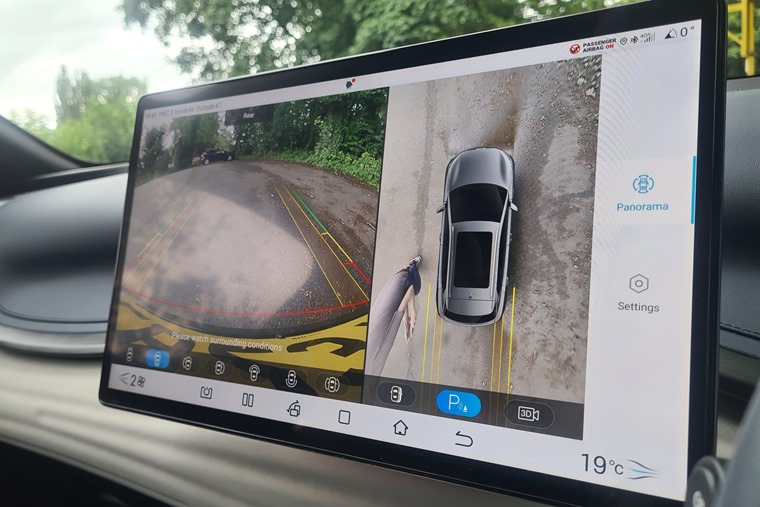 The interior
While the exterior is attractive, it isn't exactly interesting. The cabin makes up for this in spades. It's pretty funky to say the least. The dashboard design and centre console have apparently taken their inspiration from gym equipment.
As such, you get controls that are meant to resemble dumbbells, while the air vents are designed to imitate the weights.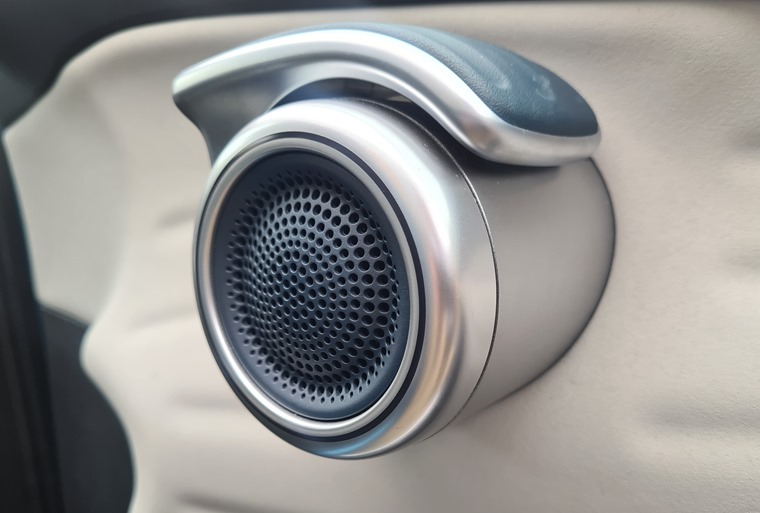 Even the door handles have an interesting design; they're actually integrated into a speaker tweeter on the door.
Talking of the sound system, you needn't use it – the strings that keep things in place in the door bins are seemingly acoustically tuned to sound like you're plucking a guitar string. It's all lovely original stuff.
And we haven't even mentioned the Atto 3 interior's party piece yet: a simple touch of a button on the steering wheel, and the 15in infotainment system changes from portrait to landscape.
This kids will love that feature, and we do too. It seems like a gimmick at first, but it's actually a really sensible idea and we can't understand why more cars don't have a similar feature.
A simple touch of a button on the steering wheel, and the screen changes from portrait to landscape.
We'd perhaps like the driver display to match the vivid quality of the infotainment screen though. It's a little small, which means that it's sometimes difficult to read all the information it offers at first glance.
The current spec doesn't include a heads up display either, which would also be a way of solving this problem.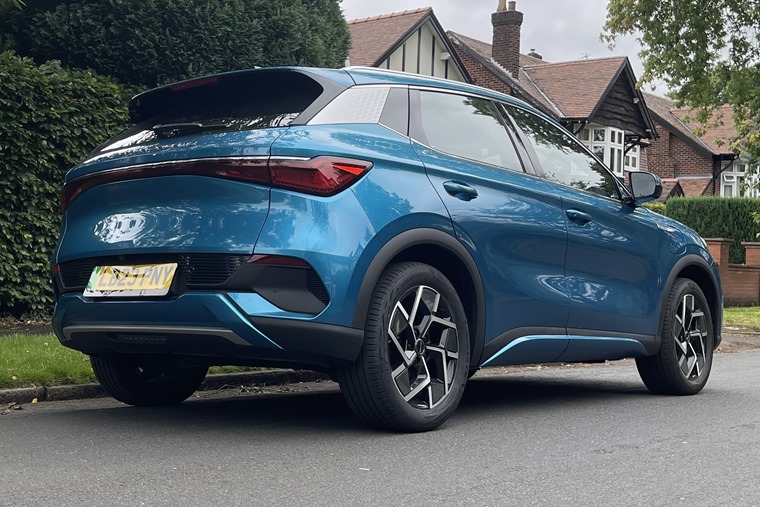 The drivetrain
BYD has been making batteries for years, and its prowess shines through in its cars' underpinnings. The e-Platform 3.0 gets a 60kWh battery pack which is enough to give the Atto 3 around 260 miles of range. During our testing, we found the range to be more accurate than some electric cars, and in excess of 200 miles is certainly possible in the real world. There are three driving modes, and when Sport is selected you'll find the range does drain quicker than you might hope.
The e-Platform 3.0 gets a 60kWh battery pack which is enough to give the Atto 3 around 260 miles of range.
You can charge the battery pack from 20% to 80% in around half an hour too, although its max charge range of 88kW isn't the best in its class. The drivetrain also features the first direct cooling and heating system for batteries, which apparently increases efficiency by up to 20% in the winter.
Whether in Sport mode or not, the Atto 3 accelerates in a way only an EV can. It produces around 200hp, which helps this heavy car get from rest to 62mph in around seven seconds. The mid-range acceleration is always the most impressive element of an electric drivetrain, and the Atto 3 doesn't disappoint in this regard.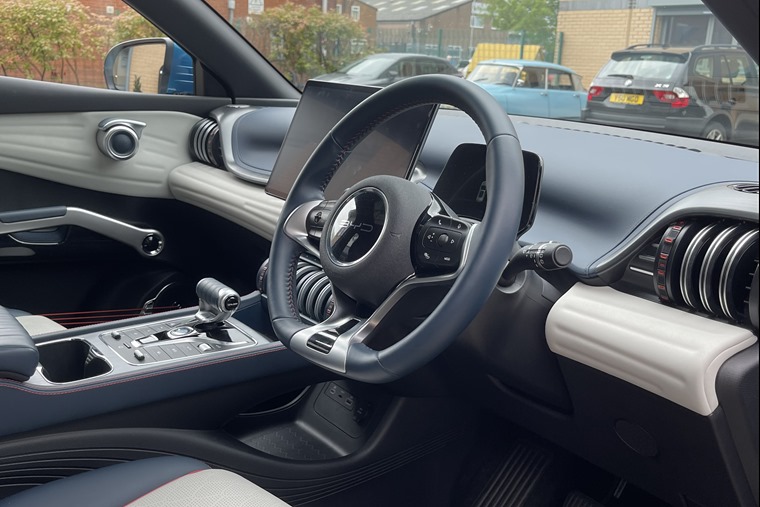 Behind the wheel
So how does this translate behind the wheel? Well, quite well. The ride is compliant on all but the worst surfaces and, it doesn't feel a particularly heavy car to control. The driver is assisted by numerous systems, including a host of cameras and sensors that can be pulled up on the infotainment screen. The over-head 360-degree camera is particularly useful when parking.
The regenerative braking system isn't as intuitive as some EVs, with a single button giving you just two levels of regeneration. Whichever you choose, the regen system doesn't feel as urgent as on some EVs. While this is no bad thing, it does leave the brakes feeling a little "on or off" until you get used to them.
The spec
Comfort and Design trims are the two models currently on offer, although a more affordable Active model is set to hit the market soon.
All models feature the rotating touchscreen, although you'll need to plump for Design to get the largest 15.2in monitor. Adaptive cruise control, 18in alloy wheels and LED headlights are all on the spec sheet.
Standard safety equipment is impressive too, with all models featuring collision warning, automatic emergency braking, rear collision warning, rear cross traffic alert, lane keep assist and lane change assist.
So… should you build your dream with BYD?
Along with cars like the MG4 EV, BYD demonstrates just how far Chinese cars have come in recent years with its Atto 3. With specifications, styling and safety that match European rivals, we're pretty sure that BYD will become a common sight on UK roads over the next year or two.
In fact if you have any doubt, the all-new BYD Seal is hot on its heels and now available to lease too. So would we choose one over something like a Volkswagen ID.3? If you want to stand out from the crowd, then definitely. It has all the quality we've come to expect from more mainstream brands.
However, current lease rates put the BYD on the same level as – or more than – such a vehicle. Some people will choose one over more mainstream models, but an all-new brand will never appeal to everyone. 
But let's see where we are in a few months. When the prices come down, the Atto 3 will be more than deserving of your monthly payment.