Tweaked Audi Q8 line-up revealed
This is the new Audi Q8, which has been given a mid-life refresh.
Set to arrive in the UK at the end of the year, here's everything you need to know about this X6 competitor.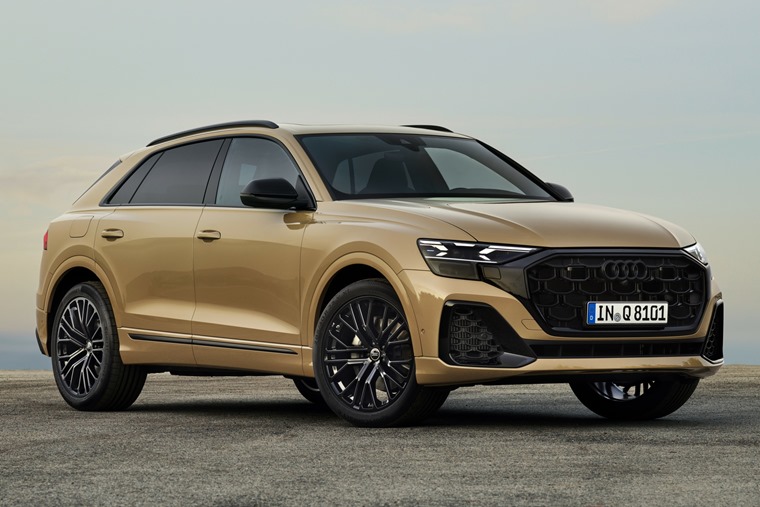 Audi Q8 fast facts
Tweaked exterior design
New grilles and headlight design
Infotainment system enhanced
SQ8 500hp powertrain remains unchanged
Available to order later in the year

Audi Q8 styling
The Q8 has been tweaked externally, but you'll be hard pressed to tell the difference in a lot of areas. Most obvious is a new, larger grille design and a fresh set of LED headlights.
The silhouette remains largely the same as before, although there's a few new alloy wheels options that go up to a whopping 23in.
At the rear, the bumper and tail light design has been enhanced, with the full-width light bar thicker than before. The pattern of the daytime LED head and tail lights can be changed via the car's infotainment system – neat touch.

Audi Q8 interior and tech
On the inside, it's the same kind of thing; the interior looks much the same as before, although the infotainment system has been updated and now supports a host of applications such as Amazon Music as standard.
The rest of the interior is standard Audi fare, with quality trim pieces and the excellent digital driver display and touchscreen heating controls as standard.

Audi Q8 drivetrains
The drivetrains remain unchanged, meaning you can still opt for either a 3.0-litre petrol or 3.0-litre diesel engine in the entry-level models. The fiery SQ8 retains its V8, too.
The diesel had be specified in one of two states of tune – 213hp and 287hp. The V6 petrol option is the most potent non-S model, offering 340hp. This'll get the Q8 from rest to 62mph in under six seconds.
For the ultimate in performance, the SQ8 utilises a 4.0-litre V8. Producing more than 500hp, it'll get this large SUV from 0-62mph in a shade over four seconds.

Audi Q8 release date
The revised Q8 is due to arrive in the UK by the end of the year, with customer deliveries expected to commence shortly thereafter.
You can compare lease prices on the entire Audi range right now by simply hitting the button below.