Mini Cooper Electric revealed
Say hello to the all-new Mini Cooper, which has leaped into the electric era with a completely new drivetrain and design.
Set to arrive in the UK in 2024, here's everything you need to know.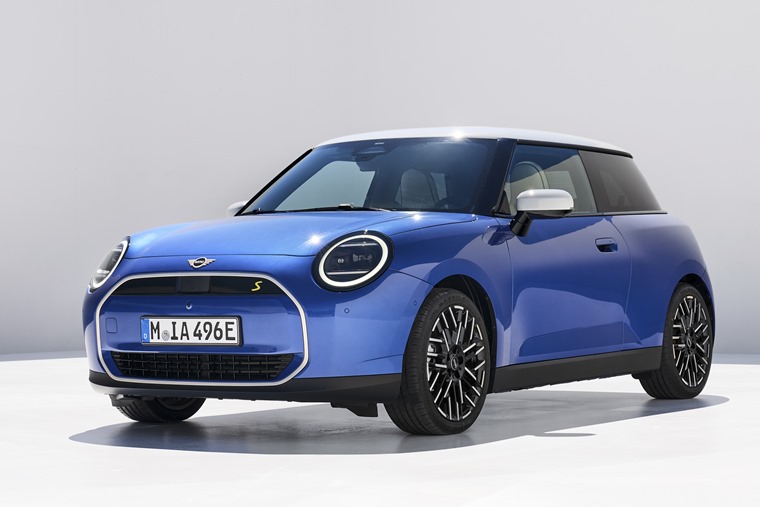 Mini Cooper EV fast facts
250 miles of range
Vivid new infotainment system
Exterior redesign
All-new triangular tail lights
Available in UK from 2024

Mini Cooper EV styling
While the classic silhouette of the current model remains, the design has been comprehensively overhauled. Up front, the look has been freshened by a new set of bumpers and a revised headlight design. It's much smoother and more minimalist than before.
The biggest change is at the rear, where you'll find a completely new set of tail lights. The union flag pattern remains, but they are now triangular and integrated neatly into the boot lid design. New exterior colours are also offered, including Blazing Blue you see here, Sunny Side Yellow and Legend Grey.

Mini Cooper EV interior
The interior benefits from an even more radical redesign. The first thing that strikes you is the central infotainment system which now has a 9in touchscreen.
The vivid display is better and more responsive than ever before, with the screen edging closer to the rim, giving it a cool look.
Everything else is new too. The steering wheel has been redesigned, and the dashboard and trim are now covered in neatly contrasting fabrics.

Mini Cooper EV drivetrains
From launch, two batteries will be offered. The E uses a 40.7kWh battery, while the SE will be available with a 54kWh battery. Both offer impressive increases compared with the current car's battery pack.
The E gets a 180hp motor, allowing acceleration of 7.3 seconds from 0 to 62mph. The SE ups power to 218hp, which drops the 0-62mph time of 6.7 seconds.
They are capable of up to 190 miles and 250 miles respectively – again, both offering a huge improvement over the current car that can manage around 130 miles between charges.

Mini Cooper release date
The all-new Mini will be available to order in the next few months, with deliveries expected to commence in the UK during the spring months of 2024.
We'll bring you further details and of course the best lease deals as soon as they're available. In the meantime, you can check out current Mini lease deals by hitting the button below.