2022 Audi RS3: Everything you need to know
Say hello to the stunning new Audi RS3 – the high-performance variant of the latest A3.
Here's everything you need to know about Audi's latest supercar-beating Sportback and Saloon.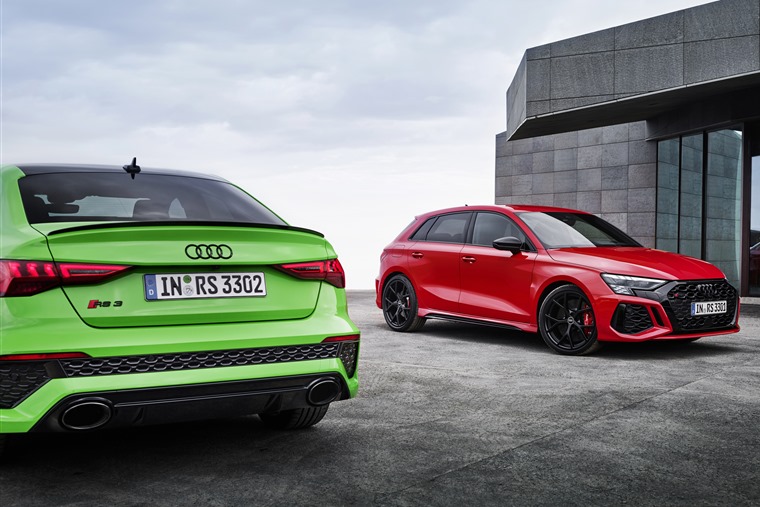 Audi RS3: Five fast facts
0-62mph in 3.8 seconds – that's quicker than key rivals
It'll be available as both a hatchback and saloon
New torque splitter system for improved traction
Infotainment system gets RS Monitor for key driving stats
Same 400hp as before, but now with added torque

Audi RS3 exterior
As always, the basis for the new RS3 lies with the A3 Sportback and Saloon ranges. Having benefited from a refresh relatively recently, it's one of the more aggressive and sport-looking models in its class already.
But the RS3 adds a host of extras that mark it out from the more pedestrian models and S3. Up front, the huge grille is now an RS3-specific honeycomb design, and the air intakes at either side have increased in size.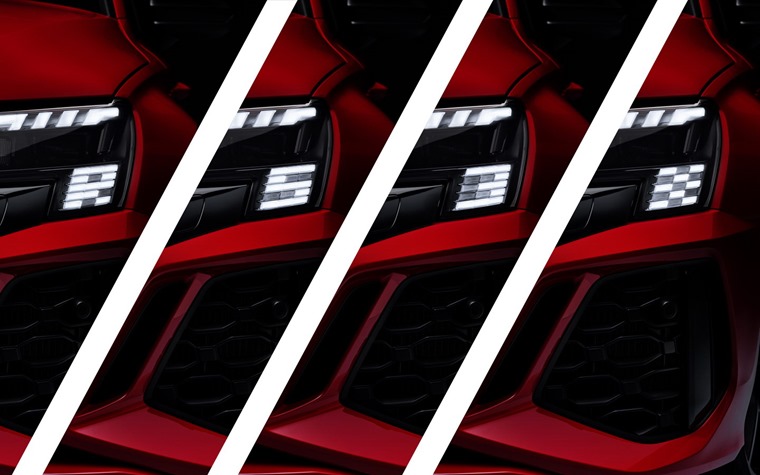 The look is finished with a pair of LED headlights that are now standard throughout the range. Side on, the wheel arches are notably wider and more aggressive than the standard car, and all RS3s feature large 19in wheels as standard.
A neat optional extra is the new Matrix LED headlights, which can display you a snazzy "RS3" and chequered flag within the daytime running lights pattern.
Round the back there are more changes, with a honeycomb black rear diffuser and a pair of giant tail pipes on either side – although they are slightly less noticeable than the outgoing model's.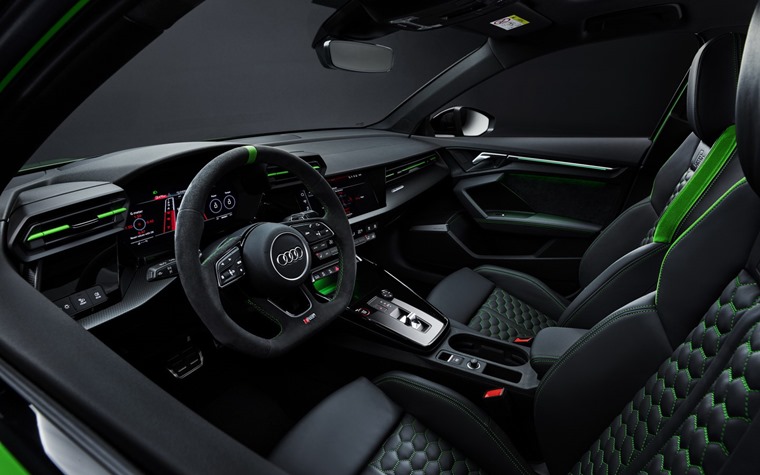 Audi RS3 interior and tech
The interior of the RS3 carries over key elements from the A3 and S3 range, albeit with a nice hose of sporty additions. First up is a redesigned steering wheel, which now features a control to switch between the car's key driving modes.
Behind that, you'll find a vivid 12.3in digital driver monitor which acts as the speedometer, rev counter and also displays 0-62mph run times and other RS3-specific information.
The infotainment system is Audi's latest 10in touchscreen set-up, but the RS3 adds its own RS Monitor mode. This displays an extra set of dials and key info. It's aimed at those taking the RS3 to the racetrack, but it's still a nice touch.
Up front there's a set of sports seats which can be trimmed in a number of configurations; Nappa leather, contrasting stitching and trim pieces are all on the cards.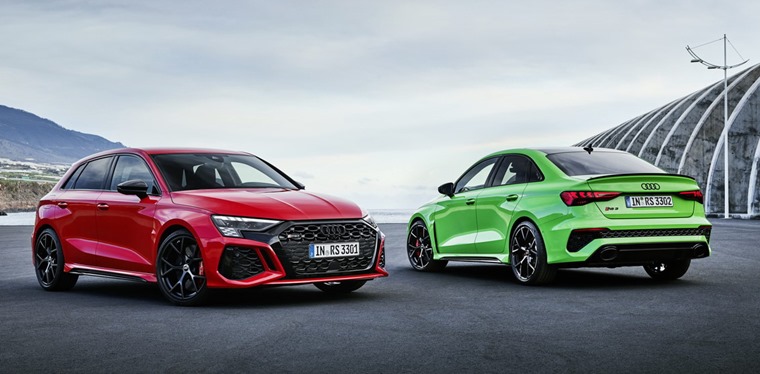 Audi RS3 drivetrain
Under the bonnet, you'll find essentially an unchanged 2.5-litre petrol five-cylinder engine that powers the outgoing car. It gets exactly the same power (400hp), but some clever tweaks mean torque gets a boost up to 500Nm.
The subtle improvement also means that power is available more of the time, with it being sent to the wheels via a standard seven-speed automatic gearbox. A new torque-splitting rear axle means that traction is improved, with more torque able to find its way to the wheels.
All this gives the RS3 a 0-62mph time of 3.8 seconds – notable quicker than key rivals including the AMG A45 and Volkswagen Golf R. What's more, you can also opt for the RS Dynamic package, which increases top speed from 155mph to 180mph – that's supercar territory.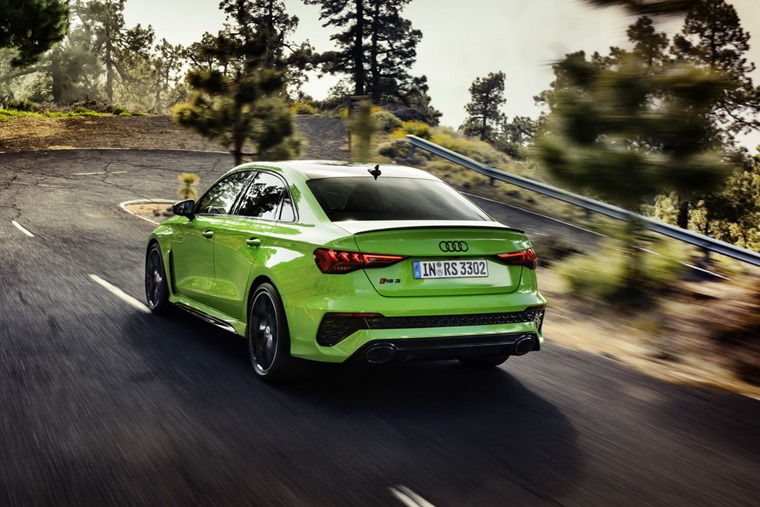 Audi RS3 leasing plans, list prices and launch date
In the UK, both the RS 3 Sportback and Saloon are available in four different specifications: RS 3, Carbon Black, Launch Edition and Vorsprung. Here's how much they'll cost:
Audi RS 3 Sportback pricing OTR
Audi RS 3 Sportback - £50,900
Audi RS 3 Sportback Carbon Black - £55,550
Audi RS 3 Sportback Launch Edition - £56,900
Audi RS 3 Sportback Vorsprung - £58,650
Audi RS 3 Saloon pricing OTR
Audi RS 3 Saloon - £51,900
Audi RS 3 Saloon Carbon Black - £56,550
Audi RS 3 Saloon Launch Edition - £57,900
Audi RS 3 Saloon Vorsprung - £59,650  
We'll bring you leasing plans as soon as they're available. Alternatively, you can check out leasing plans on the standard A3 by clicking the button below.