Next gen Honda Civic revealed ahead of 2022 launch
Say hello to the revised Honda Civic hatchback. It's not going to be available until next year, but it's been confirmed that it will feature hybrid power only.
Here's what we know so far.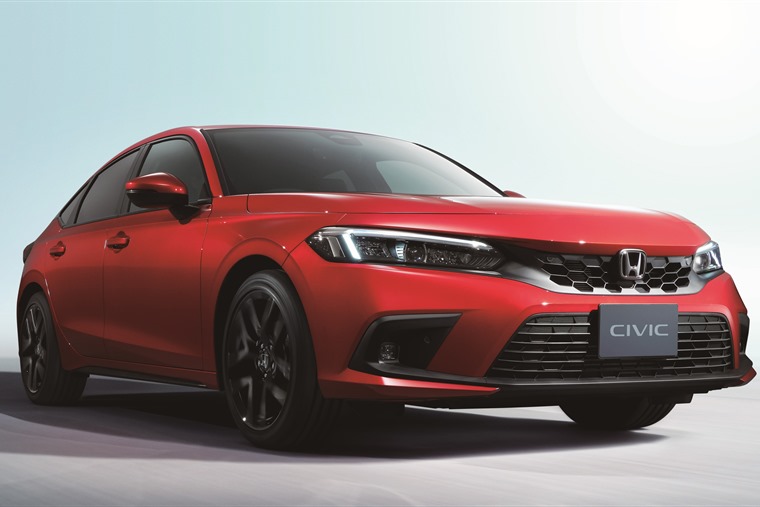 Honda Civic exterior
Externally, the pictures reveal the next Honda Civic will very much be a development of the current car. Going somewhat against the grain, the new car appears to have gained a smoother and less angular appearance.
The headlights are slightly softer, but combined with the grille and rear end it's still obvious that it is related to the current model. Round the back, a full-width light bar has been added, as has a new bumper.
The wing has disappeared from the rear boot lid too, while Honda has increased the wheelbase by more than an inch. This will boost legroom and allows the car to have a more fastback look.

Honda Civic interior
The inside appears to have a freestanding 7in touchscreen infotainment system – likely a development of the current car's which is compatible with Android Auto and Apple Car Play.
European specs are to be announced, but expect the screen size to increase dependent on trim level.

Honda Civic drivetrains
The biggest change for 2022 is that the CIvic is going hybrid only. The system is known as e:HEV, with three engines likely to be available (but at this point just speculation).
They include two 1.5-litre petrol engines (currently found in the Jazz) and a larger 2.0-litre unit (seen in the latest CR-V). e:HEV engines use mild-hybrid power, with all of them featuring an electric motor as well as the petrol unit.
That said, the Type R is unlikely to get the same treatment, and is set to be the only Honda that will keep a combustion-only engine. Expect this car to launch further down the line, complete with a developed 2.0-litre turbo VTEC unit found in the current car. 

Honda Civic release date
No official UK specs or pics revealed yet. Honda says the new model will launch in Europe in autumn 2022.
We'll bring you further details and the best leasing plans as soon as we have them.