2021 Mercedes-Benz S-Class: Ultra-luxury saloon revealed
Say hello to the all-new 2021 Mercedes-Benz S-Class – the German brand's flagship saloon. Featuring a completely overhauled look, a revolutionary new interior, mild-hybrid drivetrains and a raft of new safety kit, it's one of the most exciting cars to launch this year.

Here's everything you need to know.
Exterior design changes
Although the S-Class never undergoes a truly revolutionary styling change, the new model ushers in a raft of new design tweaks that we've seen on smaller Mercedes models lately. The grille is larger than before, while the headlight design is very similar to the new E-Class.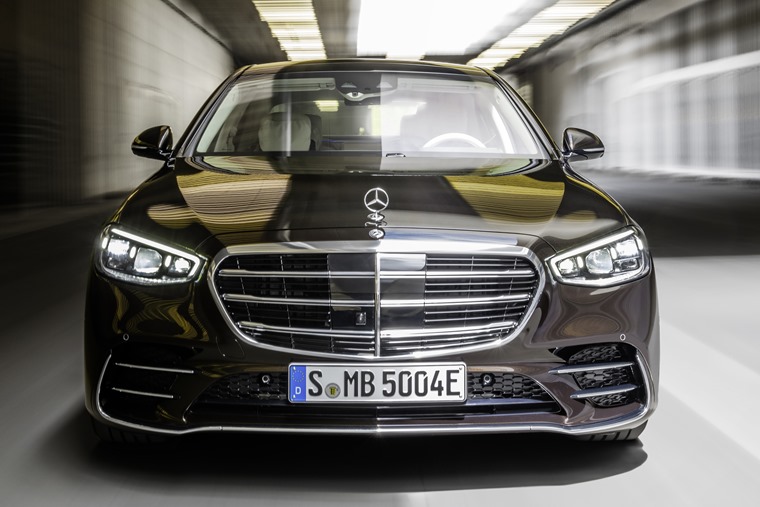 The lights themselves are rather special too; all headlight bulbs are LED units and use more than a million fragmented mirror pieces to direct light exactly where it is needed. These ultra-bright lights are very clever too, and can shine light onto moving objects and use data from the satnav to predict where the light needs to be as you make your way down the road.
Side-on, the design is cleaner than it was before and now looks even more like a larger E-Class, while the door handles are now hidden to reduce drag. Round the back, the LED tail lights aren't dissimilar to the ones you'll find on a CLS. Creases have been removed too, with Mercedes aiming to make this the most aerodynamic S-Class ever.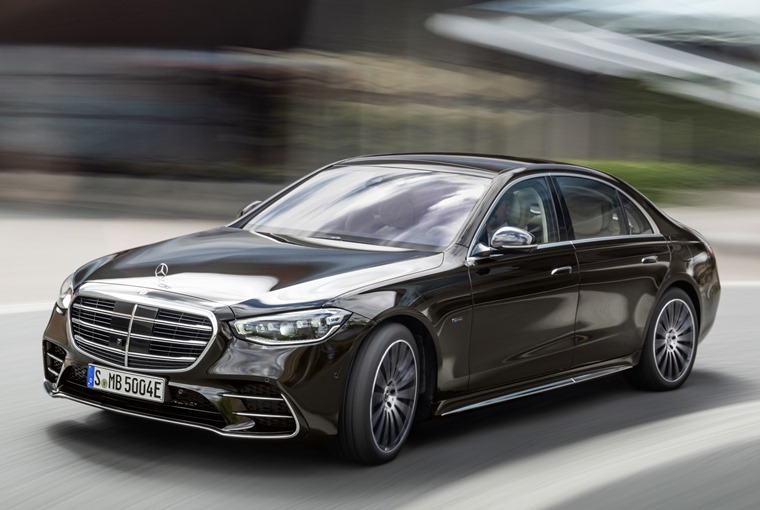 A completely revised interior
You definitely won't be able to mistake the S-Class from a smaller Mercedes on the inside though. The party piece in the front is an all-new touchscreen that's larger than ever before; so large in fact that the central air vents have had to be redesigned and moved to the top section of the dashboard.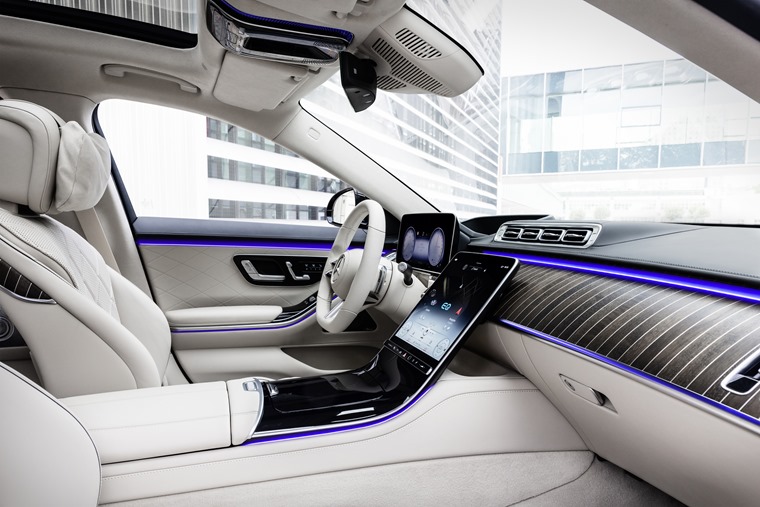 Mercedes opulence abounds everywhere you look, with wooden panels and acres of leather stretched across every surface. Mood lighting features of course, while the seats feature up to 19 motors to ensure you remain as comfortable as can be. Rear screens are also available, as is a massage function.
As for the new infotainment system, well that's very special indeed. More than two dozen physical buttons have been replaced by fitting this huge new unit. It uses haptic feedback and also senses where your finger last was on the screen to make things as simple and intuitive as possible.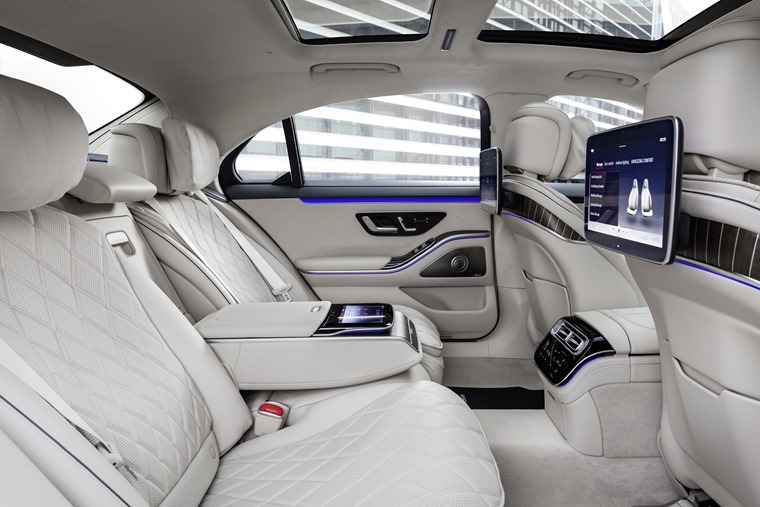 Mercedes' MBUX 'Hey Mercedes' voice control can even recognise an individual's voice, allowing the infotainment system to be reset to that specific driver's settings. On top of all that, a raft of sensors can detect head and arm gestures too.
Engines
From launch, you'll be able to specify the S-Class with one of four six-cylinder 3.0-litre engines. The petrols are made up of the mild-hybrid S450 and S500, which produce 367hp and 435hp respectively. The latter also benefits from a 0-60mph time of less than five seconds.
A small electric motor is able to take over from the engine at cruising speed, increasing economy and lowering emissions. A plug-in hybrid model with up to 60 miles of range will be available in 2021, while you should also expect to see some fast AMG variants that'll compete with the Audi S8.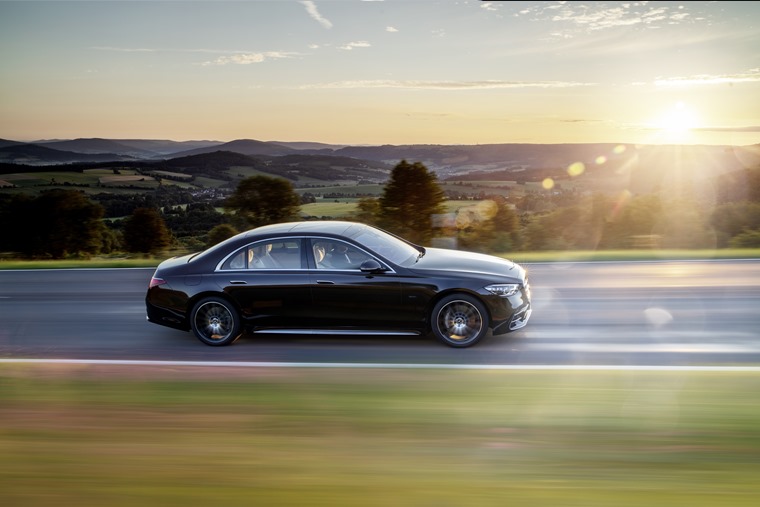 Two diesels will be available from launch: the S350d an S400d. Both are available with four-wheel drive and get from rest to 62mph in 6.2 and 5.4 seconds respectively. No matter which engine you opt for, you'll find a silky smooth 9-speed automatic gearbox fitted as standard.
Technology and safety
The new S-Class gets a host of all-new tech and safety features to make driving it as easy and relaxing as possible. The most notable of these is a rear-wheel steering that is available as an option. This allows the rear wheels to turn at low speeds which, believe it or not, gives the S-Class a similar turning circle to an A-Class.
Semi-autonomous driving aids are offered, which will allow the S-Class to accelerate, steer and even change lanes on a motorway. Elsewhere, there's a unique back-seat airbag system to ensure that rear passengers get exactly the same protection as front passengers in a head-on collision.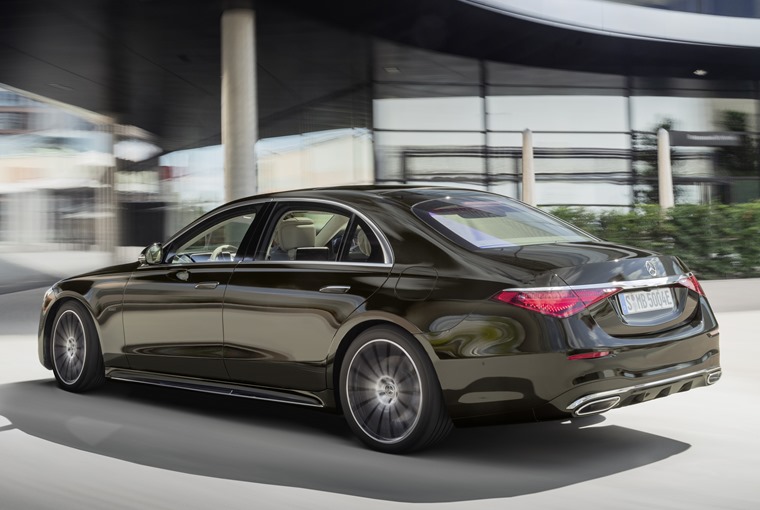 The Pre-Safe Impulse Side protection system can raise the car by up to 8cm if it thinks you're above to be crashed into from the side. This is designed to propel the force of a collision away from the passenger compartment and into the floor. Both this and the rear airbags, however, are optional extras.
When can I get one?
Order books for the new S-Class are now open, with UK deliveries due from December onwards. As soon as lease deals are available, we'll let you know.
Prices are starting from £78,705 OTR for the standard wheelbase S 350 d AMG Line.