Range Rover Sport SV arrives with tweaked 4.4-litre V8
This is the new Range Rover Sport SV – the most performance production car from the brand yet.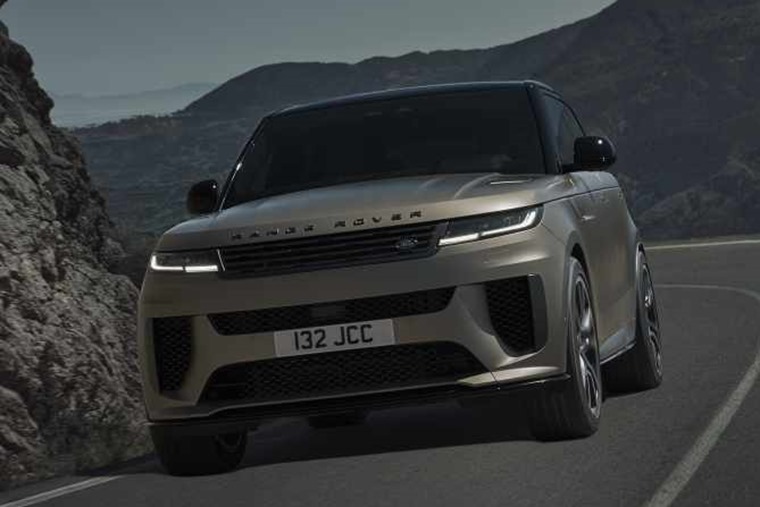 It gets a significant power boost over the outgoing model and sits at the top of the new Range Rover Sport range. Here's what you need to know.
All-new performance flagship
626bhp 4.4-litre twin-turbo V8
0-62mph in 3.6 seconds
Top speed of 180mph
Could be one of the final combustion-engined Range Rovers

Range Rover Sport SV styling
The SV is based on the latest P350 model, but a number of design tweaks make sure everyone knows this is something a little out of the ordinary. Up front, there's a beefier grille and bumper, while the rest of the body benefits from chunkier side skirts.
The rear end is more imposing too, with the bumper now incorporating four large exhaust tips. The changes aren't just for posers though – they have a practical purpose. The extra grilles and vents up front are needed to keep that potent power plant cool.
A host of optional extras are available, including carbon fibre wheels. All alloys are at least 23in in diameter, while carbon-ceramic brakes with uprated callipers will be standard on the launch edition model.

Range Rover Sport SV interior and tech
The interior carries over many of the elements and tech of the standard Sport, with a minimalist dashboard incorporating a beautiful touchscreen infotainment system. You'll find the car's main controls nestled in the centre console.
The steering wheel is smaller yet thicker, while there's an "SV" button that activates special driving modes. Clever options include transducers in the front head rests. These are special speakers that can produce vibrations for a more complete sound system experience.

Range Rover Sport SV drivetrain
The SV comes kitted out with the latest version of the brand's 4.4-litre twin-turbo V8. Producing 626bhp, it'll get from 0-62mph in just 3.6 seconds, making the SV easily one of the quickest SUVs ever produced. Top speed is an impressive 180mph.
All models feature a slick eight-speed automatic gearbox, while other changes to the drivetrain include wider front and rear tracking and increased wheel camber. This improves road-holding and handling. It also gets a clever air suspension system.

Range Rover Sport SV release date
Set to hit the market soon, the first Edition 1 model of the Sport SV will be available soon. We'll bring you leasing plans as soon as they're available on the SV.
In the meantime, you can check out leasing plans on the Range Rover Sport by hitting the button below.