Video review: Skoda Karoq
The Skoda Karoq is a practical and well-rounded family SUV, but it's facing stiff competition from newer rivals. Is it still worth considering? We sent Howard one to find out.
The Skoda Karoq is a popular family SUV that offers plenty of space and cracking quality at a very affordable price.
But then again, so do a bunch of newer rivals like the Peugeot 3008 and Seat Ateca – and we've not even mentioned the Nissan Qashqai.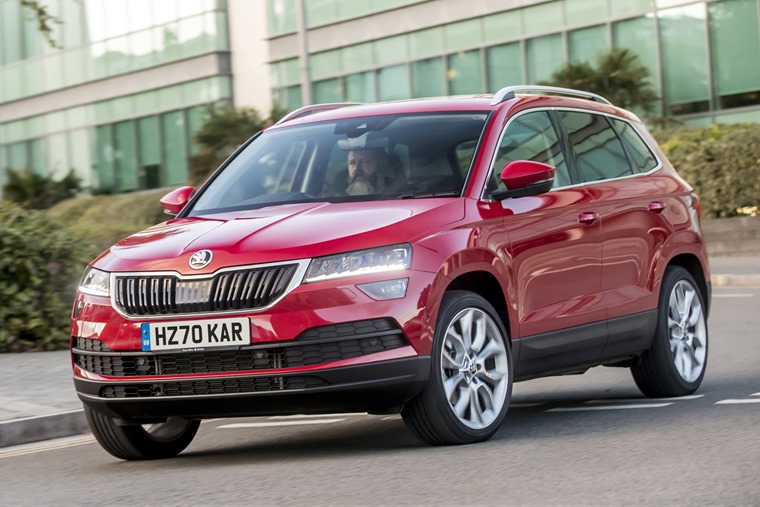 So does it still make a good lease? To find out, we gave Howard one for a few days.
You can watch the video review in full below, or keep reading to find out everything you need to know about the Karoq.
What is it?
The Karoq is a mid-sized SUV that's been around for a few years now, but that doesn't mean it isn't still a great option if you're after a practical family vehicle for a reasonable price.
It might not be as appealing to look at as rivals like the Peugeot 3008, but it's certainly not an ugly car either. On the styling front then, it's certainly "middle of the road".
The looks will largely depend on what trim you go for. There are a number on offer, with the entry-level SE kicking things off. It sits on 17in alloy wheels and gets features such as an 8in infotainment touchscreen with smartphone compatibility, climate control, dual-zone air con and rear parking sensors.
Quiet. Comfortable. A condensed Kodiaq. – Leasing.com five-word review
All but the most basic models getting a 10.25in digital driver display that replaces analogue dials. If you want to add the screen, a reversing camera and a better infotainment system, you'll be better off with the SE Drive.
Moving further up the range to the SE L, you'll get plusher interior trim, large 18in alloy wheels and heated seats. Right at the top of the range is the Sport Line and Edition models.
The Sport Line adds a neat body kit and big 19in alloy wheels, while the interior trim takes a step up too; there's a different set of seats and a panoramic roof too.
Edition models are less sporty, but still get the larger wheels plus a leather interior and a larger touchscreen for the infotainment system.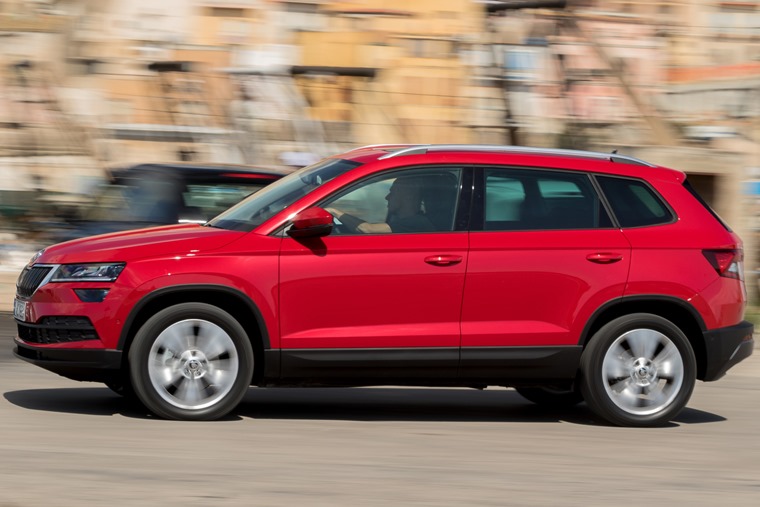 What's it like to drive?
As small SUVs go, the Karoq gives you one of the higher driving position in its class. Combined with nice supportive seats and all-round excellent visibility, it offers a very comfortable drive.
Engine-wise, you get the choice between a number of 1.0-litre and 1.5-litre petrols, as well as a 2.0-litre diesel – that's the one Howard tried. The latter is great if you do big motorway miles, but if that's not the case you might want to go for the 150hp variant of the 1.5-litre petrol.
The optional four-wheel drive system provides better grip in adverse conditions.
It'll still do over 45mpg and provides punchy acceleration. Depending on the trim you go for, you'll be able to specify a four-wheel drive system. It's only available in conjunction with the automatic seven-speed gearbox and most powerful diesel engine though.
It's no Land Rover Discovery, but the optional four-wheel drive system provides better grip in adverse conditions and gives you the edge on muddy tracks and wet motorways alike.
The steering is very light on all models, boosting the relaxing driving experience further. There's now also a digital driver display on all trims that replaces traditional analogue dials – it's a great system and gives the driving an experience an extra special feel.
On the safety front, you're well catered for too. Autonomous emergency brakes are included as standard, and it now has an automatic city brake too. Active cruise control is available depending on trim level – a great tool for safe motorway cruising.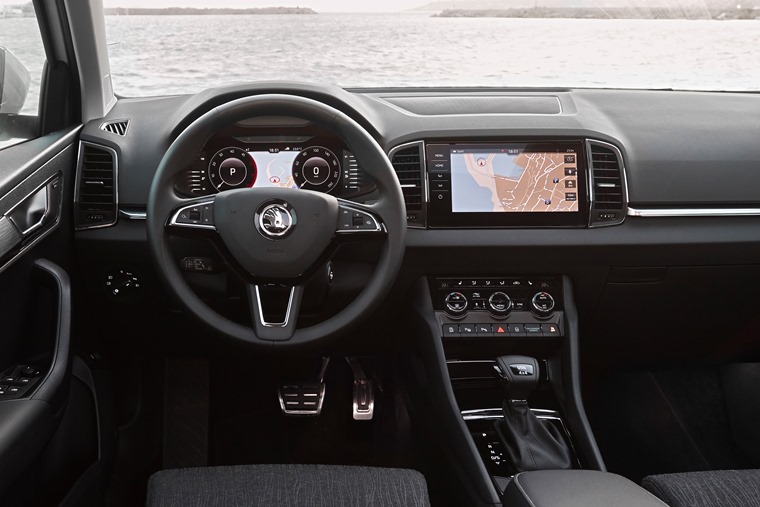 What's it like inside?
The passengers will just be as comfortable as the driver thanks to those supportive seats, while standard equipment includes an 8in infotainment touchscreen. It can be upgraded to a larger 9.2in unit on some models.
It features a voice command system and is compatible with Apple CarPlay and Android Auto, but you'll have to pay for an in-built satnav system.
With 588 litres of boot space, it's a useful package.
There's dual-zone air conditioning as standard too, and you get the impression the Karoq will stand up well to the wear and tear of being used as a family vehicle. On that front, it's exceptionally practical too.
With 588 litres of boot space and enough rear passenger room for adults, it's a useful package. Skoda has added a number of other practical touches too. There's netting and lots of tethering points for luggage, while you'll find clever stowage areas dotted around the cabin.
If you want some posh trim though, you'll have to opt for a model other than SE; it only gets fabric upholstery. Nicer trim pieces, leather and suede-effect interiors are on offer further up the range.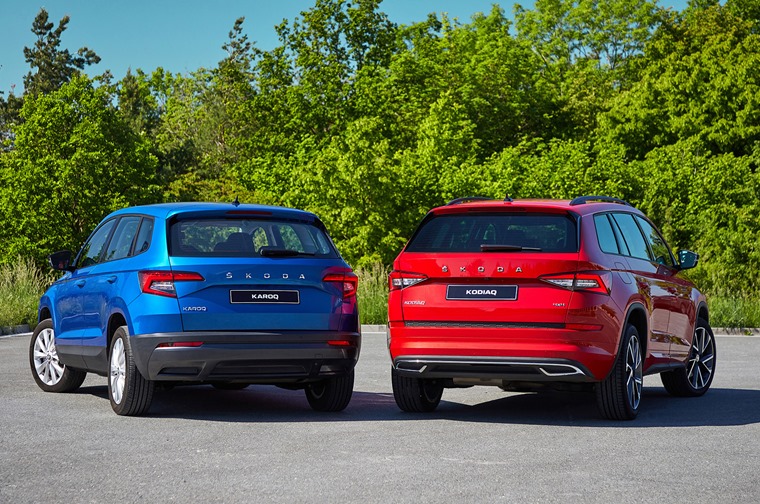 What's the verdict?
If you're considering leasing a family SUV, the Karoq should definitely be on your shortlist. It might not be as stylish as the Nissan Qashqai or as premium as the Volkswagen Tiguan, but for providing reasonably priced, comfortable transport, it fits the bill perfectly.
Its price point makes it an attractive prospect and delivers exactly what Skoda promised.
It also trumps those two rivals when it comes to price – you can lease a Karoq for less than £200 per month. With such a great standard equipment list, there's not really much need to plump for the highest trim levels, but even these are available for les than £300 per month.
Its price point the Karoq an attractive prospect and delivers exactly what Skoda promised – an affordable, quality family SUV that condenses the best bits of the Kodiaq and wraps it up in a more compact package. See if you can find a Karoq that fits the bill by comparing leasing plans via the link below.