Hyundai Ioniq 5 vs Kia EV6: Which one wins?
Hyundai and Kia have been creating great EVs for a few years. Now there's a new pair. One platform. Two stunning designs. Which one should you go for?
Hyundai and Kia have been go-to brands for those looking for electric vehicles for a while now. The Hyundai Kona Electric and Kia e-Niro remain popular among leasing customers, and proved that both manufacturers can create affordable, well-made EVs that provide excellent range and performance.
And now there's a new battle between these two Korean titans: the Hyundai Ioniq 5 and Kia EV6. They're available to lease right now. One platform. Two stunning designs. Which one should you go for?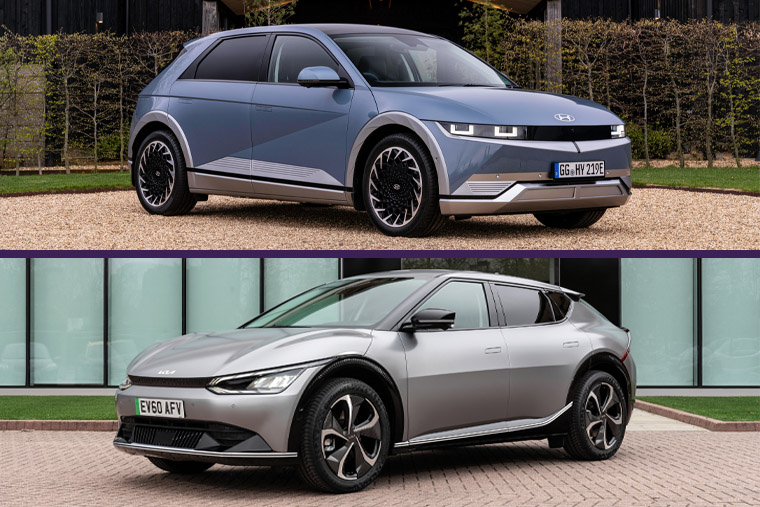 Styling
Despite the pair sitting on a shared platform, when it comes to styling Hyundai and Kia have taken different approaches, both of which work well. The Hyundai, for example, unashamedly takes classic styling design cues which give it a true retro appeal. It's actually influenced by the Hyundai Pony coupe of the 1970s. That means sharp edges, dual headlights and a boxy silhouette. At the rear you'll find a cool LED tail light bar that stretches the width of the car and almost looks pixelated – like something out of Star Trek. Not your cup of tea?
Don't worry – you can't get a more modern design than the Kia. No retro throwbacks here. It looks slightly larger than the Ioniq 5, but that's an illusion thanks to the flowing lines and lip on the boot. The rear lights again stretch across the car, but no square design here; there's a boomerang design that flows nicely. The windows are also smaller than on the Ioniq 5, which helps give it a really sleek coupe-like look, especially at the rear.
The pair really proves that platform-sharing doesn't have to mean bland, samey styling. Ok, they might both be large, electric SUVs, but design-wise they are at polar ends of the spectrum. Which one do you think looks best? We reckon the Ioniq 5 just takes it. Those sharp lines and retro details like the lights help it stand out.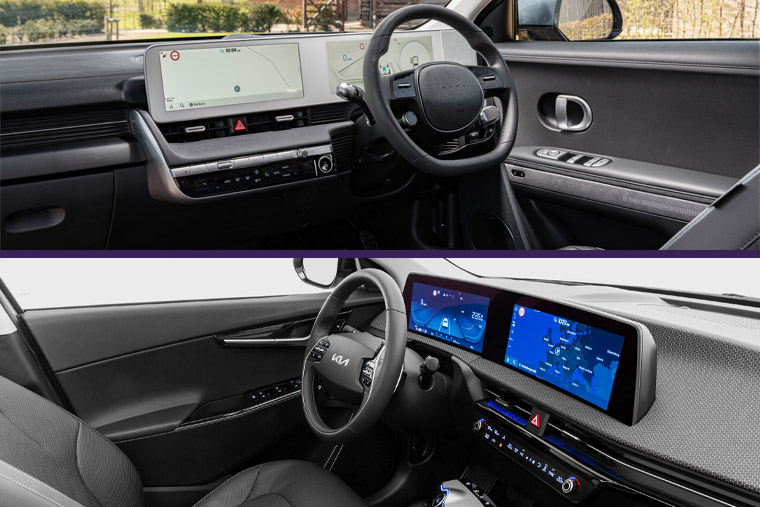 Interior and practicality
Step inside and it becomes more evident these cars are closely related. Those 12.3in monitors look very similar indeed, and are the basis for the digital driver display and infotainment in both models. But neither feel or look like anything we've seen from either brand before. Quality is excellent across the board, while a range of premium trim and ambient lighting give them a really classy feel. But can you tell which is which?
While the driver display and infotainment system might not feel quite as impressive as portrait systems found on rivals like the Tesla Model Y and Ford Mustang Mach-e, it offers impressive tech and lots of connectivity. The Ioniq 5 comes with satnav, a wireless charging pad as well as Android Auto and Apple CarPlay. The touchscreen is intuitive and relatively nice to use. Overall, the Kia might just have the edge on the quality front.
Both the Ioniq 5 and EV6 are practical too. Their drivetrains and battery packs have been designed to ensure interior space is maximised. The EV6 gets 520 litres of outright boot space. You'll also find an extra 20 or 52 litres in a compartment under the bonnet, although that is primarily where you'll store the charging leads.
The Ioniq 5's is even more impressive, with up to 588 litres of capacity. That's mainly due to its boxier dimensions which allows you to cram more into the boot. Regardless of which you go for, you'll get more space than some rival EVs like the VW ID.4 (543 litres) and the Mustang Mach-E (402 litres).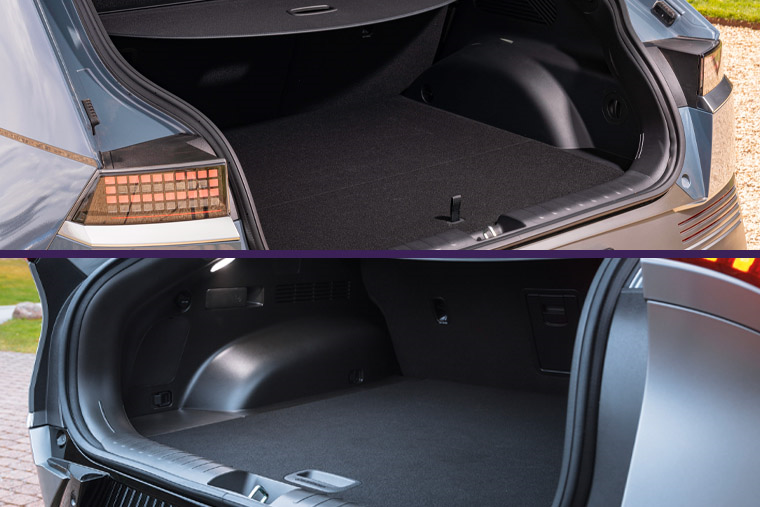 Trims
Whether you pick the Hyundai or Kia, you'll be getting a competitive level of equipment. The base models of both cars feature smart cruise control, rear parking camera, wireless charging and satnav.
The Hyundai can be specified as an SE Connect, Premium, or Ultimate. Below you'll find details on what features on each trim, as well as the list price for each model.
Hyundai Ioniq SE Connect

Hyundai Ioniq 5 Premium

Hyundai Ioniq 5 Ultimate

From £36,940

£39,240

£42,240

· Twin 12.3in displays with instrument cluster and touchscreen infotainment system

· Apple CarPlay and Android Auto

· 19in alloy wheels

· Connected Car services

· Forward Collision Avoidance Assist

· Highway Driving Assist

· Wireless Charging pad

· Mood lighting

· Rear-view camera with dynamic parking guidance

· Smart cruise control

· Flush Exterior door handles

· Ionity subscription

· Bluetooth Connectivity with voice command

Adds:

· Blindspot collision avoidance

· Chrome side body trim

· Dual LED headlights

· Electric driver's seat

· Electrochrome rear view mirror

· Heated front seats and steering wheel

· Front and rear parking sensors

· Electric tailgate

Adds:

· 20in alloy wheels

· Alloy pedals

· Leather upholstery

· BOSE premium soud system

· Heated outer rear seats

· Heads-up display

· Sliding centre console

· Solar glass

· Ventilated front seats
The Kia is available as Standard, GT Line, GT-Line S and GT.
Kia EV6 Standard

Kia EV6 GT-Line

Kia EV6 GT-Line S

Kia EV6 GT

From £40,895

From £43,895

From £48,395

Price TBC

· Curved display with twin 12.3in touchscreens

· Apple CarPlay and Android Auto

· 19in alloy wheels

· Electrically folding, adjustable and heated door mirrors

· LED headlights, rear lights and DRLs

· Ambient lighting

· Heated front seats and steering wheel

· Automatic air conditioning

· Automatic wipers

· Smart cruise control with stop-go function

· Highway Driving Assist

· Drive Mode Select

Adds:

· GT-Line exterior and interior styling pack

· 19in alloy wheels

· Front parking sensors

· Memory seats

· Wireless smartphone charger

· Dual LED headlights with adaptive beam

· Blind-Spot Collision Warning

· Premium relaxation seats

· Alloy pedals

Adds:

· 20in alloy wheels

· Ventilated front seats

· Heated outer rear seats

· Electric tailgate

· Panoramic roof with tilt and slide

· Remote Smart Park Assist

· Parking collision warning system

· Forward Collision Avoidance Assist

· Augmented reality heads-up display

Adds:

· GT exterior styling pack

· 21in alloy wheels

· Suede bucket seats

· Electrically controlled suspension

· Electronic limited-slip differential

· Drive Mode Integrated Control

· Battery Heat pump

· Premium paint
Although both offer very similar specifications, you'll be getting more bang for your buck if you opt for one of the Hyundais, which benefits from lower list prices than the EV6.

Driving and performance
Both these cars offer a great drive. There are some differences though. Those who value a clear view of the road might favour the EV6, because the Ioniq 5 has smaller windows which makes maneuvers in town a little more difficult. The Ioniq offers a slightly softer ride than the EV6, making the Kia the one to go for if you value an engaging drive. The pair both feature an interesting regenerative braking system, which the driver can vary depending on how forceful they want the braking to feel. What most people will want to know about is the performance.
Let's start with the Ioniq 5. It's available in both two-wheel drive and all=-wheel drive form, with three choices of battery pack. The one you choose will determine the level of performance you get. But all are torquey and eerily quiet as we've come to expect from EVs. The entry-level option consists of a 58kWh battery pack which uses a single electric motor that powers the rear axle. Producing 170hp, it'll get you from 0-62mph in less than nine seconds. So not the swiftest option, but still perfectly respectable compared to many petrol and diesel-powered SUVs.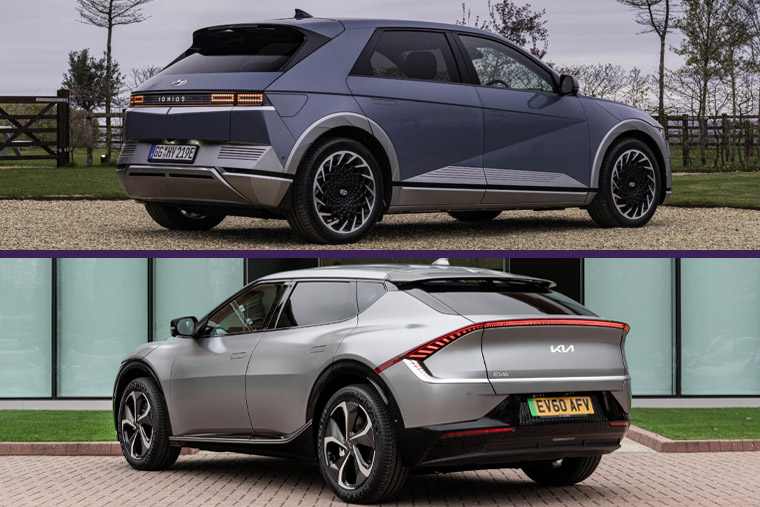 You can opt for a larger 78kW battery pack, which reduces the 0-62mph run to 7.4 seconds. The most potent and performance-orientated also uses this battery, but you'll also find an extra electric motor up front. This takes the 0-62mph run to 5.2 seconds thanks to the combined output of 306hp and 600Nm of torque.
The EV6 is available with the same 58kWh and 72kWh battery options, but power and overall performance is considerably more than the Hyundai across the range. The entry-level option produces 222hp, and the larger battery ups this to 325hp and introduces all-wheel drive. The range-topping EV6 GT which is due to arrive next year will produce a huge 585hp, giving it a 0-62mph time of 3.5 seconds. Combined with its aggressive looks and sportier driving feel, it's clear that the Kia is the car that will offer the most power, speed and engagement.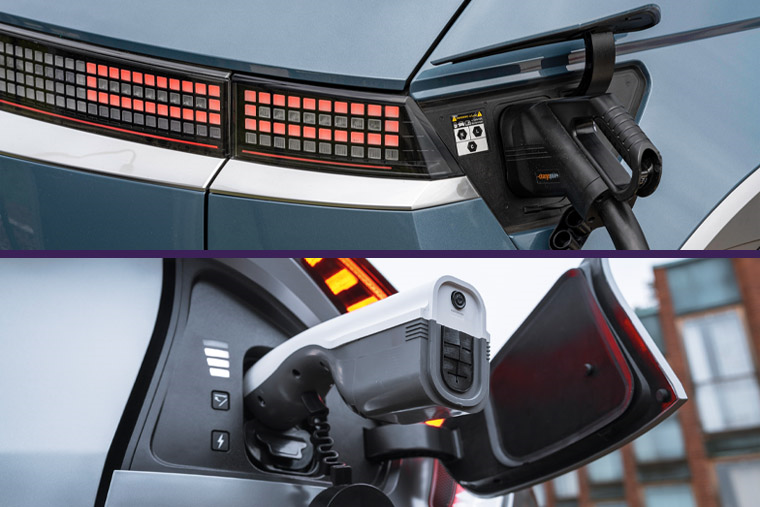 Range and charging
The pair are part of the glut of new EVs, which offer truly competitive range and charging times when compared to petrol and diesel alternatives. Their battery packs are compatible with the latest fast chargers which, if used, can regain an 80% charge from 10% in less than half an hour.
To keep things clear when it comes to range and charge times, we've stuck the various battery options of both cars in a table below to show you the kind of distance you can expect from each option, and how long it'll take to charge when you plug them in.
Kia EV6

58kWh battery pack (2WD)

78kWh battery pack (AWD)

78kWh battery pack (AWD)

WLTP range (mi)

313 miles

300 miles

TBC

DC fast charge

(10-80%, 50kW)

73 minutes

73 minutes

TBC

DC fast charge

(10-80%, 350kW)

18 minutes

18 minutes

TBC

AC normal charge

7h 20m

7h 20m

TBC
The Kia has the edge with all options offering more than 300 miles of range.
Hyundai Ioniq 5

58kWh battery pack (2WD)

72kWh battery pack (2WD)

72kWh battery pack (AWD)

WLTP range (mi)

238 miles

298 miles

285 miles

DC fast charge

(10-80%, 50kW)

73 minutes

73 minutes

73 minutes

DC fast charge

(10-80%, 350kW)

18 minutes

18 minutes

18 minutes

AC normal charge

6h 20m

6h 20m

6h 20m
If outright range is your priority, it's obvious that the Kia's slightly larger battery packs and electric platform is the one to opt for. Both are impressive, but the EV6 really can compete (and beat) some of the best in the business. For example, the Ford Mustang Mach-E has an estimated range of just 270 miles in all-wheel drive form – around 30 short of the equivalent specification of EV6.

So which one should you lease?
You are able to order both the Ioniq 5 and EV6 on leasing.com right now. With hundreds of deals from dozens of the UK's leading leasing companies, dealers and franchises, there's an unrivalled choice. But which is cheaper? With a slightly less specification and range, it's no surprise that the Ioniq 5 is the more affordable of the pair. EV6 prices current start from less than £500 per month, while you can expect monthly prices for the Ioniq to sit between £350 and £400.
We know that not everyone will be a fan of the boxy looks of the Ioniq 5, but at present it's certainly the more appealing of the two as far as costs go. And while it can't travel quite as far as the EV6, even the most basic models feature all the tech and performance you're likely to require from a family vehicle. It's certainly a cool car that would make a great lease and a perfect introduction into driving an EV for those making the jump from combustion power.
To compare leasing plans and costs, click on the links below to find the very best EV6 and Ioniq 5 leasing deals in the UK.
Compare Hyundai Ioniq 5 leasing plans