Lotus Eletre vs Porsche Taycan | Premium performance EVs compared
In the rapidly evolving world of electric cars, the market has seen the emergence of exciting new contenders. Among them are the Porsche Taycan and the Lotus Eletre. Here we have two premium performance EVs that are making waves.
But if you're looking to lease, which one is the better choice? We won't beat around the bush: we know these are expensive products. But does one make more sense than the other? We took a deep dive to try and answer that question.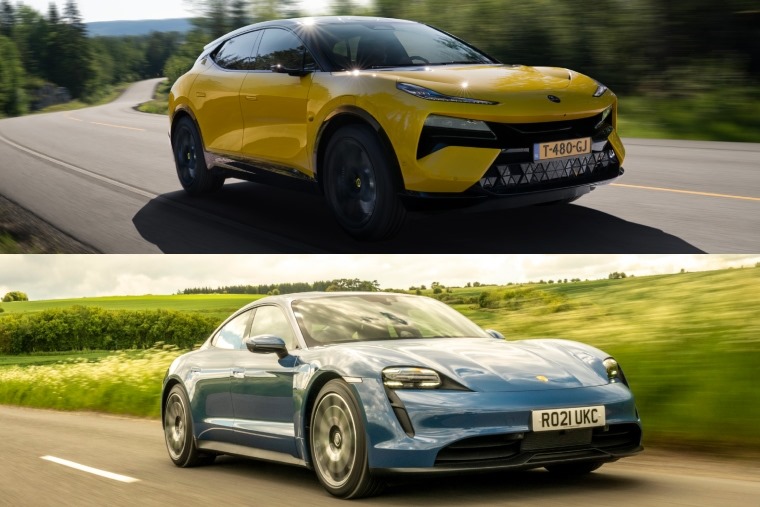 Compare Eletre lease deals
Compare Taycan lease deals
Porsche Taycan vs. Lotus Eletre: Style and Size
Let's start our comparison by looking at their style and size.
The Porsche Taycan boasts the signature Porsche design language with its sleek, sporty appearance. It maintains the iconic Porsche look while offering something fresh.
The Taycan's aerodynamic shape, distinctive LED headlights, and muscular stance are reminiscent of its petrol-powered counterparts, making it a striking choice.
In terms of size, it falls into the saloon and fastback category, measuring around 4.96 meters in length and 1.97 meters in width. Overall, the Taycan is still a fresh and striking design, despite now being a year or two old.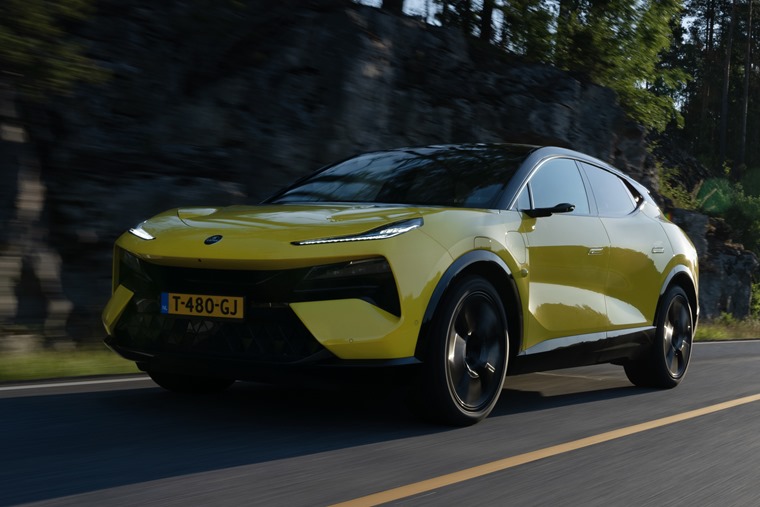 On the other hand, the Lotus Eletre is a bold step into the electric SUV realm for Lotus, which has predominantly been known for its lightweight petrol-powered sports cars. Not only is this the brand's first EV, but it's the first-ever SUV it has produced too.
The Eletre features a modern and aggressive design with sharp lines, a sculpted body, and distinctive Lotus branding. Its larger body places it in the large SUV category, with dimensions that rival other premium electric SUVs like the Audi Q8 e-tron and Mercedes EQE SUV.
That said, there are styling elements that ape other models from its range – those high-riding daytime running lights for starters. The sloping rear end is also a stand-out feature. Compared with the Porsche, we'd say it's the more imposing model.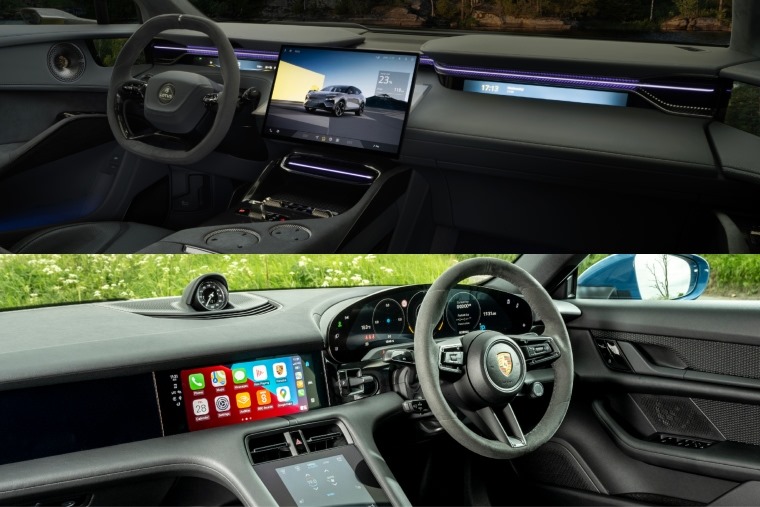 Compare Eletre lease deals
Compare Taycan lease deals
Porsche Taycan vs. Lotus Eletre: Interior and Tech
Moving inside the cabins of these electric contenders, both the Porsche Taycan and the Lotus Eletre aim to deliver premium experiences. It's fair to say that Porsche has more experience than Lotus in this area, something that's immediately apparent by the interior that exudes luxurty and quality.
Soft-touch surfaces, leather upholstery, and customizable options create a sophisticated atmosphere. The centrepiece is Porsche's advanced infotainment system, which seamlessly integrates with smartphone connectivity, offering features like Apple CarPlay and Android Auto.
The digital instrument cluster and large touchscreen display provide intuitive control over the car's function, too.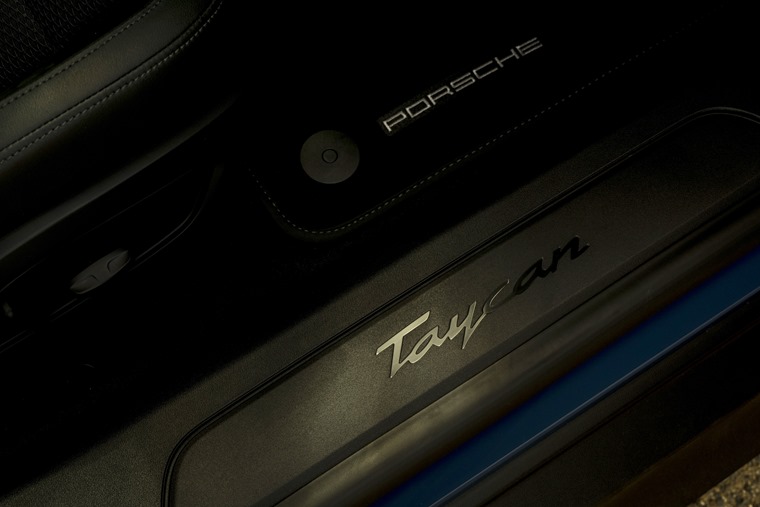 The Lotus Eletre doesn't compromise on interior quality either. It incorporates plush materials, emphasizing comfort – something of a novelty for a brand best-known for creating lightweight sports cars.
The infotainment system offers modern features and connectivity options, ensuring a connected driving experience. While Lotus is known for its focus on driving dynamics, the Eletre aims to provide a comfortable and tech-savvy cabin to appeal to a broader audience.
Tons of options are on offer, with a striking set of sports seats and a rear-passenger infotainment screen available. Considering this is Lotus' first stab at creating a spacious, airy cabin, it's really rather a good one.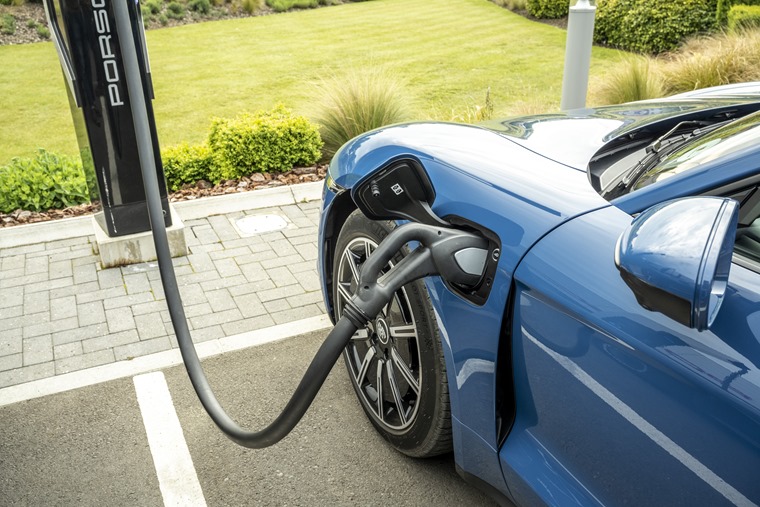 Porsche Taycan vs. Lotus Eletre: Driving and Range
Performance and range are crucial factors for cars like these. Not only must they offer exhilarating performance stats, but they must provide industry-leading range too.
The Porsche Taycan offers a number of powertrains, including rear-wheel drive and all-wheel drive variants. With the top-of-the-line Taycan Turbo S, you can expect exhilarating acceleration, reaching 0-60 mph in just a few seconds.
But the more likely choice for most customers will be the 71kWh rear-wheel drive version. This gets from 0-62mph in around 5.5 seconds, and goes on to a top speed of 143mph.
The range varies depending on the configuration, with the Taycan achieving competitive range figures. You can expect between 250 and 300 miles from most models.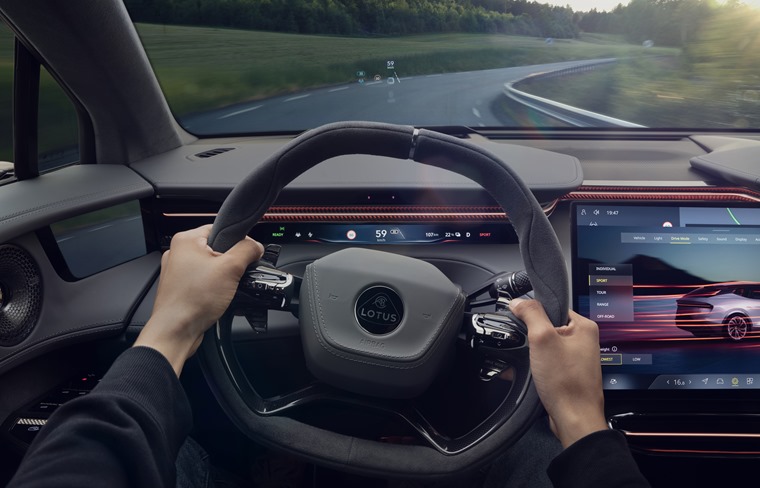 Lotus, known for its sports car heritage, has designed the Eletre to offer a thrilling driving experience. Equipped with  a 109kWh battery pack, it delivers impressive acceleration, while maintaining the razor-sharp handling Lotus is well known for.
That big battery gives it an impressive range too, with up to 305 miles estimated between charges. The all-wheel drive version can get from 0-60mph in 4.5 seconds.
When it comes to charging, both the Porsche Taycan and the Lotus Eletre are equipped with fast-charging capabilities, allowing you to recharge quickly at compatible charging stations.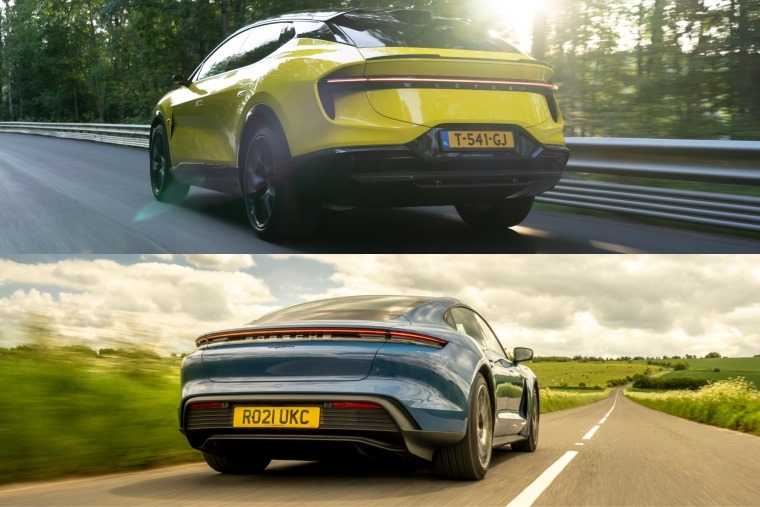 Porsche Taycan vs. Lotus Eletre: Which EV Should You Choose?
In summary, both the Porsche Taycan and the Lotus Eletre bring their unique strengths to the electric vehicle market. The Taycan caters to those who appreciate Porsche's legacy of performance and luxury, while the Lotus Eletre introduces the brand's sports car DNA into the electric SUV market.
Your choice between these two EVs will ultimately come down to your preferences, whether you prioritize the sporty heritage of Porsche or the bold venture of Lotus into the world of electric SUVs. When it comes to leasing prices, both offer similar rates, making the choice arguably more difficult.
Us? We'd probably go for the Eletre – it must have been a challenge for Lotus to create an electric SUV that's as engaging and appealing as its sports cars, but it's really pulled out all the stops. Whichever you choose, you'll be joining the exciting future of electric mobility.