Porsche 911 GT3 RS 2022: Everything you need to know
Say hello to the all-new Porsche 911 GT3 RS. The brand claims it is the most serious and performance-focused 911 in the range, and it now gets tech borrowed from F1.
Here's everything you need to know.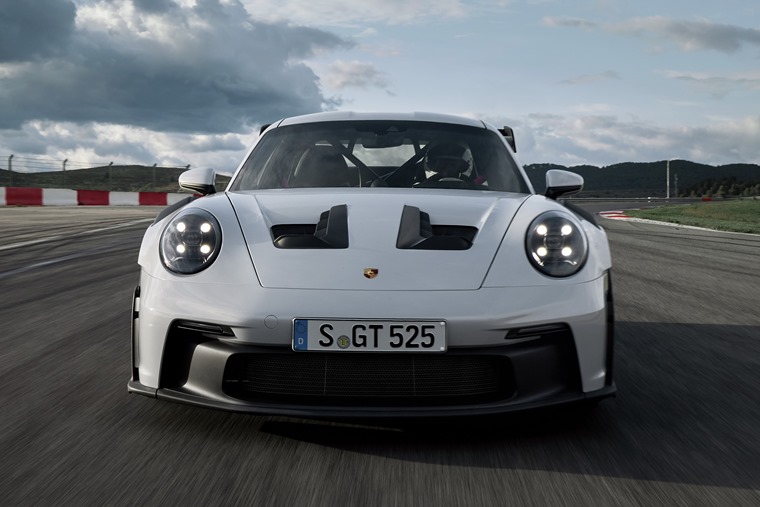 Porsche 911 GT3 fast facts
4.0-litre six-cylinder produces 525hp
Priced from £178,500 in the UK
F1-inspired aero body
0-62mph in 3.2 seconds
184mph top speed

Porsche 911 GT3 styling
Based on the latest 992 serious of Porsche's iconic sportscar, it's clear that the GT3 is no ordinary 911 right from the get go. Ignore the huge alloy wheels and contrasting red stripes for a minute – the changes go a lot deeper than that.
The front bumper splitter, bonnet, front wings and side skirts all feature fins – all in an effort to produce as much downforce as possible. Round the back, you'll find the biggest wing ever fitted to a 911 too, which similarly is designed to keep the GT3 glued to the road.
Taking direct inspiration from F1, it also gets a hydraulic ram that opens and closes a flap. This can either increase downforce or give an upwards nudge to the top speed, depending on hot it is set. Unpainted carbon fibre body panels and even magnesium alloy wheels are among the options.
All this combines to create three times as much downforce as you get from the standard GT3 – 860kg at 177mph to be precise.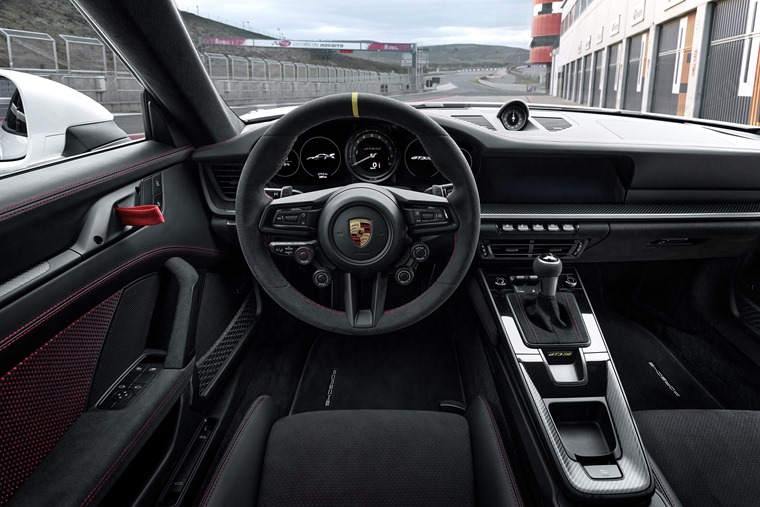 Porsche 911 interior
Despite the wacky races exterior, on the inside things are much more subtle – this is a supercar you could use every day. The overall design is very similar to the standard GT3 model, although the eagle-eyed will spot carbon fibre trim, a revised steering wheel as well as added controls.
The latter allow you to set up the car just how you want it, thanks to a fully adaptive suspension system. Various options are on offer, including the Clubsport Pack. This doesn't cost anything extra, although it'll kit your GT3 RS out with a full roll cage, fire extinguisher and six-point racing seat belts.
Alternatively, the Weissack pack adds further carbon fibre to the mix.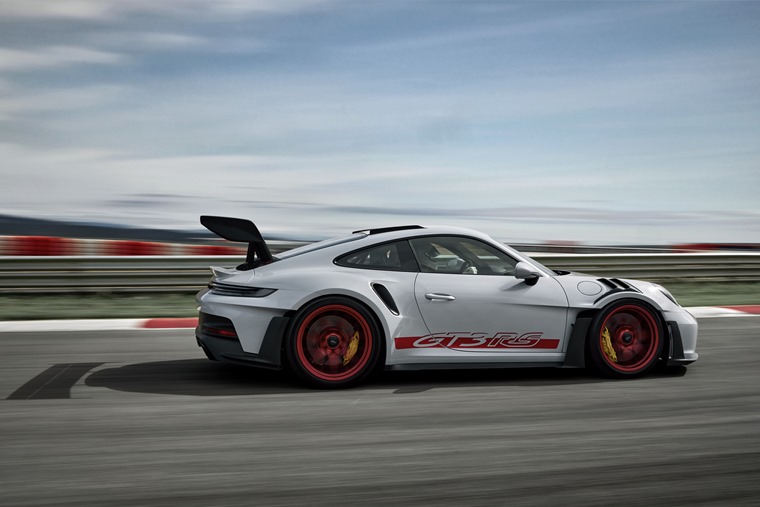 Porsche 911 GT3 RS performance and drivetrain
The RS gets the same 4.0-litre six cylinder turbocharged engine found in the GT3 and numerous other 911s, but there are some tweaks that push power to 525hp. These include revised camshafts to up the revs at the top end.
It gets from 0 to 62mph in just 3.2 seconds and has a top speed of 184mph. All models feature a PDK automatic transmission that's been tweaks to give the driver shorter ratios than more mundane 911s.
Drivers can choose between three models – Normal, Sport and Track. Another mechanical improvement are the front brakes, which now have bigger pistons to deal with that extra power.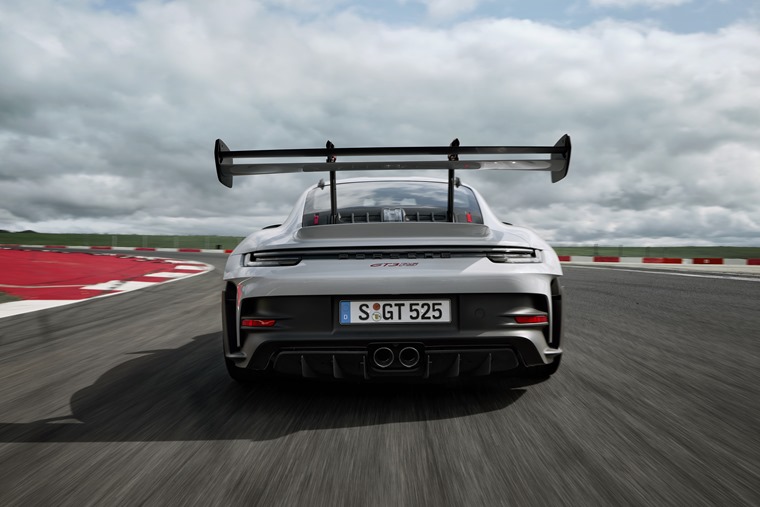 Porsche 911 GT3 RS release date
The 911 GT3 RS is available to order now, costing from a cool £178,500 with prices going upwards of £210,000 depending on the options you pick. You can check out Porsche leasing plans by hitting the button below right now.