Kia EV6: Leasing plans available now
The stunning Kia EV6 is now available to lease, with deliveries due in the UK from October. With monthly payments from less than £500, it's aiming to take on Tesla with its 300+ mile range.
Click on the button below to compare leasing plans now, or carry on reading for everything you need to know.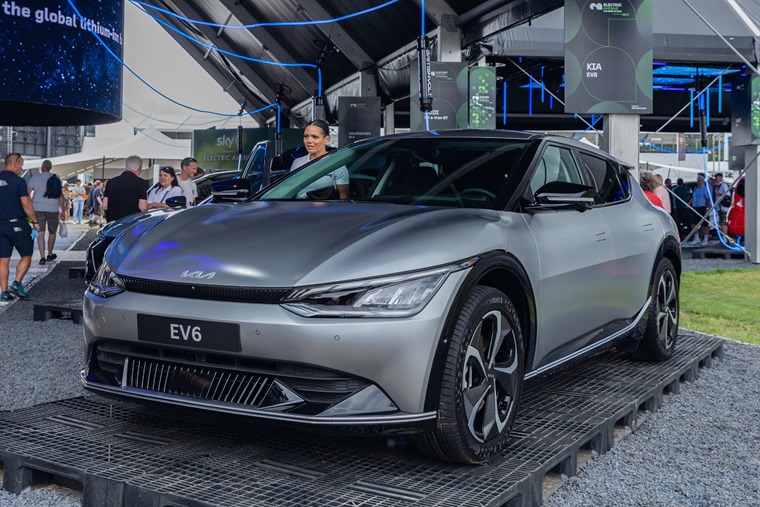 Kia EV6: Five fast fasts
All-new EV gets a range of 328 miles thanks to large 77.4kWh battery
Sporty GT models gets from 0-60mph in just 3.5 seconds
Intelligent daytime running lights gibe the car a "Digital Tiger Face"
520 litres of boot space make it a practical family EV
10% to 80% recharge available in under 20 minutes

Kia EV6 styling
The daytime running lights form part of the car's 'Digital Tiger Face', a design progression evoking the spirit of Kia's 'Tiger Nose Grille' for the electrified era. Modern, sleek and aerodynamic sum up the side profile of the EV6. The rear displays a sloping C-pillar with an integrated black glossy insert, which visually widens the window glass.
The Opposites United design philosophy makes its debut on EV6, and will inform the design of all future Kia models. It is based on five key design pillars: 'Bold for Nature', 'Joy for Reason', 'Power to Progress', 'Technology for Life', and 'Tension for Serenity'.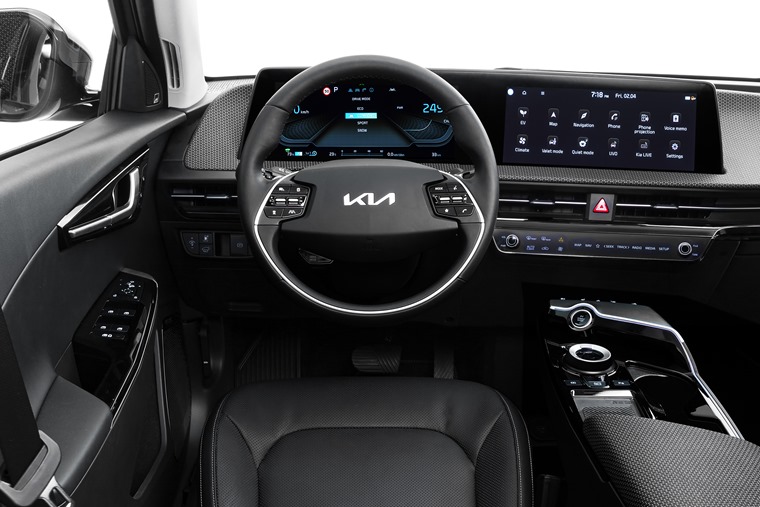 Kia EV6 interior
One of the key talking points is the seamless high-tech curved high-definition audio visual and navigation screen. The EV6's interior design profiles an innovative use of space, creating a unique spatial and driving experience.
The width of the screen creates an immersive experience for the driver, while a minimal number of physical buttons offer an uncluttered and soothing driving experience.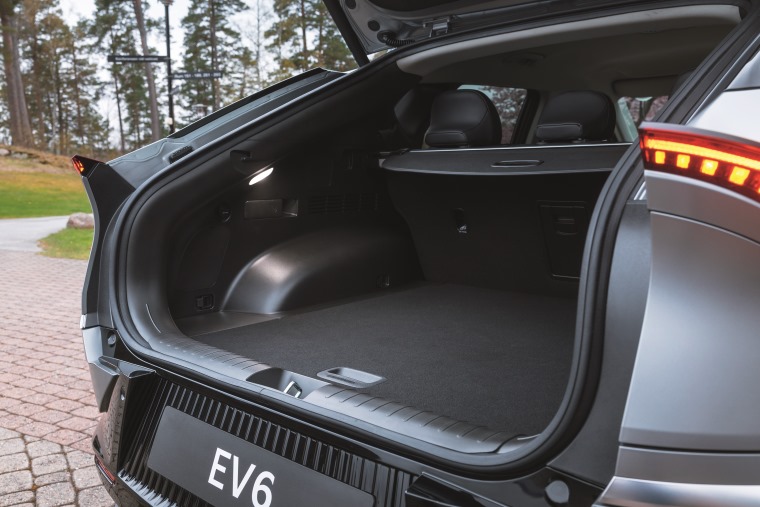 You'll be sitting comfortably too. The seats are slim, lightweight and contemporary, and clad in modern, visually interesting and robust fabrics created using recycled plastics, which create yet greater openness in the cabin.
Round the back, 520 litres of boot space make it one of the most practical cars in its class, and it'll be eyeing up competition such as the Skoda Enyaq and Volkswagen ID.4.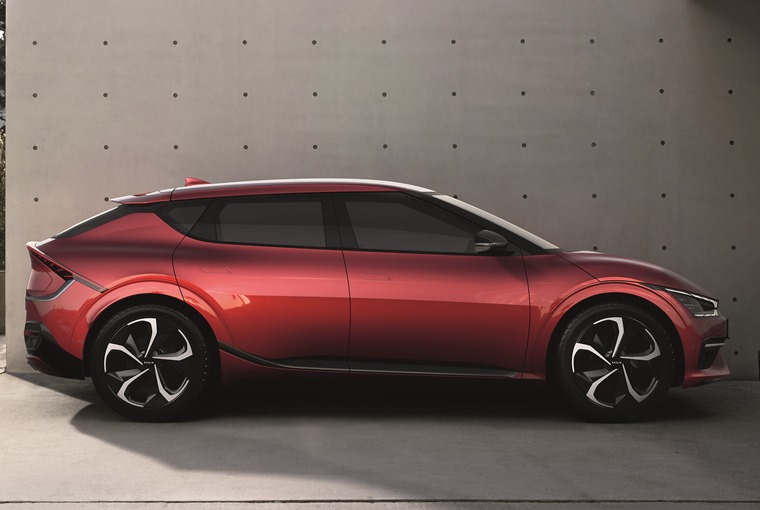 Kia EV6 trim levels
The range kicks off with the baseline EV6, which is priced from £40,895. Next up is the mid-range "sports inspired" EV6 GT-Line, that costs from £43,895. Pricing for the high-performance GT model will start at £58,296.
The entry-level Kia EV6 is rear-wheel drive, powered by a 168kW motor on the rear axle (226bhp). This model offers 19in alloy wheels, electrically folding, adjustable and heated door mirrors, LED headlights, rear lights and daytime running lights, heated front seats and steering wheel and dual zone climate control.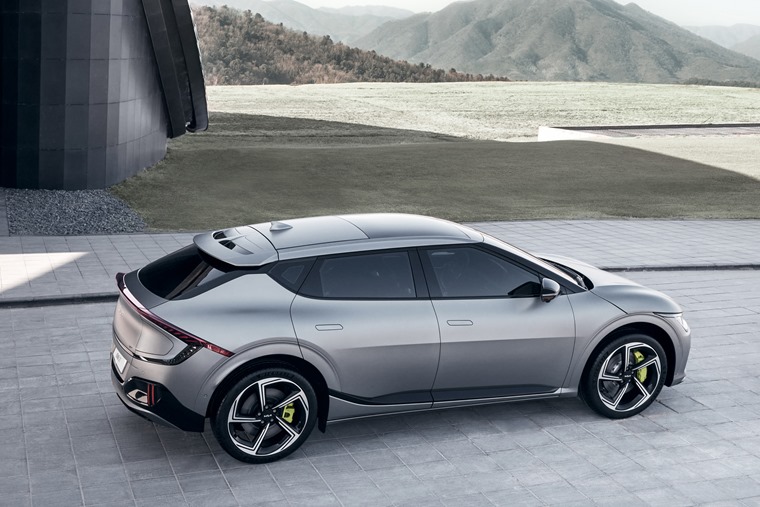 GT-Line models are expected to account for the highest proportion of EV6 sales in the UK, and are available with a choice of drivetrains. The rear-wheel drive model costs £43,895, and is offered with a 168kW (226bhp) rear motor. All-wheel drive models, from £47,395, producing a combined peak power output of 239kW (321bhp) from its dual-motor drivetrain.
Over and above the standard EV6, GT-Line models offer GT-Line exterior and interior styling, black suede and light grey vegan leather two-tone upholstery, front parking sensors, Premium relaxation seats (tilt-back front seats for a 'NASA nap' while charging), Wireless smartphone charger, dual LED headlamps with adaptive driving beam and blind spot monitoring.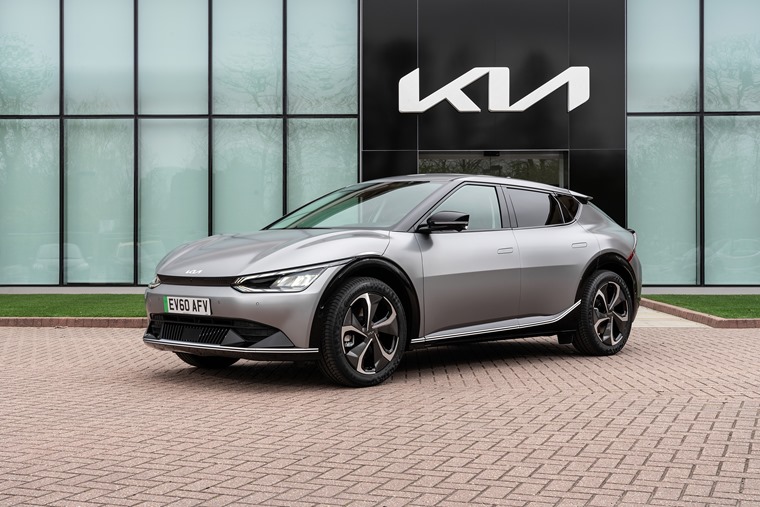 GT-Line S models also offer the same choice of rear-wheel drive and all-wheel drive configurations, and will be available from £48,395 and £51,895, respectively. It gets extras such as a powered tailgate, 20in alloy wheels, a Meridan stereo system and an a augmented reality head-up display.
The range-topping GT model, due in the second half of 2022, features a powerful all-wheel drive system. Its 430kW dual-motor drivetrain offers a combined total power output of 577bhp. Kia engineers currently finalising the development of the EV6 GT are targeting a 3.5-second 0-to-62mph sprint.

Kia EV6 drivetrain
The EV6 will sit on the same platform as the recently revealed Hyundai Ioniq 5 crossover, and is available with two different batteries; 58kWh and 77.4kWh respectively.
The result is that all models will get more than 300 miles of range. The larger battery offers up to 328, while the sport-focused GT manages 315.
The GT gets from 0-60mph in just 3.5 seconds thanks to a twin-motor set-up, but regular models manage the run in 6.2 seconds. Using a rapid charger will allow you to regain an 80% charge from 10% in around 20 minutes – impressive stuff.

Kia EV6 name
The EV6 might be the first all-electric vehicle for Kia, but that's all set to change over the next few years.
The naming strategy of the EV6 will be the first model to feature this simplified nomenclature for its EVs. By 2027, the brand wants to have shifted away from internal combustion.
We can therefore expect EV2, EV3 etc to follow the launch of this car.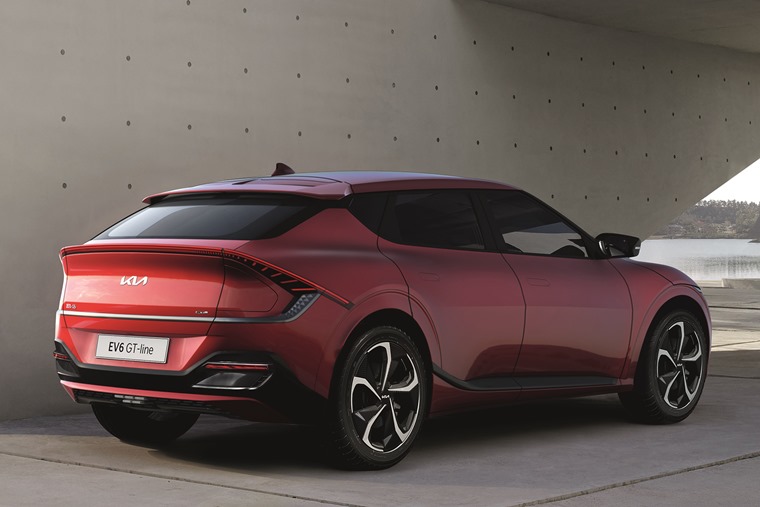 Kia EV6 release date
Deliveries for the EV6 are due to commence in the UK from October, but you can order one right now. There are thousands of leasing plans available to compare already. Just click on the link below.