Crossover conundrum: Nissan Qashqai vs Hyundai Tucson vs Kia Sportage vs Peugeot 3008
It can be a bit of a conundrum deciding which crossover you should lease. We check out some of the most popular to see if one comes out on top.
Crossovers are in, and as popular as ever. We've come a long way since the arrival of the original Nissan Qashqai more than ten years ago, with dozens of similarly sized options on the market. But which ones are leasing customers choosing?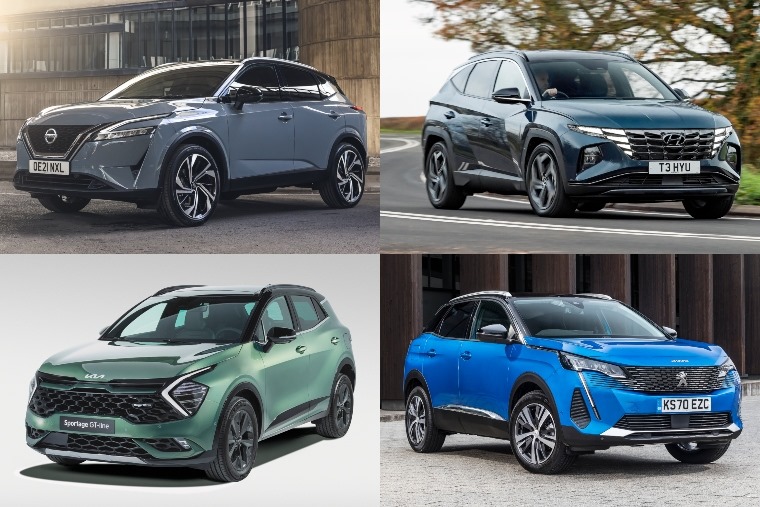 The Nissan Qashqai still rules the roost as far as numbers go, but the competitors nipping at its heels include the Hyundai Tucson, Kia Sportage and Peugeot 3008. What's more, all of these models have recently undergone complete redesigns or, at a minimum, a significant facelift. All are available to lease right now. So which one's the best?
We decided to carry out a direct head-to-head comparison in all the important areas – styling, interior, practicality and drivetrains – to give a hand to those that are still on the fence about which to choose. Let's get to it.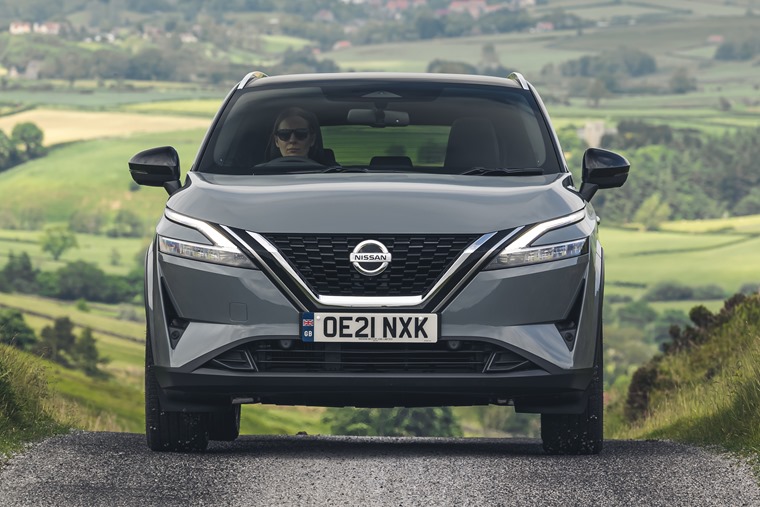 Styling
Styling is of course a subjective thing, and some might say that by choosing a crossover-shaped car you'll be missing out on it. Some might go as calling the majority of crossovers a little bland. But time are changing. It seems manufacturers are listening, and the external design of these cars proves that crossovers can stand out from the crowd.
Let's start with the Qashqai. The old model was so popular that Nissan could really have left the styling of the new one well alone. Instead, they decided to give it an all-new appearance. Up front, there's a large grille with a slim set of headlights that recess into the bumper and bonnet line. Changes were a little less drastic at the rear, but it's certainly offers a more individual look than its predecessor.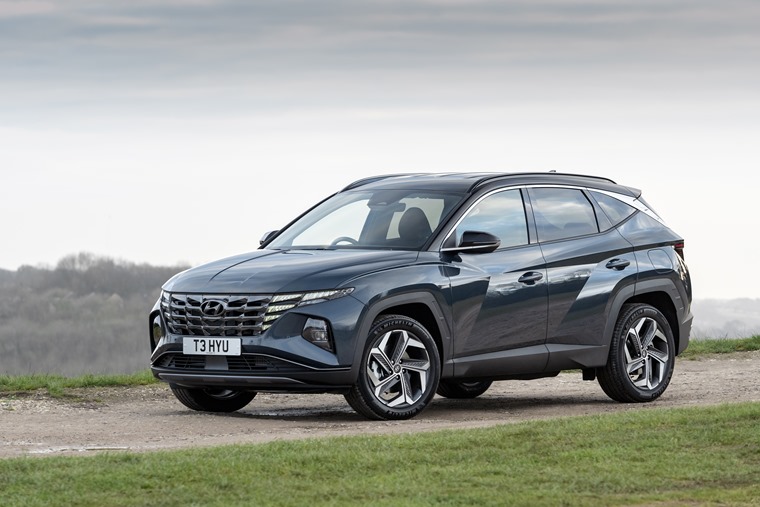 Still a little too bland? Enter the Hyundai Tucson. The all-new model is larger than before, with its centre-piece being the front headlights that mould effortlessly into the grille. Hyundai calls them "parametric hidden lights" and when they're switched off, appear to be completely flush with the grille. The rear lights feature a full-width bar and are equally as stunning.
The Kia Sportage might sit on the same platform of the Tucson, but it doesn't look like it. Up front you'll find Kia's latest styling cues including "boomerang" daytime running lights and a huge honeycomb grille. It's still an eye-catching design, but a little more conservative than Hyundai's futuristic front end. You'll have to wait until next year if you want this all-new version though.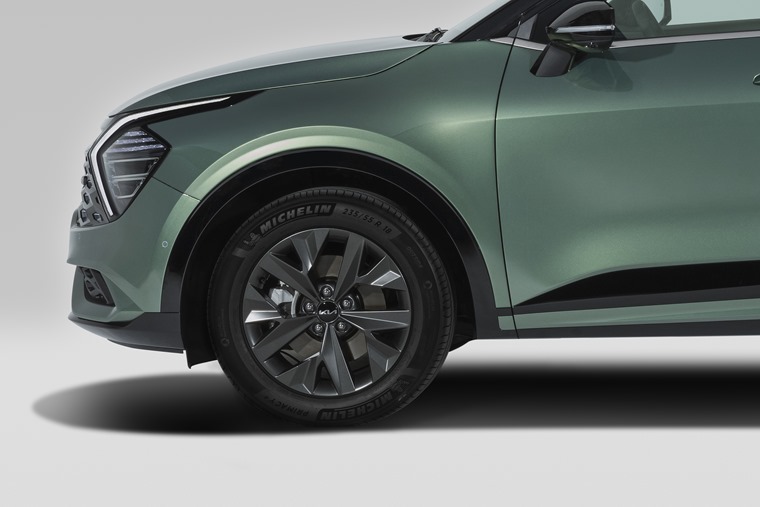 Finally we've got the Peugeot. It was the 3008 that originally put the French company on a roll a few years back, and the facelifted car continues this trend. The front is more squared off before, helping the stunning frameless grille design to really stand out. The rear end gets a new set of tail lights too and, despite it now being oldest design here, it's arguably still the sleekest.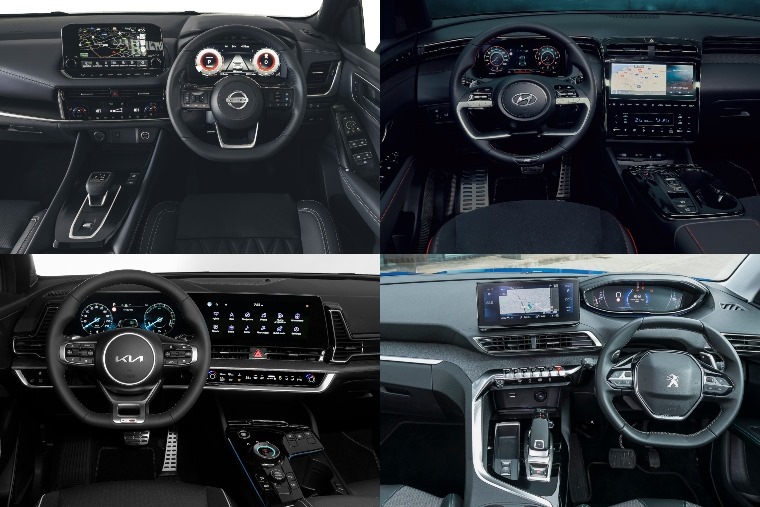 Interior, infotainment and practicality
The outgoing Qashqai pales in comparison to the new one. It feels like a premium car that'll stand up well to family life. There's a new digital driver display that's vivid and displays key information well, although the 9in touchscreen infotainment system isn't a class leader. That said, it's compatible with both Android Auto and Apple CarPlay which gets round this issue.
Passenger space has also increased compared to the old model, with rear passengers enjoying more legroom. There's 503 litres of boot space too, although this isn't as large as some of the other cars here.
Hyundai's quality has come on leaps and bounds in recent years, and that shines through in the new Tucson. The driver gets a 10in digital display, and lots of the physical buttons are touch-sensitive – a nice up market feature for a car at this price point. The 10.3in infotainment system provides a vivid display and good feedback, and is compatible with Android Auto and Apple CarPlay too.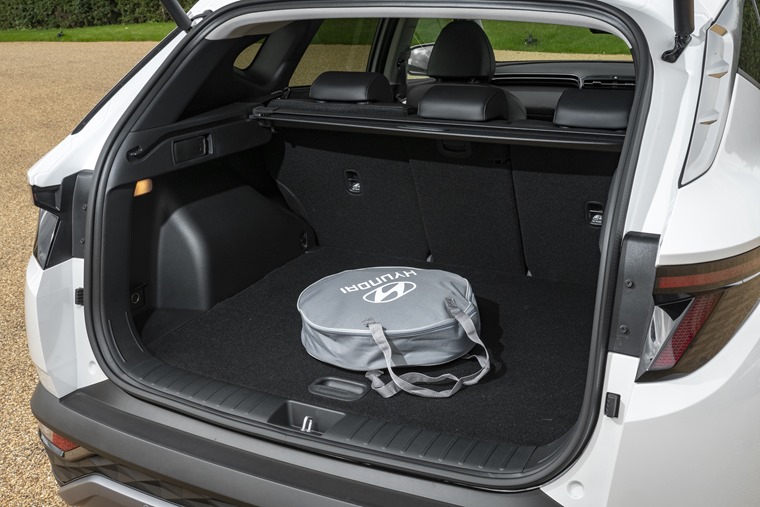 There's an impressive 620 litres of boot space on offer, although that extra space means rear passenger room isn't quite as impressive as the Qashqai and 3008.
The new Sportage takes a serious step up in the technology stakes compared to the outgoing model. From the driving seat, you'll find a digital driver display and infotainment system that neatly blend into one physical panel. Both screens are 12.3in in diameter. Ergonomics have taken a step up too, has room – exact specs are to be confirmed, but there's more rear leg room, storage capacity and boot space than before.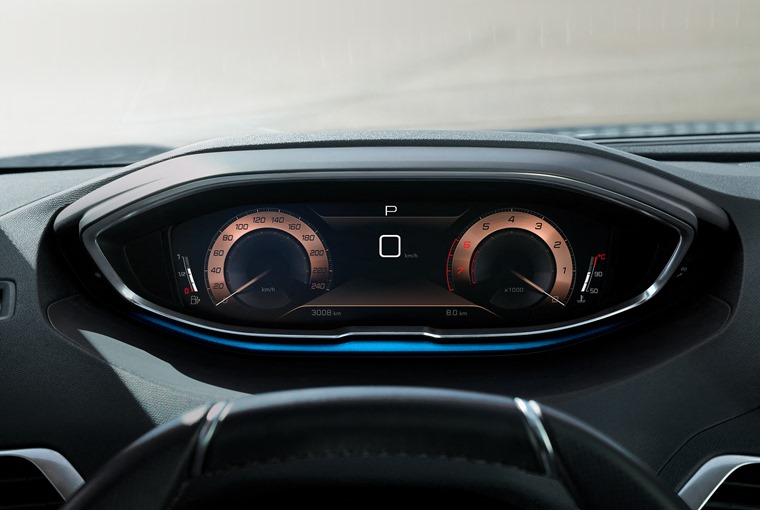 If you're after the ultimate comfortable cruiser, the 3008 might be the one that wins. The updated model gets Peugeot's latest iCockpit digital display, while the small steering wheel provides more feedback than you might expect. Entry-level models get an 8in touchscreen, but most will feature a 10in system that also benefits from sharper graphics. The overall feel of the interior is a little more "special" than the others on this list, although build quality isn't quite as sharp as either the Nissan or the Hyundai.
With 520 litres of boot space, the 3008 falls between the Qashqai and Tucson in terms of load lugging capacity, but the cabin feels light and airy by comparison. We don't know if it's the comfortable seats or the general ambience, but we'd rather do a long journey in the Peugeot.

Drivetrains and engines
Diesel is out and the whole automotive world is going hybrid – whether that be mild-hybrid, full hybrid or plug-in hybrid. That's the message you get when taking a look at the engine options of this bunch anyway.
The Qashqai is available with two version of a 1.3-litre petrol engine – both of which use mild-hybrid tech to improve economy and reduce emissions. Both models achieve more than 40mpg combined, and the most powerful version is available with an automatic gearbox and an all-wheel drive system. There will be plug-in hybrid version available soon, which is set to use a 1.5-litre engine, although this won't arrive until sometime in 2022.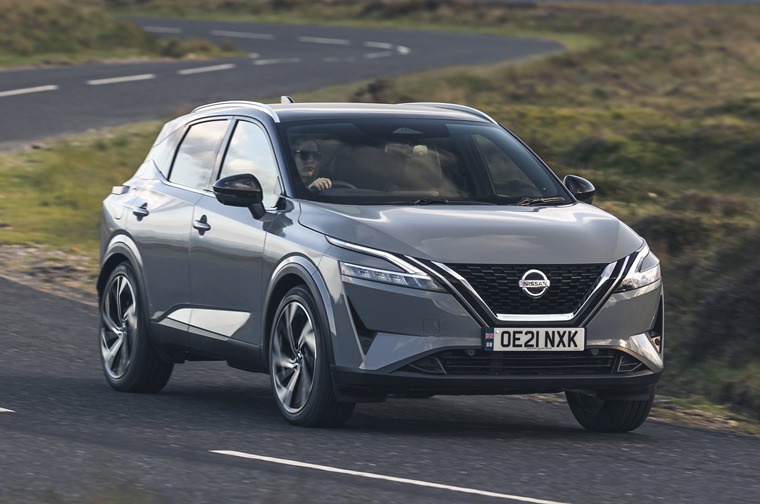 The Tucson is available with a range of 1.6-litre engines that provide punchy power and can be specified with mild-hybrid tech. This includes a 175hp version that features an automatic gearbox and four-wheel drive as standard. You'll also find a 225hp full-hybrid in the range, which also features an automatic gearbox. The range-topping model is a plug-in hybrid, which produces over 250hp and can manage up to 38 miles of electric-only range.
Just like the Tucson, the Sportage is available with a range of mild hybrids, as well as a plug-in model. All drive well and are comparable to its Korean sibling in terms of power.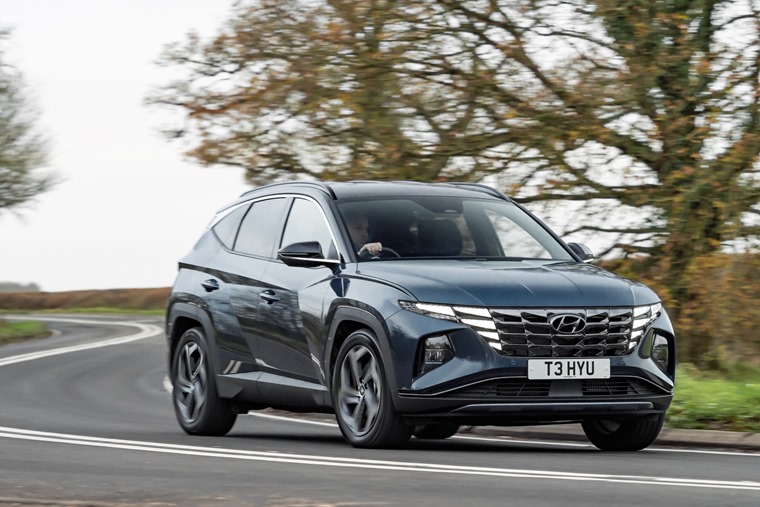 The Peugeot is the one to go for if you still want diesel power – a 1.5-litre unit remains on offer and is available with both manual and automatic gearboxes. However, most people will opt for one of the petrols or the plug-in hybrid.
The entry-level 1.2-litre unit produces 130hp which is more than adequate for most people, although a more potent 1.6-litre is on offer. It produces 180hp. Both plug-in hybrid options feature more power – 225hp and 300hp respectively. The pair offer around 38 miles of all-electric range, although for a car with more than 200hp, the least powerful variant isn't as swift as you might expect.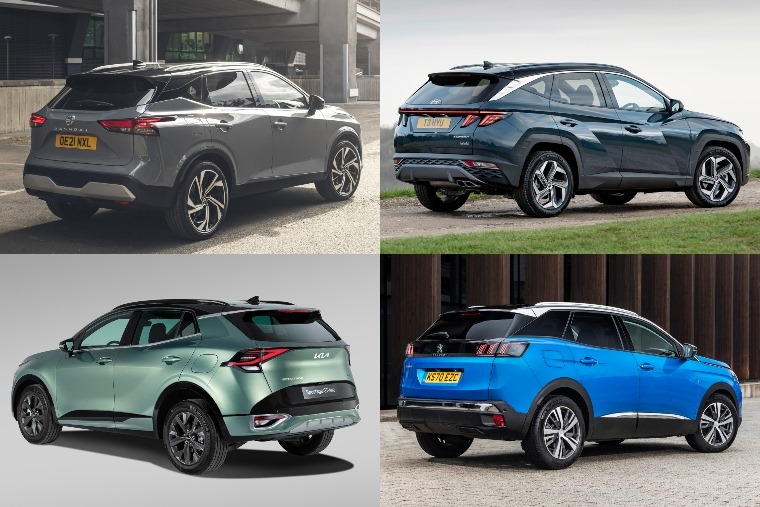 So which one should you lease?
All of these models use more or less the same formula to provide practical family transport. But which one should you choose? Currently, the Nissan still reigns supreme in terms of popularity. The new version has added just enough new style and tech to ensure it remains the go-to choice for many.
But for those after something a little more individual, the Tucson is the better option. Its stunning looks and impressive interior are really exceptional for a car in this class. The Sportage is for those that value the Tucson's practicality, but want styling that's a little more muted.
The Peugeot is the oldest of the bunch but still competitive. It's comfortable, good looking and still has the best looking interior. Which one you prefer is still ultimately down to your personal preference. Us? It's a close on, but rather predictably we'd go for the Qashqai. Why?
When it comes to a family car, price always comes into the equation, and there's currently Qashqai leasing offers for less than £200 per month – that's amazing value for such a smart all-new model.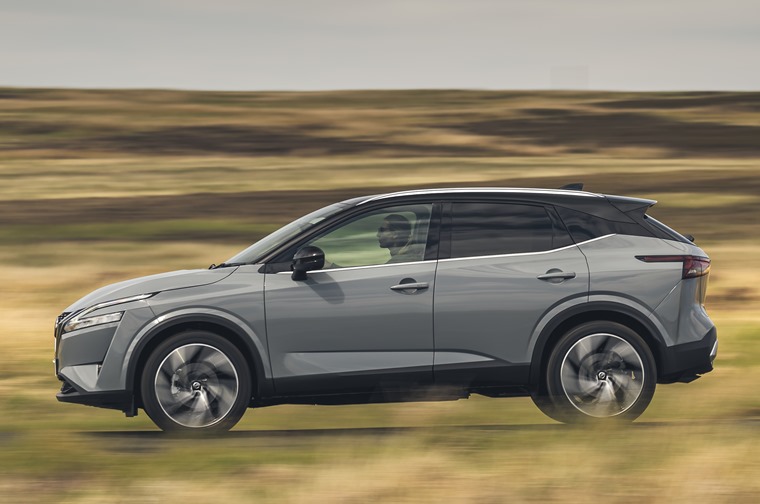 But for a seriously affordable family car that's packed full of tech, looks great and offers great practicality, you can't go wrong with the Qashqai. Prices obviously vary depending on trim and time, and are subject to change. If you're ready to start comparing prices on any of these crossovers, just click on the buttons below.
You can also browse our range of low-cost leasing offers with these vehicles in mind. Find your dream car today.