Toyota lease deals to suit a range of monthly budgets
Advertising feature
If you're looking for a Toyota lease deal in 2022, you really are spoilt for choice. The manufacturer has a plethora of models on offer – for a wide range of budgets. Whether it's a compact crossover, a practical family SUV or a sleek sports car, there should be something in the range to suit your requirements – and your budget.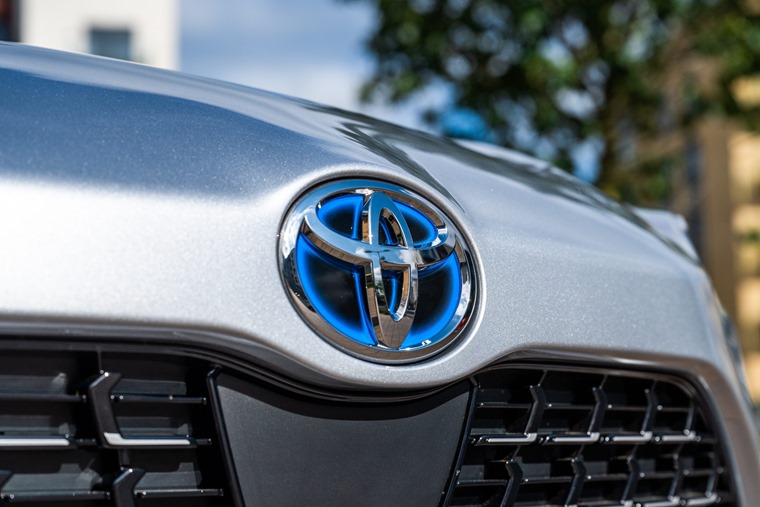 With that in mind, we've examined a handful of the models currently on offer at a range of price points. Toyota monthly payments start from well under £250 per month, rising to more than £400 for more prestige models. So, what exactly can your budget get you in the Toyota range?
Under £250 per month
Toyota Yaris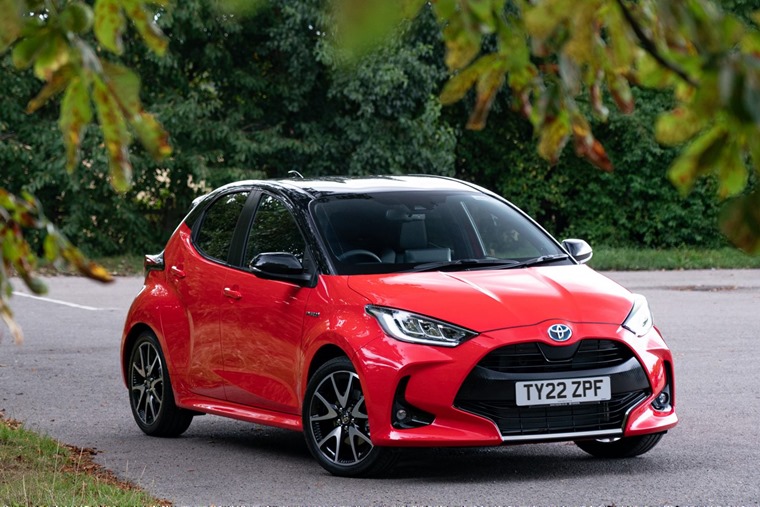 The Toyota range kicks off with the Yaris and, if you're in the market for a small hatchback, it should certainly be on your shortlist. Like several new Toyotas, the Yaris now features exclusive hybrid power which combines a 1.5-litre petrol engine and electric motor to allow an average above 50mpg.
Motoring journalists have heralded it as the best small hybrid car, and it's not just because of that excellent drivetrain. An infotainment system with Apple CarPlay and Android Auto feature on all models, while the driving experience itself has been praised for its fun handling and sharp dynamics.
Price-wise, this is arguably the entry into Toyota's line-up, so you can expect prices to start from around the £225 per month mark – depending on the rental profile of course.
Compare Toyota Yaris lease deals
Toyota Aygo X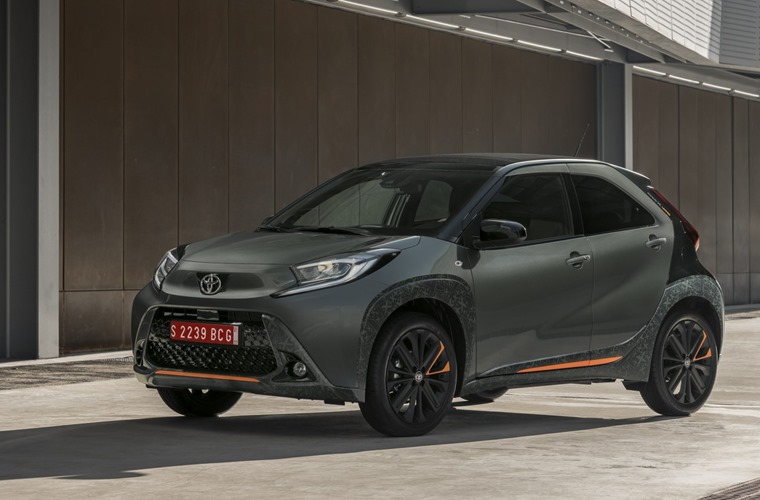 The Toyota Aygo X is one of the newest models to join the line-up and replaces the old city car, proving that there's room for manufacturers to produce affordable superminis. From the back, its unmistakably related to the old model, but in all other areas the styling is more grown up. The front gets a bold new look, while the chunky bodykit and raised ride height give it crossover appeal.
The larger body pays dividends on the inside, with passenger, boot and storage space all vastly improved. Like all Toyotas, you benefit from an excellent infotainment system that features Apple CarPlay and Android Auto as standard.
The best bit? Monthly prices are pretty much like-for-like with the Yaris and, while you don't get the hybrid drivetrain, that crossover styling might be enough to sway some away from the hatchback.
Compare Toyota Aygo X lease deals
Toyota Yaris Cross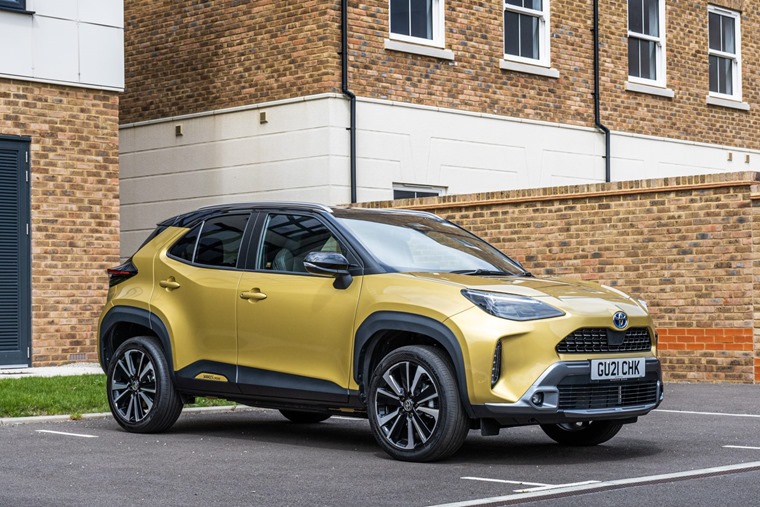 What if you could combine SUV appeal with the compact practicality that makes the Yaris so popular? Well good news… that's exactly what Toyota has done with the Yaris Cross. It's much more heavily influenced by the company's larger SUVs than the Aygo X is, meaning class-leading passenger space, impressive tech and an optional four-wheel drive system.
And for the price, we're struggling to think of a more complete package. The Yaris Cross still costs from less than £250 per month, meaning you don't necessarily have to pay significantly more if you want more space than the Yaris hatch offers.
Compare Toyota Yaris Cross lease deals
Toyota Corolla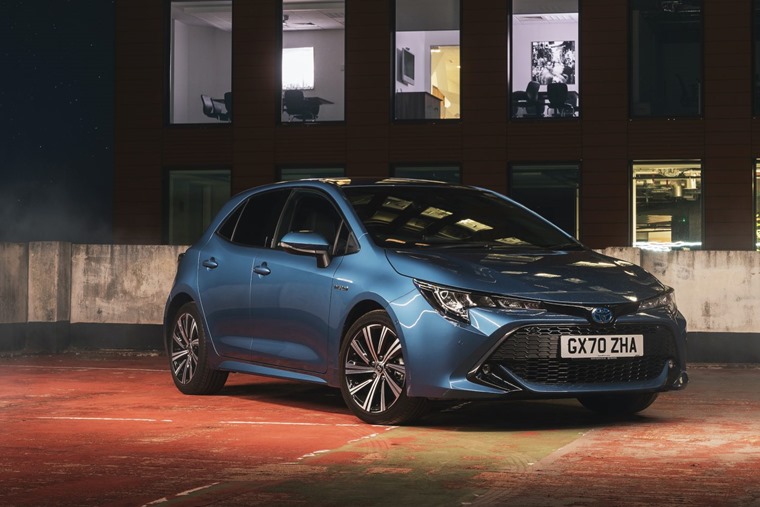 Tens of millions of people can't be wrong: Did you know the Toyota Corolla is the most popular car in the world? Returning to the UK after a hiatus, the Corolla is once again spearheading the Toyota brand in each of its respective segments. That's right – the Corolla is available as a hatch, saloon and estate – meaning there's something in the range for everyone.
No matter which you opt for, you'll get a fantastic hybrid drivetrain that uses either a 1.8-litre or 2.0-litre petrol engine. Combined with the smooth CVT automatic transmission, they offer a really relaxing driving experience. With all variations currently on offer for less than £250 per month, they all offer fantastic value.
Compare Toyota Corolla lease deals
Under £300 per month
Toyota C-HR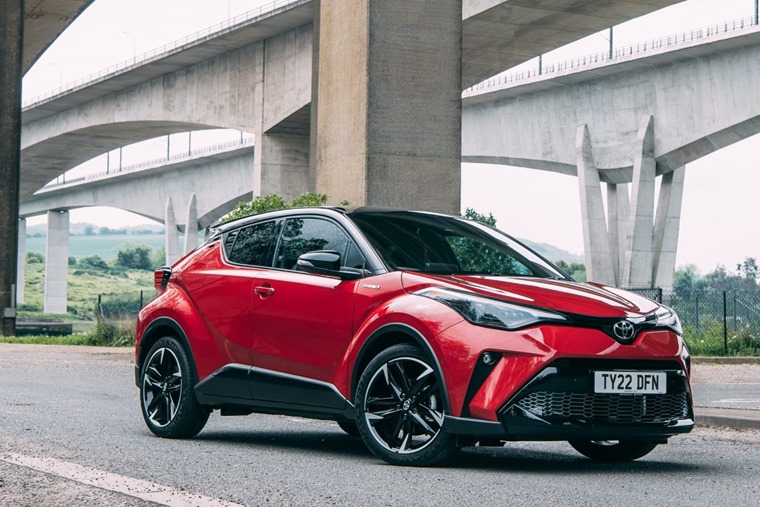 If you're looking for an SUV that offers something a little different from the norm, look no further than the C-HR. It might be high riding, but styling wise this car is as sleek as many coupes. The swooping rear roofline helps it stand out from the ever-growing SUV crowd.
The interior is full of top notch soft-touch plastics, as we've come to expect from Toyota. The brand's hybrid engines are on offer too, with the most economical of the pair offering an incredible 74.3mpg. It might not be as new as some Toyota SUVs, but it remains a breath of fresh air in a packed marketplace.
Compare Toyota C-HR lease deals
Toyota Proace Verso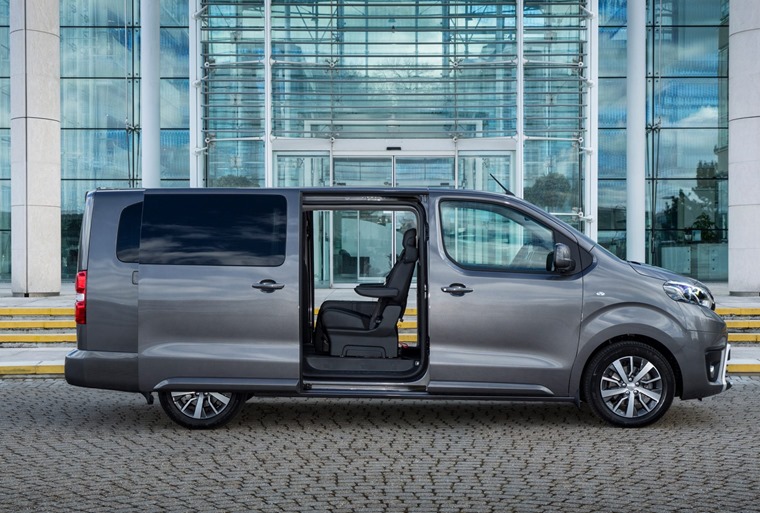 And now for something completely different – the Toyota Proace. It might be based on the van, but that means in terms of outright practicality, nothing in this price range can really beat it. There are two versions of this minibus – Long and Medium.
Seven, eight and nine seat versions are available, and both models have enough luggage capacity left over for everyone. Even the nine seater still has 550 litres of luggage capacity – significantly more than MPVs with seven seats like the Galaxy and V-Class.
And the cost for all this versatility and space? Monthly prices start from less than £300 per month.
Compare Toyota Proace Verso lease deals
Under £350 per month
Toyota RAV4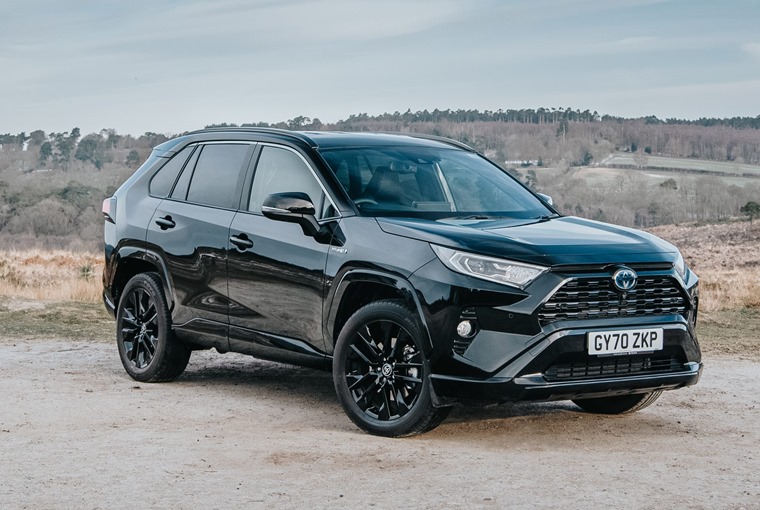 If you're in need of a large, family SUV, the Toyota RAV4 is a tempting proposition. With angular styling and imposing size, it's that little bit larger than many rivals like the Nissan Qashqai and Kia Sportage.
It also gets a larger hybrid drivetrain than other models, featuring a 2.4-litre unit. That isn't to say it's any less economical though – expect at least 50mpg. Despite its battery-assisted power, there's still plenty of space. The boot, for example, is more than 50 litres bigger than the one in a Qashqai.
With a budget of up to £350, you'll find a RAV4 is well within reach.
Compare Toyota RAV4 lease deals
Over £400 per month
Toyota Land Cruiser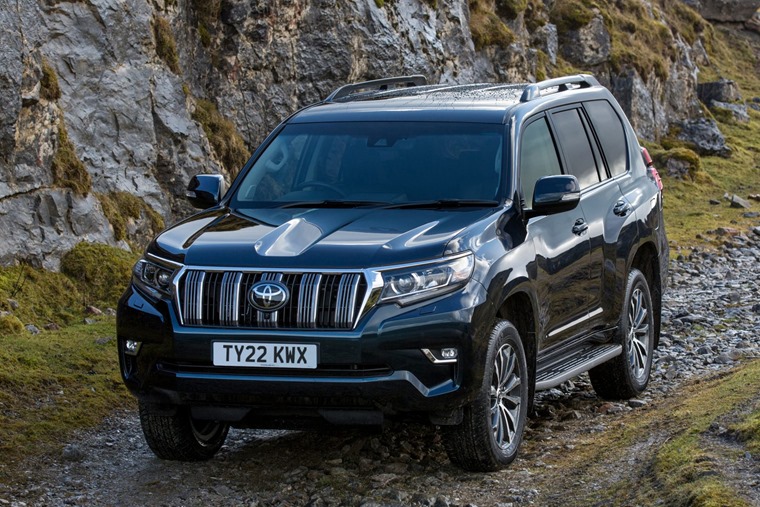 As capable mud-plugging machines go, the Toyota Land Cruiser has consistently topped the charts for decades. In 2022, things are no different. It's rugged, available in a host of formats and most importantly, can compete with any product thrown at it from other four-wheel drive manufacturers.
It might not be as refined or relaxing to drive as some of Toyota's smaller SUVs, but as far as outright off-road performance is concerned, nothing comes close.
Compare Toyota Land Cruiser lease deals
Toyota GR Supra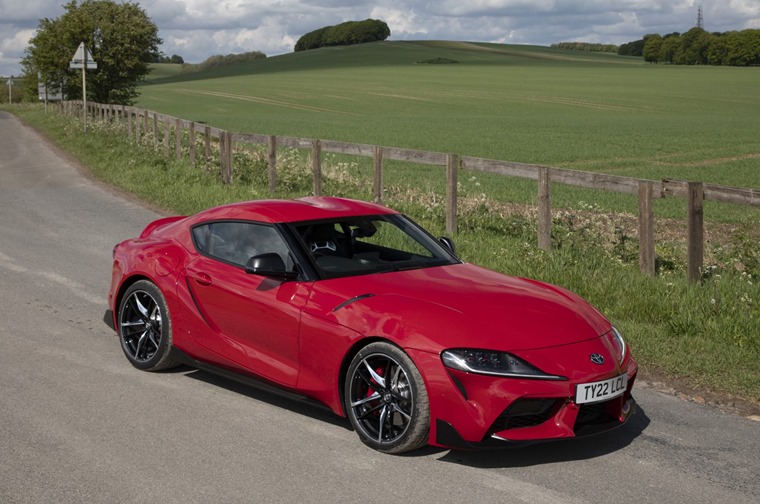 Toyota arguably has plenty of "halo" cars in its bow. The innovative Mirai perhaps, or maybe the new bZ4X electric car. But for us, this is it. With a rich sporting heritage, stand-out style and a driver-focused cabin, the GR Supra is the definitive sports car.
Available with a potent 2.0-litre turbocharged petrol engine or a potent 3.0-litre V6, both models get from 0-62mph in less than 5.5 seconds, and its rear-wheel drive and near-perfect weight distribution make it one of the most nimble cars on the market. If you're looking for outright performance rather than practicality, the GR Supra is the Toyota for you.
Compare Toyota GR Supra lease deals
Can't see what you're looking for?
The above models are just a selection of the current and upcoming vehicles on offer from Toyota. You can find hundreds of deals on all models directly from our advertising partner Kinto by clicking the link below. Alternatively, you can check out the latest Toyota reviews on our YouTube channel here.