First Drive Review: Fiat 500 2016
The Fiat 500 has been a monumental success for Fiat, selling an ever-increasing number year on year. It's proved to be so popular that Fiat has stretched the 500 brand from its city car roots to the 500L MPV, the ungainly 500L MPW seven-seater and most recently the excellent mini-SUV 500X.
Seven years later, the 500 is beginning to feel its age a little, so Fiat has revised it to such a degree that it's calling it the 'new' 500.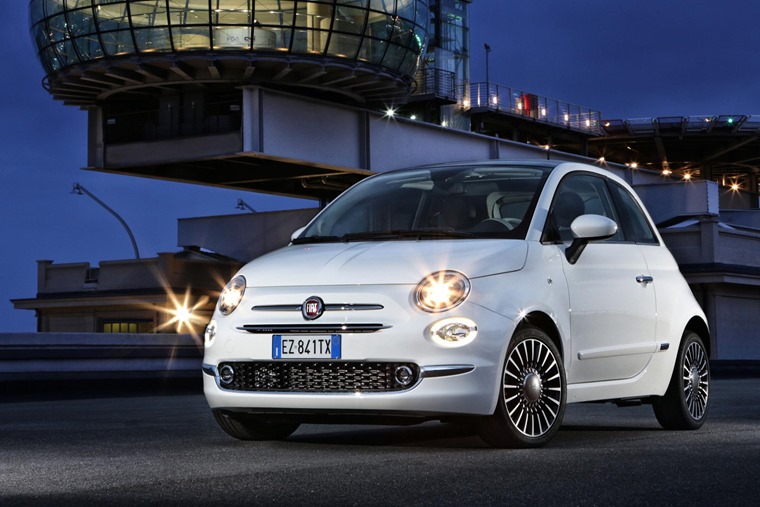 FIAT
500
1.2 Collezione Fall 3dr
Profile:
9+47
Mileage:
5k Miles p/a
£120.99
Per Month, INC VAT
Initial Payment: £1,088.91
Personal Leasing Deal by: Jet Vehicle Finance
Not so new
It isn't that new though. While there may be some 1,800 parts that have been changed, it still remains the 500 we know and love. Glance and you might not even spot that it's changed, but there have at least been plenty of changes behind the metalwork.
Externally, there is a new chrome strip across the front of the car, larger LED daytime running lights and, on the Lounge-spec car tested here, a revised lower grille with added chrome. The ordinary rear light clusters have been replaced by ring-shaped units with body coloured metal inserts in the middle, while there's a new chrome-clad area of the bumper that houses the fog and reversing lights.
There are also a couple of new wheel designs and a couple of extra colours to choose from. Radical, it isn't, but you don't mess with a recipe that's generating so much money for the company.
More has gone on inside, with a big step forward in design that leaves the 500 retaining its retro-vibe but with a bang-up-to-date dashboard. That's thanks to a five-inch Uconnect infotainment screen that sits high up on the centre console, between the air vents. The high-tech look continues in front of the driver, with a new all-digital instrument panel.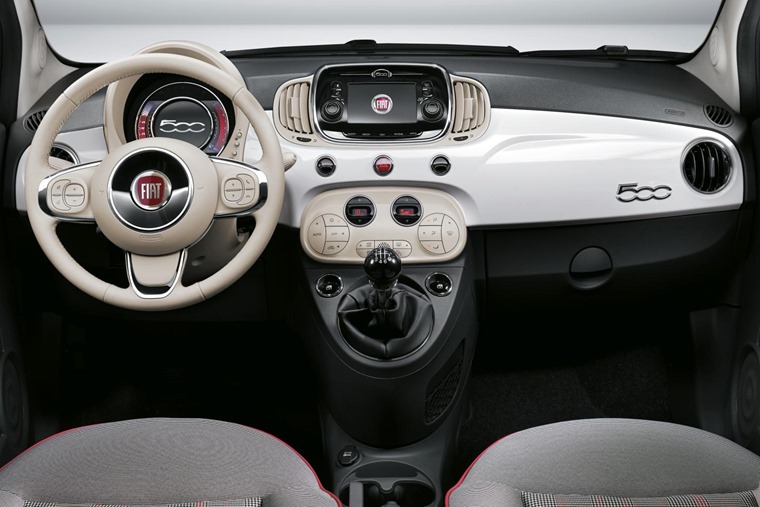 Search all our Fiat 500 leasing deals here: Business / Personal
A new steering wheel design with buttons to control the audio system and a lid for the glove box mark out the other significant cosmetic changes. Aux-in and USB sockets now come as standard across the range, with air-con being standard from the mid-range Pop Star model.
A new range of personalisation options are also available, including a 'second skin' – these provide a choice of six factory fitted vinyl wraps over the upper part of the car, from bold zig-zag lines to pseudo camouflage. A wider choice of interior colour schemes helps individualise things too, as will Fiat's Mopar programme that will add another 100 or so options.
Buzzy nature
Every engine has been revised slightly to meet the new Euro 6 regulations. The 0.9-litre TwinAir turbocharged engines produce 84 or 104bhp, with the 1.2-litre petrol making do with just 68bhp. A 1.3-litre diesel engine will join the range soon, but it was the ever popular 1.2 option fitted to our test car.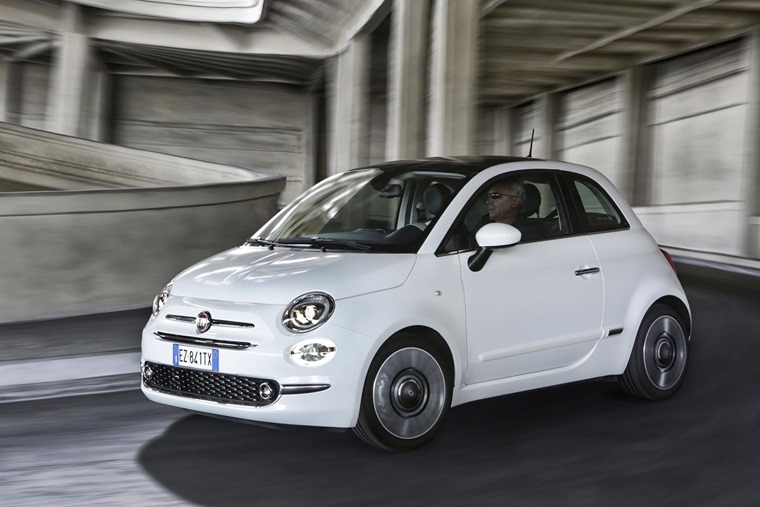 Combined with a five-speed manual gearbox, 60.1mpg is promised. That's going to be an optimistic target though, as the engine is low on power so needs working hard to make anything approaching swift progress. The 0-62mph sprint takes 12.9 seconds, but it feels longer than that. Stay within the confines of the city and the buzzy nature of the car comes in to own, but the constant braking and acceleration will take its toll on economy.
The soft suspension makes it ride quite nicely in urban areas too. It doesn't quite glide over imperfections in the road, but it doesn't let potholes and cracks bother it too much. Likewise, light and precise steering makes it a breeze to navigate through narrow roads and around parked cars.
Leave the city and it starts to fall apart a little, the 1.2-litre engine being out of its depth on a road with more than a 40mph limit. The soft suspension also fails to settle properly, making cruising something of a chore.
While we're being critical, the quality of some trim is sub-par, there's a lack of equipment lower down the range, and the boot and rear seats are laughably small. Prices are also eye-wateringly high, with the Lounge spec car we drove costing well over £12,000.
The verdict
The odd thing about the Fiat 500, though, is that none of those issues matter. In seven short years it's become almost iconic, with a chic character that nothing else on the market can match. The Fiat's sense of style and fun trumps the fact that there are better cars in the market, and almost all of them are cheaper.
The 500 is as desirable as it's ever been, which is why Fiat hasn't messed with the winning formula.
Fiat 500 1.2 69hp Lounge at a glance
Engine: 1.2-litre four-cylinder petrol
Power: 69 PS (68 bhp)
Torque: 102 Nm (75 lb ft)
Kerb weight: 865 kg
Top speed: 99 mph
0-62 mph: 12.9 seconds
Official combined fuel economy: 60.1 mpg
CO2 Emissions: 110 g/km
VED Band: B / £20 per year
Car insurance group: TBC