2022 Vauxhall Astra: Lease deals available now
The all-new Vauxhall Astra is now available to lease, with prices from less than £250 per month. Featuring plug-in power, a brand-new look and high-tech interior, it's set to take on the Volkswagen Golf.
You can compare leasing plans right now by hitting the model below, or read on for everything you need to know.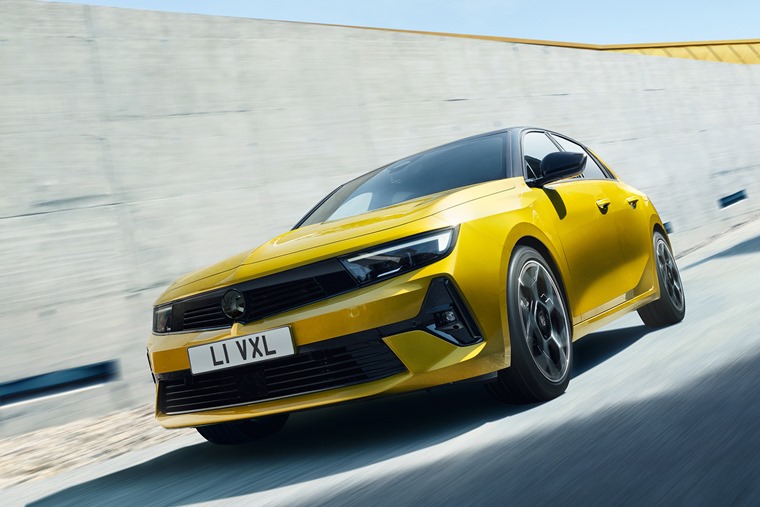 Compare Vauxhall Astra leasing plans
2022 Vauxhall Astra fast facts
Before we dive into the detail, here's five fast facts about the all-new Astra:
It gets a completely new design incorporating Vauxhall's 'Vizor' look
The boot is larger than the latest Volkswagen Golf
Pure Panel infotainment tech combines two 10in monitors on all models
Semi-autonomous driving technology will be on offer
Two plug-in hybrid models will be available

Vauxhall Astra styling and design
First things first – the Astra has grown slightly. At 4,374mm in length, the wheelbase is more than 10mm longer than before. This means that the Astra now offers class-leading passenger and luggage space that can out-do rivals like the Golf – but more on the interior later.
If you thought Astras of old were a little plain, this eighth generation model is the one that'll change your mind. It has been redesigned from the ground up, featuring the same styling cues as cars like the new Mokka and Grandland SUVs.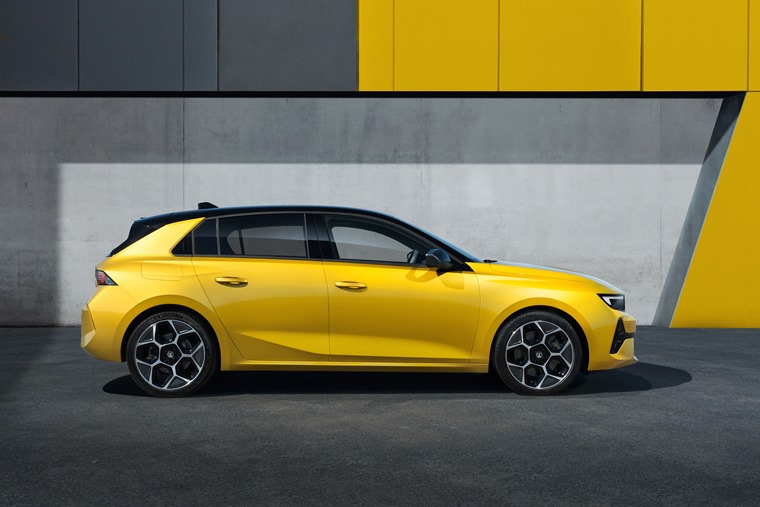 That means up front you'll find Vauxhall's new 'Vizor' grille. It's flanked by the brand's Intellilux LED headlights, which feature dozens of LED elements that allow quick and automatic beam adjustment.
At the rear, there's a sleek set of tail lights that, from some angles, look similar to a Golf. Just like the front, these are LED units that are designed to save energy and offer excellent visibility. The boot lid gains Vauxhall's latest crest, along with 'ASTRA' inscription below.
The press snaps show the Astra will likely be available in a range of vibrant two-tone paint schemes along with contrasting alloy wheels. We'll have to wait for exact specifications to be revealed before we can confirm exact trim details though.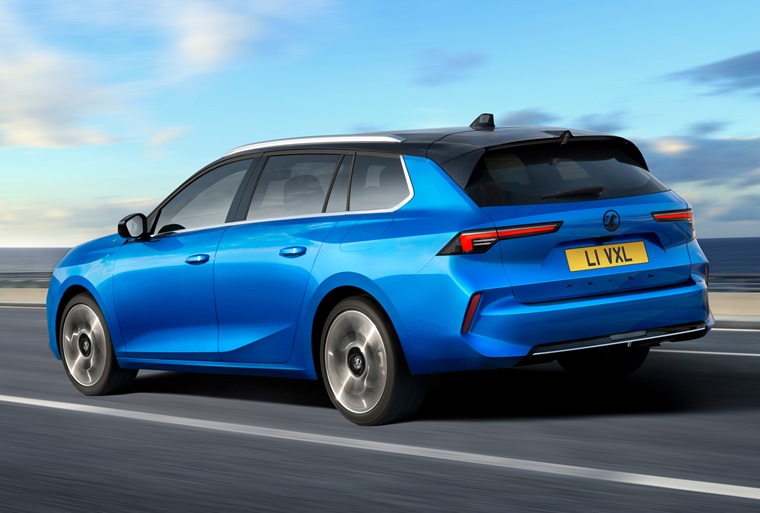 Vauxhall Astra Sports Tourer
The Sports Tourer is essentially the estate version of the Astra, so as you'd expect it retains a lot of the design. It's identical at the front end, but move around the side and you'll discover a much longer body with a third window stretching way into the C pillar behind the rear door.
With 608 litres of boot space in the petrol and diesel models, the Sports Tourer is set to be one of the most practical cars in its class. Space is reduced to 548 litres for the plug-in hybrid version, which will be available from launch. You can read about the rest of the engine range below.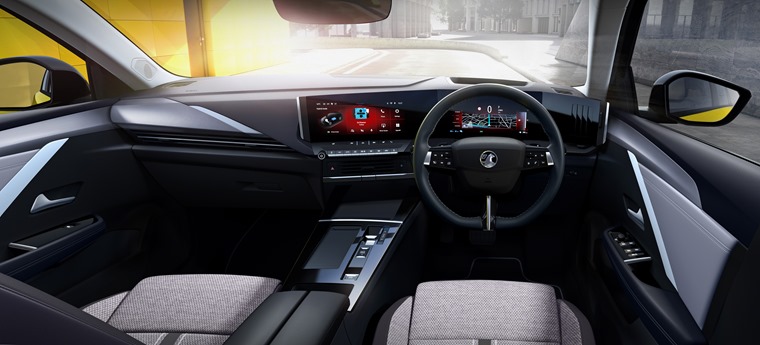 Vauxhall Astra interior and tech
Just like the outside, the Astra's interior has benefited from a complete redesign too. Starting at the driver's seat, the position has been changed to give a more sporty and comfortable position. The seat is actually around 12mm lower than before, while a simplified digital instrument cluster can be found behind the brand-new steering wheel.
This digital displays are known as Pure Panel, and we've already seen them in action on the Mokka. It combines two 10in monitors – one in front of the driver, and one for the infotainment system itself. The system also means that most buttons have been done away with; you now operate the climate control via the touchscreen interface.
It's compatible with both Android Auto and Apple CarPlay for easy smartphone mirroring too. Other clever tech includes a semi-autonomous driver assistance system. This uses a raft of cameras and sensors to adapt the driver's speed and direction, minimising the risk of collisions and reading the road ahead.
Adaptive cruise control also allows speed to increase or decrease depending on the vehicle speed ahead which, when coupled to an automatic gearbox, can resume driving automatically with a "Stop and Go" system. The system will also allow semi-automatic lane changes if the road conditions allow for it.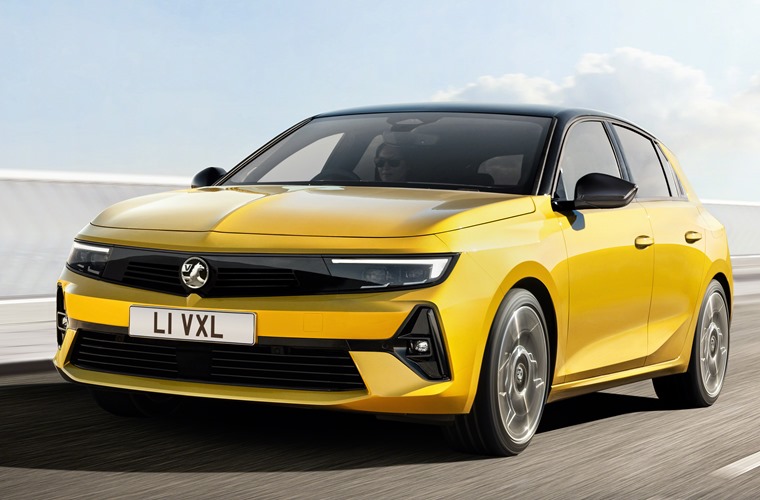 Vauxhall Astra drivetrains and platform
The new Astra sits on an EMP2 multi-energy platform. This new set-up means that the car is stiffer and more composed than before; in fact its rigidity is 14% higher than its predecessor.
Perhaps the biggest move forward for the new Astra is the fact it'll be available as a plug-in hybrid for the first time. Exact drivetrain specifications are to be confirmed, but the line-up is likely to include a number of 1.2-litre petrol units, 1.5-litre diesels and two plug-in hybrids.
The latter is likely to use an eight-speed automatic gearbox and produce up to 225hp. Expect between 30 and 40 miles of electric-only power to be on offer, too. We'll bring you more details as and when they are revealed.
All-electric Vauxhall Astra-e
From 2023, a fully electric Astra will join the range. Vauxhall has already got several EVs including the Corsa-e, Mokka-e and Combo-e Life. We'll hear more about the range and drivetrain in due course, but it should use the same basic technology seen in other Vauxhall EVs.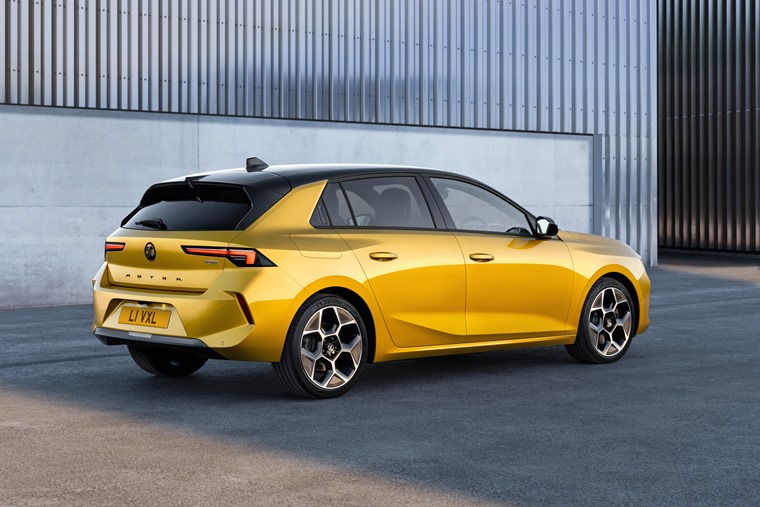 Vauxhall Astra release date and leasing plans
The all-new Astra range is now available to lease – just hit the button below to start comparing offers.