Audi e-tron vs Jaguar I-Pace: Electric SUVs compared
The car is finally entering its electrified era. At one end of the scale, the Hyundai Kona Electric and Kia e-Niro prove that decent range and affordability are no longer mutually exclusive. But it's the premium end of the market where things are really hotting up.
Consider for a moment the Audi e-tron and Jaguar I-Pace.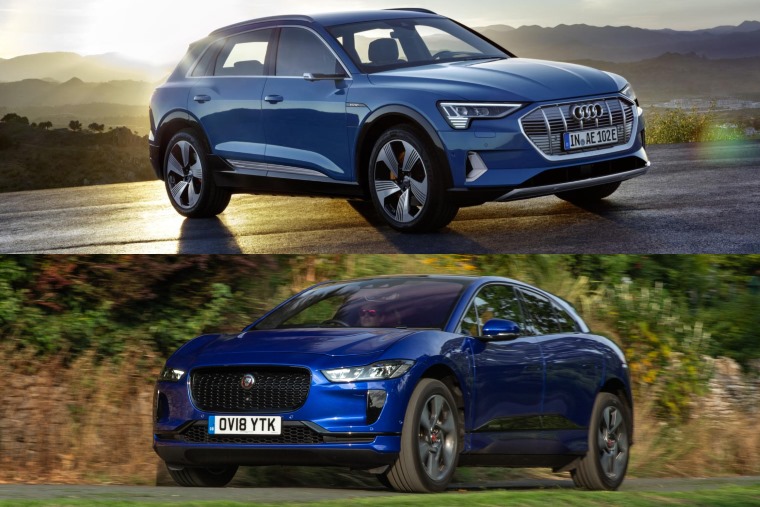 On the face of it, they're very similar products: plush, powerful enough to worry most things with a petrol engine and both tick that all-important SUV box. But how do they really compare? We took a closer look…
Styling
There are extremely few cars that manage to look more futuristic than a Tesla Model X, and the I-Pace is among them. It's a serious leap forward for Jaguar – in strategy and technology. The styling reflects this. It's radical, to say the least. Proportionally, it's certainly an SUV. The overall look, however, is somewhat between SUV, coupe, and hatchback. That sounds like it shouldn't work, but it really does in the I-Pace's case. Its footprint is huge and, if you're after something that'll stand out, this is a car fit for the task.

By comparison, the e-tron is a much more toned down affair. In fact, they're rather chalk and cheese in the styling stakes. Rather than breaking the mold with spaceship-like looks, the Audi resembles a Q7. Why? Because the firm's larger SUVs have been a huge success in terms of volume and, given the continuing shift towards the segment in general, it's easy to understand that it didn't want to mess with a winning formula.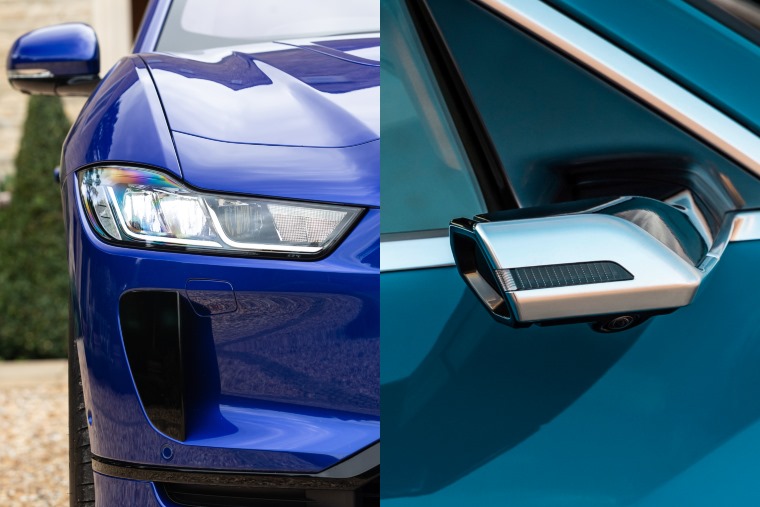 It might not have the wow-factor of the I-Pace, but it's actually quite refreshing to see an electric vehicle that looks rather ordinary. There's no doubt electrification is the future, but that doesn't necessarily mean manufacturers deliberately have to make this obvious to the untrained eye. In fact, the designers refer to this approach as 'concept clarity'.
Interior and tech
If you were expecting the I-Pace's cabin to be as futuristic as a Tesla Model X, you'll be left disappointed. Instead, we find a lot of trim and tech carried over from the Range Rover Velar. So, hardly a disappointment in reality. Two swathes of glass make up the control panel and operate the climate control and infotainment system. It's a stunning set up, but you might get tired of fingerprint marks.

Like all JLR products, the latter now has Apple CarPlay and Android Auto compatibility. It's a good job really, because in a car like the I-Pace you expect nothing less. All the trim is Jaguar's standard fare; impressive then, but lacking the quality feel of its German rivals in some areas. The tapered centre console is a nice touch, and the I-Pace is seriously spacious. The cabin is airy enough for four adults to comfortably sit all day, and a 577 litres of boot space and 27 litres of cabin storage mean it'll be great for long distance trips.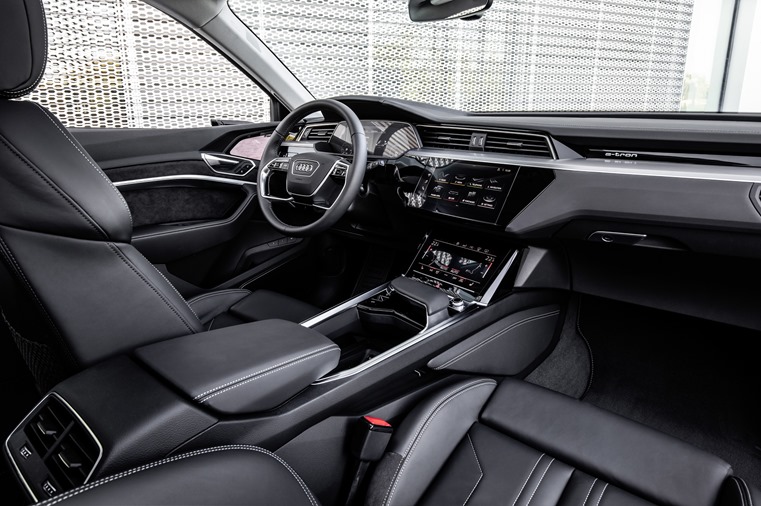 If anything, the Audi feels more innovative on the inside. There's three screens for starters or, if you go for those optional drag-reducing door cameras, there's five. It's the first time such a system has been fitted to a production car, and the screens are on the doors themselves.
They won't be to everyone's taste but it's more than a gimmick. In other areas, it's Audi business as usual. Quality, class-leading interiors is just their thing. Space is a little less impressive than the Jaguar though – the boot isn't as usable as the I-Pace, although a froot (front boot) does help, particularly when it comes to transporting your all-important charging cables.
Performance and driving
EVs offer off-the-line performance that the majority of petrol and diesel cars just can't. As such, both these SUVs deliver staggeringly quick 0-62mph times considering both weigh in excess of two tonnes. The I-Pace gets there from rest in 4.8 secs, the e-tron in 5.7 secs. Both cars feature all-wheel-drive, are limited to a top speed of 124mph and produce more than 400bhp. All in then, you'd expect things to be rather equal behind the wheel. But that's not the case.
Despite their unrivalled acceleration, some drivers complain EVs don't offer much in the way of an engaging experience. Not so with the I-Pace. Despite it being at its best cruising on the motorway, its centre of gravity is significantly lower than an F-Pace, while optional adaptive suspension system improves things further in the handling stakes. The result is an EV that you can really have fun in – even in the corners. It's a dynamic experience rather than a digital one, and that's a rare quality for an EV.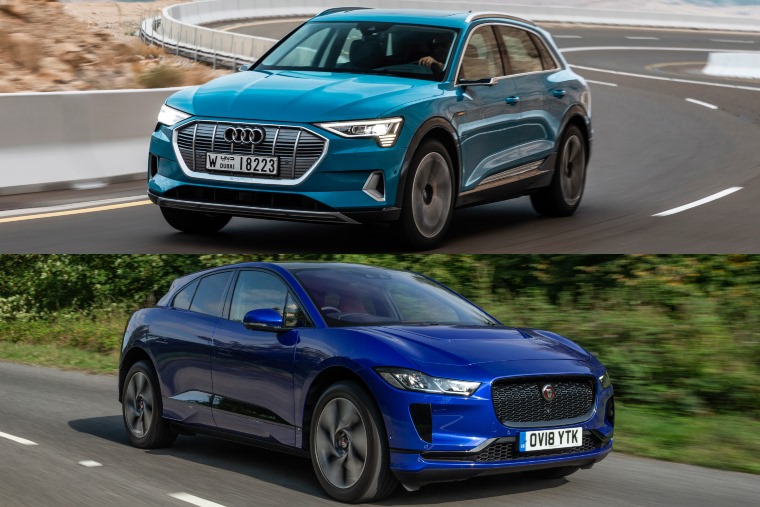 The e-tron doesn't have the Jaguar's magic sparkle, but that should be expected – it's an Audi. In fact you should imagine the e-tron as a Q7. Just quieter and more refined. Both cars' near-silent motors come into their own on the motorway, and the hushed ride is particularly evident in the e-tron. Maybe it's the lack of wind noise coming from those slick door cameras. Both cars feature the energy-saving tech and drive modes we're becoming used to on EVs.
Regenerative braking is the biggest difference in the driving experience if you're jumping straight out of an internal combustion-engined car. It essentially saves energy and feeds it back to the batteries. The amount of braking force can be adjusted in both cars and, while it takes some getting used to, it only adds to the refined, effortless feel only EVs seem to be able to pull off. we're sure this set-up will become normalised as EV numbers grow.
Range and charging
So, you're ready to take the plunge aren't you? Based on the above, there's nothing stopping you getting an e-tron or I-Pace instead of a Q7 or F-Pace. But wait. What about range? How long do they take to charge? Yep… despite the leaps and bounds made in EVs over the last few years, this is still the major put-off factor for your average drivers. In some cases, the worries are justified. But the fact is batteries have improved massively since EVs first hit the market around 10 years ago.
According to WLTP figures, the Jaguar I-Pace can manage 292 miles between plug ins, while the Audi makes do with a still impressive 248-mile range from its 95kWh battery. In the real world, you can expect both to manage more than 200 miles. So you should be more than happy taking either on a longish journey. But what happens when you run out of electricity?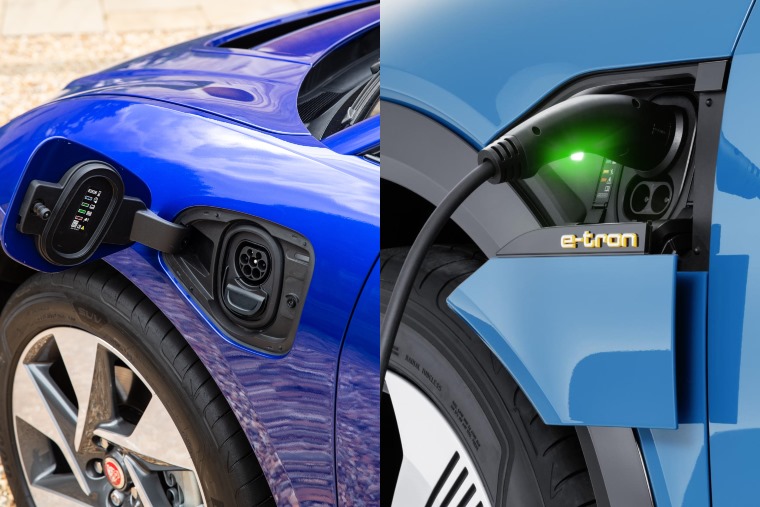 The e-tron has handy charge points on both its front wings (the I-Pace has a single one on the passenger side). Plugged into a fast charger you can expect to recharge the e-tron's batteries to 80% in half an hour. However, with experts predicting you'll do most of your charging at home overnight, this shouldn't really be a worry considering both of cars' ranges are over 200 miles.
Admittedly if you're planning a road trip, it's still useful to think ahead; the charging network is expanding but, aside from Tesla-specific superchargers, rapid chargers able to take full advantage of these cars' maximum charge rates are only just beginning to arrive in the UK.  The I-Pace can handle up to a 100kW DC charge rate, while the e-tron manages up to 150kW. But, as charging networks expand, it ensures both cars are relatively future proof as far as charging tech goes. As we've demonstrated before, charge times, the different types of charger and what affects range vary wildly, so we've compared the Jaguar and Audi's key stats in the table below.
| | | |
| --- | --- | --- |
| | Audi e-tron | Jaguar I-Pace |
| Range (WLTP) | 248 miles | 298 miles |
| Charge time at home via a wall box | (7kW wallbox) 13 hours | (11kW wallbox) 8 to 9 hours |
| Maximum fast-charge rate | 150kW (around 30 minutes to 80%) | 100kW (around 45 minutes to 90%) |
Video reviews
So which one should you choose?
This is a difficult one, because while both these cars are kicking off a new age of premium electric vehicles, they go about it in very different ways.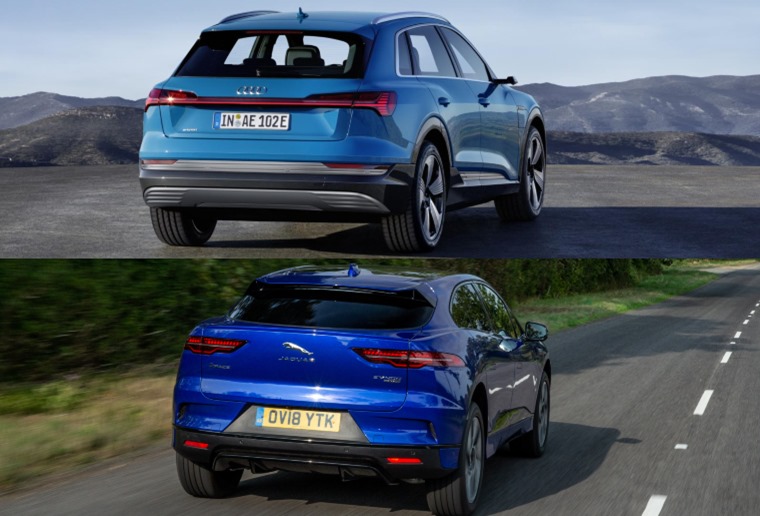 Those that favour looks over anything else will immediately be drawn to the Jaguar, as will those who fancy an EV that actually provides driving pleasure that goes beyond a ferociously quick 0-62mph time.
For those that like the idea of an EV but don't particularly care about telling the world they've ditched petrol, the e-tron perhaps fits their needs better. It's a supremely well-built and refined SUV… that just happens to be electric.