New Volkswagen ID.4: VW's first fully electric SUV
Introducing Volkswagen's first fully electric driven SUV. With a bold, spacious, and ultra-modern appearance, the ID.4 is set to take on the popular all-electric SUVs like the upcoming Tesla Model Y and Ford's Mustang Mach-e.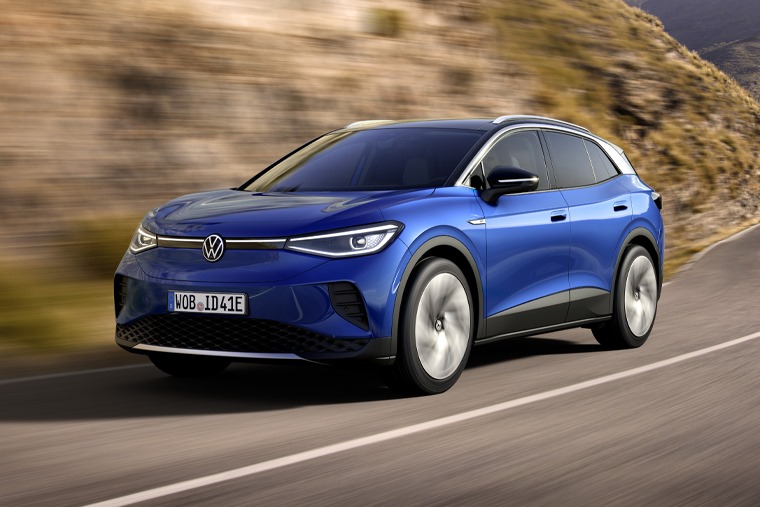 For the German manufacturer, the ID.4 and ID.3 represent important milestones in its bid to become entirely carbon-neutral by 2050 – in line with the Paris climate agreement.
The dynamic exterior is inspired by nature with its clear, flowing design. The basic model features headlights that are almost completely equipped with light-emitting diodes while its taillight clusters have been fully equipped with this technology.
The top-of-the-range version gets headlights that are even more progressive: "they welcome drivers with swivelling lens modules and generate an intelligently controlled main beam."

"The ID.4 is an emotional all-rounder which will impress many customers with its efficient electric drive, generous amount of space, modern assist systems and powerful design," says Ralf Brandstätter, Chief Executive Officer of Volkswagen brand.

The First Editions will get from 0-62mph in 8.5 seconds, reach a top speed of 100mph and gets an official range of 323 miles.

The luggage compartment ranges from 543 to 1,575 litres capacity, depending on the rear seat backrest's position – which is at the level of conventional SUVs.
The equipment range of the ID.4 includes an electrically driven boot lid, roof railing and a towing bracket.

Say goodbye to buttons as the the ID.4 does not depend on physical buttons and switches. It is based on two displays – one of which diagonally measures up to 12in and features touch functionality – as well as "Hello ID." natural voice control.
Volkswagen has also announced "We Charge", which is a complete package for convenient, connected, and sustainable charging of electric cars. "Whether you are at home, out and about or on a long journey. The ID.4 can be recharged with direct current to cover the next 320 km (as per WLTP, at 125 kW) at a DC quick-charging station in around 30 minutes."