Fiat 500 EV lease deals available now
Leasing plans for the all-new electric Fiat 500 are now available, with the cute city car priced from less than £200 per month.
Available in both hatchback and cabrio body styles, it features two battery options and what Fiat claims is the longest range of any electric city car currently available.
Click on the button below to compare Fiat 500 leasing plans, or read on for all you need to know.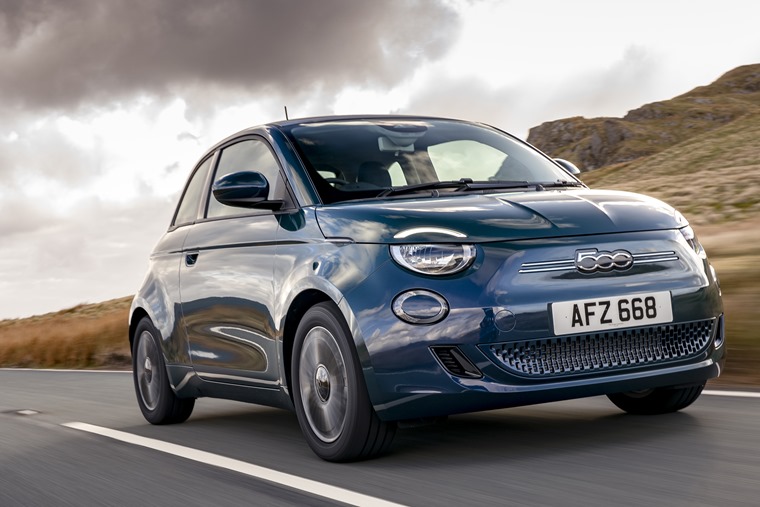 Compare Fiat 500 leasing plans
Fiat 500 Electric fast facts
Cute city car keeps iconic look but introduces styling tweaks
A range of trims and drivetrains available
Up to 199 miles of range between charging
New innovative safety tech including autonomous driving aids
One of the most affordable EVs in its class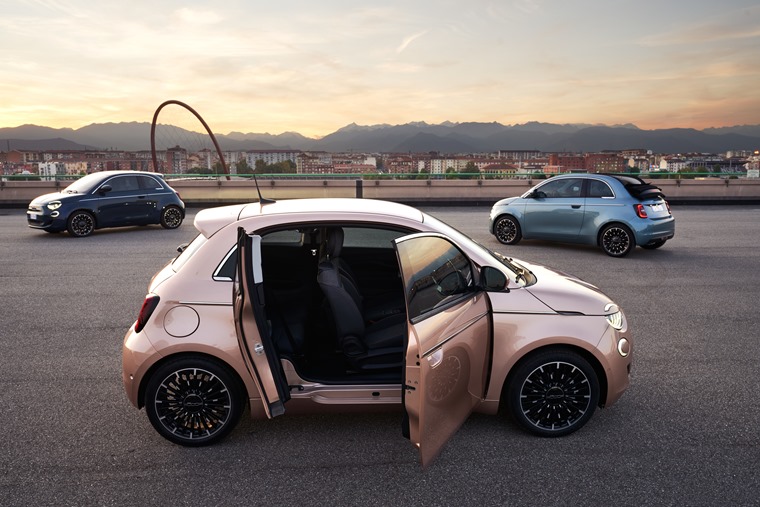 Fiat 500 styling
Design-wise, it's certainly more evolution than revolution, although that's no bad thing; it's hard to change such an iconic design. Up front, there's a fresh face with a bonnet line that now extends into the headlights.
There's also rumoured to be a more practical 500 on the way – the 3+1. This will add a single door at the rear, making it a more practical proposition for those with kids and child seats.
However, this variant has not been confirmed in the UK yet; we'll have to wait a little longer to find out if it'll be coming to the UK.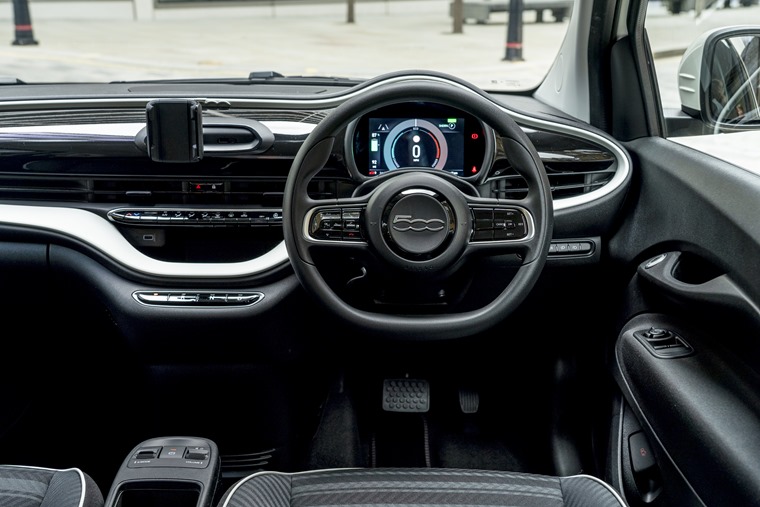 Fiat 500 infotainment and interior
Inside changes are more evident, with the company's latest Uconnect 5 system being put to good use. It means all models now get Apple CarPlay and Android Auto as standard. A 7in or 10.25in touchscreen will be available depending on spec.
Inside, the 500 is completely new and once again makes clear references to the original model. It is cleaner and less cluttered, exemplified by the wide dashboard and storage solutions in the centre column.
More leg and shoulder space is offered for occupants, with the EV batteries stored in the floor so that luggage space isn't compromised. Some seats will also be made using "Seaqual" yarn with plastic recovered from the sea, while others make considerable use of eco-leather.

Fiat 500 drivetrain and trims
The new range is made up of three trim levels – Action, Passion and Icon. Each one provides a decent amount of standard kit, with entry-level Action models fitted with a 70kW motor and a lithium-ion 23.8kWh battery.
The result is a 0-62mph time of 9.5 seconds and a combined range of 115 miles. Fiat says this increases to more than 150 miles if you stick to driving in the city.
With a 50kW charging system, the amount of range needed for the average commute can be charged in around 10 minutes. A 3kW cable is also included for charging at home and work and the Combo 2 power socket means it can receive charging in both Ac and Dc.
The mid-range Passion gets a larger 42kWh battery providing an impressive range of 199 miles (official combined) or up to 285 miles if just driven in the city. It gets an 85kW fast charging capabilities, so it takes around 35 minutes to charge the battery to 80% capacity.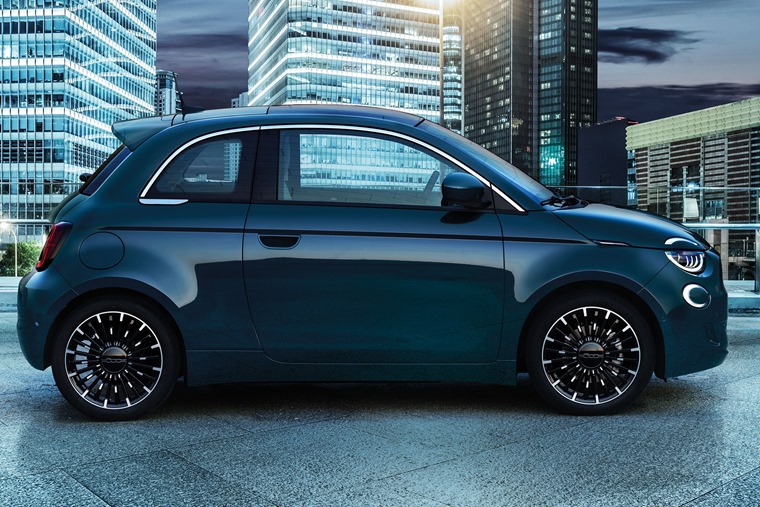 It's set apart by 15in two-tone alloy wheels and LED daytime running lights. It gets an upgraded infotainment system too, which gets a 7in display and the company's "Hey Fiat" voice recognition control. 0-62mph takes 9 seconds and the 87kW electric motor produces 118hp.
At the top of the range is the Icon which gets the same drivetrain as the Passion. However, it can be rapidly charged with a DC fast charging system capable of running at up to 85kW.
It gets other upgrades too, including a 10.25in infotainment touchscreen display, GPS and 16in alloy wheels. Its most distinctive feature is a 'peddle' – a wearable key that does not have any buttons on it. It automatically locks and unlocks when the pebble is in range.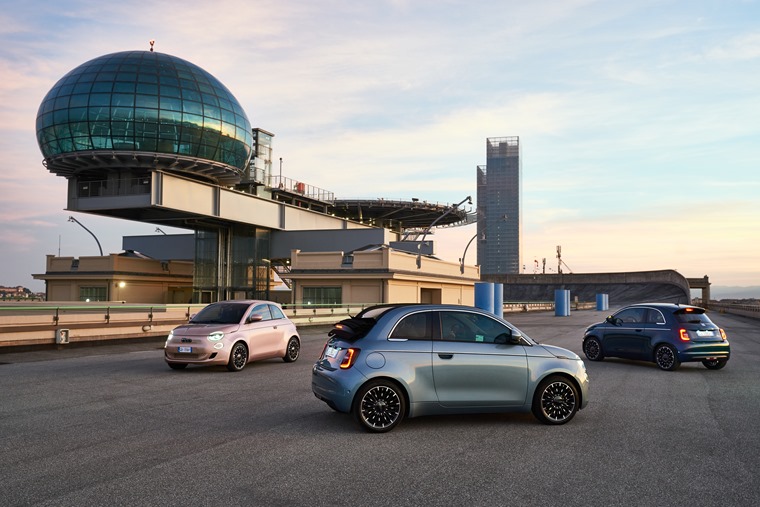 Fiat 500 safety
The new 500 includes a raft of driver assist systems, including attention assist, lane control, traffic sign recognition and autonomous emergency braking. Overall, it has level 2 autonomous driving capabilities.

Fiat 500 release date
The new Fiat 500 is available to lease right now. Compare deals on this city car right now by clicking on the link below. You'll be able to choose from thousands of offers from dozens of our advertising partners.