Best EVs for under £300 a month in 2022
Once upon a time, if you were looking for electric car leases for less than £300 per month, you'd struggle. Electric vehicles with decent range were a little bit expensive. But that's not the case anymore.
The last year has seen more EVs hit the market than ever before, and with them comes more affordable pricing – especially if you're thinking about leasing instead of buying.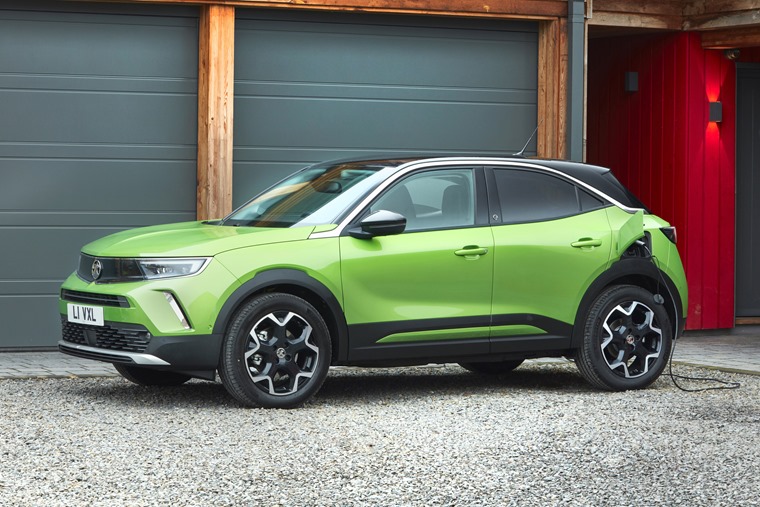 Compare all electric car leasing offers
In fact, there's more than just a couple on offer. To give you an idea of what's available, we've collated a list of our favourite EVs with leasing deals from less than £300 per month right now. So what makes the cut?
Electric cars for under £300 a month in 2021 include:
Volkswagen ID.3
Mini Electric
Citroen e-C4
Vauxhall Mokka-e
Hyundai Kona Electric
Nissan Leaf
Peugeot e-208
MG ZS EV
Renault Zoe
Mazda MX-30
Volkswagen ID.3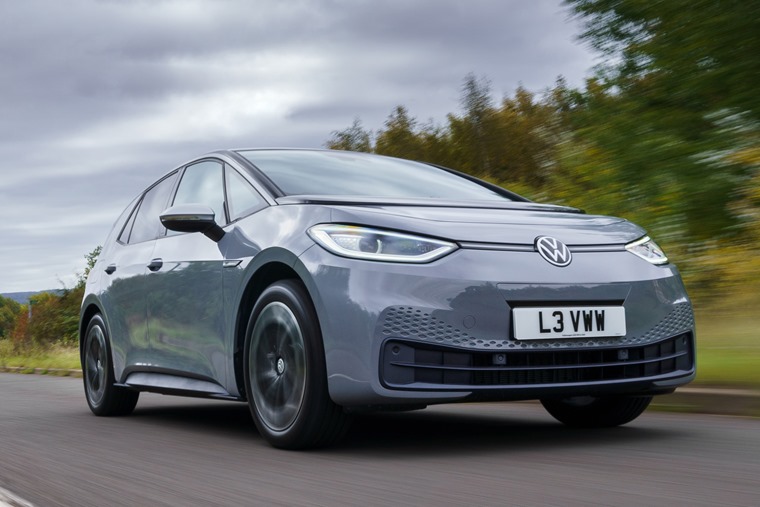 The Volkswagen ID.3 is the most important car since the Golf. Why? Well the company is betting that it will be the next car of choice for those who currently drive one. In many ways, it really can be considered the electric Golf.
For a start, it's very similar in both proportions, practicality and the level of tech on offer. Secondly, it's just as affordable. Yes, you can have a shiny new Volkswagen ID.3 on the drive for less than £300 per month.
The 45kWh battery pack version gets you over 200 miles of range and provides punchy acceleration too. And while it's an all-new model, being a Volkswagen means it's well engineered and a real quality product. Adaptive cruise control is on offer, along with a 10in infotainment touchscreen and 5.3in digital driver display.
Compare Volkswagen ID.3 deals under £300 per month
Mini Electric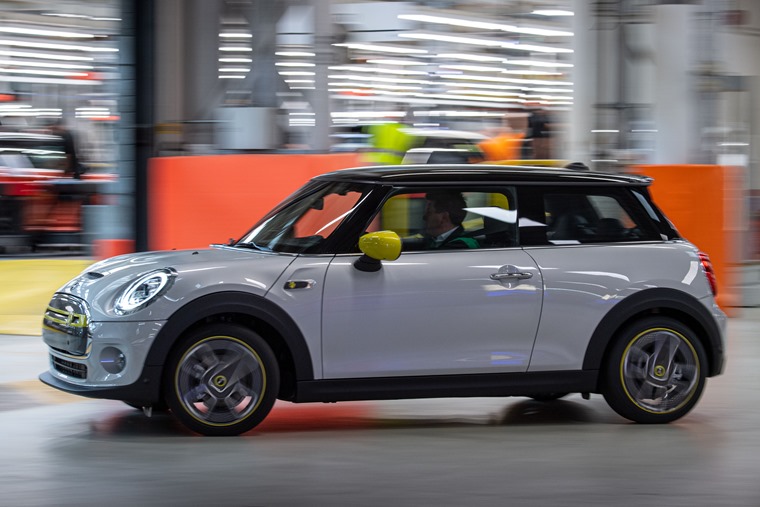 What do you get when you cross cutting-edge EV tech with a throwback retro design icon? The Mini Electric of course. The company entered the future last year with its three-door electrified hatchback.
The engineers have made sure that despite the drivetrain, it drives just like a mini should. In other words, it's still fun. In fact from a performance perspective, the Mini Electric feels more like a Cooper S than one of the more entry-level cars.
Despite the car's small size, the clever packaging of the battery means that inside you get exactly the same amount of room as you do in the petrol and diesel-powered models. Its 145-mile range isn't the best (it is a city car, after all). But if you're a Mini fan and want to join the electrified masses, it's the one for you.
Compare Mini Electric deals under £300 per month
Citroen e-C4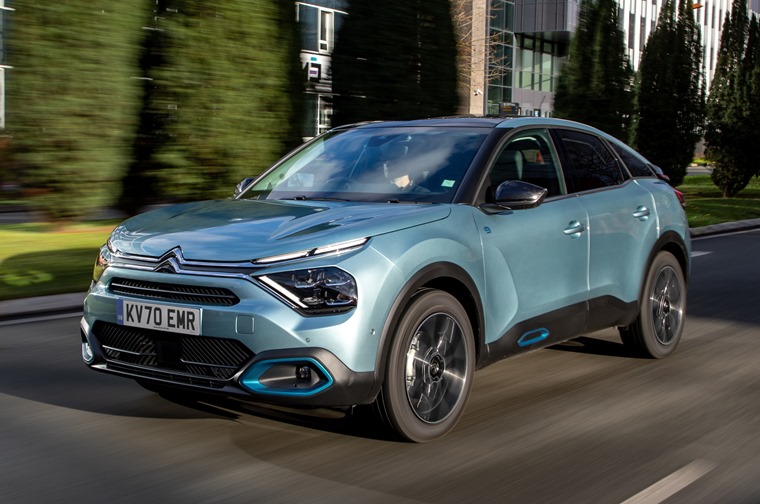 Comfortable. Quirky. Affordable. That's how we'd sum up the new Citroen e-C4 in three words. Lots of manufacturers now have a platform capable of being powered by petrol, hybrid or fully electric drivetrains, and the e-C4 is Citroen's best effort yet.
Electrified platform aside, the new C4 couldn't be more different than the old model. It puts Citroen right back on top as a manufacturer that creates distinctive and stand-out designs. The e-C4 promises to combine comfort and efficiency thanks to Citroen's Advanced Comfort seating and 217-mile range.
Inside you'll find a large landscape-style infotainment system and a digital driver display that gives you all the info you need to know. There's also a 380-litre boot and more than enough space for the kids in the back, making it a practical family EV. Love or loathe the looks, at less than £300 per months you get a lot of EV for your money.
Compare Citroen e-C4 deals under £300 per month
Vauxhall Mokka-e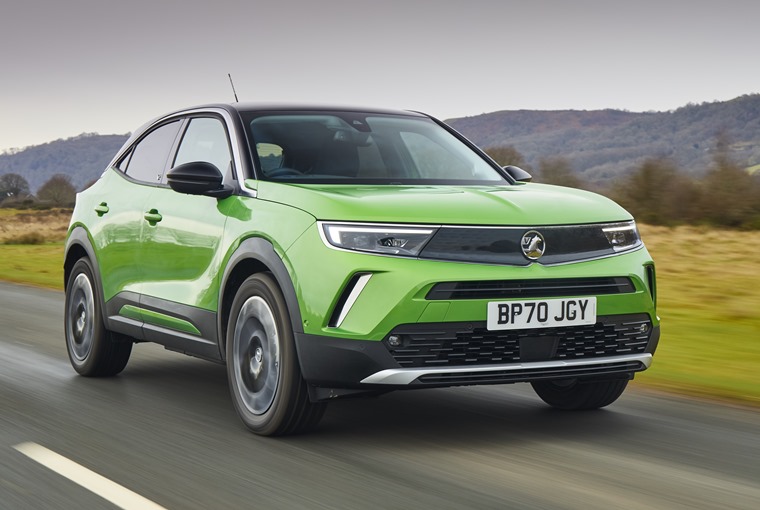 The Mokka-e is Vauxhall's answer to cars like the Volkswagen ID.4 and Skoda Enyaq. It's a small SUV that, like the e-C4 above, is also available as a petrol or diesel. It makes you wonder how long it'll be before we stop referring to electric vehicles as EVs and just call them a car.
The styling is certainly bold, with the brand's Vizor grille and LED headlights really helping it stand out. Its range of 201 miles is a little short of some others on this list, but a comfortable and high-riding driving position ensure it's up there with the best-in-class as far as being a small SUV goes.
The driver gets a vivid 7in display that increases to 12in if you plump for the Premium trim or above, while the 7in or 10in infotainment systems feature satnav and are compatible with Apple CarPlay and Android Auto.
Compare Vauxhall Mokka-e deals under £300 per month
Hyundai Kona Electric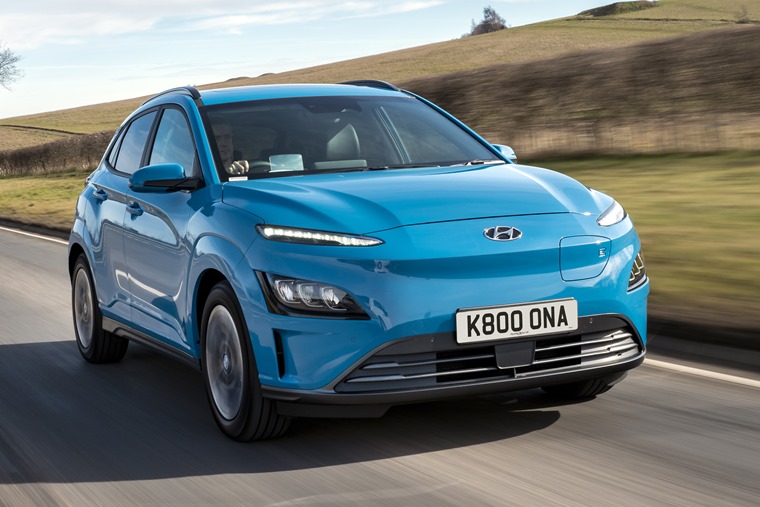 The Hyundai Kona Electric has long been one of our favourite EVs at leasing.com. Partly because of its fantastic range. Partly due to its extensive standard equipment list. But mainly down to its price. It remains a go-to choice for leasing customers, and has remained competitive against some of the new rivals on this list.
The styling is different from the standard Kona – the first clue to its electric drivetrain is the absence of a grille. Inside, you'll find a 10in digital driver display, 10in infotainment touchscreen and adaptive cruise control – and that's just the entry-level SE Connect.
Two battery options are offered, with the larger 64kWh pack producing more than 200hp and offering a massive 300 miles between plug ins. Our own tests with this car found that kind of range is certainly not out of the question either. It's still one of the best EVs, and it's more affordable than ever before.
Compare Hyundai Kona Electric deals under £300 per month
Nissan Leaf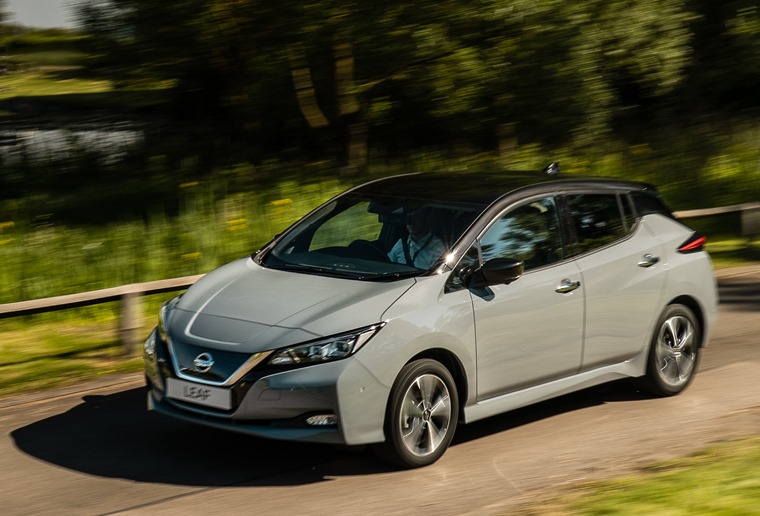 The Nissan Leaf is another EV that's been around a while – in its current guise since 2018. But don't let that put you off. For £300, you could opt for one of the range-topping variants that's packed with innovative tech such as Nissan's ProPilot adaptive cruise control.
The e-Pedal is a useful feature that makes driving around town a doddle, while the latest Leaf gets an enhanced sound. Called "Canto", it's designed primarily as a safety system to ensure pedestrians hear the car manoeuvring at lower speeds.
Even the most affordable models feature climate control, automatic wipers and a user-friendly infotainment system with an 9in touchscreen. Depending on the variant you choose, you can travel either 168 miles or 239 miles between charges.
Compare Nissan Leaf deals under £300 per month
Peugeot e-208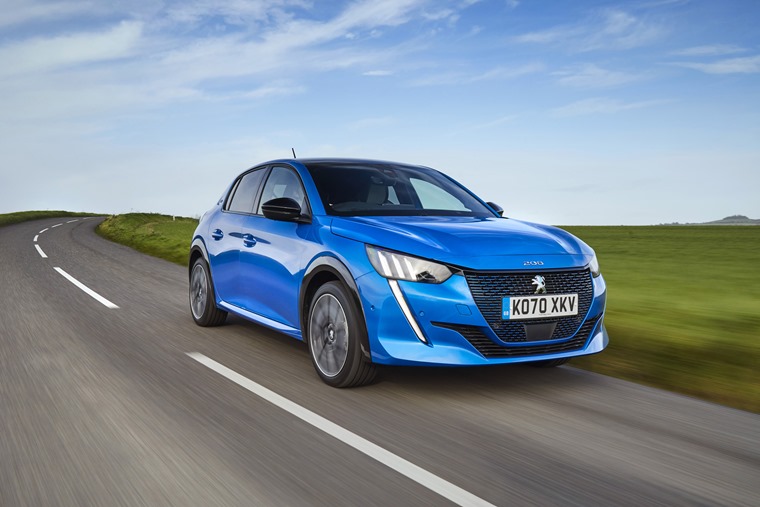 The Peugeot e-208 is a stylish supermini that can provide up to 217 miles of range, support 100kW rapid charging and deliver punchy performance around town and out on the open road. The 208 was voted European Car of the Year last year, and it's not difficult to see why.
Inside the handsome body you'll find a well thought out interior that includes Peugeot's iCockpit 3D-style display. It also features smartphone integration as standard, and the boot is not bad for a car in this class either.
Compared to some rivals, it offers a better blend of technology, range and affordability. The only downsides we can see is that it doesn't offer a lot of room for rear passengers, and the petrol version of this car is an even more affordable lease.
Compare Peugeot e-208 deals under £300 per month
MG ZS EV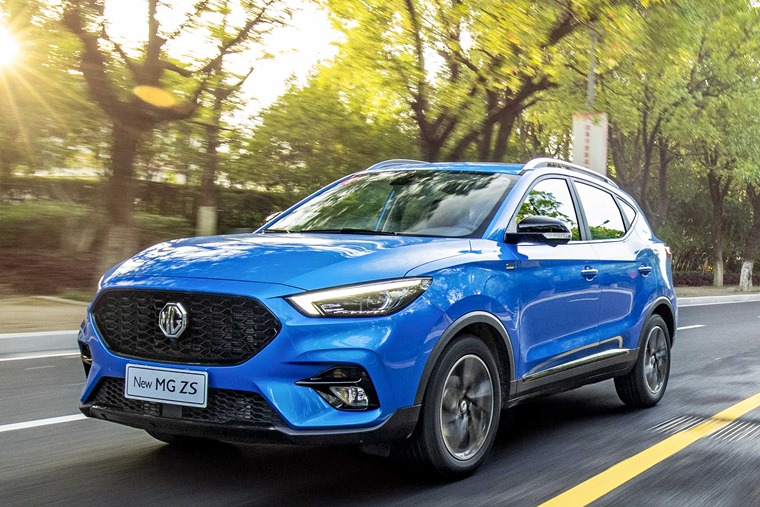 The MG ZS EV might not have the desirability factor of others that make this list, but it's certainly affordable and practical. In fact with 48 litres of boot space, it's one of the best in its class. Perfect as a family run around, its 44.5kWh battery enables it to travel 160 miles between charges.
So while it might not be a Tesla beater, it's still a capable EV in its own right – particularly for the price. Some may not find the interior quality up to scratch, but considering its price point, there's really not much to complain about.
Compare MG ZS EV deals under £300 per month
Renault Zoe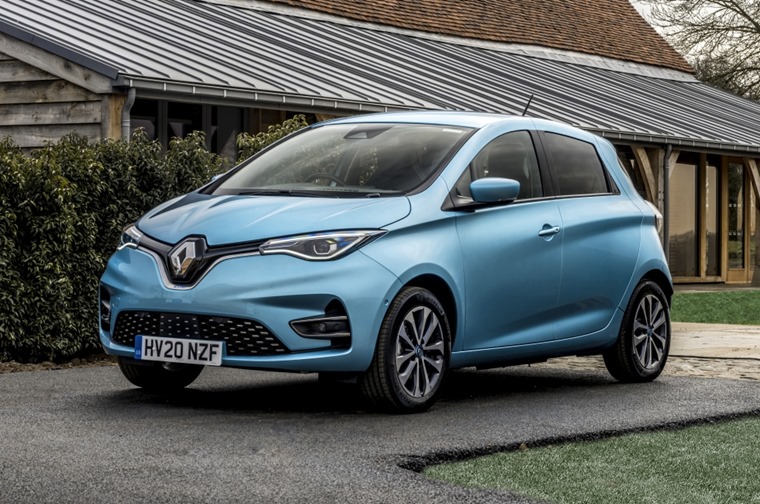 The Renault Zoe is another that belongs to the EV old guard, but it remains competitive in the face of new competition from other manufacturers like Peugeot and Vauxhall.
The dashboard is dominated by a 10in driver display and separate touchscreen infotainment system, which comes as standard with Android Auto, Apple CarPlay and Renault's own applications.
The most impressive bit is the range, which if you opt for the R135 50kWh variety, is up to 238 miles – still more than many cars on this list.
Compare Renault Zoe deals under £300 per month
Mazda MX-30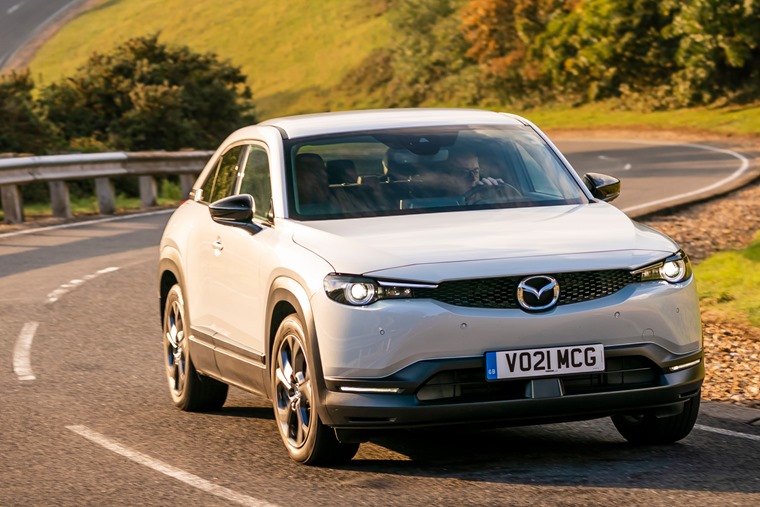 And now for something slightly different – the Mazda MX-30. Mazda itself has described this model as "a car with a battery, not a battery with wheels". So we'll tell you right now that its range isn't the most impressive, at 124 miles. But what the car is good at, however, is driving. It also introduces some nice touches that some EVs can't compete with.
For example, those rear-hinged back doors are just like the ones on the much-loved RX-8 sports car. But don't think it's all style over substance; Mazda has worked hard to create an engaging driving experience, with a torquey motor that gives a pleasing sound the harder it works.
Standard equipment is impressive too, with a heads up display, infotainment system, satnav and a 7in digital driver display standard on all models. If you aren't too fussed about outright range and want something a little left field, the MX-30 is well worth a look.
Compare Mazda MX-30 deals under £300 per month
Not see what you want?
New EVs are constantly launching, and prices have dropped significantly over the last year or so – particularly for leasing customers. Click on the button below to find more EVs for £300 per month or less. There's sure to be on that suits you.