Best electric cars and EVs of 2022: Our top picks
There are now more electric cars available to consumers than ever before, with a vast array of electric hatchbacks, electric crossovers and electric SUVs now available to lease. With rising fuel costs and environmental concerns, more and more drivers are ditching the fuel pumps in favour of plug-in power.
So if you're looking for the perfect EV, what's on offer? We've handpicked the best electric cars currently available on Leasing.com that'll suit a wide range of budgets and uses.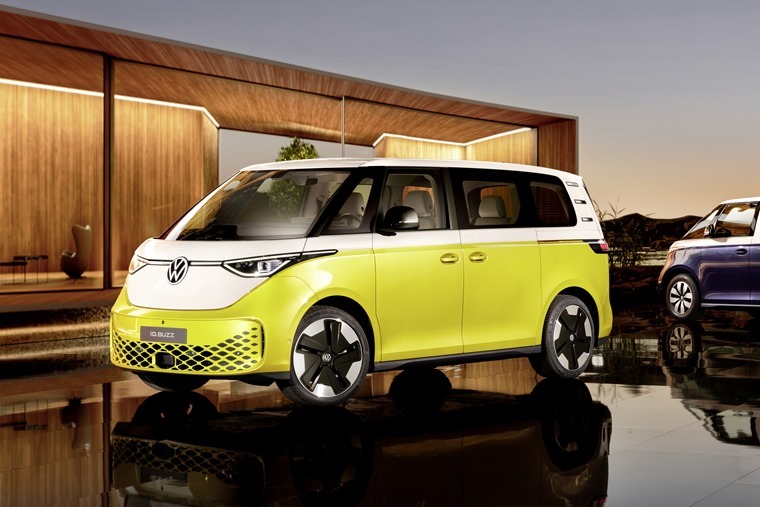 Best electric cars available in 2022
Skip to:
BMW i4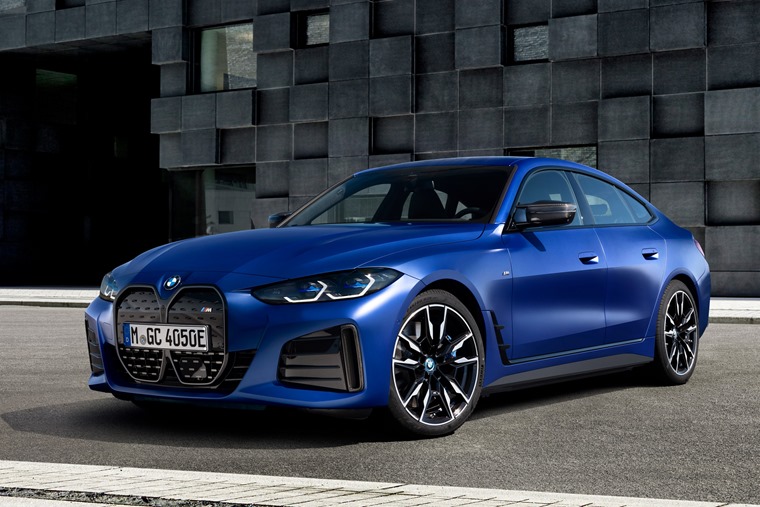 i4 Fast facts
Battery options: 87kWh
Maximum range: 316 miles (M50), 367 miles (eDrive 40)
Boot space: 470 litres
A worthy alternative: Mercedes EQE
The BMW i4 is one of the newest and most attractive EVs on the market. You can essentially consider it the electric version of the BMW 3 Series compact exec saloon. That means it gets the same sporty drive, but with an electric flavour. It's main competition comes from Tesla with its Model 3 and, if you're a keen driver, the i4 might hold an appeal that the Tesla can't deliver. In a nutshell, BMW has taken everything we love about its iconic sporting saloons, and made it electric.
In fact, with its subtle styling and 4 Series-like lines, at first it's hard to tell it's an EV at all. For those that want the most electric power BMW can deliver, then you'll want to consider the M50.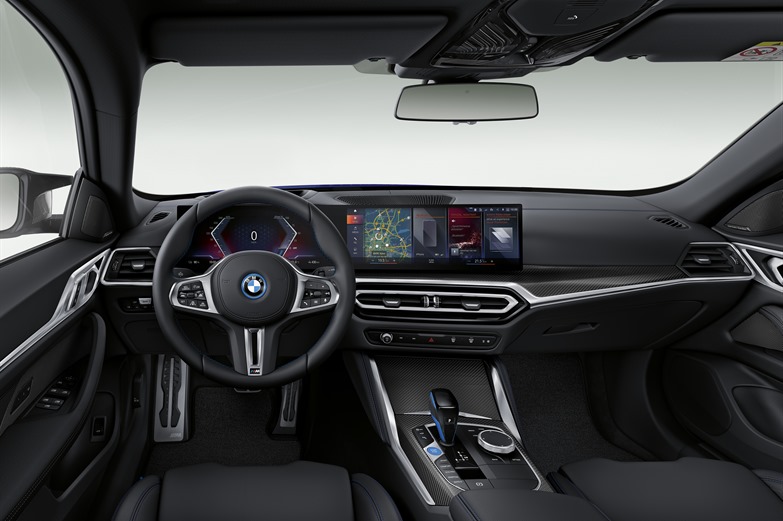 Read more about the new BMW i4…
On the inside, BMW's iDrive infotainment system takes pride of place, and it's one of the slickest systems in the business. It looks great too, with one single curved panel making up both the driver display and infotainment.
It produces 544hp and features BMW's fantastic all-wheel drive system courtesy of two electric motors. All models feature impressive range though, with its 84kWh battery able to cover more than 360 miles between charges.
Hyundai Ioniq 5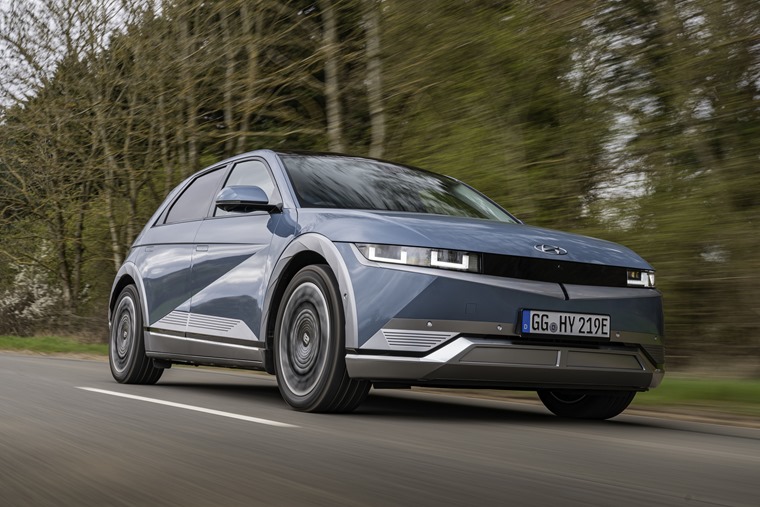 Ioniq 5 fast facts
Battery options: 58kWh, 72kWh
Maximum range: 303 miles (72kWh, single motor)
Boot space: 527 litres
A worthy alternative: Genesis GV60
The Hyundai Ioniq 5 was launched in 2021, and since then has gone onto win the praise of reviewers and consumers alike. The Korean brand has consistently been ahead of the game when it comes to EVs, with the Kona Electric offering drivers impressive range and a high specification for years. The Ioniq 5, however, moved the game on significantly.
Size-wise, the Ioniq 5 is an imposing car. It's not quite a hatchback, and not quite an SUV, but it's fair to say it blends form and function perfectly. With its retro lines and stand-out looks, it's certainly not an EV for the introverts. It's a great car to drive too, with all models featuring impressive torque and a supremely comfortable driving position.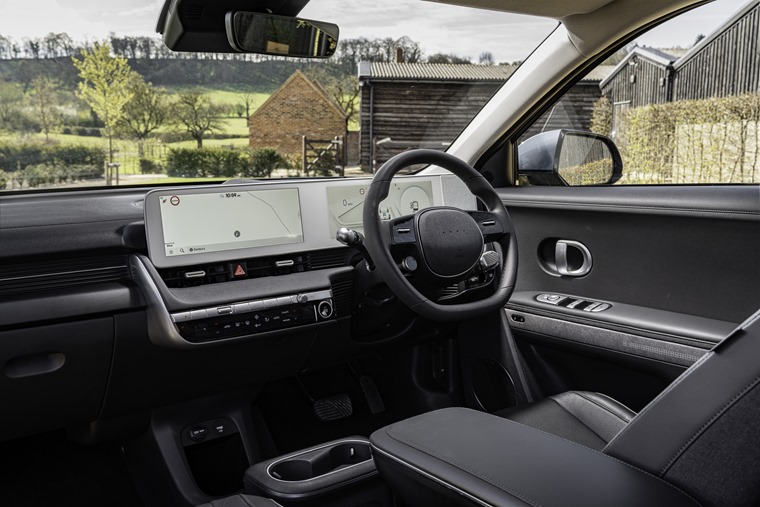 Read more: Hyundai Ioniq vs Kia EV6
Inside, it's packed full of great tech and benefits from a twin-screen infotainment and digital driver display set-up. Given its large proportions, it's as roomy as you'd imagine too, making it the perfect EV for family life. With 527 litres of boot space, its load-lugging capacity is only outdone by cars like the Skoda Enyaq iV (585 litres) and the Volkswagen ID.4 (543 litres).
Numerous battery, power and drivetrain options are available with the Ioniq 5, with even the most basic models offering an impressive 240-like range. Opt for the larger 72kWh battery pack though, and you'll up this to 300 miles. As most of the newest EVs do, it supports rapid charging too, allowing 0 to 80% recharges of less than 30 minutes.
Fiat 500 Electric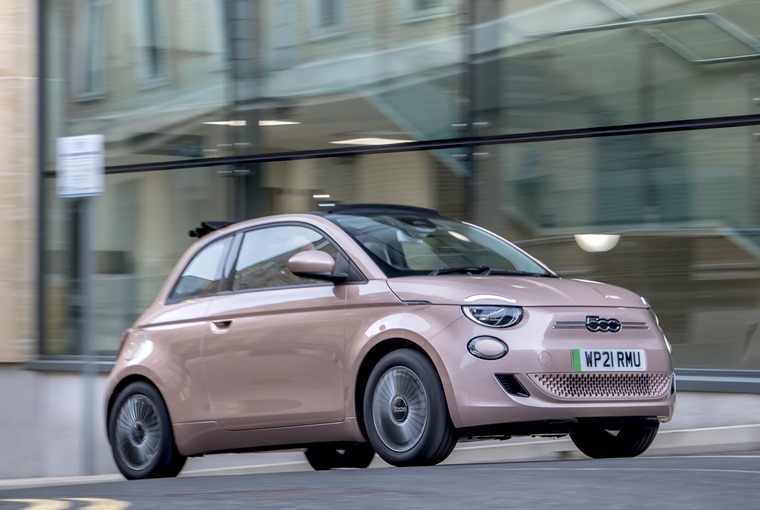 Compare Fiat 500 Electric deals
500 Electric fast facts
Battery options: 24kWh, 42kWh
Maximum range: 199 miles (42kWh)
Boot space: 185 litres
A worthy alternative: Honda E
That's right – in case you didn't know, the Fiat 500 has been reimagined as an electric car. It's been an exceptionally popular supermini for more than a decade, and with a slick refresh and impressive range, there's no reason the electric Fiat 500 won't continue to increase its market share.
On the outside, it's still as cute as ever, and although it gets a fresh body, it's still very reminiscent of the retro styling that made it such a hit. Up against rivals such as the Renault Zoe and Vauxhall Corsa-E, it's by far the cutest.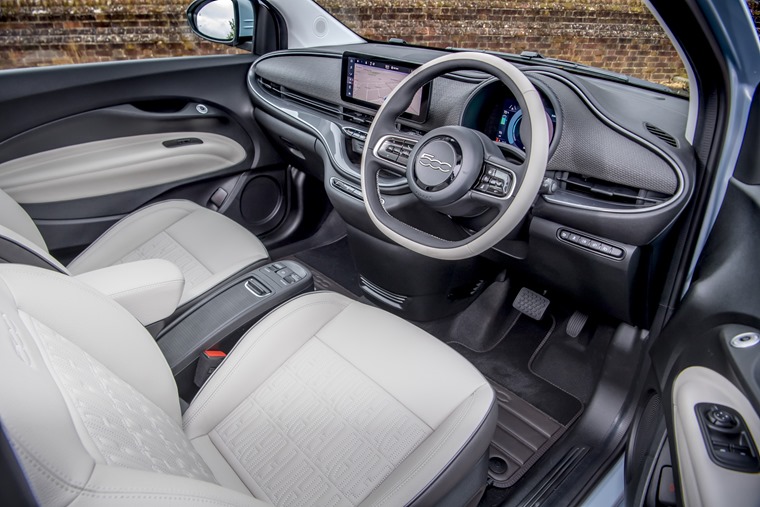 Read more about the new Fiat 500 Electric…
Inside things have improved dramatically, with all models featuring a great infotainment system that gets a 10in touchscreen and smartphone compatibility. Being a two-door model, space in the back isn't fantastic, but if you're considering a car this size then you'll already know that.
You can choose between a 24kWh and 42KWh battery, which offer 115 miles and 199 miles respectively. Ok, it's never going to compete with a Tesla, but this car isn't meant to. It's designed with cities in mind, but the larger battery certainly means it's not limited to just urban environments.
Tesla Model Y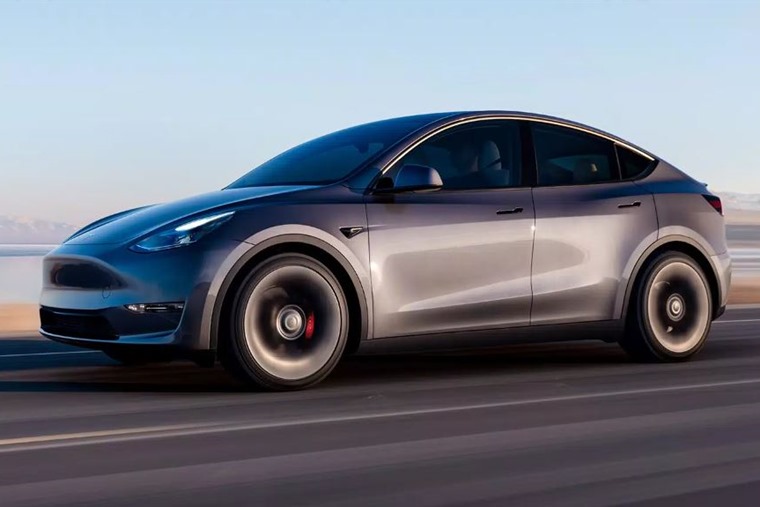 Model Y fast facts
Battery options: 75kWh
Maximum range: 331 miles (Long Range)
Boot space: 854 litres
A worthy alternative: BMW iX3
Want a Tesla Model 3 but fancy something a little more crossover-y? Enter the Model Y. It's the American brand's latest product, and incorporates that all-important Tesla mix of class-leading range, fantastic tech and awesomely quick charging.
Designed as an alternative to the Audi Q4 e-tron and BMW iX3, the Model Y has both these models beat in terms of range – the Long Range model is capable of 315 miles of range on a single charge. Numerous motor and powertrain options are offered, with the Performance model offering a 0-60mph time of just 3.5 seconds – quicker than something like an Audi RS4 performance saloon.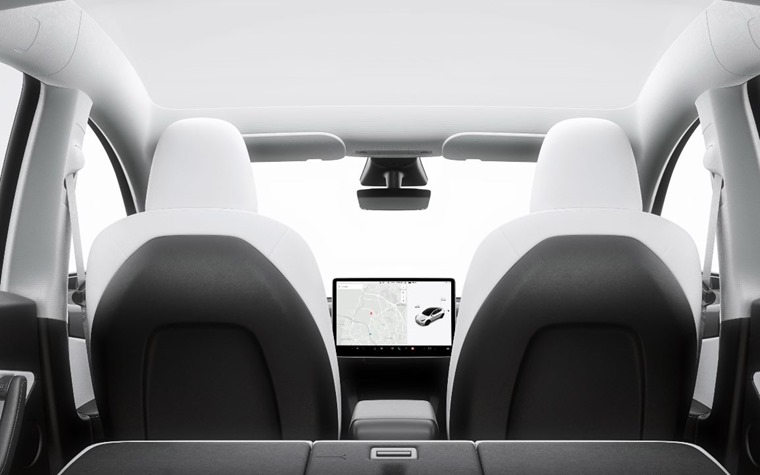 Everything you need to know about the Tesla Model Y here
The interior will be familiar to anyone that's been in a Tesla before. Minimalist through and through, there are hardly any buttons and most actions are controlled via the huge 15in infotainment touchscreen in the middle of the dashboard.
Unlike the Model 3 that has a small boot opening, the Model Y is a truly practical car. With a full-size hatchback and increased ride height, the large boot is easy to load. With the seats down, it's one of the roomiest cars on the market, with its 1,869 litres of space beating even larger models like the Skoda Enyaq iV.
Porsche Taycan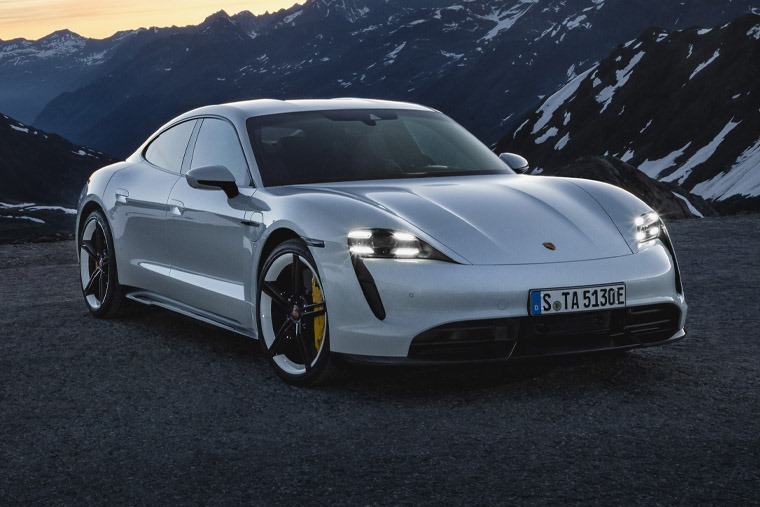 Taycan fast facts
Battery options: 79.2kWh, 93.4kWh
Maximum range: 360 miles (4S 9.43kWh)
Boot space: 450 litres
A worthy alternative: Mercedes EQS
If you're after a premium and luxurious grant tourer that just happens to be electric, the Porsche Taycan is the answer you've been looking for. Packed with technology and quicker than 99% of combustion-powered vehicles, this is the car that truly gives Tesla a run for its money. Few cars carry the looks of a concept car, but the Taycan can claim to be one of them.
Plump for the range-topping Turbo S (yes we know it doesn't actually have a turbo) and you can expect a 0-60mph time of just 2.8 seconds and a top speed of 164mph. Its performance is partly thanks to its potent battery packs, and partly thanks to a clever two-speed gearbox that's unique to the Taycan.
Step inside and, despite the headline performance stats, things are more refined than you might expect. In fact this has to be the most high-tech car the brand has ever launched. The digital driver display merges neatly with the infotainment touchscreen to make a 17in unit. It's really slick to use, with most of the car's controls operated via this interface.
Ford Mustang Mach E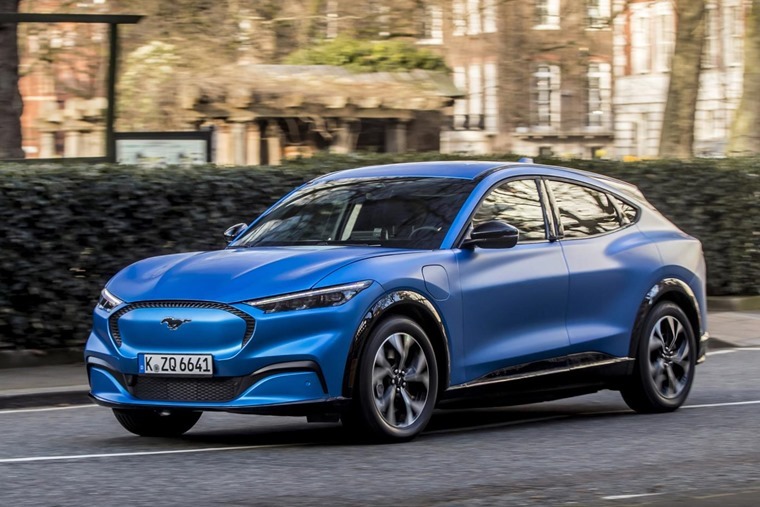 Compare Ford Mustang Mach-E deals
Mustang Mach E fast facts
Battery options: 68kWh, 88kWh
Maximum range: 380 miles (Extended Range, 88kWh)
Boot space: 502 litres
A worthy alternative: Polestar 2
Ford's Mustang Mach E brings electric power to the muscle car name – as well as the added practicality of four doors. With range-topping versions offering more than 350 miles of range between charges, it's an EV that's suited to long-distance travel.
While some might say a Mustang should never feature electric power, Ford has really pulled it out the bag with the Mach E. Quality-wise, the interior is on par with luxurious electric SUVs like Tesla's Model X and even the Mercedes EQC.
Entry-level models feature a 68kWh battery, capable of up to 273 miles of range. Plumping for the larger 88kWh battery increases this to around 335 miles. There is the Mach E GT too, which is the performance car of the bunch. With 387hp and all-wheel drive, it gets from 0-60mph in just 3.7 seconds.
As EVs go, this is one of the sportiest to drive. Ford has a knack for creating real driver's cars, and its introduction to the electric world is no exception.
Volkswagen ID.3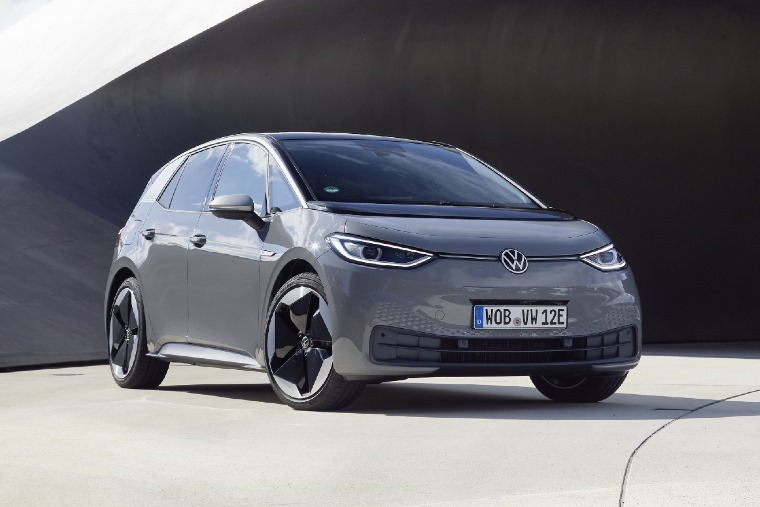 ID.3 fast facts
Battery options: 45kWh, 58kWh, 77kWh
Maximum range: 366 miles (Pro S 77kWh)
Boot space: 385 litres
A worthy alternative: Nissan Leaf
Here it is: the most important can Volkswagen has created since the Golf made its debut in 1974. The ID.3 combines all those classic VW hallmarks of quality and practicality with some of the best tech and range available on an EV. While it's certainly distinctive, compared to some other cars that are now available in the ID range, it does look a little plain.
Inside, quality is impressive, with the controls feeling nicer to the hand than rivals like the Hyundai Kona Electric. Space is impressive too, with this hatchback suitable for most families' requirements. In fact the boot is larger than the Golf's, with 385 litres of space.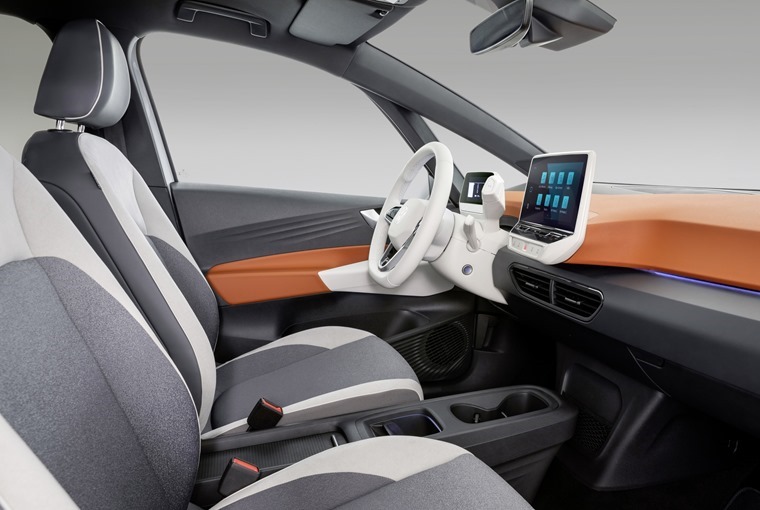 Volkswagen ID.3 vs ID.4: What's the difference?
The infotainment system is operated via the 10in touchscreen, which is vivid and easy to use. Most of the car's controls are operated in this way, or via voice control. However, it is compatible with Android Auto and Apple CarPlay should you wish to use your smartphone instead.
There's a vast array of battery options and drivetrains, with entry-level models capable of over 200 miles. More expensive models will feature a 58kWh or 77kWh battery, which offer more power and range. In fact the 204hp Pro S car offering up to 366 miles – more than the range-topping standard Tesla Model 3.
Peugeot e-2008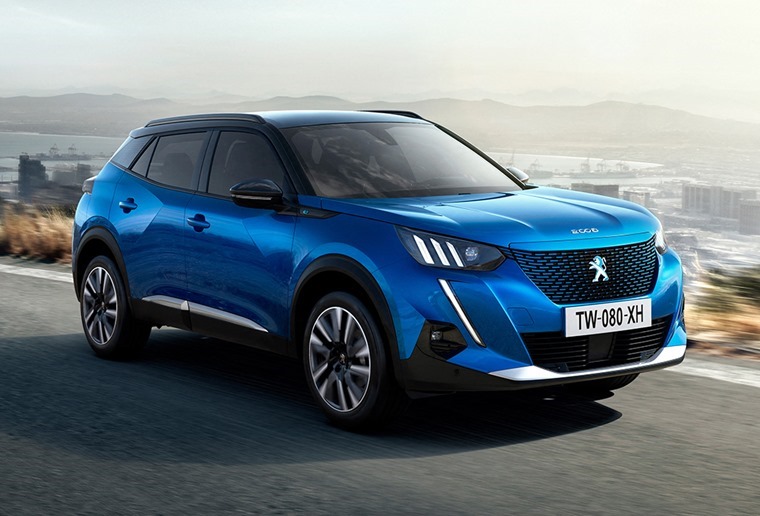 e-2008 fast facts
Battery options: 50kWh
Maximum range: 212 miles (50kWh)
Boot space: 405 litres
A worthy alternative: DS3 Crossback E-Tense
With a smart look and sumptuous interior, the Peugeot 2008 in any guise is a decent choice. Like an increasing number of models, it's not only available in petrol and diesel form, but as an EV too. The e-2008 sits on the same platform and, bar some badging and of course the charging port, it looks like any other 2008.
A particular highlight is the interior, which considering this car's segment is extremely stylish and well screwed together. Soft-touch fabrics abound, and drivers are treated to a digital display featuring Peugeot's iCockpit system. All versions come with a decent infotainment screen too, with 7in and 10in units available depending on specification.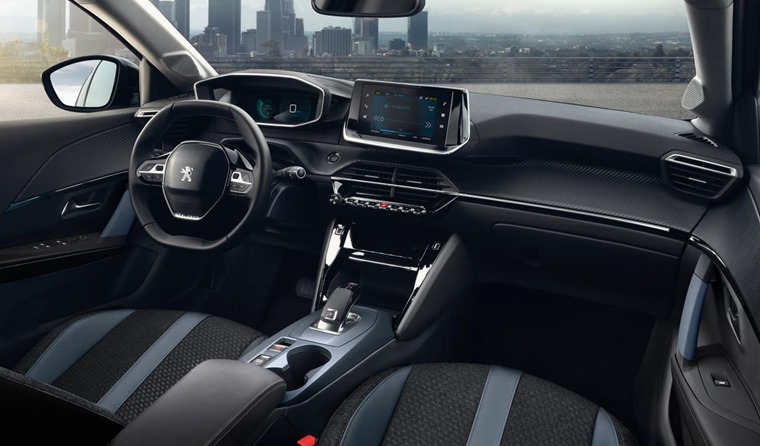 With an official range of 212 miles, its 50kWh battery pack impresses, with rapid charging of up to 100kWh standard on all models. This allows for a recharge of 0 to 80% in around half an hour if you use a rapid public charger.
With 405 litres of boot space, it's practical for an electric crossover too. All in all, it's one of the best choices if you're after a smart-looking compact crossover EV.
MG 5 EV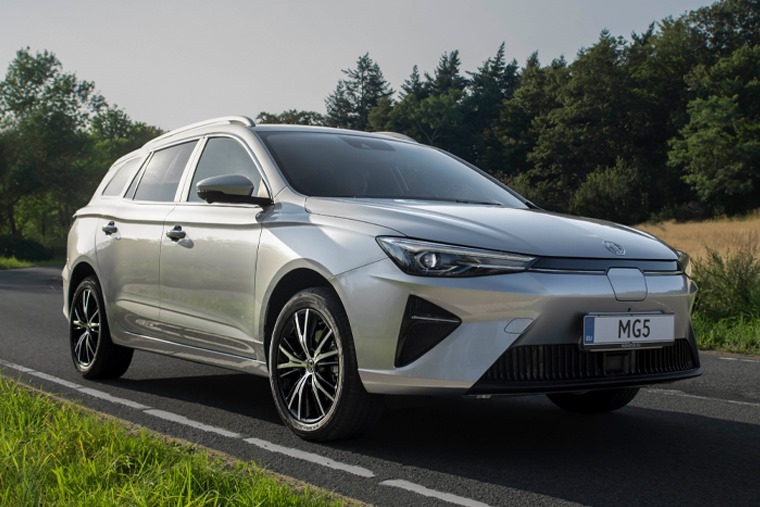 MG 5 EV fast facts
Battery options: 57kWh
Maximum range: 210 miles
Boot space: 479 litres
A worthy alternative: MG ZS EV
With an emphasis on substance over style, the MG5 is one of the most affordable and practical EVs currently on offer. A recent refresh has given it a revamped look, with the exterior smoother and sleeker than before. It's thanks to a fresh front end that combines some new LED headlights.
Tech levels across the range are impressive, with the recent refresh meaning that even the most affordable SE models feature an infotainment system compatible with smartphones, adaptive cruise control and reversing camera as standard.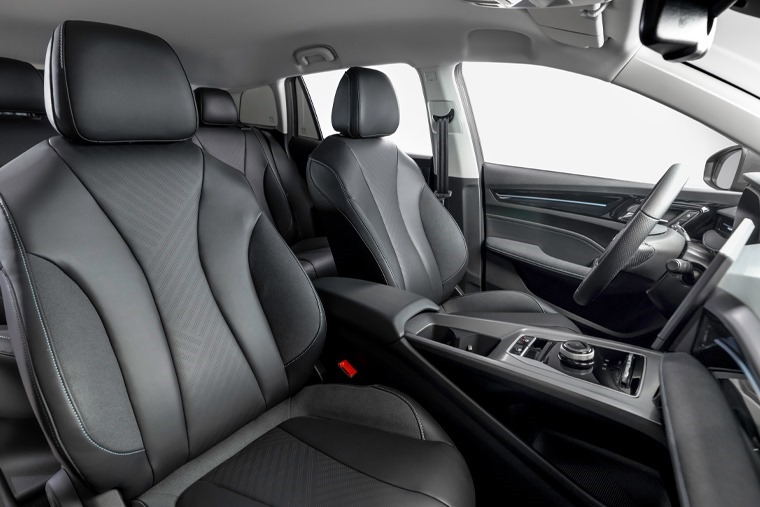 Read more about the updated MG5…
The MG5 EV offers more than 200 miles on a single charge, which is mightily impressive for a car of its size and price point. A new addition to the car is a Vehicle-to-Load charging feature. This allows drivers to use the car to power and recharge other electrical devices using the charger; camping equipment, e-bikes and even a laptop.
Volkswagen ID.Buzz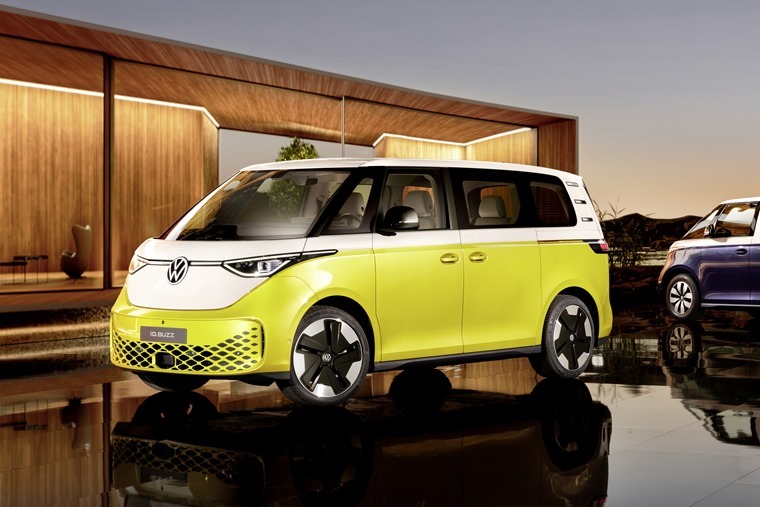 Compare Volkswagen ID.Buzz deals
ID.Buzz fast facts
Battery options: 77kWh
Maximum range: 260 miles (77kWh)
Boot space: 1,121 (five-seater)
A worthy alternative: Vauxhall Vivaro-e
Ok, so technically the ID.Buzz is a van rather than a car. But it's one of the most eagerly anticipated EVs to hit the market in a long time. Taking inspiration from Volkswagen Transporters of old, this cool new addition to the ID range is now available to order in the UK.
The styling is certainly eye-catching, with two-tone paint jobs on offer and a boxy squared off look that's unusual for a van. Featuring a 77kWh battery pack, it can muster more than 260 miles of range and is available in a host of formats. That means you can order a commercial version, as well as six and seven-seat iterations.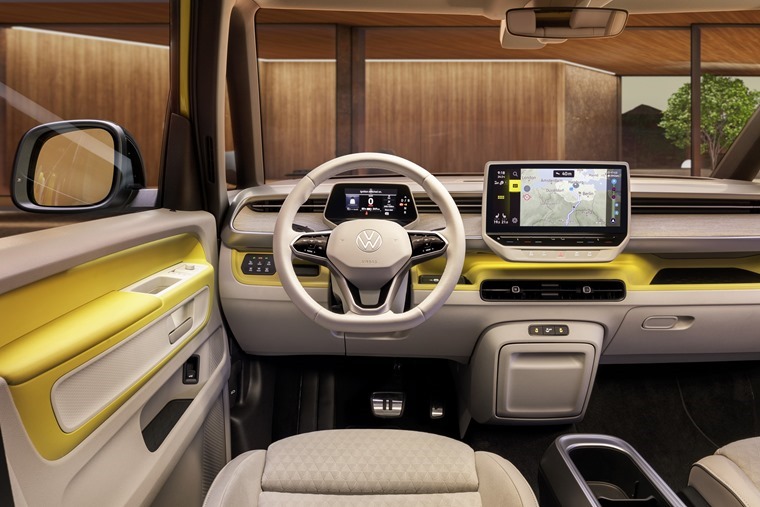 Everything you need to know about the Volkswagen ID.Buzz…
On the inside, you get the same 5.3in digital driver display as we've seen in the ID.3 and ID.4, while 10in and 12in infotainment systems are available depending on spec. To add to its eco-credentials, the interior features lots of recycled materials, and the upholstery is even vegan-friendly!
Opt for the five-seat version and you'll get a whopping 1,121 litres of boot space. Suffice to say this is an electric vehicle with load-lugging in mind.
Citroen e-C4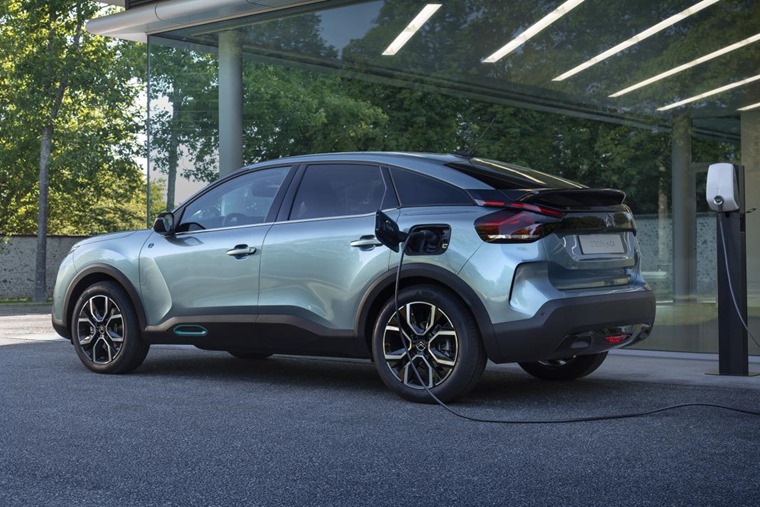 e-C4 fast facts
Battery options: 50kWh
Maximum range: 217 miles (50kWh)
Boot space: 380 litres
A worthy alternative: Renault Megane E-Tech
You can consider the Citroen e-C4 the funky alternative to the Peugeot e-2008. In fact it sits on exactly the same platform as the Peugeot, but adds a completely different look. With all models featuring large 18in alloys and LED headlights, spec is impressive too.
On the inside you get a vivid 10in touchscreen infotainment system in the middle of the dashboard, along with a clear and easy-to-read digital driver display. Ok, things aren't quite as wacky as Citroens of old, but the e-C4 does a great job in offering something different to the market.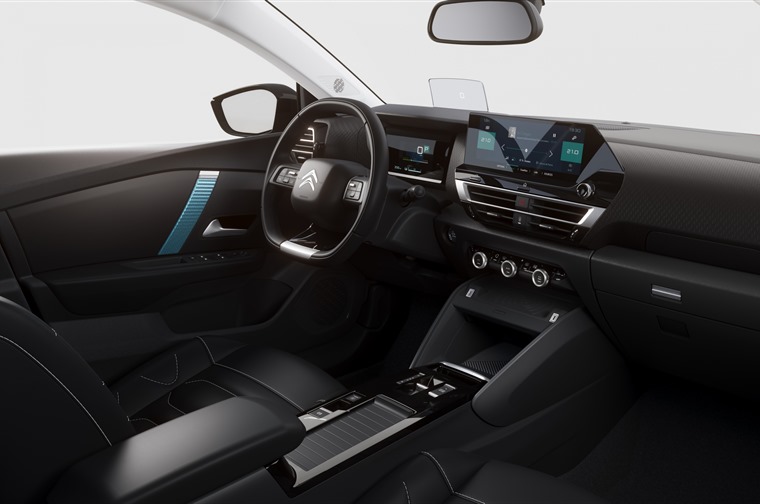 An all-new larger C4 X EV is on the way…
In fact comfort is an area that few other EVs can compete with. It features Citroen's "progressive hydraulic cushion" suspension, which essentially makes the car float over bumps in a much softer manner than many other rivals manage. Combined with the classy and sumptuous seats, if comfort is your top priority, then you've fond the EV for you.
Skoda Enyaq iV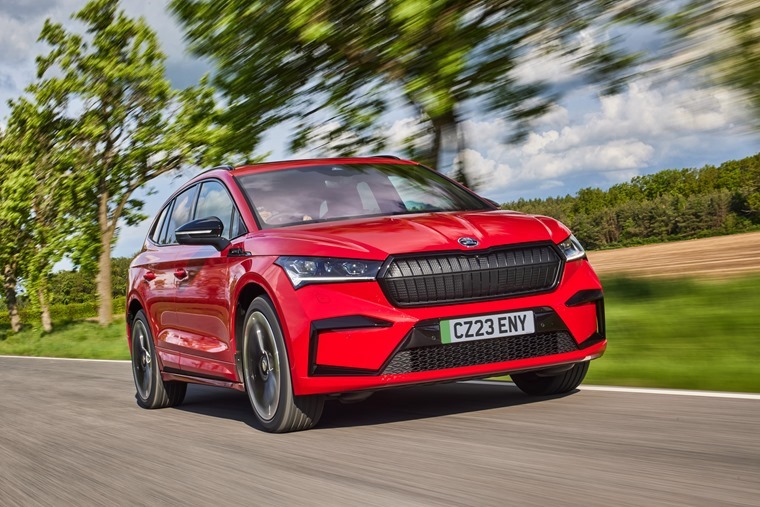 Enyaq iV fast facts
Battery options: 62kWh, 82kWh
Maximum range: 333 miles (82kWh)
Boot space: 585 litres
A worthy alternative: Volkswagen ID.5
While the Skoda Enyaq might not look as interesting or stylish as some rivals, what it can offer is practicality – in spades. With a 585-litre boot, it's one of the biggest and most practical family EVs on the market. Skoda has kicked off its electrification plans as it means to carry on – for years it's been associated with practical vehicles packed with "clever" tech.
On the tech front, you get a 13in infotainment system as standard that floats above the dashboard. A recent update means that the driver can now glean further data on the state of the battery via the system too, while the navigation system displays remaining range once you arrive at a destination. This aims to make it easier to plan in charging stops.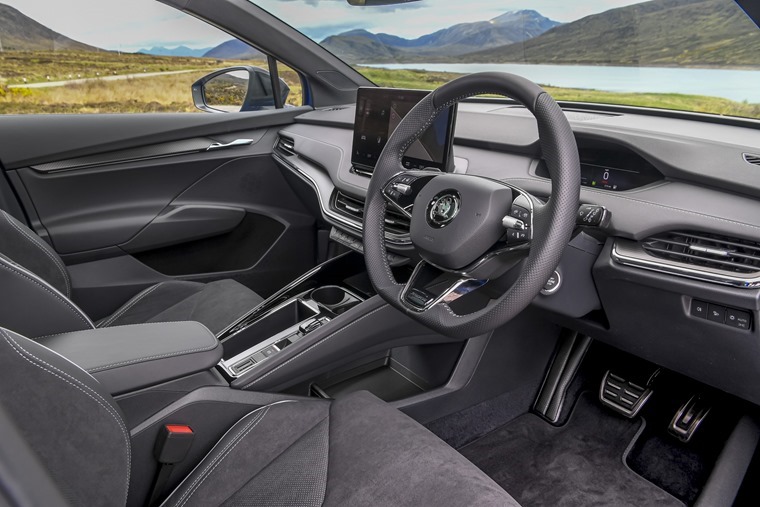 Read more: Did you know there's a coupe version of the Enyaq?
Recent tweaks to the battery also mean the Enyaq iV is quicker than ever to charge. A 62kWh pack and an 82kWh pack are offered, with the larger of the two offering an impressive 333 miles of range and over 200hp. The 13kW charging system now allows recharges from 0-80% in less than half an hour.
Yet another "simply clever" feature of this EV is a special battery care mode, that moderates battery temperature in the most efficient way possible. This helps extend battery life, and therefore your range too.
Kia EV6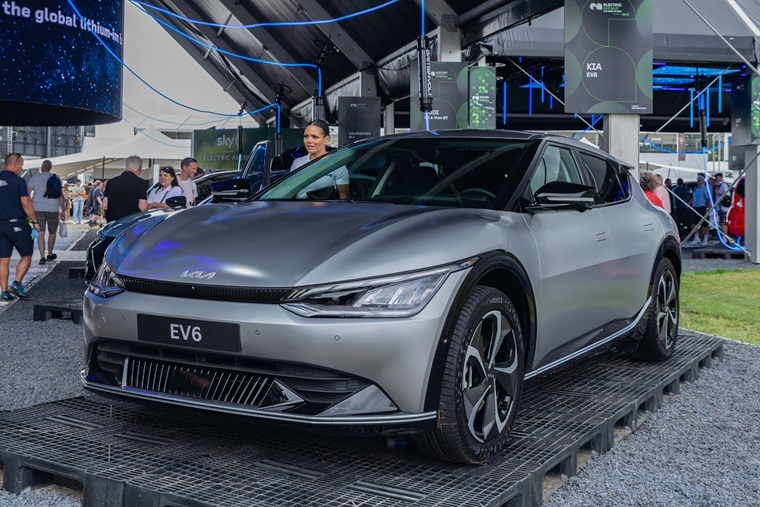 Kia EV6 fast facts
Battery options: 77kWh
Maximum range: 316 miles (77kWh, single motor)
Boot space: 520 litres
A worthy alternative: Audi Q4 e-tron
Oozing style, the Kia EV6 can be considered the sportier athletic sibling of the Hyundai Ioniq 5 – it sits on the same platform, after all. The exterior design is angular, with the EV6 offering a really bold step forward in the styling stakes compared to lots of other EVs.
While the interior isn't quite as dazzling as the exterior, it's still a lovely place to spend time. The digital driver display and infotainment system is made up of two large 12in screens that appear to mold into a single piece. Everything feels high quality too, putting this Kia on par with the likes of Mercedes' EQC and BMW iX.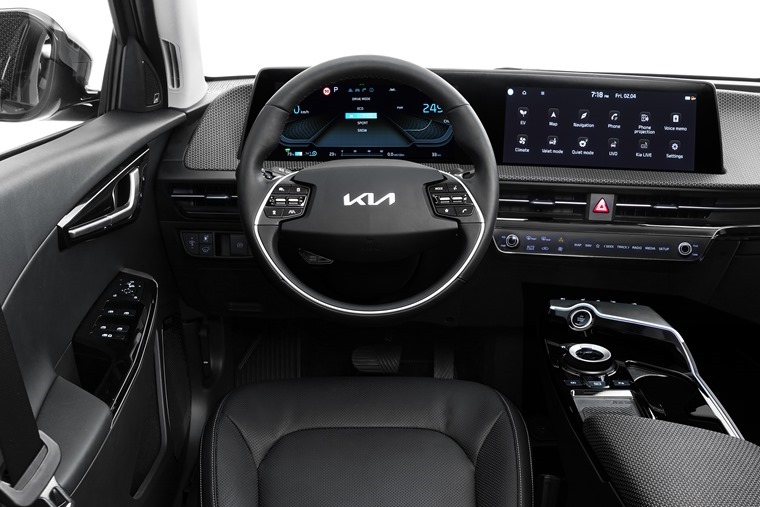 And while it might be a bit sportier than the Ioniq 5, it's just as spacious. There's room for four adults to travel in absolute comfort, and the boot big enough to swallow luggage for a weekend away. And you might be having quite a few of those with the EV6: this is an electric car that isn't phased by long-distance travel.
For starters, it's got a maximum charge rate of 350kW – that allows (via a compatible charger) for you to add up to 60 miles of charge in less than five minutes. Seriously speedy stuff! Standard equipment on even basic models is impressive too, including heated front seats, smart cruise control, 19in alloy wheels, twin curved display with 12.3in monitors and LED headlights, tail lights and DRLs.
Nissan Ariya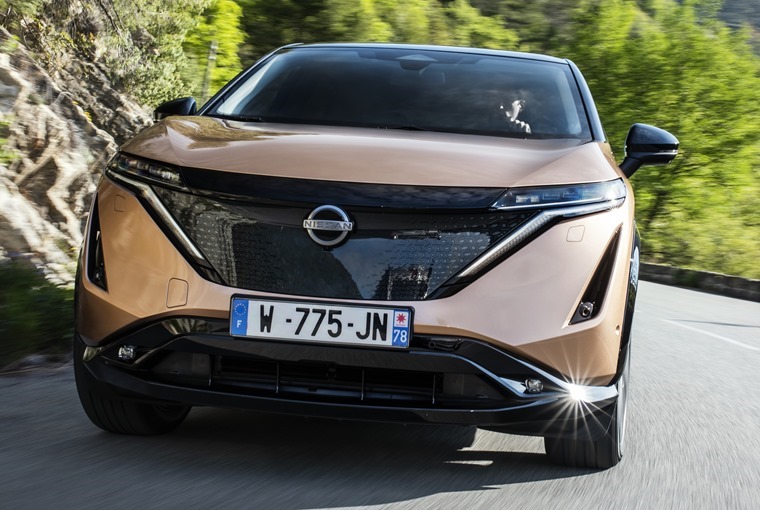 Ariya fast facts
Battery options: 63kWh, 87kWh
Maximum range: 310 miles (87kWh)
Boot space: 408 litres
A worthy alternative: Mazda MX-30
Nissan was one of the first manufacturers to offer a mainstream family EV in the form of the Leaf. The Leaf is still available today, and a great car it is too. But the all-new Ariya is where Nissan is really moving on the game. Its handsome styling and impressive range make it a great, slightly left-field option if you want an EV that'll stand out from the crowd.
Two batteries are available: 63kWh and 87kWh packs. The latter offers a range of around 310 miles and, while some rivals might offer slightly more, in the real world you're unlikely to notice.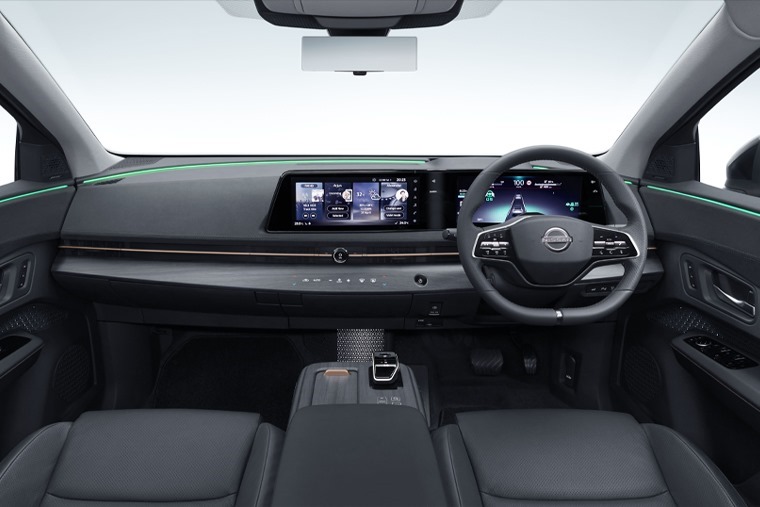 Everything you need to know about the Nissan Ariya…
The only downside is that the Ariya can't charge quite as quickly as some rivals, with a maximum charging rate of 130kW. That said, an 80% recharge still takes less than 45 minutes, so realistically it's not too much of an issue.
Inside, the cabin is smarted and you get tons of tech. A digital rear-view mirror is offered, as is Nissan's fantastic adaptive cruise control system. While it's a little more compact than other electric crossovers, that's unlikely to worry most Ayria drivers – it's certainly an EV that will appeal to the style-conscious.
Cupra Born
Born fast facts
Battery options: 58kWh, 77kWh
Maximum range: 335 miles (77kWh)
Boot space: 385 litres
A worthy alternative: Volkswagen ID.3
The Cupra Born might use the same platform as the Volkswagen ID.3, but the Spanish performance brand has ensured that it is actually a very different car. For starters, it's more stylish.
Sharp lines, copper accents and large alloy wheels ensure it is marked out as the sportier choice. In fact, we reckon the Cupra Born is the closest we've come yet to seeing an electric hot hatch.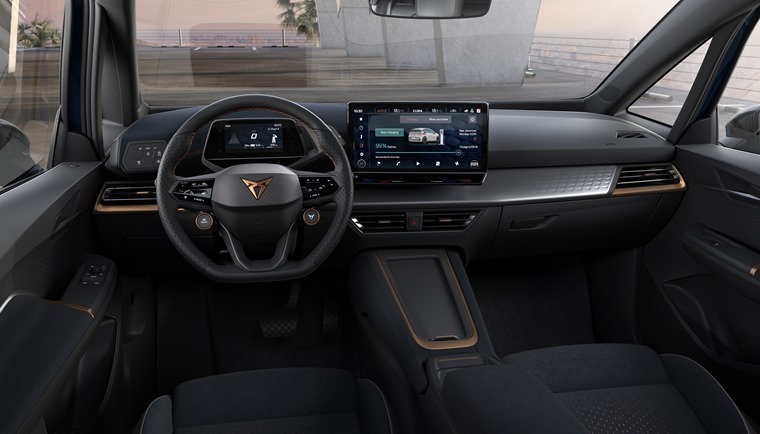 Cupra Born vs Volkswagen ID.3: What's the difference?
The driving experience is more focused than in the ID.3 too, with a stiffer feel to the suspension, and some performance-orientated tweaks on the inside that ensure you feel like you're in a hot hatch. In fact compared to the majority of EVs, its handling belies its weight. Even the brakes feel more natural than other rivals.
Various batteries and drivetrains are on offer, with the largest 77kWh battery providing up to 340 miles of range between charges. Considering its class, that's very competitive; neither the Nissan Leaf or even the standard version of the Tesla Model 3 can beat that figure.
Polestar 2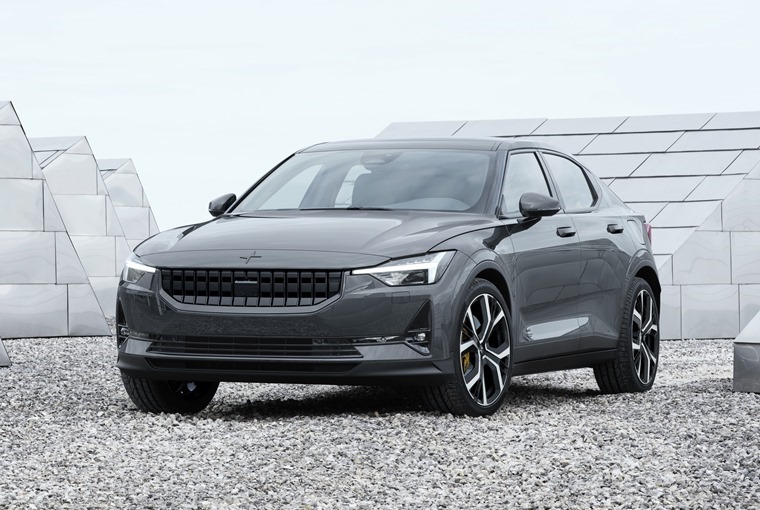 Polestar 2 fast facts
Battery options: 81kWh, 75kWh,
Maximum range: 335 miles (75kWh, single motor)
Boot space: 446 litres
A worthy alternative: Volvo C4 Recharge
The Polestar 2 might have ben around a few years, but its classy Swedish styling and impeccable interior still put it among the best electric hatchbacks currently on offer. The brand is essentially a performance offshoot of Volvo, so as you'd expect the same quality and impressive safety stats come as standard.
Step inside and you're greeted with a Tesla-like touchscreen that spans the central area of the dashboard. With vivid graphics and laser-quick response times, it's one of the slickest systems on the market. Practicality is impressive too, with the Polestar offering a hatchback rather than a small boot opening that comes with the Tesla Model 3.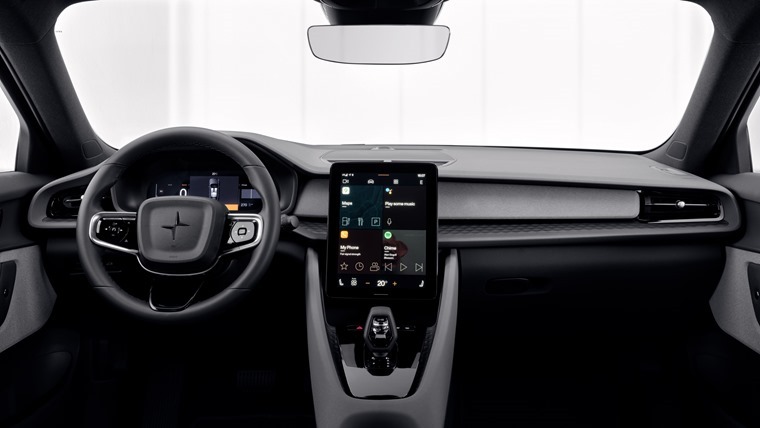 Performance-wise, the Tesla does come out on top. Even fitted with its biggest battery and most potent drivetrain, the Polestar can't quite compete with the Tesla's performance stats. But it's not what you'd call sluggish – it'll get from 0-62mph in under five seconds, while even entry-level single-motor versions manage the sprint in around seven seconds.
Vauxhall Mokka-e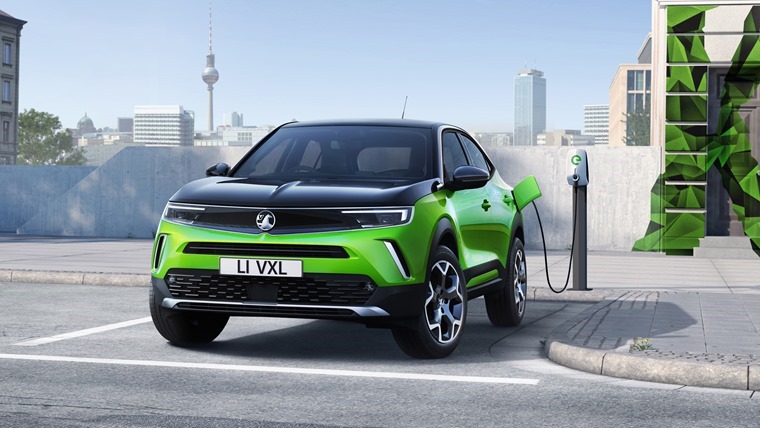 Compare Vauxhall Mokka-e deals
Mokka-e fast facts
Battery options: 50kWh
Maximum range: 209 miles
Boot space: 350 litres
A worthy alternative: Peugeot e-2008
With angular lines that hark back to Vauxhall's of old, that's about the only "retro" thing about the new Mokka in electric form. Although it's pricier than its petrol-powered siblings, it makes a fantastic stab at offering a truly usable family EV – and it's eye-catching too.
It actually sits on the excellent platform you'll find under the Peugeot e-2008 and Citroen e-C4, with a 50kWh battery and 136hp motor. In the Mokka-e, this means a sub nine-second 0-60mph time, and a range of up to 209 miles – pretty much identical to the Peugeot.
Inside, it's not the most practical – boot space stands at 350 litres, which compared to the 434-litre offering of the Peugeot means it lags behind a little. The passenger compartment is impressive though, with room for four adults to travel comfortably, as well as an excellent infotainment system that sits neatly alongside a vivid driver display.
The infotainment system features either a 7in or 10in touchscreen depending on specification, although the buttons and controls for the heating and climate control aren't operated via the screen – something that will appeal to some customers.
Citroen Ami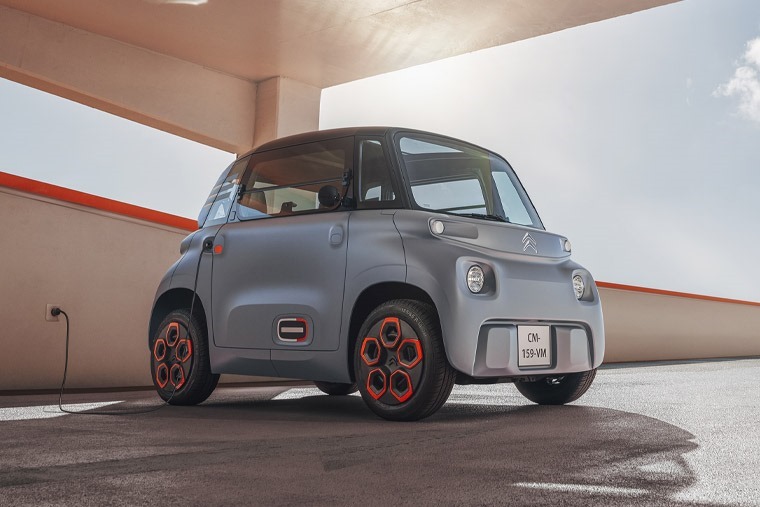 Ami fast facts
Battery options: 5.5kWh
Maximum range: 43 miles
Boot space: The passenger's footwell
A worthy alternative: Renault Twizy, the bus
The Citroen Ami is a questionable car, with the main question being, is it a car at all? In France it's classed as a quadricycle, meaning it can be driven by 14 year olds and benefits from lower tax rates. With just 8hp being produced by its 5.5kWh battery pack, this little two-door plastic Citroen has a top speed of just 28mph and a range of around 40 miles.
So, who is it for? Primarily urban dwellers who want the most affordable and practical means of getting around packed cities. With a front that looks identical to the back, it's certainly an interesting design and carries over some classic Citroen touches (like the front windows that flip up like a 2CV).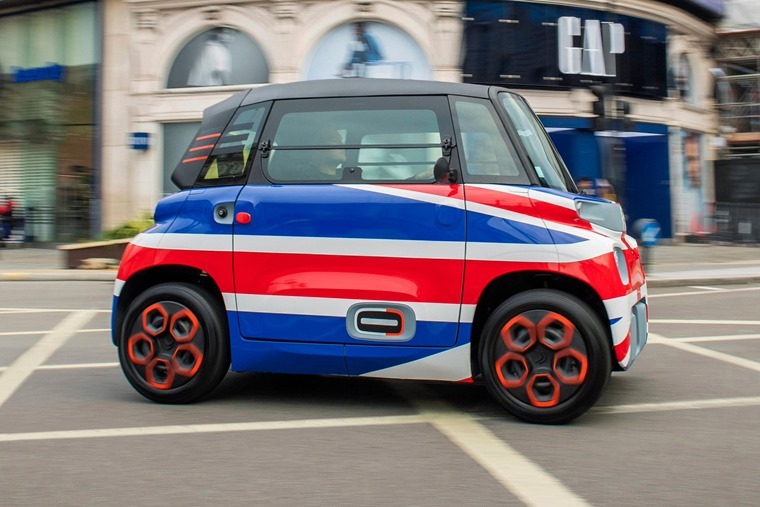 Read more: Citroen Ami now available in the UK…
Despite its low top speed, it's quick enough off the mark to give most cyclists a run for their money. You can also carry a passenger, luggage and stay sheltered from the weather in a way you can't with a bicycle.
So, providing you don't think of it as a traditional car, the Citroen Ami is an EV perfectly suited to its task. And if you're looking to lease one, prices are around half that of the cheapest "traditional" city cars too.
So what really is the best EV?
The EVs we've showcased above are just a small portion of new electric models that are available in 2022. Of course, which one is "best" will be very subjective. Do you want a small city runaround, a practical family EV or perhaps something more premium? Whatever you're after, it's safe to say you'll find the very best EV deals on Leasing.com. You can search deals now by hitting the button below and select filters that allow you to find your perfect car at the perfect price.
Which brand makes the best EVs?
In terms of outright sales and line-up, Tesla has historically been the number one electric car brand, but other manufacturers have been quietly catching up. Almost every mainstream car brand now offers at least one electric vehicle, with several created new electric-specific nomenclature.
Just look at how far Volkswagen's ID. range has come in the last year or two. There's also BMW's 'I' cars and of course Mercedes' 'EQ' range. Elsewhere, Ford has taken its iconic Mustang badge and given it an electric flavour.
It's interesting to see how manufacturers are dealing with the transition to electrification, with all of them forging a slightly different path. Check out our A to Z of EVs that are available now and coming soon to glean more info on just which manufacturers offer what.
Is a hybrid car a better idea than an EV in 2022?
While EVs are hitting the market thick and fast, some people might find the change to all-electric power a little intimidating. And that's not a surprise. While EV charge times and range have improved vastly over the last few years, some people might wish to opt for a plug-in hybrid to negate any disadvantages that come with fully electric cars.
For example, a plug-in hybrid has a smaller battery than conventional hybrids and EVs – typically large enough to provide between 30 and 50 miles of all-electric power around town. But it also has an efficient combustion engine that allows longer journeys to be completed without having to plan in any recharging stops. Sound like a nice idea? Click the button below to discover more about plug-in hybrids and how they differ to other types.
Read our full guide to hybrid vehicles
Can't see the EV you want above?
You can compare dozens more electric vehicles by hitting the button below and jumping straight into EV deals. Alternatively, find your dream car with our new tool.